Firm Profile > Campos Mello Advogados in cooperation with DLA Piper > Sao Paulo, Brazil
Campos Mello Advogados in cooperation with DLA Piper
Offices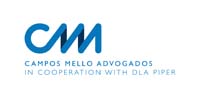 Campos Mello Advogados in cooperation with DLA Piper
AV. PRES. JUSCELINO KUBITSCHEK 360
10 ANDAR, VILA NOVA CONCEIÇÃO
SÃO PAULO, SP, 04543-000
Brazil
Campos Mello Advogados in cooperation with DLA Piper > The Legal 500
Rankings
Campos Mello Advogados in cooperation with DLA Piper >
Firm Profile
Founded with more than 39 years by excellent professionals with legal practice experience, we advise Brazilian and global companies in Brazil, Latin America, Asia, the US, Europe and Oceania. We have legal excellence, global presence, full-service structure and professional management capable of identify new opportunities and demands to our clients.
With offices in Rio de Janeiro, São Paulo and New York, we operate throughout the national territory and we have the support of an experienced team of lawyers, specialized in different practice areas applied to various sectors of the market. As a result, we develop creative, innovative and secure legal solutions for each matter and client profile.
Our knowledge in peculiarities of each business sector of our clients is essential to create value solutions. And our structure, relatively horizontal, allow our partners to maintain continuous contact with clients and to know their track record and market.
Since March 2010, we have been working in cooperation with DLA Piper LLP, one of the largest law firms in the world located in more than 40 countries in all continents (www.dlapiper.com). This strategic relationship is a differentiator for CMA, allowing us to serve our clients and address their strategic business needs whether they do business in Brazil or abroad.
History
The firm started in the 1980s, with the foundation of LA Campos Mello Advogados by senior partners Luiz Antonio Campos Mello and Bernardo Buarque Schiller. The original firm has gone through mergers and demergers since then, coming to its current format.
Our offices
Rio de Janeiro and São Paulo, Brazil
Brazilian desks
London, UK
Milan, Italy
New York, USA
We offer a broad range of legal business services, with emphasis on the following areas: antidumping; antitrust; banking and project finance; bankruptcy and restructuring; commercial contracts; compliance/investigation, white-collar crime and cybersecurity; corporate and M&A, capital markets; employment/pensions and benefits; energy and Natural Resources; environmental; intellectual property and Data Protection; insurance; litigation and arbitration; projects and infrastructure, private wealth, real estate, regulatory and public law, Insolvency, sports and entertainment, and tax. Clients and industry sectors: Over the years, the firm has developed fruitful relationships with Brazilian and international companies operating in the most dynamic sectors of the economy, such as aerospace and defence; automotive; construction; consumer goods; energy power and water; banking services; Finance, health care; hospitality and leisure; industrial goods and services; infrastructure; insurance and reinsurance; life sciences; media and entertainment; mining; oil and gas; Pharmaceutical, Pulp and Paper industry, real estate; retail; shipping, transport and offshore; technology; telecommunications.
Main Contacts
| Department | Name | Email | Telephone |
| --- | --- | --- | --- |
| Tax | Alex Moreira Jorge | alex.jorge@cmalaw.com | +55 11 3077-3515 |
| Real estate | Bernardo Buarque Schiller | bschiller@cmalaw.com | +55 21 3262-3004 |
| Public Law and Governmental Affairs | Carolina Caiado | carolina.caiado@cmalaw.com | +55 11 3077-3517 |
| Corporate, Mergers & Acquisition | Carolina Sant'Angelo | carolina.santangelo@cmalaw.com | +55 11 3077-3551 |
| Energy/natural resources | David Meiler | david.meiler@cmalaw.com | +55 21 3262-3006 |
| Patent and Life Science Litigation | Domiciano Noronha de Sá | domiciano.sa@cmalaw.com | +55 21 3262-3014 |
| Corporate, M&A, Infrastructure and Eletricity | Fabiano Gallo | fabiano.gallo@cmalaw.com | +55 11 3077-3574 |
| Corporate, M&A and Real Estate | Fabio Perrone Campos Mello | fcamposmello@cmalaw.com | +55 21 3262-3027 |
| Litigation and arbitration | Felipe Hermany | felipe.hermanny@cmalaw.com | +55 11 3077-3519 |
| Tax | Humberto Marini | humberto.marini@cmalaw.com | +55 21 2217-2011 |
| Real estate | Ivandro Ristum Trevelim | ivandro.trevelim@cmalaw.com | +55 11 3077-3561 |
| Real estate | Jaqueline Suryan | jaqueline.suryan@cmalaw.com | +55 113077-3524 |
| Capital markets and Banking and project finance | Jorge Gallo | jorge.gallo@cmalaw.com | +55 11 3077-3576 |
| Litigation and arbitration | Leandro Rinaldi | leandro.rinaldi@cmalaw.com | +55 21 3262-3025 |
| Tax | Leonardo Rzezinski | leonardo@cmalaw.com | +55 21 3262.3022 |
| Corporate, Mergers & Acquisition | Luiz Augusto Osorio | losorio@cmalaw.com | +55 21 3262-3047 |
| Insurance | Marcella Hill | marcella.hill@cmalaw.com | +55 11 3077-3507 |
| Employment, Pensions and Benefits | Marcio Meira | marcio.meira@cmalaw.com | +55 21 3262-3029 |
| Corporate, Mergers & Acquisition | Marcus Vinicius Bitencourt | mbitencourt@cmalaw.com | +55 21 3262-3008 |
| Corporate, Mergers & Acquisition | Marcelo Araujo Pereira | marcelo.pereira@cmalaw.com | +55 11 3077-3532 |
| Employment, Pensions and Benefits | Mauricio Tanabe | mauricio.tanabe@cmalaw.com | +55 21 3077-3521 |
| Intellectual Property and Data Protection | Paula Mena Barreto | paula.menabarreto@cmalaw.com | +55 21 3262-3028 |
| Oil & Gas | Paulo Almeida Lopes | paulo.lopes@cmalaw.com | +55 21 3262-3007 |
| Corporate, Mergers & Acquisition | Rafaella Chiachio | rafaella.chiachio@cmalaw.com | +55 11 3077-3529 |
| Capital markets and Banking and project finance | Roberto Vianna do Rego Barros | rbarros@cmalaw.com | +55 11 3077-3513 |
| Tax | Renato Lopes da Rocha | rlopes@cmalaw.com | +55 11 3077-3593 |
| White Collar Crime, Compliance & Investigation | Ricardo Caiado Lima | ricardo.caiado@cmalaw.com | +55 11 3077-3591 |
| Tax | Rosana Gonzaga Jayme | rosana.jayme@cmalaw.com | +55 11 3077-3531 |
| Tax | Victor Kampel | victor.kampel@cmalaw.com | +55 11 3077-3539 |
| Public Law and Governmental Affairs | Paulo Renato Barroso | paulo.barroso@cmalaw.com | +55 21 3262-3031 |
| Litigation and arbitration | Vinicius Pereira | vinicius.pereira@cmalaw.com | +55 21 3262-3036 |
Lawyer Profiles
| Photo | Name | Position | Profile |
| --- | --- | --- | --- |
| | Mr Roberto Vianna do R Barros | Partner specialized in banking and project finance, commercial contracts, corporate, M&A, capital… | View Profile |
| | Mr Ricardo Caiado Lima | Partner specialized in Litigation | View Profile |
| | Mr Fabiano Gallo | Co-head of M&A, Corporate and Energy practices. | View Profile |
| | Mrs Rosana Gonzaga | Partner specialized in Tax | View Profile |
| | Mr Felipe Hermanny | Partner specialized in Litigation and Arbitration | View Profile |
| | Mrs Marcella Hill | Partner specialized in Insurance, Reinsurance and Pensions | View Profile |
| | Mr Alex Jorge | Partner specialized in tax planning, tax consulting and tax litigation. | View Profile |
| | Mr Renato Lopes | Partner specialized in Tax | View Profile |
| | Mrs Carolina Marcondes Sant'Angelo | Partner specialized in Corporate | View Profile |
| | Mr Ivandro Ristum Trevelim | Partner in charge for the Real Estate Area in the São Paulo… | View Profile |
| | Mr Mauricio Tanabe | Partner specialized in Employment & Benefits | View Profile |
Staff Figures
Total staff : 205
Languages
Portuguese English (fluent) French Spanish Italian
Other
Contacts : 31
Top Tier Firm Rankings
Firm Rankings