Firm Profile > Labaton Sucharow LLP > Wilmington , United States
Labaton Sucharow LLP
Offices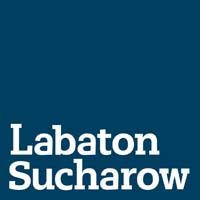 Labaton Sucharow LLP
300 DELAWARE AVENUE
SUITE 1340
WILMINGTON, DE 19801
United States
Labaton Sucharow LLP > The Legal 500
Rankings
Labaton Sucharow LLP's Wilmington office is home to a practice that 'makes very sophisticated legal arguments, is appropriately aggressive when it has strong cases, and litigates them more effectively than most of its peer firms', according to one client. Known as 'smart, diligent and persistent', the firm has a 50-year history in corporate governance and other shareholder actions. Lead partner Ned Weinberger stands out as 'very smart - he knows the law better than most stockholder plaintiff lawyers and is also very pleasant to deal with as an adversary, which makes the litigation process easier on all parties', says one prominent defense lawyer. Weinberger is also 'a very effective oral and written advocate who commands the respect of the Delaware Courts'. Along with star associate Thomas Curry, Weinberger secured a $40m settlement in a derivative action that alleged self-dealing transactions and breaches of fiduciary duty by officers of department store chain Sears, including hedge fund manager Edward Lampert. The same team also secured $10m for Haverhill Retirement System in a class and derivative action alleging improper financing arrangements in an acquisition by Providence Service Corporation. The pair also overcame a motion to dismiss a challenge to the conduct of Straight Path stockholder, Howard Jonas, in connection with the company's $3bn sale to Verizon.
Labaton Sucharow LLP in New York has 'deep knowledge of the space and works hard to ensure the client is up to speed on all matters, particularly when the client is acting as lead plaintiff'. The firm secured several high-value recoveries in 2018 and was appointed as lead counsel in 15 cases. It also has a strong pipeline of high-profile ongoing matters, and scored significant victories in direct actions and whistleblower cases leading to securities litigation. Thomas Dubbs is the key partner and has more than 35 years' experience in the market. He represented Employees' Retirement System of the State of Hawaii in a $3bn case against Petrobras, helping class counsel to defeat three motions to dismiss. Chair of the litigation practice Jonathan Gardner acted for the same client in achieving preliminary approval of a $42.5m settlement in a class action against Intuitive Surgical, which centered on the alleged concealment of violations of FDA regulations and a defect in its da Vinci Surgical System. Rising star Carol Villegas helps clients to 'better understand the process and how to value a case'. Newly promoted co-chairman of the firm Christopher Keller is also recommended. Clients describe Mark Willis in Washington DC as 'very approachable - he provides helpful and unique insight to complex matters'.
Litigators at Labaton Sucharow LLP 'always have the best interest of their clients in mind', and one client values the 'trust and faith the team instils'. Jay Himes and Gregory Asciolla are acting as co-lead counsel to two retirement systems regarding their class action against major banks on the grounds of alleged rigging of the US treasuries market by manipulating auctions for bills, notes and bonds. An end-payor plaintiff appointed a team including counsels Karin Garvey and Robin van der Meulen to oversee its price-fixing and bid-rigging action against generic pharmaceutical companies, and Modern Settings engaged the group to advise on its nationwide class action against leading major platinum and palladium dealers alleging a price-fixing conspiracy. In another highlight, the team represented purchasers of interest rate derivatives in the landmark ISDAfix class action.
Labaton Sucharow LLP >
Firm Profile
With more than 50 years of experience, Labaton Sucharow is a tenacious advocate for investors and consumers. The firm offers complex litigation services in the areas of securities, antitrust, consumer protection, corporate governance and shareholder rights law, as well as whistleblower representation. Labaton Sucharow represents many of the largest institutional investors worldwide and has secured billions of dollars in landmark recoveries. The firm's successful reputation is built not only on its team of more than 60 attorneys, but also on its industry-leading in-house investigators, financial analysts and forensic accountants.
Main areas of practice: Securities and financial services litigation: the firm continues to secure precedent-setting decisions and significant monetary recoveries on behalf of investors. After achieving historic settlements in cases stemming from the financial crisis, the team has maintained its momentum in prosecuting high-profile and cutting-edge actions against corporate behemoths like Facebook, BP, Goldman Sachs and Petrobras. The team also played an authoritative role in shaping securities litigation laws through a landmark victory in the Supreme Court with Amgen Inc. v. Connecticut Retirement Plans and Trust Fund. The firm also evaluates the viability of claims that may be pursued through opt-out or direct actions. Cases include: In re American International Group Securities Litigation – more than $1bn total recovery and one of the top 15 securities class action recoveries; In re Countrywide Financial Corp. Securities Litigation – achieving a $624m settlement; In re HealthSouth Corp. Securities Litigation – recovering $671m; In re Schering-Plough/Enhance Securities Litigation – securing a $473m settlement; Arkansas Teacher Retirement System v. State Street Corp. – obtaining a $300m recovery.
Antitrust and competition litigation: the firm has been appointed to leadership roles in cases involving collusion in the financial markets, manipulation of financial benchmarks and pharmaceutical-related anticompetitive 'pay-for-delay' agreements. The mission of the antitrust and competition litigation practice is to promote the private enforcement of antitrust laws to preserve free competition in the marketplace. The firm has recovered billions on behalf of clients in major antitrust class actions around the country. Cases include: In re Air Cargo Shipping Services Antitrust Litigation – more than $1.2bn in settlements from numerous international airlines; In re Aftermarket Automotive Lighting Products Antitrust Litigation – aggregate settlement of more than $50m with major manufacturer of automotive lights.
Corporate governance and shareholder rights litigation: as corporate leaders continue to engage in fraudulent conduct and other mechanisms to unjustly enrich themselves, the firm initiates numerous derivative and M&A-related suits to protect shareholders. Cases include: In re Freeport-McMoRan Copper & Gold Inc. Derivative Litigation – achieving the second largest derivative settlement in the Delaware Court of Chancery history, a combined $153.75m recovery with an unprecedented provision of direct payments to stockholders by means of a special dividend; In re El Paso Corporation Shareholder Litigation – $110m recovery for shareholders, with a stipulation in the settlement also preventing Goldman Sachs from collecting a $20m fee for its work on the merger, a condition pursued adamantly by the firm to encourage banks in future deals to take proper steps to reduce conflicts of interest.
Whistleblower representation: the firm established the first national practice focused exclusively on protecting and advocating for whistleblowers who report violations of the federal securities laws. The practice plays a critical role in exposing securities fraud and creating necessary corporate reforms. Cases include: securing a substantial monetary award for a whistleblower client who reported significant wrongdoing in the financial services industry-leading to second largest award given by the SEC Whistleblower program; and representing a whistleblower who reported violations against Merrill Lynch resulting in settlements totaling $415m.
Non-US securities litigation: Labaton Sucharow is positioned to advise and represent international shareholders in complex investment-related litigation taking place in Canada, Europe, Asia, Australia and other jurisdictions. The team develops a comprehensive view of the potential upsides and risks of participation in each action – resulting in timely advice, encompassing all financial and legal concerns of individual clients. The firm serves, or has served, as liaison counsel for several clients in 20 non-US actions.
Main Contacts
| Department | Name | Email | Telephone |
| --- | --- | --- | --- |
| https://www.labaton.com/ourpeople/gregory-asciolla | Gregory Asciolla | | |
| https://www.labaton.com/ourpeople/eric-belfi | Eric Belfi | | |
| https://www.labaton.com/ourpeople/michael-p-canty | Michael Canty | | |
| https://www.labaton.com/ourpeople/thomas-dubbs | Thomas Dubbs | | |
| https://www.labaton.com/ourpeople/james-johnson | James Johnson | | |
| https://www.labaton.com/ourpeople/christopher-keller | Christopher Keller | | |
| https://www.labaton.com/ourpeople/edward-labaton | Edward Labaton | | |
| https://www.labaton.com/ourpeople/ray-politano | Ray Politano | | |
| https://www.labaton.com/ourpeople/lawrence-sucharow | Lawrence Sucharow | | |
| https://www.labaton.com/ourpeople/carol-villegas | Carol Villegas | | |
Staff Figures
Number of Partners : 31 Number of Lawyers : 67
Other
Chairman Emeritus : Lawrence A Sucharow Chairman : Christopher J Keller
Top Tier Firm Rankings
Firm Rankings