Firm Profile > Grasty Quintana Majlis & Cia. > Santiago, Chile
Grasty Quintana Majlis & Cia.
Offices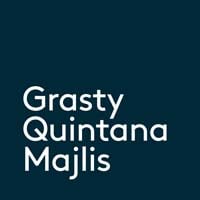 Grasty Quintana Majlis & Cia.
MAGDALENA 14, 20TH FLOOR
LAS CONDES
SANTIAGO
Chile
Grasty Quintana Majlis & Cia. > The Legal 500
Rankings
Grasty Quintana Majlis & Cia.
 fields 11 specialised corporate attorneys, who assist with a wide range of deals such as joint ventures, mergers, corporate reorganisations and acquisitions. The practice's sector expertise covers agriculture, mining, finance, public concessions, retail, technology and venture capital, among others.
Franco Acchiardo
 and 
Juan Turner
 co-lead the M&A group, which includes founding partners 
Arturo Majlis
 and
Michael Grasty
, and 
Hugo Prieto
. Key support at associate level is provided by 
Alejandro Quintana Vicuña
 – who rejoined in late 2018 from 
Clyde & Co LLP
's London office –
Sofia Nievas
 and 
José Fernández
.
Practice head(s):
Testimonials
'They are committed to meeting deadlines and provide creative pro-business solutions, with the presence of a partner during the deal. They also have a solid M&A team that manages to cover all the details necessary to close deals well. I think it is a firm that is committed to going the extra mile.'
'Franco Acchiardo is an excellent lawyer, with outstanding experience for his young age; he constantly provides clever solutions to situations that can potentially bring down a deal. He is also very committed to his clients.'
Key clients
Clairvest Group
Auguri Group
Johnson Controls
Ericsson Chile
Nike
Acfin
Sistemas Oracle de Chile
Bridgestone Chile
Laboratorio Maver
Axesor
Feller-Rate Clasificadora de Riesgo
Inersa
Clare
Kapin Capital
Excel Care
CG Cosmetics
HCS Capital Partners
Motortrade
DC Equipment
Diving Service Group (Chile)
Cisco Systems
Clínica Las Condes
Cowork
Ben & Frank
Automóvil Club de Chile
Grasty Quintana Majlis & Cia. has longstanding insurance industry experience, including developing novel policies for individuals and companies, structuring complex transactions, regulatory matters, and insurance-related litigation. Moreover, since January 2020 it has been operating an association with London-headquartered global insurance specialists Clyde & Co LLP . The principal contacts remain founding partner Alejandro Quintana and dispute resolution and public law head Jorge Meneses. Former partner Eduardo Marchi left the firm to found Marchi & Cía. in July 2019.
Grasty Quintana Majlis & Cia. fields a four-strong labour and employment practice, which is led by experienced partner Christian Alvarado, who focuses  on the implementation, development and maintenance of labour relations, including union matters. The team has been particularly active, recently, advising clients in collective negotiations. It has also provided advice on the implementation of the 2017 Labour Reform (which aims to increase unionisation and collective bargaining); and assisted with labour litigation, hirings and terminations, workplace health and safety, and immigration. Patricio Riquelme is a key associate.
Practice head(s):
Testimonials
'It is an experienced team that responds to our requirements.'
Key clients
Inchcape
Ericsson Chile
Indumotora Group
Nike de Chile
Bridgestone Off-The-Road Tire Latin America
Harsco Metals Chile
Ergas Group
Tricot Group
Parque Arauco
Ventiv Solutions
Laboratorio Maver
Te Pillé
Grasty Quintana Majlis & Cia.
's four-strong mining group is led by experienced natural resources and energy partner 
Hugo Prieto
, and is principally supported by attorneys
José Francisco Osman
,
José Fernández
 and
Sebastián Acevedo
. In addition to the firm's full range of legal services to mining companies, it stands out for its ownership of Tecnomin (also led by Prieto), which provides technical services in relation to the processing, constitution, protection and control of mining concessions, and conducts technical due diligence, title studies, surveys and mapping.
Testimonials
'Rated for its experience and litigation expertise.'
'Hugo Prieto has great experience in commercial contracts, drilling and leasing, among others, and the solutions he offers build trust in his professionalism.'
Key clients
Bergbau Wagen
Minera Tres Valles
Sumitomo Metal Mining Chile
Tecnomin
Bridgestone Mining Solutions Latin-America
Vale Exploraciones Chile
Cobaltera Chile
Inversiones SMG Chile
Grasty Quintana Majlis & Cia.'s real estate group assists with all stages of real estate projects, including negotiations, conveyances, construction agreements, joint ownership regulations and financing. It also assists with leases, project administration contracts and administrative regularisations. With vast experience in the planning and operation of real estate businesses, practice head Hugo Prieto also handles real estate due diligence, acquisitions, leasing and sales, and construction contracts and specialty agreements. Associate José Francisco Osman focuses on complex agreements and due diligence work.
Key clients
Inversiones Punta Blanca
Inersa
Movicenter
Froimovich
Nueva Inmobiliaria Korlaet
Agrícola Emerald
Patricia Vargas y Compañía
Grasty Quintana Majlis & Cia.'s seven-strong team advises on the financing of acquisitions of companies in various Latin America countries, as well as on syndicated and project finance. The firm also assists start-up companies and venture capital firms with investment financing. Firm managing partner Juan Turner's broad practice includes credit facilities and project finance; and Franco Acchiardo's sector experience includes mining, telecoms, oil and gas, real estate and financial services.
Grasty Quintana Majlis & Cia.'s public law team is made up of lawyer with experience acros the administrative and constitutional law and regulatory fields. It acts primarily in matters involving urban law and real estate, pharmaceutical investigations, public tenders and expropriations. The firm also has a robust constitutional litigation practice and is active in contentious public and administrative disputes. Public law department head Jorge Meneses has approximately 15 years' contentious and non-contentious public law experience; key senior associate Andrés Cabello focuses on contentious matters.
Practice head(s):
Key clients
PwC Consultores Aditores
Feller Rate Clasificadora de Riesgo
Laboratorio Maver
Farmacias Omari
Tax Tier 4
Grasty Quintana Majlis & Cia.'s five-member department focuses on legal tax compliance (including representation before Chile's IRS during tax auditing procedures); and international, inheritance, corporate and individual taxation, along with VAT. It is also active in the tax structuring of M&A transactions and tax litigation. Tax compliance and planning specialist Mónica Justiniano (tax compliance and planning, corporate reorganizations, and commercial and corporate law), leads the tax group, which includes experienced associate Felipe Errázuriz (tax and corporate advisory, including corporate reorganizations).
Practice head(s):
Testimonials
'Mónica Justiniano has excellent technical and pragmatic knowledge.'
Key clients
Mar Adentro (Family Office of the Hurtado Berger family)
Grasty Quintana Majlis & Cia.'s wide dispute resolution practice covers bankruptcy, contractual matters, torts and energy disputes, among others. Jorge Meneses leads on contentious administrative, public and regulatory law matters, as well as on insurance claims. Founding partner Arturo Majlis also plays a crucial role in this department, as do senior consultant Jorge Burgos (former Chilean Ambassador to Ecuador), and litigation consultant Marcelo Guerrero. Former practice head Eduardo Marchi left in July 2019 to found Marchi & Cía..
Practice head(s):
Testimonials
'They maintain communication with their own various specialist lawyers and copy them in communications to allow from the beginning, the rapid contribution of ideas and comments.'
'They are precise and answer all our doubts.'
'High availability not only of the senior and junior lawyers, but also of the partner in charge. They show meticulousness and rigour when analysing each topic. They give their opinion, without fear, about the probable progress or prognosis of a legal action.'
Key clients
Feller Rate Clasificadora de Riesgo.
PwC Consultores Auditores
Tricot
Laboratorio Maver
Sociedad Contractual Minera Tres Valles
Claudia Hites and Mónica Hites
Catalina Parra y Alberto Parra
Renato Traverso
Andrés Pérez Cruz
Te Pillé
Comercial Kendall Chile
Williamson Balfour Motors
Inmobiliaria Inersa Limitada
Nueva Inmobiliaria Korlaet
Farmacias Omari
Grasty Quintana Majlis & Cia.
regularly advises on projects, particularly in relation to hydroelectric plants, wind farms, thermo-electric plants and natural gas, including construction, permitting, property title studies, negotiating easements, contracts for the provision and supply of electricity, EPCs and project financing. The experienced 
Hugo Prieto
 handles power and mining matters as part of a wider corporate practice.
Grasty Quintana Majlis & Cia. >
Firm Profile
Grasty Quintana Majlis is a law firm founded in 1987 in Santiago, Chile. The firm provides high level services, both domestically and abroad, with an emphasis on corporate law and M&A, private wealth and conflict resolution. Our success over the years is based on our excellent work, a personalized service and the confidence of our clients, whom have grown and developed throughout the years, together with us.
Corporate/M&A: Grasty Quintana Majlis represents Chilean and foreign investors in M&A transactions, successfully directing and coordinating the negotiation and execution of simultaneous acquisitions of companies in different countries in Latin America and designing sophisticated and innovative corporate structures for such purpose.
Natural Resources, Energy & Mining: we have an extensive experience in mining, where we advise our clients in the development, exploration, exploitation, financing and sale of mining projects, and in the obtaining of the permits that are necessary to construct, install and operate these projects, both legally and technically through our affiliate company TECNOMIN. Regarding our energy practice, we have participated in several power projects, including hydro, thermo, wind and solar power plants, where we represent clients in each stage, from securing rights and permits over the land, the negotiation and execution of the project financing and the construction of these projects.
Real Estate: the firm has advised important real estate development and construction projects, including the purchase and sale of real estate, land allotment, development of industrial real estate and shopping malls throughout Chile. Likewise, we have participated in different projects and contracts in connection with the development of infrastructure and public works, as well as structuring the financing and securitization for these projects.
Tax: our tax team has a stand out practice for its expertise in taxation planning and the design and optimization of corporate structures. Our advice includes the representation of our clients before taxation authorities and the Courts of Justice. We provide taxation counsel to foreign investors, collaborating in the determination of options for the organization and project financing and we concretely support the implementation of the respective project.
Labour & Employment: the labour group has vast experience in collective negotiation processes for large companies and highly complex litigation as well as day-to-day counsel to companies on diverse matters, including contracting of national and foreign staff; remuneration structuring; individual and collective employee benefits; internal compliance with current regulations; resolution of disputes with unions; investigative processes initiated before administrative authorities; and the termination of employment relations.
Litigation & Arbitration: the firm has a specialized team both in ordinary Courts and in arbitral and mediation processes, including before ICSID and the ICC. Our litigation team works together with other areas of the firm, combining their litigation capacities with negotiation skills, to achieve excellent results in the resolution of disputes that affect our clients.
Criminal/White Collar: our team provides specialized counsel in litigation related to criminal matters and economic or property related crimes. Our attorneys are known for its relevant experience, litigating as complainants or in defence in the principal processes that have taken place in Chile in the past years.
Compliance: our firm has developed a compliance practice that covers a broad range of matters from a preventive standpoint, including corporate governance, corporate criminal liability, consumer law and antitrust.
Main Contacts
| Department | Name | Email | Telephone |
| --- | --- | --- | --- |
| Corporate /M&A /Finance | Franco Acchiardo E: facchiardo@grasty.cl | | |
| Corporate /M&A /Finance | Juan Turner E: jturner@grasty.cl | | |
| Labour and Employment | Christian Alvarado E: calvarado@grasty.cl | | |
| Real Estate | Hugo Prieto E: hprieto@grasty.cl | | |
| Natural Resources, Mining & Energy | Hugo Prieto E: hprieto@grasty.cl | | |
| Tax | Mónica Justiniano E: mjustiniano@grasty.cl | | |
| Criminal /White Collar | Jorge Meneses E: jmeneses@grasty.cl | | |
| Civil Litigation | Eduardo Marchi E: emarchi@grasty.cl | | |
| Public Law | Jorge Meneses E: jmeneses@grasty.cl | | |
| Antitrust | Jorge Meneses E: jmeneses@grasty.cl | | |
| Compliance | Juan Turner E: jturner@grasty.cl | | |
| Compliance | Jorge Meneses E: jmeneses@grasty.cl | | |
Staff Figures
Other fee-earners : 19 Total staff : 46
Other
Partners : 10
Top Tier Firm Rankings
Firm Rankings