Firm Profile > Fiorio, Cardozo & Alvarado Law Firm > Asunción, Paraguay
Fiorio, Cardozo & Alvarado Law Firm
Offices

Fiorio, Cardozo & Alvarado Law Firm
AVDA PERU 708 C/ TTE RUIZ
ASUNCIÓN
Paraguay
Fiorio, Cardozo & Alvarado Law Firm > The Legal 500
Rankings
Fiorio, Cardozo & Alvarado, Attorneys at Law offers advice on a wide range of corporate and commercial matters, including mergers and acquisitions, joint ventures, corporate restructuring and business incorporations. The sizeable team is regularly instructed by domestic and international clients across a variety of sectors such as energy, telecommunications and consumer goods. Key partner Marcelo Alvarado is advising Bolivian holding company Grupo Empresarial de Inversiones Nacional Vida in relation to the acquisition of 90% of the shares of a local insurance company; while Juan Bautista Fiorio is currently assisting local Volkswagen dealer, DIESA, with the $15m acquisition of Prestigio, Audi's local dealer. Other clients include Axion Energy, Nestlé and Sanofi Aventis.
Fiorio, Cardozo & Alvarado, Attorneys at Law is retained by a wide range of domestic and international clients for advice on financial transactions, comprising loan agreements, asset recovery, restructuring and insolvency matters, as well as project finance in the real estate and construction sectors. Recent mandates included advising Banco Familiar in relation to a syndicated loan to Copetrol affiliate, Paraguay Energy, for the acquisition of Petrobras' operations in Paraguay; and assisting the Republic of Paraguay with a $500m sovereign bond issuance. Marcelo Alvarado heads a practice that can also count on experienced partners Juan Bautista Fiorio and José María Cardozo.
Fiorio, Cardozo & Alvarado Law Firm >
Firm Profile
Fiorio, Cardozo & Alvarado Law Firm (FCA) has been acting as a big player in the Paraguayan legal market since 1981. As such, it has been part of major transactions held in Paraguay both by national and international companies, some of which continue being part of its clientele.
The firm has a permanent staff of 20 lawyers, educated in prestigious Paraguayan universities as well as in universities from around the world. The firm counts with lawyers specialised in USA, Europe and Latin America. The multilingual team of lawyers is fully capable of offering legal advice in Spanish, English and French.
FCA Law Firm's team of lawyers is proud to share its knowledge and experience in the market. The team's goal is to maintain and improve the practice that has been recognised by national and international clients for almost four decades. The firm's hallmark is delivering at the highest level of integrity and professionalism in order to provide clients with suitable solutions and support them in their businesses.
FCA Law Firm is known for being a full-service law firm, providing prompt responses to clients' queries and offering legal advice in the areas of investment, corporate, civil, commercial and business law, banking and finance, capital markets, real estate, labour law, tax law, mining and gas, telecommunications, aviation and maritime law, asset recovery, litigation and arbitration. FCA Law Firm not only provides legal advice for large transactions but also offers clients guidance and counseling regarding their day-to-day operations.
Main Practice Areas:
Corporate & Commercial Law:
The firm offers integral services, covering all the requirements of national and foreign companies, in the areas of civil, commercial, labour and tax law. These services include incorporation of companies, the establishment of foreign companies' branches, advising on contractual matters, liquidation of companies, mergers, joint ventures, among others.
Banking, Finance & Capital Markets:
The firm provides legal advisory services to several local and foreign banks and financial companies and institutions.
The firm has rendered counseling on several operations, including mergers, acquisitions of bank assets and liabilities and represented multilateral credit institutions on loan transactions for local corporations.
The firm also advises on the placement of assets abroad. It has participated in contract negotiations with mutual funds and other financial products for domestic and individual entities, as well as in relation to national and international stock market. Additionally, it has managed the voluntary liquidation and dissolution of several banks and financial companies of national capital, from their beginning to their end.
Labor Law:
In the labor area, the firm provides general legal advice, which includes drafting individual and group labor contracts, regulations and various types of labor agreements, review and drafting of liquidations, legal opinions regarding queries on relationship with employees, assistance in conciliation hearings and proceeding before the labor authorities.
Tax Law:
The Firm provides tax advisory services to local and foreign clients, including, taxation planning and tax litigation matters.
Maritime Law:
The Firm's maritime practice includes registration of vessels and tugboats under the Paraguayan flag, its financing and leasing collision charter party and salvage disputes, insurance claims, chartering contracts and labor issues applied specifically to the regime.
 Aviation Law:
Fiorio, Cardozo & Alvarado currently represents Aerolineas Argentinas in this area. In the past, the firm obtained substantial by representing Braniff, Eastearn Airlines and Aero Peru in daily operations.
Mining, Gas & Oil:
FCA renders integral legal advisory that includes corporate, administrative, commercial and regulatory matters.
The Firm has experience in advising foreign companies that have applied and obtained concessions/ license for prospection and exploration of oil and mining in the territory of Paraguay.
Telecommunications & Technology:
 FCA renders integral legal advisory in telecommunications and technology matters to major companies that operate in the local cellular telephone area, provision of internet and cable television as well as enterprises providing satellite transmission services and large retail companies of electronic equipment.
In addition, FCA's team accompanies clients to face the legal and regulatory issues that rise with the evolution of technology, such as, data protection and privacy.
Litigation and Alternative Means of Dispute Resolution:
FCA counts with a department exclusively dedicated to lawsuits in the civil, commercial, labor and administrative area, as well as arbitration. Partners and Associates have vast experience in the field and make up the list of arbitrators credited by the Arbitration and Mediation Center of Paraguay (CAMP by its initials in Spanish).
Antitrust Law
FCA's antitrust practice includes a broad range of matters. In that sense, the members of our tem have provided legal advice for the assessment and implementation of the still novel antitrust law and competition regulation. Additionally, the firm has carried out proceedings before the National Competition Commission (CONACOM) regarding merger approvals and illegal practices.
Agribusiness
FCA renders integral legal services in agribusiness matters, including corporate, commercial and labor matters. The firm advises some of the biggest players in the agribusiness market in the country providing them with full-service legal advice; covering all aspects of their day-to-day business operations as well as more complex business transactions.
Real Estate Development
FCA has ample experience in the development of real estate businesses, assisting clients in structuring, financing and developing real estate projects. The team has extensive experience in the formation of real estate trusts and joint ventures and advising institutional investors, developers, owners, lenders and construction companies.
The practice includes the participation in real estate business from beginning to end, and offers, for example, counselling services and drafting of: work design contract with the designer, construction contract with the contractor, management contract with the manager, inspection contracts with inspector, co-ownership agreements, purchase-sale agreements of completed units as well as units in the process of construction, rental agreements, provisional or final receipt certificates, communications between the parties involved in real estate development, corporate issues of the venture, loan agreements, commercial sales alliances and financing of units, constitution of guarantees, design of trust of guarantees and real estate development, investment and funding contracts, among others.
Languages
Spanish English French German Portuguese
Memberships
ABA (American Bar Association) IBA (International Bar Association) AIJA - International Association of Young Lawyers
Interviews
Marcelo Alvarado, Founding Partner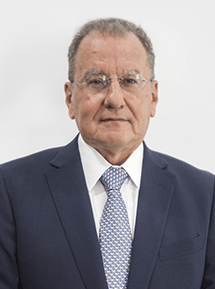 Founding Partner of FCA Law Firm, Marcelo Alvarado, highlights the strategies implemented by FCA to be an avant-garde full-service law firm in the Paraguayan legal market and discusses the future of the firm.
What do you see as the main points that differentiate Fiorio, Cardozo & Alvarado (FCA) Law Firm from your competitors?
FCA Law Firm has a solid and trustworthy practice, primarily, due its highly qualified and experienced team of professionals. Particularly, we have a group of second generation Partners and Associates who have graduated from the best universities around the world, such as the University Sorbonne of Paris, Harvard University, Stanford University and the Instituto de Empresa (IE) of Madrid. As a full-service law firm, we accompany our clients in all legal aspects of the business, even if additional expertise is needed when handling more complex issues. The latter allows us to understand the essence of each client's business, values and corporate philosophy. In sum, our team's practice differentiates from others because we provide customized legal services with a knowledgeable business perspective. The latter is constantly recognized by our clients, some of whom consider FCA's lawyers as members of their enterprises.
In order to render such personalized services, FCA is structured so that each client is assigned to a particular professional. We also have a strong quality control scheme in practice which allows us to render services always at the highest level. Such scheme is based on teams of Partners who are very involved in both day-to-day relations with the client as well as larger and more complex transactions.
Which practices do you see growing in the next 12 months? What are the drivers behind that?
Due to the negative impact to the Paraguayan economy generated by the pandemic, I believe that debt restructuring, and corporate reorganization will both be on rise in the upcoming months. Companies largely define their capital structure based on foreseeable market conditions and expected income, which were hurt by the pandemic. Thus, many companies are negotiating payment of their debts and in need of refinancing.
In addition, we strongly believe that consumer behavior will suffer a great change after this experience. In that sense, some companies will have to adapt their business structure to new consumer behavior and others may not survive. The latter may generate more transactional activities such as mergers and acquisitions.
Finally, I would like to mention Telecommunications and Technology. The pandemic has made our lifestyles more dependent to the use of the internet and digital technology. Almost all of our meetings are currently held via online
platforms and e-commerce is booming – one can buy virtually anything via a webpage, new developed apps or even WhatsApp. Naturally, the technological advancements will also impact companies' business models which, in turn, will generate these practices (jointly with Data Protection) to evolve.
What's the main change you've made in the firm that will benefit clients?
The structure we have in our firm allows each professional to work very closely with each client. As mentioned before, the members of our team accompany clients in every legal aspect of the business. This scheme creates a strong bond between the client and professional and allows the professional to thoroughly learn about every aspect of each client's business model. The latter is beneficial to our clients because they receive specialized legal advisory tailored to their businesses and idiosyncrasies.
Is technology changing the way you interact with your clients, and the services you can provide them?
Yes, definitely. With the pandemic, specifically during quarantine times, we proved that it is possible to render legal services solely through virtual interactions, without any inconvenience. Virtual meetings have demonstrated to be very efficient, useful and will probably replace a big number of face-to-face meetings in the future. The latter has
helped legal services to be rendered quicker and in a more cost-effective way, without losing the direct and personal bond with the client.
Also, we have to constantly evolve and implement legal tools that allow us to keep up with the evolution of technology and access to information.
Can you give us a practical example of how you have helped a client to add value to their business?
Broadly, I can say that we have helped clients to add value to their business by providing them with a holistic vision of the relevant business.
For example, in this one case, we lead a local client, through our professional network, to get more knowledge and guidance towards developing certain business. First, we personally took the steps to understand the potential business thoroughly and identified its essential risks: legal, regulatory and even commercial. Thereafter, we presented to the client the different risk scenarios and we evaluated them jointly. Finally, when we realized we lacked some information, through our professional network abroad, we sought advice from professionals of different expertise. In sum, we accompanied this client throughout the whole evaluation process of the potential business until we believed that he had all the necessary tools to make a qualified decision.
Are clients looking for stability and strategic direction from their law firms – where do you see the firm in three years' time?
In three years, I see in the firm a consolidation of the new generation Partners to lead the business. We do believe that clients are looking for stability and strategic direction from law firms, which is why, a well-planned and executed transition period for such a change of leadership is crucial to maintain the solid relationships we have with our clients.
Our new generation Partners have been part of the firm for more than 10 years. At present, they have a more representative and leadership role in the firm. With their leadership, backed by Senior Partner's experience and expertise,
we are confident that FCA law firm will continue to be a big player in the Paraguayan legal market, rendering full-service legal advice at the highest level.
Top Tier Firm Rankings
Firm Rankings