Mr Mario Reggiardo > Payet, Rey, Cauvi, Pérez Abogados > Lima, Peru > Lawyer Profile
Payet, Rey, Cauvi, Pérez Abogados
Offices
Payet, Rey, Cauvi, Pérez Abogados
VÍCTOR A. BELAÚNDE 147
TORRE TRES, PISO 12
SAN ISIDRO, LIMA
Peru
Mr Mario Reggiardo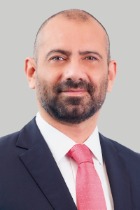 Work Department
Commercial arbitration and judicial proceedings (civil, commercial, administrative and constitutional litigation)
Position
Partner
Career
Mr. Reggiardo is partner of the firm, specializing in commercial arbitration and judicial proceedings (civil, commercial, administrative and constitutional litigation).
Mr. Reggiardo is one of the most prominent experts in arbitration and has extensive experience as an arbitrator in various ad hoc tribunals and in the Chamber of Commerce of Lima in matters related to concessions, infrastructure, public-private partnerships, commercial contracts, among others.
Prior to joining the firm, he was a Partner of Bullard Falla Ezcurra +, has been a founding Partner of Reggiardo & Grau – Abogados and was also Partner and head of the Civil Litigation Area of Benites, Forno & Ugaz – Abogados. Mario has also been a legal researcher at the Institute of Liberty and Democracy – ILD and Director of the Internal Affairs Office at the Ministry of Interior.
Mr. Reggiardo has been a member of the Commission of the Ministry of Justice in charge of proposing reforms to the Civil Procedure Code, a member of the Licenses Tribunal of the Peruvian Football Federation and a member of the subcommittees for Internal Control and Legal Reform for the Execution Commission of the Reform and Modernization Project of the National Police of Peru.
Languages
Spanish and English.
Memberships
Named Honorary member by the Huanuco Bar Association
"José Matías Manzanilla" award by the Ica Bar Association
Appointed Member of the Working Group by the Ministry of Justice to propose reforms to the Civil Procedural Code (2016 – 2017)
Member of the Licenses' Board of the Peruvian Football Federation (2016 – 2017)
Arbitrator for the Arbitration Center at the Lima Chamber of Commerce (2010 – 2017).
Education
Master in Law & Economics from the University of Hamburg (Germany), 2004;
Licensed in Law, Pontificia Universidad Católica del Perú, 1999.
Lawyer Rankings
Peru is the fifth-largest economy in Latin America and -somewhat contradictorily, given its political scenario- among the most stable, the result of a decade of sustained growth averaging at 5.9%, low public debt, an abundance of natural resources and a modernizing economy.
The services sector, particularly finance and telecoms, accounts for 60% of GDP, while ores and minerals, including copper, silver and natural gas, account for 50% of exports. Peru is the world's second-largest producer of copper.
Against this backdrop of optimism is a country ravaged by corruption. Emerging in 2016, Brazil's Lavo Jato scandal has enmeshed much of the continent and has had a truly profound impact in Peru, where approximately $30m in bribes were paid by construction company Odebrecht in exchange for public works contracts. Four of Peru's former presidents have been implicated, including Alan García, whose suicide in the face of imminent arrest shocked the nation earlier this year.
While Lavo Jato exposed the lawmakers, 2018 exposed the law keepers when a separate scandal -involving alleged payments in exchange for influencing court cases- was uncovered at the highest echelons of the judiciary and with direct links to members of Congress.
It resulted in a nine-month state of emergency and creation of a Justice Reform Commission. At the tail-end of 2018, the country went to the polls in a historic referendum, voting in favour of fundamental reform of both the judiciary and the political system. It was a significant victory for incumbent president Martín Vizcarra, who has made anti-corruption the bulwark of his agenda since stepping into the role after his predecessor -Pedro Pablo Kuscynski- resigned in the face of imminent impeachment in March 2018. Vizcarra's efforts have earned him the epithet 'the people's champion'.
Meanwhile, Peru boasts a sophisticated and competitive legal market frustrated by the country's constitutional woes. Infrastructure and project finance work, so ripe for international investment, has been the obvious casualty of Lava Jato, with officials too wary of awarding contracts, although a surge in concession amendments and disputes has created legal work, albeit of lesser calibre
Lawyers report an uptick in corporate lending and acquisition finance, with the agriculture and real estate sectors particularly busy, while a rise in commodity prices has led to a rejuvenated mining sector, producing some of the country's deals of the year. They include: Pan American Silver Corp's $1.3bn acquisition of all the outstanding shares in Tahoe Resources; Japanese Mitsubishi Corporation's 21.9% stake increase in Anglo American Quellaveco, which owns the Quellaveco copper project, for $600m; and the $900m financing granted to Macrobre for its Mina Justa copper mine.
Significant legislative reform to tackle tax avoidance was passed in late 2018 and analysts anticipate a considerable increase in related legal work and an estimated $1.8bn rise in fiscal revenue. In another key development -and after two decades of debate- Congress finally approved merger control legislation in May 2019 to facilitate the country's goal of full accession to the OECD.
Given the above-mentioned corruption scandals, white collar crime and compliance are -unsurprisingly- growing areas of legal practice, with full-service law firms in particular seeking to up-scale in these areas, once the domain of niche practices. The examples of Odebrecht and -closer to home- local construction group Graña y Montero, remains fresh in the mind of the business community; avoiding compliance and corruption issues, with their associated reputational risks, has risen swiftly in the list of priorities preoccupying corporates and financial institutions.
Top-end legal services are dominated by a handful of domestic giants and a smattering of international players. Homegrown 'national champion' Rodrigo, Elías & Medrano – Abogados eclipses nearest rivals with the most tier one rankings in our publication this year, closely followed by Miranda & Amado.
Other leading full-service players include Payet, Rey, Cauvi, Pérez Abogados, nationwide-firm Muñiz, Olaya, Meléndez, Castro, Ono & Herrera Abogados (the largest firm in Peru by number of lawyers), the rapidly-expanding Hernández & Cía. Abogados, Estudio Echecopar member firm of Baker McKenzie International, Philippi Prietocarrizosa Ferrero DU & Uria, Garrigues and CMS Grau – the latter four all strong standalone operations of international firms.
The other foreign-headquartered firms present are insurance authority Kennedys, global player DLA Piper Perú and Dentons Peru, which recently announced the hire of new senior associates Angie Umezawa and Max Carneiro so as to develop the office's infrastructure practice. Additionally, Spanish giant Cuatrecasas finally announced its launch in Lima in 2019 following an extensive reconnaissance exercise. Indeed, the arrival of the latter has already disrupted the market, with its recruitment of Aldo Reggiardo from Payet, Rey, Cauvi, Pérez Abogados followed in July 2019 by that of key corporate practitioner Oscar Trelles from Estudio Echecopar member firm of Baker McKenzie International. Most recently – in October 2019 – it hired former PwC Director  Juan Pablo Porto to head the office's incipient tax team.
Hernández & Cía. Abogados recorded an incredible 48% income growth in 2018, bucking market trend, the result of an aggressive lateral hiring policy during the previous three years that has seen the firm grow to approximately 80 lawyers. Rubio Leguía Normand  is also in growth mode, it's efforts to reinforce its partnership (following the 2014 departures that created the core of Garrigues' Lima-based team) finally beginning to bear fruit. The firm  has recruited five partners from rival firms during 2018/2019 alone, including Jeanette Aliaga , who moved from the banking and finance team at Philippi Prietocarrizosa Ferrero DU & Uria, Diego Grisolle, former head of energy and projects at García Sayán Abogados and Franco Soria, former real estate partner at CMS Grau.
Indeed, the year was marked by numerous headline partner moves. In addition to the above-mentioned hires by Cuatrecasas and Rubio Leguía Normand, the most significant included: the August 2019 departure of Luis Vinatea (former firm managing partner) and Jorge Toyama (labour practice co-head) from Miranda & Amado to found labour boutique Vinatea & Toyama; the exit of projects lawyers Juan José Cárdenas and María Luisa Peña  (and their team), from Rebaza, Alcázar & De Las Casas to EY Legal; and the departure of the former head of Payet, Rey, Cauvi, Pérez Abogados' tax practice, Ivan Chu to co-found specialist tax boutique Damma Legal Advisors with Walther Belaunde (ex-Santiváñez) and José Chiarella (formerly at Garrigues). Elsewhere, energy and regulatory star María Teresa Quiñones left Rodrigo, Elías & Medrano – Abogados to open her own boutique, Quiñones Alayza Abogados; while Rodrigo, Elías & Medrano – Abogados, in turn, hired the life sciences team, including partner Maritza Reátegui, from Muñiz, Olaya, Meléndez, Castro, Ono & Herrera Abogados. Payet, Rey, Cauvi, Pérez Abogados was boosted by the hire of arbitration expert Mario Reggiardo from top competition and arbitration boutique Bullard Falla Ezcurra Abogados. Finally, in a further indication of its aggressive intentions, early September 2019 saw EY Legal absorb leading financial regulation and fintech boutique, Vodanovic Legal; lead lawyers Ljubica Vodanovic and María del Carmen Yuta arrive as partners, along with their entire team.
Payet, Rey, Cauvi, Pérez Abogados fields a well-resourced team which covers all types of commercial disputes across arbitral, litigious, administrative and criminial courts. Clients report 'great service' and the team's ability to 'detect problems well in advance' of their arising. In a major boost to the practice, prominent arbitration expert Mario Reggiardo joined as partner from leading arbitration boutique Bullard Falla Ezcurra Abogados where he co-led the practice. He joins Julio César Pérez (head of dispute resolution), José Caro John (head of white collar crime) and Máximo Gordillo on the partner-level disputes bench. The practice acts for some of Peru's highest-profile companies and global players, with recent matters including success in a $25m claim on behalf of BNP Paribas following a 14-year battle against Avanzit (now Ezentis). Current mandates include advising Scotiabank, Interbank, Volcan Compañía Minera and Fenix Power, among others, in high-value litigation, while arbitration cases include a $65m dispute in the oil-and-gas sector.
Lawyer Rankings
Top Tier Firm Rankings
Firm Rankings