Firm Profile > Troutman Pepper > Pittsburgh, United States
Troutman Pepper
Offices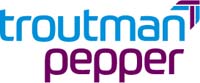 Troutman Pepper
Pittsburgh Union Trust Building
501 Grant Street, Suite 300
PITTSBURGH, PA 15219-4429
United States
Troutman Pepper > The Legal 500
Rankings
Acting for pharmaceutical, medical device and health sciences companies, Troutman Pepper has broad-based expertise in litigation, with mass torts being a particular strength. The firm also provides counseling at every stage of the R&D process, including risk evaluation, and related fields of regulatory compliance, clinical trials, marketing and IP protection. Philadelphia-based Barry Boise has experience defending contested product liability litigation, state attorney general litigation, multi-state investigations and consumer fraud litigation. The New York team was strengthened in 2019 by the arrival of healthcare, science and IP specialists Michael Goldman, Gunnar Leinberg and Andrew Zappia from LeClairRyan. Additionally, the Detroit office was boosted by the arrival of Serene Katranji, who joined from Seyburn Kahn, P.C. in 2019.
Key clients
GlaxoSmithKline
Eli Lilly and Company
Medtronic
National Football League
CertainTeed Corporation
Johnson & Johnson
C.R. Bard
Collegium Pharmaceutical
LivaNova
Sun Pharmaceutical Industries
Troutman Pepper has a highly developed FERC practice thanks to the expertise of highly praised Washington DC partner Amie Colby and her wider team. The group is also noted for its hydropower experience and regulatory experience before multiple state utility commissions. In Atlanta, Brandon Marzo frequently represents clients before state commissions in Georgia and the Carolinas.
Practice head(s):
Brandon Marzo; Amie Colby
Key clients
Consolidated Edison Energy
PacifiCorp
Georgia Power
Southern Company
Dominion Energy
Duke Energy Progress
Louisville Gas & Electric
Public Service Company of New Mexico
City of Seattle
WEC Energy
Wisconsin Electric Power
Chelan County Public Utility District
Grand River Dam Authority
NorthWestern Energy
The construction practice at Troutman Pepper concentrates on disputes work, both in federal or state court and arbitration forums. Michael Subak chairs the practice from Philadelphia, where he represents owners, construction managers and subcontractors in significant capital projects across the energy, infrastructure and commercial development sectors. Pittsburgh-based Albert Bates and Ralph Finizio provide strong support, along with Marion Hack in Los Angeles.
Troutman Pepper comes highly recommended for its cradle-to-grave expertise in renewables projects. The firm has strong teams working out of Los Angeles and New York, with the west coast lawyers perhaps more weighted to the sponsor side, and the east coast lawyers weighted towards the lenders. The team is ultimately praised for its full service offering that encompasses greenfield project finance and tax equity investments, as well as latter stage refinancings, acquisitions, and divestments. Among the partners, Los Angeles-based co-head John Leonti is noted for his  handle on related financial derivatives work, while his New York based co-head Craig Kline has a strong focus on structured finance and tax equity. Other key individuals include New York's Hayden Baker and associate Vaughn Morrison, and up-and-coming partner Christine Bynes in Los Angeles.
Other key lawyers:
Testimonials
'The team has great experience with the renewables power sector from all perspectives – advising owners, tax equity investors and lenders. Further, the team has been adding capabilities as the market evolves from utility PPAs to other means of securing project revenues. These new methods come with their own challenges and the Troutman Sanders team is staying ahead of the trends'
'The Troutman team has been universally supportive of our corporate growth and consistently demonstrate their comfort across a wide breadth of legal practices including international renewable energy contracts, financing and complex corporate matters. Equally important; they are fair and flexible when it comes to fees and are open to working within the unnatural rhythm of the project development cycle'
'Experienced, client focused and willing to step out of the way to educate and help clients about issues'
'Very business friendly, diligent and smart. Customers like them'
'Craig Kline and his team represent the gold standard in renewable energy counsel. Together, with John Leonti, the partners pack a punch. Equally impressive are the associates, namely Vaughn Morrison'
Key clients
Southern Power Company
Wells Fargo Bank, NA
EDF Renewable Energy
Consolidated Edison Development
Cypress Creek Renewables
Dominion Energy
Fifth Third Bank
BNRG Renewables
M&T Bank
Geronimo Energy
Generate Capital
Leandlease Energy Development
JP Morgan
The Huntington National Bank
NextEra Energy Resources
Solar Liberty
I Squared Capital
Duke Energy Renewables
Troutman Pepper is highly rated for its connections to the oil and gas pipeline industry and its work on storage, terminal and LNG facilities. The practice advises a significant number of oil and gas pipeline companies, and has experience in the LNG and terminal storage facilities sector; it also has expertise in obtaining FERC authorizations, tariff and rate cases, FERC enforcement proceedings and FERC rule making mandates. Atlanta partner Catherine Little is rated for storage, terminal and LNG facilities regulatory compliance and enforcement defense mandates, Washington DC's Lisanne Crowley specialises in the federal regulation of natural gas, and Amie Colby leads the regulatory and finance department from DC.
Practice head(s):
Amie Colby; Catherine Little
Testimonials
'Very broad knowledge and experience base covering all areas of our needs including electric, natural gas and hydro.'
'Quick to respond to one-off questions and formal engagements. Very willing to bring in other in house experts if issues are better served by others.'
Key clients
Enbridge
Energy Transfer
SCG/SCANA Group
Iroquois Gas Transmission System
Upper Midwest Shipper Group
Enterprise Products
The Williams Companies / Transco
WEC Energy Group
Spire
Southern Company Gas
DCP Midstream
Troutman Pepper has 'great experience within the renewables power sector from all perspectives - advising owners, tax equity investors and lenders' on their transactional and operational work across solar, hydropower and wind projects. Incorporating a multi-disciplinary approach across corporate, financing, tax and regulatory competences, the team has a 'depth of knowledge and experience' across utility-scale projects and customer-sited distributed generation. John Leonti and Craig Kline co-head the team out of Orange County and New York, respectively, with Leonti providing niche expertise in relation to hedge transactions utilizing renewables-related financial derivatives.
Testimonials
The firm has a depth of knowledge and experience in handling situations as the transaction progresses.
The team has a clear grasp of practical ways to solve issues.
It has great experience within the renewables power sector from all perspective – advising owners, tax equity investors and lenders.
The team has been adding capabilities as the market evolves from utility PPAs to other means of securing project revenues. These new methods come with their own challenges and the Troutman Sanders team is staying ahead of the trends.
Key clients
Southern Power Company
Wells Fargo Bank
EDF Renewable Energy
Consolidated Edison  Development, Inc.
Cypress Creek Renewables
Dominion Energy
Fifth Third Bank
BNRG Renewables
M&T Bank
Geronimo Energy
Generate Capital, Inc.
Leandlease Energy Development
JP Morgan
The Huntington National Bank
NextEra Energy Resources
National Hydropower Association
I Squared Capital
Duke Energy Renewables
Berkshire Hathaway Energy Company
Avangrid Renewables
PacifiCorp
Combining strong trial capabilities with thorough environmental experience, Pillsbury Winthrop Shaw Pittman LLP provides legal support to domestic and international clients from a range of sectors, namely chemical manufacturing, mining, energy, public utilities as well as wastewater treatment. The firm fields a strong environmental appeals team, and is proficient in cost recovery actions, air and water pollution control, Superfund and toxic tort litigation, as well as matters involving endangered species and climate change issues. Based in Los Angeles, Mark Elliott chairs the nationwide environmental practice. Elliot's experience covers Proposition 65, CEQA as well as property contamination, toxic torts and the Clean Water Act. Co-head Jeffrey Knight specializes in litigation under the Clean Water Act and Clean Air Act; he is based in Washington DC. The practice is also overseen by Margaret Rosegay in San Francisco and Amanda Halter in Houston. Cross-border contamination cases are an area of focus for Austin-based Christopher McNevin; while Matthew Morrison is a name to note in the DC office for enforcement defense. Enforcement actions are also an area of strength for Michael McDonough, who is based in Los Angeles.
Working in close cooperation with the firm-wide regulatory team, Troutman Pepper's environmental litigation and toxic tort practice acts for clients across a range of industries. Citizen suits, mass tort, class actions and enforcement defense are all typical mandates for the department, which has a proven track record in environmental litigation involving climate change, the Clean Air Act, RCRA and Clean Water Act. Atlanta-based Catherine Little and Fitzgerald Veira jointly lead the team, which also includes Brooks Smith in the Richmond office and Kevin Desharnais in Chicago.
Practice head(s):
Mark Elliott; Margaret Rosegay; Amanda Halter; Jeffrey Knight
Key clients
TopBuild
Arkema
Chesapeake Energy
DuPont
Waste Management
Chevron Corporation
Valero Energy Corporation
BAE Systems
Teck Metals
Western States Petroleum Association
Practice head(s):
Catherine Little; Fitzgerald Veira
Key clients
Dominion Energy
PacifiCorp
Deere and Company
National Mining Association
City of Fort Lauderdale, Florida
Red River Coal Company
Virginia Coal and Energy Alliance
Remet Corporation
Southern Company; Georgia Power
Murray Energy
Republic Services
Southern Mills (d/b/a TenCate Protective Fabrics)
WASCO
Based in Atlanta, Troutman Pepper advises domestic and international corporates, trade associations, non-profits and municipal bodies on a huge range of compliance and enforcement matters. The team has a broad service offering covering regulatory issues associated with waste water and retail waste management, as well as climate change and endangered species issues. Catherine Little oversees the practice alongside Fitzgerald Veira, who specializes in environmental and nuclear regulatory matters involving the Clean Water Act and NEPA. Randy Brogdon is the name to note for environmental compliance at federal, state and local level, while Byron Kirkpatrick is a contact for environmental policy, permitting and enforcement matters.
Practice head(s):
Catherine Little; Fitzgerald Veira
Key clients
Arizona Attorney General
Atlantic Coast Pipeline (Dominion Energy)
Delta Air Lines
Enbridge
Corporate Environmental Enforcement Council (CEEC)
Grand River Dam Authority
Kiewit Corporation
SUEZ Environment North America
Deere and Company
PacifiCorp
Georgia Power Company
Mar-Jac Poultry
MFG Chemical
Troutman Pepper stands out in particular for its experience advising oil and natural gas pipeline companies. Indeed, the team is often called upon to act as lead environmental counsel in renewable power projects across the country, counseling on environment and climate change issues surrounding development, acquisitions, financing, among others. The nationwide environmental and natural resources practice is jointly led by Catherine Little and Fitzgerald Veira, both in Atlanta. Other key figures include Raleigh-based Sean Sullivan, who focuses on areas such as brownfield redevelopment, in addition to environmental compliance and transactional due diligence; and Andrew Perel in New York, who advises on environmental risk management and compliance matters.
Practice head(s):
Catherine Little; Fitzgerald Veira
Testimonials
'The Environmental group is creative and adaptable.  Most issues that arise are not black and white and I have had positive outcomes as a result of this group's ability to utilize resources within the firm to provide practical approaches to complex matters.'
'Sean Sullivan and Lisa Zak make a great team.  Working with both of them has been a pleasure and a true team effort.'
Key clients
Consolidated Edison Development
I Squared Capital
UBS
Societe Generale Corporate and Investment Banking – SGCIB
Resource Environmental Solutions
Duke Energy Renewables
Troutman Pepper handles D&O liability claims involving securities and derivative litigation, professional liability coverage, hedge fund and financial institution claims, and high damages employment matters, in addition to ERISA, antitrust, and bankruptcy litigation. The team has handled coverage matters arising from opioids, tobacco, asbestos, soccer concussions, and environmental contamination. Richard Pratt, who focuses on litigation and counseling for insurers in mass tort lawsuits,  jointly leads the practice with professional liability expert Charles Jones. Both are based in Washington DC, though the group also has offices in New York and Orange County.
Practice head(s):
Richard Pratt; Charles Jones
Other key lawyers:
Bill O'Neill; Jonathan Constine; Jennifer Mathis; Kevin Kiefer
Key clients
Farmers New World Life Insurance Group
Osprey Underwriting Agency
Beazley
AXA XL
Starr Surplus Lines
Zurich
Chubb
XL Catlin
ACE Europe
Lloyd's of London
Troutman Pepper handles leasing deals in relation to office and industrial properties, in addition to retail leases, including those at shopping centers. Ground leases and sale-leaseback transactions are a further strength, as are acquisitions and dispositions of office, hotel and resort, mixed-use and multi-family properties. Headed by Anthony Greene in Atlanta, the team also has core expertise in development agreements, portfolio management and operation and build-to-suit transactions.
Other key lawyers:
Randal Lejuwaan; Patrick Ridinger; Michael Tomlinson
Key clients
Cousins Properties
Crescent Communities
PacifiCorp
Walnut Hill Capital
Spectrum Properties
Korea Post
Interwest Capital
Domestic Value-Add Fund
German Pension Fund
Trinity Capital Partners
Parkway Properties
Copper River Country Club/The Tatham Family
Troutman Pepper >
Firm Profile
With more than 425 lawyers in 14 offices across the United States, we use the unique skills and talents of our people, the breadth of our practices, and the depth of our experience to deliver powerful solutions to clients' legal and business issues.
The firm has grown from a two-person law office, formed in 1890 in Philadelphia, to a sophisticated, large law firm with a national and international practice. While much about Pepper Hamilton is new and different from its beginnings, it retains traditional values, passed down through the decades: respect for the rule of law, pride in an excellent work product and commitment to the client's cause. Today, Pepper Hamilton is a diverse firm of men and women from a broad spectrum of backgrounds, united in these values.
Main areas of practice
Construction: represents contractors, public and private owners, developers, subcontractors, architects, engineers and sureties in contract negotiations, arbitration, mediation and litigation.
Corporate and securities: represents public and private companies in M&A activities, corporate governance, disclosure, securities compliance and enforcement, and other business matters; and private equity and venture funds in fund formation, investments, buy-outs and other transactions.
Corporate restructuring and bankruptcy: represents creditors, debtors, trustees, commercial lenders, examiners and other parties in insolvencies involving a wide range of industries, with particularly notable experience in the food, asbestos, energy, construction, manufacturing, healthcare and automotive industries.
Environment and energy: represents manufacturers, public and private utilities, insurance companies, renewable energy developers, trade associations, land owners, large institutional organizations, and oil and gas producers with environmental, regulatory and commercial issues.
Financial services: represents sophisticated institutional lenders and borrowers in leveraged transactions, secured financings, securitizations and litigation; and investment advisory fund formation and regulation.
Health sciences: represents clients across the health sciences spectrum, from discovery of new therapies to delivery of patient care. Key areas include pharmaceutical and medical device litigation and counseling, health care services, life sciences, intellectual property, and state Attorney General litigation.
Intellectual property: procures IP rights and resolve disputes, including patents, copyrights, trade marks, trade secret protection, unfair competition, false advertising, and defamation, publicity and privacy issues.
International: represents major national and multinational corporations, emerging businesses, foreign governments, trade associations, non-profit organizations, entrepreneurs and individuals.
Labor and employment: represents employers in all aspects of labor and employment law, from management counseling to complex employment litigation.
Tax: structures businesses and transactions to improve local, state, national and international tax efficiency. Assists clients with proactive tax planning, including mergers and acquisitions, dispositions, public offerings, reorganizations, restructurings, liquidations and structured finance vehicles.
Trial and dispute resolution: represents clients in complex contract, corporate governance, securities, ERISA and antitrust litigation, and alternative dispute resolution in single case, class action and MDL contexts.
White-collar litigation and investigations: the team includes a highly skilled group of former federal and state prosecutors and experienced corporate counsel with unparalleled expertise in white-collar defense and regulatory enforcement, corporate investigations, compliance and ethics.
Chair, executive committee: Thomas M Gallagher
Managing partner: Thomas J Cole, Jr
Other offices: Berwyn, PA, Boston, Detroit, Harrisburg, Los Angeles, New York, Orange County, CA, Pittsburgh, Princeton, NJ, Rochester, NY, Silicon Valley, Washington, DC, Wilmington, DE
Number of lawyers: 450
Total staff: 1,000
Main Contacts
| Department | Name | Email | Telephone |
| --- | --- | --- | --- |
| Construction | Michael P Subak | | |
| Corporate and securities | Matthew M Greenberg | | |
| Corporate restructuring and bankruptcy | Todd A Feinsmith | | |
| Corporate restructuring and bankruptcy | David M Fournier | | |
| Employee benefits | David M Kaplan | | |
| Environment and energy | Todd C Fracassi | | |
| Financial services | John M Ford | | |
| Financial services | Henry Liu | | |
| Health sciences | Rachael M Bushey | | |
| Intellectual property | William D Belanger | | |
| International | James D Rosener | | |
| Labor and employment | Matthew V DelDuca | | |
| Real estate | Matthew J Swett | | |
| Tax | Joan C Arnold | | |
| Trial and dispute resolution | Brian P Downey | | |
| White-collar litigation and investigations | Michael A Schwartz | | |
Lawyer Profiles
| Photo | Name | Position | Profile |
| --- | --- | --- | --- |
| | Mr Albert Bates | Albert Bates helps clients resolve U.S. and international construction disputes, particularly in… | View Profile |
| | Mr Ralph Finizio | Ralph Finizio practices in commercial litigation, with an emphasis on construction-related claims.… | View Profile |
Staff Figures
Number of Lawyers : 450 Total Staff : 1,000
Other
Chair, Executive Committee : Thomas M Gallagher Managing Partner : Thomas J Cole, Jr Other Offices : Berwyn, PA Other Offices : Boston Other Offices : Detroit Other Offices : Harrisburg Other Offices : Los Angeles Other Offices : New York Other Offices : Orange County, CA Other Offices : Pittsburgh Other Offices : Princeton, NJ Other Offices : Rochester, NY Other Offices : Silicon Valley Other Offices : Washington, DC Other Offices : Wilmington, DE
Top Tier Firm Rankings
Firm Rankings