Mr Evan Chesler > Cravath, Swaine & Moore LLP > NEW YORK, United States > Lawyer Profile
Cravath, Swaine & Moore LLP
Offices

Cravath, Swaine & Moore LLP
WORLDWIDE PLAZA
825 EIGHTH AVENUE
10019-7475
United States
Mr Evan Chesler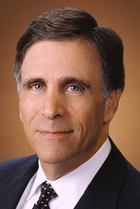 Work Department
Litigation.
Position
Evan R. Chesler is Cravath's Chairman. He has broad experience in both trial and appellate courts, and has tried numerous cases in federal and state courts all over the country.
Mr. Chesler handles a wide variety of litigation, including securities, shareholder derivative, intellectual property, general commercial, environmental, ERISA, contractual disputes and antitrust. His practice also includes the representation of clients in government and internal investigations. Mr. Chesler has represented companies and their management in virtually every industry including technology, media, pharmaceutical, manufacturing and financial services.
Lawyer Rankings
United States > Dispute resolution > Appellate
Cravath, Swaine & Moore LLP regularly handles the appellate stage in matters in which the group is already conducting trial court litigation. In the antitrust enforcement case of Ohio v American Express Co., the team successfully defended the respondent against claims brought before the US Supreme Court; Evan Chesler presented arguments and convinced the Court to reject antitrust challenges to American Express' anti-steering provisions contained in its merchant contracts. In a highlight at the New York State Court of Appeals, the trio of Richard Clary, Michael Reynolds and Lauren Moskowitz secured a victory for Credit Suisse Securities USA by achieving the dismissal of claims brought pursuant to the Martin Act, a New York anti-fraud law. Antony Ryan and Gary Bornstein are also key figures. In September 2018, former judge Katherine Forrest re-joined the firm.
United States > Intellectual property > Patents: litigation (full coverage)
Cravath, Swaine & Moore LLP in New York has particular strengths in the pharmaceuticals and telecoms sectors. On the pharmaceuticals side, Keith Hummel and David Greenwald defended Amgen in pioneering BPCIA litigation brought by AbbVie in 2016, alleging infringement of ten AbbVie patents by Amgen's Amjevita, a biosimilar to blockbuster drug Humira. On the telecoms side, the group represents Qualcomm in a series of suits regarding modem chips, including several cases against Apple and a case against the Federal Trade Commission concerning an alleged breach of Section 5 of the Federal Trade Act. A major technology highlight was the successful representation of Alarm.com in a Federal Circuit case following IPRs against Vivint, which had filed for patent infringement of home security technology patents. Other notable instructions came from DRI Capital, Juno Therapeutics and OrbusNeich. Richard Stark, David Kappos, David Greenwald and chairman Evan Chesler are other names to note. Vanessa Lavely made partner, and former US district judge Katherine Forrest joined the team.
United States > Media, technology and telecoms > Media and entertainment: litigation
The New York-based litigation team at Cravath, Swaine & Moore LLP acts for media and entertainment sector clients such as HBO, Hearst Communications and Time Warner; it recently advised the latter on antitrust issues in connection with its $109 billion sale to AT&T in a matter led by a team including Peter Barbur. In another work highlight, the group is representing ABC and ESPN as intervenors in the high-profile NCAA grant-in-aid cap antitrust litigation, in which the broadcasters are opposing the release of confidential broadcast, media and sponsorship agreements. Karin DeMasi and Evan Chesler are acting for The Weinstein Company in a books and records demand suit brought by Harvey Weinstein; the team also represented the client in a breach of contract lawsuit at the New York Supreme Court brought by Speedee Distribution. The practice frequently handles employment and intellectual property litigation and benefits from the addition of Hon. Katherine Forrest from her role as a district judge for the Southern District of New York. J Wesley Earnhardt is another key name to note.
United States > Antitrust > Civil litigation/class actions: defense
The advice provided by Cravath, Swaine & Moore LLP's antitrust team is 'practical and takes business realities into consideration'. David Marriott and Lauren Moskowitz are currently representing Alcon Laboratories in over 50 putative class actions alleging violations of Section 1 of the Sherman Act by the client's pricing policies for its contact lenses. Also notable are Evan Chesler, Peter Barbur, Rory Leraris and Kevin Orsini, who together secured a complete victory for American Express in the Second Circuit and US Supreme Court to end a longstanding dispute first brought by the DOJ then followed by several state attorneys alleging the client's card agreement 'non-discrimination' provisions violated the Sherman Act. Clients also recommend Lauren Roberta Kennedy and Karin DeMasi, who are 'both extremely responsive and give great legal counsel'. Katherine Forrest joined the team from her position with the government, and Vanessa Lavely was recently promoted to partner.
United States > Dispute resolution > Securities litigation - plaintiff
Within: Hall of Fame
-
United States > Dispute resolution > Securities litigation - defense
Within: Hall of Fame
-
United States > Dispute resolution > Leading trial lawyers
Within: Hall of Fame
-
Within: Leading trial lawyers
-
Evan Chesler – Cravath, Swaine & Moore LLP Evan Chesler has over four decades of litigation experience in trial courts and acts across a range of industry sectors including pharmaceuticals and financial services. He recently represented Merck in patent infringement claims regarding the sale of one of its drugs. Other highlights include successfully defending long-standing client American Express in a significant antitrust enforcement action in the US Supreme Court, which marked the end of an eight-year lawsuit.
United States > Dispute resolution > Financial services litigation
Praised for its ability to 'muster impressively cohesive intellectual firepower', New York-headquartered Cravath, Swaine & Moore LLP provides a seamless service to a wide range of financial services clients, from the initial agency investigation and enforcement action through to the private class actions that frequently follow in their wake. The team continues to handle a significant amount of antitrust-related disputes for financial services clients, including American Express, which renowned trial lawyer Evan Chesler successfully represented before the US Supreme Court (thereby bringing an end to an eight year lawsuit brought by the DOJ and 17 state attorneys general). In another notable market manipulation-related dispute, John Buretta successfully secured the dismissal of a consolidated class action brought against Nomura International as one of the alleged participants in collusion and price fixing among numerous financial institutions of supranational, sub-sovereign and agency bonds. Appreciated by clients for his 'strong intellect and excellent bedside manner', Richard Clary is regularly at the forefront of the most significant financial services litigation handled by the firm, including his defense, along with Lauren Moskowitz and Michael Reynolds, of Credit Suisse in residential-mortgage backed securities (RMBS) litigation brought against it in the immediate aftermath of the financial crisis. Daniel Slifkin and Michael Paskin are also regularly involved in financial services-related litigation and have both been pivotal to the firm's defense of Morgan Stanley in individual and class action lawsuits alleging collusion among banks to restrain competition in the market for certain derivatives.
United States > Dispute resolution > General commercial disputes
'Intellect and litigation strategy are key strengths' at Cravath, Swaine & Moore LLP, which is noted for its 'solid, remarkably thorough work'. The firm had another busy year in 2018, continuing to handle high-profile and high-stakes cases. Highlights included representing Qualcomm in consolidated actions in the Southern District of California against Apple concerning Qualcomm's patent licensing and modem chipset businesses; the team included Evan Chesler, J Wesley Earnhardt and Vanessa Lavely, who was promoted to partner in 2018. Elsewhere, Benjamin Gruenstein represented Avon in a breach of contract dispute filed by ASG, Technologies, while in the New York State Court of Appeals, Richard Clary, Michael Reynolds and Lauren Moskowitz secured the dismissal of a Martin Act claim against client Credit Suisse filed by the New York Attorney General. In a significant development in September 2018, former District Judge for the Southern District of New York Katherine Forrest returned to the firm. Darin McAtee is 'a first-rate trial lawyer with outstanding performance in the courtroom' and Omid Nasab is also recommended. Key litigator David Marriott is another name to note.