Firm Profile > Wald, Antunes, Vita, Longo e Blattner Advogados > Sao Paulo, Brazil
Wald, Antunes, Vita, Longo e Blattner Advogados
Offices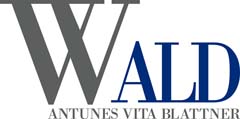 Wald, Antunes, Vita, Longo e Blattner Advogados
AVENIDA JUSCELINO KUBTISCHEK 510
8TH FLOOR
04543-906 SÃO PAULO
Brazil
Wald, Antunes, Vita, Longo e Blattner Advogados > The Legal 500
Rankings
The experienced team at
Wald, Antunes, Vita e Blattner Advogados
is able to handle institutional and ad hoc arbitrations, representing a range of clients before Brazilian and international arbitration chambers. Disputes involving stock market investments, engineering and infrastructure contracts are key areas of focus for the arbitration department, which is also equipped to assist with the enforcement of foreign arbitral awards. The team is under the joint leadership of six practitioners: name partner
Arnoldo Wald
;
Mariana Tavares Antunes
; 
Alexandre de Mendonça Wald
, who has specialist knowledge of banking, capital markets and corporate law;
Arnoldo Wald Filho
, whose experience covers banking matters and arbitration; litigation and arbitration specialist
Riccardo Giuliano Figueira Torre
; and
Marina Gaensly Blattner
.
Practice head(s):
Arnoldo Wald; Alexandre de Mendonça Wald; Arnoldo Wald Filho; Mariana Tavares Antunes; Riccardo Giuliano Figueira Torre; Marina Gaensly Blattner
Testimonials
'Arnold Wald Filho stands out in commercial arbitration.'
'Great professional experience and client focus. Riccardo Torre and Marina Blattner are recommended.'
The litigation department at
Wald, Antunes, Vita e Blattner Advogados
 attracts praise for its '
technical capacity, availability and strategic vision
'. Its practitioners are regularly instructed by clients from a variety of industries in relation to infrastructure, commercial, corporate, restructuring and banking-related disputes. In the administrative litigation sphere, the team is sought after by public service concessionaires looking for legal support in the context of enforcement matters and bid protests. Civil litigator
Mariana Tavares Antunes
is extremely active in the team, which also includes
Arnoldo Wald Filho
, who focuses on litigation and arbitration, and contractual law specialist
Marcus Vinícius Vita Ferreira
.
Bernardo Cavalcanti Freire
 and
Eduardo Cezar Chad
are widely recommended by clients. Other names to note include
Arnoldo Wald
,
Alexandre de Mendonça Wald
and
Marina Gaensly Blattner
.
Since publication
, Samantha Mendes Longo left the firm, in October 2021.
Practice head(s):
Arnoldo Wald; Alexandre de Mendonça Wald; Arnoldo Wald Filho; Mariana Tavares Antunes; Marcus Vinicius Vita Ferreira; Marina Gaensly Blattner; Bernardo Cavalcanti Freire; Eduardo Cezar Chad
Testimonials
'Competent and dedicated professionals, close to the business and committed to results.'
'Bernardo Freire stands out in administrative and civil litigation.'
'Great technical knowledge; proximity to the client; always aim to solve the client's problem. Eduardo Chad is recommended.'
'This is a firm that combines important qualities with a highly competent team, 24/7 customer service with a high degree of assertiveness in their work. I would like to highlight Alexandre Wald, Mariana Antunes and Eduardo Chad.'
'Technical capacity, availability, and strategic vision. Bernardo Freire is recommended.'
Key clients
Partido Humanista da Solidariedade – PHS
Grupo Farmabrasil
Confederação Nacional dos Pescadores e Aquicultores – CNPA
Companhia Docas do Estado de São Paulo – CODESP
Viação Aérea de São Paulo – VASP
Votorantim
BTG Pactual
GAFISA
Alliance Shopping Centres
DIVX
Ericsson
CESP- Companhia Energética de São Paulo
NOKIA Technlogies
Wald, Antunes, Vita, Longo e Blattner Advogados >
Firm Profile
Founded by Professor Arnoldo Wald in 1954, Wald, Antunes, Vita e Blattner Advogados is a highly specialized litigation and arbitration law firm.
The firm works on major corporate disputes, representing minority and majority shareholders, as well as on disputes involving businesses that provide public services and contracts signed with the public administration or state entities.
Wald Antunes Vita e Blattner deals with domestic and international institutional arbitrations and ad hoc proceedings. Its lawyers may also serve as arbitrators, experts and consultants in arbitral proceedings under the rules of several Brazilian arbitral institutions (such as CAM/CCBC, CCMA-CIESP/FIESP, CAMARB, CBMA, FGV, CAM/BOVESPA, among others), as well as under those of foreign institutions (such as ICC, AAA/ICDR, LCIA and UNCITRAL).
Furthermore, the arbitration team has advised clients in court proceedings related to arbitration (such as precautionary measures, and recognition and enforcement of foreign awards), as well as producing legal opinions and statements.
Recently, the firm won the prestigious Latin Lawyer's 2018 Deal of the Year for the 'Banks and depositors settle disputes from Brazil's hyperinflation period', a major settlement among banks and depositors that represented a milestone in the country's history.
As a recognition for the outstanding works in some of the biggest dispute resolution cases and M&A deals, Wald, Antunes, Vita e Blattner Advogados has been previously awarded the Deal of the Year also in 2016, 2013, 2010, 2009, and 2008.
Its team of lawyers stands out for its unparalleled expertise and experience in extremely complex matters, regarding corporate law, commercial law, contracts, banking, energy and infrastructure sectors, among others. The firm also represents public utility companies in greatly important disputes involving governmental contracts. The firm has vast experience when dealing with cases regarding hydroelectric power plants and their energy providers, corporate disputes as shareholding control acquisition, litigation involving regulatory agencies, and arbitrations regarding national and international trades.
For many years, Latin Lawyer 250, Chambers Global, Chambers Latin America, The Legal 500 and Who's Who Legal have nominated the firm and its managing partners within the first tier of litigation and arbitration firms. In 2014 and 2015, "Editora Análise 500 – Brazilian most admired lawyers" ranked the firm as first and second, respectively, dispute resolution highly specialized law firm of the year.
Main Contacts
| Department | Name | Email | Telephone |
| --- | --- | --- | --- |
| Litigation | Alexandre de Mendonça Wald | | |
| Litigation | Arnoldo Wald Filho | | |
| Litigation | Mariana Tavares Antunes | | |
| Litigation | Marcus Vinicius Vita Ferreira | | |
| Arbitration | Arnoldo Wald | | |
| Arbitration | Mariana Tavares Antunes | | |
| Arbitration | Marina Gaensly Blattner | | |
| Administrative, Regulatory and Infrastructure | Arnoldo Wald | | |
| Administrative, Regulatory and Infrastructure | Mariana Tavares Antunes | | |
| Administrative, Regulatory and Infrastructure | Marina Gaensly Blattner | | |
| Commercial/Corporate | Alexandre de Mendonça Wald | | |
| Commercial/Corporate | Arnoldo Wald Filho | | |
| Commercial/Corporate | Marcus Vinicius Vita Ferreira | | |
| Debt Restructuring and Bankruptcy | Arnoldo Wald Filho | | |
| Banking and Finance | Arnoldo Wald | | |
| Banking and Finance | Alexandre de Mendonça Wald | | |
| Banking and Finance | Marcus Vinicius Vita Ferreira | | |
| Litigation | Bernardo Cavalcanti Freire | | |
| Litigation | Eduardo Cezar Chad | | |
| Arbitration | Riccardo Giuliano Figueira Torre | | |
Lawyer Profiles
| Photo | Name | Position | Profile |
| --- | --- | --- | --- |
| | Mr Bernardo Cavalcanti Freire | Senior Partner | View Profile |
| | Mr Eduardo Cezar Chad | Senior Partner | View Profile |
| | Mr Riccardo Giuliano Figueira Torre | Senior Partner | View Profile |
| | Mrs Marina Gaensly Blattner | Naming partner. | View Profile |
| | Letícia Perrone Campos Mello | International Partner | View Profile |
| | Mrs Mariana Tavares Antunes | Naming Partner. Mariana Antunes is a highly qualified litigator with experience in… | View Profile |
| | Mr Arnoldo Wald | Founding partner | View Profile |
| | Mr Arnoldo Wald Filho | Managing Partner. | View Profile |
| | Mr Alexandre de Mendonça Wald | One of Wald's Founding Partners, Alexandre Wald has almost 30 years of… | View Profile |
Staff Figures
Other fee-earners : 22 Total staff : 34
Languages
English Portugese Italian French German Spanish