Maureen Ohlhausen > Baker Botts L.L.P. > Washington DC, United States > Lawyer Profile
Baker Botts L.L.P.
Offices

Baker Botts L.L.P.
700 K Street, N.W.
Washington, D.C. 20001-5692
United States
Maureen Ohlhausen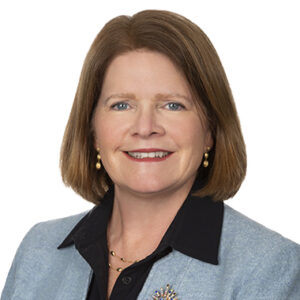 Work Department
Litigation
Position
Section Chair – Antitrust (Firmwide)
Career
Maureen K. Ohlhausen chairs the firm's Global Antitrust and Competition practice. Her practice focuses on antitrust, privacy and data security and consumer protection investigations and litigation both in the U.S. and abroad. She advises top-tier clients across a wide variety of industries including technology, retail, telecommunications, social media, and life sciences.
Maureen is sought after for her depth of experience both nationally and globally on antitrust and Federal Trade Commission (FTC)-related matters. She is known for her relationships with officials in the U.S. and abroad, with a particular emphasis on Europe and China.
She most recently led the FTC as Acting Chairman and Commissioner where she directed all aspects of the FTC's antitrust work, including merger review and conduct enforcement, and steered all FTC consumer protection enforcement, with a particular emphasis on privacy and technology issues. She regularly led the U.S. delegation at international antitrust and data privacy meetings and is the only FTC Commissioner to have received the Robert Pitofsky Lifetime Achievement award in recognition of her knowledge of and contributions to the Commission.
Prior to her role as Commissioner, she led the FTC's Internet Access Task Force, which produced an influential report analyzing competition and consumer protection legal issues in the areas of broadband and internet.
A recognized thought leader, Maureen is a frequent author and speaker and is often quoted by leading print and broadcast media on antitrust, FTC, and privacy and data security matters. She has published dozens of articles on antitrust, privacy, intellectual property, regulation, FTC litigation, telecommunications and international law issues in prestigious publications. She has also testified over a dozen times before the U.S. Congress, including recent appearances before the Senate Commerce Committee and the House Energy and Commerce Antitrust Sub-Committee.
Maureen previously headed the FTC practice group at a leading telecommunications law firm, representing and counseling telecommunications and technology clients on antitrust compliance, privacy and consumer protection matters before the FTC and the FCC. She began her legal career as a clerk at the U.S. Court of Appeals for the D.C. Circuit.
Lawyer Rankings
The antitrust and competition law practice at Baker Botts L.L.P. encompasses the full spectrum of antitrust litigation on both sides of the aisle before federal, state and appellate courts. Nationwide private litigation on behalf of corporate defendants and opt-out-litigation are part of the firm's portfolio, including cases relating to monopolization, price-fixing conspiracies, as well as vertical price and non-price restraints. John Taladay, who is experienced in working closely with the FTC and DOJ, and antitrust, privacy and data security and consumer protection expert Maureen Ohlhausen lead the department. William Lavery is well versed in matters including high-profile bet-the-company cases from industries such as pharmaceutical, healthcare, and technology, which are also covered by senior associate Chris Wilson. Stephen Weissman and Michael Perry left the firm in March 2021, while Taylor Owings joined from the DOJ's antitrust division in June of the same year. All mentioned attorneys are based in Washington DC.
(Leading lawyers)
Baker Botts L.L.P.'s  'wonderful, hard working' team is heavily involved in a variety of high-profile cartel investigations, working on behalf of major corporates in criminal and civil proceedings, as well as handling investigations, internal compliance, and broader policy issues, with team members regularly contributing to thought leadership and ongoing legal debate in key emerging areas such as labor market issues, Big Tech and intellectual properties. The criminal cartel practice is primarily led by John Taladay, a leading figure in the space with a strong record in securing acquittals and leniency agreements for major clients, notably securing a DPA for Taro Pharmaceuticals in its case against the DOJ. Maureen Ohlhausen co-heads the practice and takes the lead on civil antitrust investigations, regularly representing clients in price-fixing and filing investigations, with a standout representation in 2021 being her work for Facebook and Google in the FTC's Special 6(b) investigation into prior acquisitions by Big Tech companies. Taylor Owings joined the firm from the DOJ in June 2021, and has notable expertise in the interface between intellectual property and antitrust issues, a growing area of focus in cartel investigations. Erik Koons is leading the firm's representation of the National Association of Boards of Pharmacy in the Southern District of New York, against allegations of unfair competition, while Joseph Ostoyich is vastly experienced in monopolization litigation. Stacy Turner handles civil and criminal cartel investigations, with expertise in a range of cartel defense strategies. All lawyers mentioned are in Washington DC.
Baker Botts L.L.P. maintained its successful record across complex merger processes, including Second Request proceedings and litigation, working prolifically on behalf of clients in the private equity, tech, and industrials sectors. The team includes a number of former senior FTC and DOJ officials, and offers significant expertise in regulatory strategy and enforcement response, both within the US and when facing international antitrust agencies. The practice was further bolstered in 2021 with the arrival of former Antitrust Division Chief of Staff Taylor Owings, and the promotion of Jody Boudreault to partner, in recognition of her strong work in the healthcare sector. John Taladay oversees the team alongside former acting FTC Chair Maureen Ohlhausen, a vastly experienced antitrust practitioner with extensive first-hand knowledge of the merger review process. Mark Botti handles high-level cases in key sectors such as healthcare, financial services, and tech, including major litigation before the FTC and DOJ, while Paul Cuomo is a standout name for multi-jurisdictional merger processes, and regularly handles antitrust clearances for Liberty Media. Jeffrey Oliver also advises on global proceedings, and is strong in the oil and gas and heavy industrials spaces. Senior associate Matthew Adler is an emerging player in the team, co-ordinating complex clearance proceedings, including several cross-border deals for Liberty. All lawyers mentioned are in Washington DC.