BMA - Barbosa, Müssnich, Aragão > RIO DE JANEIRO, Brazil > Firm Profile
BMA - Barbosa, Müssnich, Aragão
Offices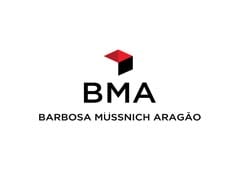 BMA - Barbosa, Müssnich, Aragão
LARGO DO IBAM, 1 – 4th FLOOR, HUMAITA
RJ. 22271-070
Brazil
BMA - Barbosa, Müssnich, Aragão > The Legal 500
Rankings
BMA - Barbosa, Müssnich, Aragão
stands out for its '
experience, quality, academic training of the lawyers, strategy and excellence in the services
'. The firm's traditional strength in corporate and M&A ensures a steady flow of merger control instructions for the competition practice, with cases involving digital and media sectors being particularly prominent on its recent workload, though the standalone practice also generates a large proportion of merger work independently. It is also able to work in collaboration with other departments at the full-service firm, including compliance and data protection. The team can regularly be found assisting clients in cartel investigations, as well as unilateral conduct cases. The group is under the leadership of
Barbara Rosenberg

, an experienced competition law expert whose track record includes advising on the merger approval of numerous high-profile M&A deals. Also of note are
Marcos Exposto
, who advises companies in the financial services, healthcare and food industries, among others;
Camilla Paoletti
, who counts domestic and international life sciences, chemicals and consumer goods companies among her clients;
José Inácio Almeida Prado Filho
, whose practice also encompasses disputes involving competition issues; and
Luís Bernardo Cascão
, who specialises in antitrust matters in the digital sector. At the associate level,
Vivian Terng
, 
Lea Jenner de Faria
and 
Bruna Anklam
are also noted.
Since publication
,
Guilherme Morgulis
was promoted to partner at the end of 2022.
The multidisciplinary team at
BMA - Barbosa, Müssnich, Aragão
is regularly turned to by an impressive roster of leading domestic and international companies across an array of industries, including retail, mining, agribusiness, energy, oil and gas and telecoms, on high-profile mandates. Comprised of '
highly qualified, well-trained, up-to-date
' professionals, the team stands out for its track record in M&A deals involving publicly traded companies. Beyond this area of strength, the group's cross-sector focus ensures that it is also sought out by clients in the context of public offerings, transactions for sale of control, transfers of minority holdings, structuring of joint ventures, and corporate reorganisations. In diversity and inclusion, the firm's commitment to gender diversity is demonstrated by its significant proportion of women partners who have an active role in strategic decision-making, and its initiative to support the professional development of women lawyers through its gender equality programme, BMAWomen. Also noteworthy is the firm's participation in Projeto Incluir Direito to foster educational and training opportunities for black students in order to enhance their competitiveness in the job market.
Luís Loria Flaks
 and
Roberto Dias Carneiro
, both of whom have played an instrumental part in many of the most high-profile corporate matters and transactions handled by the team in recent decades, jointly chair the department.
Paulo Cezar Aragão

, who specialises in cross-border transactions and commercial arbitration, is a reference in the market, given his involvement in market-shaping M&A transactions across Latin America. Active in both sell and buy-side deals and private equity investments,
Monique Mavignier
 is also part of the core team. Other key individuals include
Luiz Antonio Campos
, a counsel of choice for listed companies; joint ventures and foreign investment specialist
Amir Bocayuva Cunha
; senior associate
Thiago Pinho
; recently promoted
Ana Paula Reis
; and
Ellen Juste Nuñez
, a key contact for clients from the health sector.
Luciana Magalhães Costa
 is a name to note for commercial contracts. Founding partners
Plínio Barbosa
 and
Francisco Müssnich
have a wealth of experience in complex M&A and corporate matters.
Since publication
,
Felipe Bon
and
Rodrigo Mariani
were welcomed to the partnership at the end of 2022.
BMA - Barbosa, Müssnich, Aragão
is a popular destination for major corporate borrowers seeking support on their most complex financings. Recently, this has included advice on high-value cross-border restructurings and DIP financings, as well as asset-backed securitisations, acquisition financings and project finance mandates. The firm has also developed strong relationships with several leading banks, including BTG Pactual. The versatile practice head
Camila Goldberg
 is experienced in structured financings and capital markets work, while partner
Rafael D'Avila Dutra
 has notable project finance credentials.
Anna Carolina Malta
maintains an active practice advising investment funds and fund managers on related matters.
BMA - Barbosa, Müssnich, Aragão
 is praised for its '
agility and ability to find creative alternatives and solutions, especially in atypical situations
'. The '
extremely competent, pro-business, fast and available
' team handles a wide range of debt and equity products, and has a good track record in cross-border offerings and regulatory issues. Highly rated practice head
Camila Goldberg
 is backed by a versatile team of partners and associates, including
Conrado de Castro Stievani
, who brings '
extensive knowledge in capital markets, contracts and public companies
', and
Felipe Prado
 (a
'great legal
reference
').
Jane Goldman
 and associate
Alexandre Lindenberg
 offer '
great availability in client service
' and '
ease in presenting alternative solutions for non-standard situations
'. Clients also single out the '
very attentive and assertive'
senior associate
Júlia Rodrigues
.
The sizeable arbitration practice at
BMA - Barbosa, Müssnich, Aragão
has an impressive track record in complex and high-profile matters before arbitration tribunals in Brazil and abroad. Its strong performance in cross-border matters is noteworthy, as is its ability to handle a myriad of arbitration cases involving commercial, post-M&A and investment-related disputes. The department's sector-specific expertise is also highly varied, spanning energy, construction, financial services, mining, healthcare, insurance and real estate, among others. Clients rely on co-head
André Abbud
's
'extensive experience in arbitration
' arising from corporate, capital markets, infrastructure and contractual disputes. Fellow co-leader
Pedro Oliveira Da Costa
focuses on litigation and arbitration, most notably contentious issues resulting from contracts and commercial agreements. Agribusiness, mining, construction and pharmaceutical companies often seek
Luiz Fernando Fraga
's assistance in arbitration at the domestic and international levels.
Mario Gelli
 and
Gustavo Santos Kulesza
, the latter of whom is noted for international proceedings, are other key individuals.
Luciana Celidonio
recently joined from
Tauil & Chequer Advogados
, while
Iara Santos Conrado Costa Ferreira
and
Renan Frediani Torres Peres
were promoted to partner in late 2021.
BMA - Barbosa, Müssnich, Aragão
has a notable track record in advising market-leading clients from a range of industries, most notably financial services, energy, retail, construction and technology, in a range of contentious matters spanning the corporate, administrative and pre-litigation spheres. With in-depth knowledge of both judicial and out-of-court proceedings, the team is particularly noted for its significant experience in cross-border cases, where it often collaborates with renowned international firms. Leading the practice,
Felipe Evaristo dos Santos Galea
 in São Paulo is a solid performer in collective actions and litigation involving investment funds and multinationals doing business in key economic sectors in Brazil, while Rio de Janeiro-based
Pedro Costa
 specialises in strategic lawsuits arising from corporate, contractual and commercial disputes. With an impressive caseload in both litigation and arbitration,
André Abbud
 is another noteworthy practitioner in São Paulo, who is regularly instructed in corporate, capital markets and infrastructure cases.
Mario Gelli
 in Rio is recommended for succession matters.
Iara Santos Conrado Costa Ferreira
, whose areas of focus include litigation involving bankruptcies and business recovery, was promoted to partner in December 2021.
'
Excellent professionals'
make up the IP practice at
BMA - Barbosa, Müssnich, Aragão
. Multinational and domestic consumer products, retail and luxury goods, agritech and health care companies, as well as media and entertainment groups rely on the team's expertise across a wide range of IP issues, including trade mark matters, copyright and image rights disputes, infringement claims and rights enforcement. The team also has a strong trade mark prosecution practice, regularly representing high-profile companies and individuals in the state and federal courts. Recent highlights for the team include representing Netflix in a novel right to be forgotten and image rights claim.
Antonella Carminatti
co-leads the department and maintains a broad practice, but particularly excels in portfolio management and transactional IP matters.
Pedro Frankovzky Barroso
leads the litigation arm of the IP practice, advising on complex mandates involving all IP types.
Ana Cristina Müller
is the key partner for patents and designs, leading the department's global protection strategies for clients.
BMA - Barbosa, Müssnich, Aragão
fields a team of '
proactive, very accessible and easy to communicate with
' partners and associates. The lawyers regularly assist in complex real estate transactions and development projects involving significant elements of corporate, M&A, tax and capital markets law. Working across offices in Rio de Janeiro and São Paulo, the practice has a good track record in the key asset classes, including shopping centres, industrial, logistics and office developments. Key partners include
Cristiana Moreira
 ,
Cristiane Mamprin
  and the recently promoted
Gustavo Maia do Nascimento
 , who represent a broad range of domestic and international developers.
Guilherme Zoghbi Ayala
  is also praised for being '
a different lawyer because he does not focus on the problem, but only on the resolution'.
The team at
BMA - Barbosa, Müssnich, Aragão
 has '
remarkable knowledge in the area',
and its multidisciplinary approach enables '
solutions and analysis of the highest level'
. The firm has extremely good credentials for judicial and extra-judicial proceedings, DIP financings and distressed M&A. High-profile debtor-led work has been a major theme for the practice in recent years, with the team taking significant roles in the debt restructurings of Oi and Cimento Tupi. The
'vast knowledge
' of practice head
Sérgio Savi
  '
transmits security for the client and for the other stakeholders'
.
Eduardo Guimarães Wanderley
  is '
extremely creative and with a very high analytical capacity'
, while senior associate
Natalia Yazbek
  is noted for her '
pragmatism and assertiveness'
. The team was further strengthened by the hire of partner
Luciana Celidonio
  from
Tauil & Chequer Advogados
, who is also highly regarded.
BMA - Barbosa, Müssnich, Aragão
fields a '
very competent and dynamic
' team of tax lawyers, who are '
always available to personally attend with all the attention and urgency that each matter deserves
'. The '
exceptional quality
' practice has a versatile offering covering high-value and complex contentious and non-contentious tax matters. This extends to direct and indirect tax, and market-leading expertise in customs matters. The litigation side of the practice handles disputes at the federal, state and municipal levels, with practice head
Lígia Regini Da Silveira
 and
Maurício Faro
(noted for his '
in-depth legal knowledge and great ability to understand the problems raised
') particularly well regarded on this front. Versatile partner
Hermano Notaroberto Barbosa
 and senior associate
Matheus Bertholo Piconez
 are also commended for performing '
quality services in exceptional time
'. Practice co-head
José Otavio Faloppa
is a lead contact for transactional matters.
Full-service firm
BMA - Barbosa, Müssnich, Aragão
's private wealth practice is praised for its '
technical expertise aligned with soft skills to serve families and their heritage complexities'.
Assisting clients such as international and domestic banks, financial services providers and HNWIs and families, the team regularly advises on tax and estate planning, corporate and family governance, as well as litigation and disputes. The team also advises on debt restructuring, offshore philanthropy work and commercial reorganisations. Private wealth and tax specialists
Hermano Notaroberto Barbosa
and
Débora Bacellar De Almeida
jointly lead the practice. Barbosa is well regarded by a number of major family offices, hedge funds and banks, and Almeida stands out for her
'precision, reliability, commitment and attention',
particularly in relation to asset reorganisation, estate planning and foreign investment.
BMA - Barbosa, Müssnich, Aragão
 is well recognised for its expertise in judicial review cases related to the legality of the enforcement of decisions made by government bodies. Under the leadership of
André Macedo De Oliveira
, the team is often retained to handle cases in the Supreme Federal Court, the Supreme Court of Justice and the Superior Labour Appeals Court. Key support is provided by associates
Sarah Roriz De Freitas
, who focuses on litigation before the superior courts, and
Giovani Menicucci
, who often represents companies from the construction, energy and telecoms sectors in disputes involving administrative misconduct and competition law.
Combining the firm's expertise in compliance, public law, finance and capital markets, infrastructure and regulation,
BMA - Barbosa, Müssnich, Aragão
assists clients in anti-corruption and compliance risk assessments, integrity due diligence and background checks. Internal investigations, including into allegations of harassment, are also prominent in the firm's recent workload.
Anna Carolina Malta Spilborghs
 brings her finance expertise to assist financial institutions, investment funds and fund managers on corporate investigations and risk management;
José Guilherme Berman
's broad public law knowledge makes him a key contact for administrative misconduct, anti-corruption and compliance matters; and 
André Macedo De Oliveira
has extensive experience in litigation before the superior courts, government relations and compliance. 
João Rodrigues da Costa Bonvicino
is also noted.
Offering both litigation and advisory services,
BMA - Barbosa, Müssnich, Aragão
's environmental and climate change group is equipped to assist a varied corporate client base in the spectrum of environmental matters, with a special emphasis on environmental licensing, enforcement proceedings, contaminated sites, ESG compliance and carbon market regulations. Its close collaboration with the firm's transactional practices makes it a safe choice for multinational and domestic companies engaged in corporate and M&A deals with considerable environmental risks.
Marcio Pereira
focuses on natural resources regulations and sustainability issues, and handles both non-contentious work and litigation. He receives support from a strong team of associates:
Beatriz Paulo De Frontin
 '
is very technically competent'
in the fields of environmental licensing, administrative and judicial proceedings; and
Marina Maciel
 is a key contact for infrastructure, waste, power and manufacturing clients involved in M&A transactions and environmental litigation.
BMA - Barbosa, Müssnich, Aragão
 has '
a high performance team
', which brings '
out of the box insights'
, coupled with '
solid technical knowledge'.
The consultancy side of the practice provides strong transactional support, in addition to advice on standalone strategic employment matters, including compliance procedures and collective bargaining negotiations. The lawyers are also well versed in class actions and individual labour claims filed by executives. Lead partners
Luiz Marcelo Góis
  ('
a brilliant lawyer, extremely up to date and practical'
) and
Cibelle Linero
  handle contentious and non-contentious issues. Senior associate
Fernanda Rochael Nasciutti
  is also highlighted as '
an excellent professional'
.
Praised for its '
specialisation in public law matters'
,
BMA - Barbosa, Müssnich, Aragão
brings together a multidisciplinary team with credentials in regulated sectors, competitive government contracting procedures, concessions and PPPs. Additionally, the team is well versed in public law-related litigation, a space in which it assists clients in all types of governmental disputes, ranging from administrative procedures to actions involving the judicial review of administrative acts and public contracts.
Ana Cândida de Mello Carvalho
 in São Paulo is recognised in the market for her experience in advising state-owned and mixed economy companies and handling administrative proceedings before public agencies and regulatory bodies. Carvalho chairs the practice alongside
José Guilherme Berman
 in Rio de Janeiro, who is active in public tenders and regulatory enforcement. At the associate level,
Mayna Dias Melo
and
Débora Signorelli Carvalho
stand out for their experience in public service concessions, PPPs and government bidding procedures.
The cybersecurity and data protection offering at
BMA - Barbosa, Müssnich, Aragão
is broad based, covering security breaches such as ransomware, LGPD compliance projects, and data transfers. Clients ranging in size from multinationals to start-ups in the financial services and digital media industries turn to the team, which offers a 24/7 hotline available in instances of critical events.
Felipe Palhares
heads up the practice, advising on personal data processing in cross-border and domestic transactions, data breaches, and new product and service development.
Bárbara de Oliveira Iszlaji
is another name to note in the team.
BMA - Barbosa, Müssnich, Aragão
builds on its expertise acquired in complex transactions involving power assets, concessions, negotiations of regulated contracts and bids. The practice is well versed in all matters before regulatory agencies, including ANEEL and CCEE, and in assisting large consumers in the acquisition of electricity in the free market.
Ana Cândida de Mello Carvalho
 heads up the infrastructure, regulatory and government affairs department, and steers the team in bidding procedures, public contracts and administrative proceedings. Corporate partner
Carlos Frederico Lucchetti Bingemer
in Rio de Janeiro takes the lead on M&A transactions in the energy and infrastructure sectors.
BMA - Barbosa, Müssnich, Aragão
's well-regarded insurance team is particularly experienced in sector-related corporate acquisitions and restructurings. Noted for its '
professional competence and total commitment to the client
', as well as its '
fast and timely service
', the team has recently assisted buyers and sellers in several high-profile transactions. Rio de Janeiro-based practice head
Henrique Vargas Gama Beloch
 has significant expertise on the corporate and regulatory side. Other key partners include
Maurício Pereira Faro
 for tax and
Pedro Costa
 for litigation. Versatile senior associate
Adriano Carneiro
 handles contentious and non-contentious issues.
BMA - Barbosa, Müssnich, Aragão
's
'modern'
media and entertainment group draws from its wider corporate, tax, regulatory, and IP practices to advise clients in the cinema, music, video game, and online media industries. The multidisciplinary approach sees the team advise on a broad spectrum of matters, including image rights and IP transfers, accessibility rights in media, and licensing agreements. IP specialist
Antonella Carminatti
 heads up the practice alongside IP litigation lead
Pedro Frankovsky Barroso
and dispute resolution, restructuring and insolvency expert
Felipe Evaristo dos Santos Galea
.
At
BMA - Barbosa, Müssnich, Aragão
, the infrastructure, regulatory and government affairs team attracts instructions from domestic and international clients in competitive bidding processes, PPPs and concessions, but is perhaps best known for its transactional capabilities in the infrastructure space.
Ana Cândida de Mello Carvalho
has considerable experience in regulated sectors and public law matters, and has advised on numerous infrastructure projects in the sanitation, public lighting and transport segments. She oversees the department with
Rafael D'Avila Dutra
 and
Camila Goldberg
, the latter of whom is recommended for project finance transactions.
BMA - Barbosa, Müssnich, Aragão >
Firm Profile
The firm: Founded in the 1990s, when Brazil was undergoing structural changes, BMA – Barbosa Müssnich Aragão was inspired by a mission to find innovative solutions that are legally viable and sustainable in an environment of rapid development, new regulatory frameworks and new business models in almost all sectors of the economy. Inspired to be a pioneering law firm, ready — and more than able — to take on the big projects and big problems that require sophisticated solutions. An active participant in the privatisations that took place in the 1990s, BMA had achieved a solid reputation and both national and international recognition even before becoming one of the leading firms in Brazil in the mid-2000s, when the Brazilian market experienced a wave of IPOs and mergers and acquisitions. BMA has been present in most of the major M&A transactions in Brazil over the last two decades, participating in the creation of corporate groups that do business around the world. BMA has acquired an impressive stock of know-how in infrastructure projects, especially in the areas of ports, railroads, highways, oil and gas, energy, and telecommunications. The firm also had a major part to play in the 2014 FIFA World Cup, negotiating the contracts that gave Brazil the right to host the event and acting as legal counsel to the local organising committee. BMA's experienced professionals know that a thorough understanding of the firm's clients' business objectives is essential. BMA works to achieve creative, effective solutions by integrating its specialist teams to ensure a multidisciplinary approach to legal problems.
BMA Inspiração – Inspire to Action: BMA InspirAção is the new model for BMA's pro bono work. BMA believes that education, socially-aware entrepreneurship and culture are the paths that will lead to profound and lasting change in society. BMA InspirAção focuses on these three vectors for change. BMA wants to generate effective returns for society as a whole, like it does for its clients, and believes it can.
BMA Educação – Becoming a BMA Lawyer: BMA EducAção is a school that helps attorneys acquire the skills that every 'BMA Lawyer' needs. The program focuses on excellence, quality, and providing valuable learning experiences to the firm's professionals. The project is intended to work with BMA's lawyers and help them develop into professionals whose qualifications, analytical skills and curiosity never stop growing, who have a multidisciplinary vision and who are eager to apply the theoretic knowledge they have acquired to creating efficient solutions to real problems. The objective is to become a true seal of excellence: BMA quality.
BMA Woman: Following the worldwide movement toward women's empowerment and a more balanced corporate environment, the project's objective is to support women's professional growth within the firm and provide even more opportunities for internal talent to develop. The project kicked off its activities with events for BMA's women lawyers and clients, fostering new professional relationships and debate on critical issues that affect the daily life of women in business.
BMA Diversity: BMA's committed to plurality, equality of race, gender, and sexual orientation, respect for all religions, and inclusion of persons with disabilities. BMA believes in diversity as an instrument for social transformation, enriching the work environment and promoting valuable exchanges from different points of view.
Main areas of practice:
Agribusiness
Business crime
Competition law
Compliance, investigation, and regulatory enforcement
Corporate and M&A
Data privacy and cybersecurity
Dispute resolution
Due diligence
Energy
Environmental and climate change
Finance and capital markets
Government relations
Industry
Infrastructure and regulatory and government affairs
Insurance
Intellectual property
Labor and employment
Oil & gas
Private equity
Privatizations and concession
Real estate transactions
Restructuring and insolvency
Superior courts
Tax
Technology and digital businesses
Telecommunications
Wealth and succession planning
Languages: English, French, German, Italian, Portuguese, Spanish
Managing partner: Amir Bocayuva Cunha
Senior partners: Paulo Cezar Aragão, Francisco Müssnich, Plínio Barbosa and Luiz Antonio Campos
Partners: Adriana Fuzinato, Ana Müller, Ana Cândida de Mello Carvalho, Ana Paula Reis, André Abbud, André Macedo, Anna Carolina Malta, Antonella Carminatti, Barbara Rosenberg, Bernardo Cascão, Camila Chouzal, Camila Goldberg, Camilla Paoletti, Carlo Sivieri de Assis Rocha, Carlos Frederico Bingemer, Cibele Linero, Conrado de Castro Stievani, Cristiana Moreira, Cristiane Mamprin, Daniella Fragoso, Debora Bacellar, Eduardo G. Wanderley, Ellen Juste Nuñez, Fábio Florentino, Felipe Galea, Felipe Palhares, Felipe Paschoalini, Felipe Prado, Fernanda Carneiro, Franciny de Barros, Gisela Sampaio, Guilherme Zoghbi Ayala, Gustavo Kulesza, Gustavo Maia, Hélio Alvarez, Henrique Beloch, Hermano Barbosa, Ian Bussinger, Iara Ferreira, Igor Silva de Lima, Jane Goldman, José Guilherme Berman, José Inácio Ferraz, José Otavio Faloppa, Leandro Bittencourt, Letícia Ramires Pelisson, Lígia Regini, Luciana Celidonio, Luciana Magalhães Costa, Luciana Marsal, Luis Flaks, Luís Henrique Costa, Luiz Fernando Fraga, Luiz Marcelo Góis, Luiza Lacerda, Márcio Pereira, Marcos Exposto, Maria da Paz Tierno Lopes, Mario Gelli, Maurício Faro, Miguel Ramos, Monique Mavignier, Patrícia Sabino, Pedro Costa, Pedro Frankovsky Barroso, Rafael Calábria, Rafael Castilho, Rafael Dutra, Raquel Mansanaro, Renan Frediani, Roberto Dias Carneiro, Sergio Fagundes, Sérgio Savi, Tatiana Amorim, Thais Meira, Vitor Butruce, Vivian Casanova.
Number of lawyers: 300
Main Contacts
| Department | Name | Email | Telephone |
| --- | --- | --- | --- |
| Managing Partner | Amir Bocayuva | abc@bmalaw.com.br | 55 21 3824-5871 |
Languages
English French German Italian Portuguese Spanish
Diversity
Inclusion and respect for plurality. For us, these are the motors of social wellbeing, and we created BMA Diversity to apply these ideas in everyday life at our firm.
The program is under constant construction to keep pace with the world around us. Its foundations are authenticity and respect, promoting a welcoming, representative space where everyone at BMA feels at ease and free to be who they are, both at work and in their life outside the firm.
We embrace plurality, equality of race, gender and sexual orientation, we respect all religious beliefs, and we strive to include people with disabilities. We believe in diversity as an instrument for social transformation that enriches our work environment and enables valuable exchanges of points of view.
We have created internal discussion groups to foster knowledge and work on actions to promote diversity. These groups are called "Diversity Champions" (Propagadores da Diversidade) and those who are interested in participating can choose which area they will focus on: racial equity, gender equity, LGBTI +, PWD, or all of them.
Through BMA Diversity, we seek to listen to all groups represented in today's society and promote opportunities to share experiences with other law firms. By working together toward a shared goal, we can plan actions that will help eliminate prejudice in day-to-day interactions and build a more egalitarian and inclusive world for us to live in.
To give back to society as a whole, through actions that lead to deep and long-lasting change, is the mission we have taken on in BMA Inspiration. The program supports education, culture, and entrepreneurship that has social impact in three ways: pro bono work, offering free legal services to those in need; volunteer work, in campaigns where our people contribute to a variety of social causes; and BMA Solidarity, a new project that focuses on opportunities for our people to lend a helping hand to colleagues within the BMA firms. We believe these are tools that have true impact in the effort to make the world a better place.
BMA Inspiration goes beyond a legal contribution and also encompasses volunteering in the same social cause, involving not only lawyers but all of the firm's employees.
Our volunteers invest their time and end up transforming their own lives, while helping to transform the lives of other people and communities.
In 2021 we joined the Global Compact, the largest business sustainability initiative in existence. Our firm is committed to making the Global Compact and its 10 universal principles a fundamental pillar of our strategy, culture and practices, favouring, not only business, but especially society and our planet.
Check out more about BMA's initiatives on our website.