Potter Rees Dolan > Manchester, England > Firm Profile
Potter Rees Dolan
Offices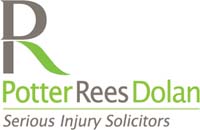 Potter Rees Dolan
12 COMMERCIAL STREET
MANCHESTER
M15 4PZ
England
Potter Rees Dolan > The Legal 500
Rankings
Potter Rees Dolan specialises in both catastrophic personal injury and clinical negligence claims, and its lawyers are praised for their 'efficiency and empathy'. The clinical negligence team, led by Helen Dolan, focuses on brain injuries and spinal cord injuries such as cerebral palsy or cauda equina, and also handles failure to diagnose cases, surgical negligence and amputations. On the personal injury side, the practice has a strong reputation for complex brain and spinal injury cases, injuries requiring amputations, serious orthopaedic injuries and criminal injuries. Hugh Potter leads the team; 'excellent communicator' Richard Edwards is also recommended.
Other key lawyers:
Rachel Rees; Richard Edwards; Gary Herbert; Helen Shaw; Alison Hartley; Jeanne Evans; Lesley Herbertson; Gill Edwards
Testimonials
'Potter Rees Dolan is a bespoke firm – you really get a specialist product when you go to them.'
'Helen Dolan is a force to be reckoned with.'
'Gill Edwards – calm, reassuring and knowledgeable, always available whenever you need her. Very caring and understanding of our concerns.'
'Richard Edwards gave clear advice in a complex situation and was proactive in driving the case forward.'
'Jeanne Evans was amazing and felt like she had become part of the family – she always was approachable and always made us feel that she understood our worries and concerns.'
'Lesley Herbertson has been exceptional from the start. She is always professional, easy to talk to, understanding, fast to respond and efficient.'
'Rachel Rees is a peerless litigator whose thoroughness and acumen are exemplary.'
'Helen Dolan is a standout leader in her field. She has very good attention to detail, excellent judgement, is a strong negotiator and is excellent with clients.'
Potter Rees Dolan >
Firm Profile
Potter Rees Dolan is a Manchester firm with a national reputation in personal injury and clinical negligence, notably in cases of the utmost severity and complexity.
Between August 2020 and 2021, the firm secured over £125 million in damages for its seriously injured clients.
The firm: The firm was established in 1998,  23 years ago, by Hugh Potter. The firm is now a limited company and has re-branded as Potter Rees Dolan. In 2011, it gained a base in Cumbria through an agreement to use the premises  and other facilities of GK&M Solicitors.
Potter Rees Dolan has acquired an enviable reputation as a provider of high-quality legal services for people who have sustained a serious injury or who live with a disability. It is particularly known for its expertise in acting on behalf of those who have sustained catastrophic injury through accident or clinical negligence.
The firm has always been committed to treating clients in a caring, professional and client-friendly manner, and delivering advice in a clear and straight-forward way.
Potter Rees Dolan provides initial free advice, and lawyers will travel to see clients at home or in hospital. Its city-centre offices are fully wheelchair accessible.
The practice is a proud sponsor of Headway. A number of its solicitors are AvMA panel members, SRA-accredited and Fellows of the Association of Personal Injury Lawyers (APIL), assuring clients the best service and care at all times.
Potter Rees Dolan intends to maintain its strategy of organic growth within its niche market segment.
Types of work undertaken: Potter Rees Dolan's practice strongly focuses on personal injury, clinical negligence, Court of Protection cases and welfare benefits.
Personal injury: Potter Rees Dolan has experience in all types and aspects of acquired brain injury and spinal cord injury, including disease or damage to the spinal cord ranging from loss of sensation in parts of the body through to tetraplegia or paraplegia. The firm acts in a range of matters, including accidents abroad, accidents in the workplace, accidents in public places, road traffic accidents, serious criminal assaults, fatal accidents and professional negligence. The firm has sued other solicitors who have failed to carry out their professional duties properly.
Clinical negligence: Potter Rees Dolan acts on behalf of many injured clients because of the negligence of medical professionals, including cases involving treatment in the National Health Service and private hospitals. Expertise includes medical mismanagement at birth, negligence cases resulting in brain injury and spinal cord injury, such as cerebral palsy or caudia equina, failure to diagnose cases, surgical negligence and pressure sores. In appropriate cases, the practice fully investigates all physical and mental impairments, as well as cost of future care, loss of future earnings, costs of obtaining access to special equipment, cost of future accommodation requirements and welfare benefits entitlements. This includes assistance with completing them, assistance with benefit appeals, representation at benefit tribunals and assistance setting up personal injury trusts to protect benefit entitlement post-settlement.
Court of Protection: where clients are unable to manage their own affairs, the firm acts as deputy, appointed by the Court of Protection, to manage clients' finances. A deputy makes arrangements for everyday matters such as paying bills, claiming welfare benefits, investing money and budgeting for the future. Court of Protection clients include children with cerebral palsy, adults with severe brain injuries, adults with learning difficulties and elderly clients with dementia.
Welfare benefits: the firm believes in providing a holistic service to all its clients and has a highly experienced, dedicated welfare benefits solicitor who provides essential, timely advice for those clients and their families who need it following a serious injury. The department also provides pro bono advice on welfare benefits matters to individuals and charitable organisations.
Staff Figures
Number of UK partners : 11 Number of other UK fee-earners : 26
Languages
English (fluent) French Italian Polish
Memberships
Headway Association of Personal Injury Lawyers (APIL) AvMa
Diversity/Community
Diversity
Potter Rees Dolan values diversity and is fully committed to treating all persons equally. Our culture and ethos, which is Partner-led, is communicated through sound leadership, clear policies and integration of common goals. We ensure diversity is embraced and valued in all our objectives, in the work we do and the clients we serve, as well as in the staff we employ. We recruit, promote, retain and develop the best person for the role, on merit, without any form of discrimination or prejudice. We instruct barristers, experts and other third-party professionals on reputation and ability alone. Our clear Equality and Diversity policy is regularly reviewed and monitored for effectiveness at Board level. It is communicated through training, supervision and guidance at least annually.
CSR
We are fully aware of and appreciate our responsibility as individuals and as a firm for the impact we have on the environment and the communities in which we operate. We have several initiatives in place to ensure we minimise this impact, reduce our carbon footprint and give something back to the local and wider community. Our modern, energy efficient offices have motion sensor lighting and timed air conditioning/heating controls throughout open plan, reducing the need of individual offices requiring additional heating and lighting. We encourage cycling to work and provide a cycle store and we subscribe to the government 'Cycle to Work Scheme' offering subsidised cycle costs. The firm has long-standing relationships with local and national charities and many members of staff are actively involved in supporting them. We also help with local community projects such as sponsoring children's' football and cricket teams. We recycle all our confidential wastepaper and use FSC certified paper throughout the office, including our letterhead paper. Our in-house kitchen facilities provide a recycling point where staff are encouraged to recycle cardboard, cans and plastic items.
Pro-Bono
It is frequently the case that those in need of advice and support the most are often those who are least able to afford it. It is extremely important to Potter Rees Dolan that we redress some of that balance. The firm has an established policy that around 5% of work the firm does annually will be pro-bono and we have two pro-bono schemes. The first sees our welfare benefits solicitor providing free advice and representation to those in the community who need it, usually via local charities, but we are just as happy to take enquiries from any client in need of this increasingly complex and specialist advice. We also run a free legal surgery twice per week through a local hospital trauma unit giving free, impartial advice to those who have suffered a head or spinal injury and may be unsure as to what they need to do next in order to move on with their lives. Advice and signposting on matters such as employment, welfare benefits, insurance and other financial help is given completely free.
Client Testimonials
CLIENT: AT
COMPANY/FIRM: Potter Rees Dolan Client
TESTIMONIAL: We would have no hesitation in recommending you to anyone in specific need of legal advice concerning disability or serious injury. In all face to face meetings we were treated in a friendly and professional manner with excellent attention to our wishes and concerns. We were very satisfied with the personal, but professional, service we were given.
---
CLIENT: EW
COMPANY/FIRM: Potter Rees Dolan Client
TESTIMONIAL: You were there every step of the way, like a friend who was helping at a very difficult time. Whenever we had to ring the office, all staff were very pleasant and helpful.
---
CLIENT: SM
COMPANY/FIRM: Potter Rees Dolan Client
TESTIMONIAL: The advice and support I received from the team was superb, I would highly recommend.
---
CLIENT: IR
COMPANY/FIRM: Potter Rees Dolan Client
TESTIMONIAL: The level of service is the best it can be. We have always found staff very friendly and warm which puts everyone at ease which makes things so much easier in difficult and upsetting situations.
---
CLIENT: KP
COMPANY/FIRM: Potter Rees Dolan Client
TESTIMONIAL: I haven't got any complaints with anyone at Potter Rees Dolan, you were courteous at all times and lovely to deal with and helpful. No complaints whatsoever, I would advise people to go to you any time they need a solicitor.
---
CLIENT: DS
COMPANY/FIRM: Potter Rees Dolan Client
TESTIMONIAL: I have received good advice from the team and have felt supported throughout which has been a stressful process. I liked the jargon-free approach to communications.
---
CLIENT: NL
COMPANY/FIRM: Potter Rees Dolan Client
TESTIMONIAL: Friendly and professional; we were dealt with in an empathic way. Our feelings and thoughts were listened to, but the guidance was always based on the legality of our case and the outcome that we wished for. When it became apparent that the outcome out not have been in our favour, the outcome was explained in a clear and concise manner that took our feelings into account.
---
CLIENT: HC
COMPANY/FIRM: Potter Rees Dolan Client
TESTIMONIAL: Throughout we were treated with courtesy and empathy. You were always helpful and we never felt we were a 'nuisance'/ you worked so hard for us even if the result was not what we'd hoped for.