Firm Profile > PDT Solicitors > Horsham, England
PDT Solicitors
Offices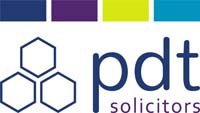 PDT Solicitors
PREMIER HOUSE
36-48 QUEEN STREET
HORSHAM
RH13 5AD
England
PDT Solicitors > The Legal 500
Rankings
PDT Solicitors >
Firm Profile
PDT Solicitors is a leading commercial law firm, specialising in corporate and commercial law, commercial real estate, dispute resolution and employment law
Our core principles are to deliver clear, strong advice and nurture genuine and supportive relationships with our clients.
Our approach is collaborative and practical, we fuse City experience with niche specialisms and a uniquely warm and welcoming approach to business.
Types of work undertaken
Corporate: Our corporate team is known throughout the South East for its broad experience advising on M&A, strategic advisory work and other corporate transactional matters. We have significant experience dealing with acquisitions, buy-outs, demergers, private equity, AIM transactions and joint ventures.
Asset and invoice finance: We are a leading advisor to the Asset Based Lending Industry and provide commercial advice to ABL's dealing with client mergers, acquisitions and demergers and to help assess legal and commercial risks.
Commercial real estate: Our commercial real estate practice helps businesses to buy, sell and grow, advising housebuilders, housing associations, commercial landlords and tenants on all aspects of land development and commercial property transactions.
Pharmacy and healthcare: We are leaders in pharmacy and healthcare, advising on everything from first acquisition to retirement sale, to group development and expansion.
Insolvency and corporate recovery: We advise on contentious and non-contentious insolvency and restructuring. We regularly work with financiers and office-holders on high-value, complex restructuring and refinancing transactions.
Corporate and commercial dispute resolution: Our dispute resolution team have successfully worked on wide range of corporate and commercial disputes, including breach of contract and professional negligence, partnership and shareholder disputes, property and land disputes, and advised on banking and finance disputes, including guarantor liabilities, consumer credit issues and repossessions.
Debt recovery: We have specialist debt collection team dealing with all aspects of commercial debt recovery.
Employment law: Our employment law team offers prompt, practical and effective solutions on a range of employment and HR issues from day to day matters to employee exits and Employment Tribunal claims.
We are committed to providing excellence in service delivery, to developing key sector specialisms and creating a culture within the firm that encourages growth and confidence in everyone who works with us.
We have the ability to collaborate with you at any stage of your business development.
Main Contacts
| Department | Name | Email | Telephone |
| --- | --- | --- | --- |
| Managing Partner, Head of Real Estate / Head of Healthcare | James Clewlow | jclewlow@pdt.co.uk | 01403 831 229 |
| Head of Corporate | Noel Ruddy | nruddy@pdt.co.uk | 01403 831 206 |
| Head of Dispute Resolution, Co-Head of Corporate Recovery | William Angas | wangas@pdt.co.uk | 01403 831 266 |
| Co-Head of Insolvency and Corporate Recovery | Dawn Shadwell | dshadwell@pdt.co.uk | 01403 831 245 |
| Head of Commercial | Ian Lindley | ilindley@pdt.co.uk | 01403 831 214 |
Languages
English
Diversity
Ongoing change
Equality and diversity is not a discrete matter and cannot be dealt with as a tick box exercise. It is a living and breathing issue. It impacts every person at PDT, everyone we interact with, everything we do and how we do it. We understand that any meaningful commitments must be embedded in, and reflected by, our work and our culture – what we do and how we think. As an example of this, PDT coordinated Sussex law firms to unite in a joint commitment that 'Racism has no place in our society'. The law firms agreed to the following statement, with a joint social media and online push to publicise their commitment at 11am on Friday 12 June 2020: "We support the Law Society's unequivocal commitment that Black Lives Matter. We as law firms operating in Sussex recognise the importance of challenging racism in all its forms in our organisations and communities. Whilst we strive to do this, we know that we can do more and believe the Law Society's commitment and statement is the impetus for us all to do this now."
Effecting change is difficult and effecting change in terms of racism can be particularly challenging. Real change starts with a series of sometimes personal and uncomfortable questions and challenges. We are asking ourselves: Do we recognise that a problem exists? What do we think causes it? Are we committed to taking action? What we are going to do about it and are we willing to do it? We are putting together further plans to ensure we are driving these changes and that matters of equality, diversity and inclusion are at the centre of everything we do.
We are planning a series of training events on equality and diversity, and related policy, with the objective that each employee will sign up to an acknowledgement that they respect and are committed to achieving the objectives of our equality policy.
Diversity and inclusion
PDT values fairness, equality and diversity in all dealings, both as a provider of legal services and an equal opportunities employer. We are committed to ensuring that our culture, training and policies facilitate and enhance the development and promotion of equal opportunities and that our equality and diversity values are embedded into everyday practice, policies and procedures.
PDT has adopted an equality and diversity policy which addresses the 'protected characteristics' of the Equality Act 2010: age; disability; gender reassignment; marriage and civil partnership; pregnancy and maternity; race; religion or belief; sex; and sexual orientation.
We are committed to avoiding discrimination on these grounds, and for part-time and fixed-term workers, in our dealings with clients and potential clients, other solicitors, barristers and third parties, and in relation to all current partners and employees, as well as applicants for positions within PDT and all related recruitment activity, along with internal promotions and training opportunities. The partners are committed to promoting equality and diversity in all aspects of our operations including client service.
In addition to our obligations not to discriminate against, harass or victimise those with a disability PDT is also subject to a duty to make reasonable adjustments to prevent employees, partners and clients who are disabled from being at a disadvantage in comparison with those who are not.
For clients or other visitors with mobility problems, we have a ramp leading to the front door with toilet and other facilities located on the ground floor. A lift provides access to other parts of the building, where required.
The latest diversity statistics for PDT are available on our website (https://www.pdt.co.uk/diversity-and-inclusion)
Client Testimonials
CLIENT: Dr Colin Wheeler
TESTIMONIAL: I was deeply impressed with PDT. This was the first time we had used them and, despite having been introduced late to the deal, I was amazed at how quickly they picked it up and got us over the line. This was not an easy deal given we had a number of complicated cross border issues to deal with and a very tight deadline, but the team at PDT just took it in their stride. We are incredibly grateful to the team for all their hard work in making this deal happen and I would recommend them to anyone.
---
CLIENT: Ray Goodfellow, Chief Legal Officer
COMPANY/FIRM: RSPCA
TESTIMONIAL: We're delighted with the service we get from PDT. We're particularly impressed with the range of expertise available, their commitment to finding the best solutions for us and their ability to provide clear practical advice on the options available. Their commercial and dispute resolution teams provide an outstanding service.
---
CLIENT: John Wilde, Managing Director
COMPANY/FIRM: Investec Capital Solutions
TESTIMONIAL: PDT are ABL industry specialists and that expertise has been invaluable to us over the years. In addition, they have built a formidable corporate practice and this is another in a long line of successful deals we have worked on together. This was a complex deal which needed to be done quickly and efficiently. Noel's industry expertise and Rosie's calm efficiency were instrumental in the success of this transaction, and we will continue to use them for ABL and corporate support.
---
CLIENT: Anand Chavda
COMPANY/FIRM: Savemain Pharmacy
TESTIMONIAL: We faced quite a few difficulties during the transaction, however from the very onset when we were deciding on which firm to use it became clear that PDT were willing to offer a more personal touch, which is something we really appreciate as it's the way we have conducted our business for many years. Therefore, the trust created helped to ensure there wasn't a need for second guessing and we really trusted the advice, guidance and instruction given.
---
CLIENT: David Clements, Director
COMPANY/FIRM: Harrisons Business Recovery and Insolvency Limited
TESTIMONIAL: Will Angas and his team have acted for me on several occasions when we have successfully recovered payments from directors or third parties which related to unlawful actions permitted by the directors prior to my appointment. Will's energy and commitment to these cases was exceptional and has resulted in significant recoveries to the benefit of the insolvent companies' creditors. In many of these cases, Will's sharp, commercial approach and strong, technical ability has resulted in settlement without the need to commence formal legal proceedings therefore reducing the risk and potential expense to the insolvent estate. I look forward to working with Will and his team on future matters.
---
CLIENT: Andrew Streeter, Director
COMPANY/FIRM: Streeter Group Holdings Ltd
TESTIMONIAL: Always friendly, professional and supremely competent, PDT solicitors have been our solicitors for a number of years dealing with property sales and purchases; property leases; business sales; promotional and collaboration agreements; debt recovery, loan agreements and so on which is a superb testament to the range and depth of services they offer. Highly recommended and look forward to many years more of working together.