Blacks Solicitors LLP > Leeds, England > Firm Profile
Blacks Solicitors LLP
Offices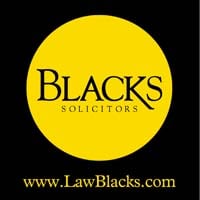 Blacks Solicitors LLP
3rd Floor, Wade House
The Merrion Centre
LEEDS
LS2 8NG
England
Blacks Solicitors LLP > The Legal 500
Rankings
The family team at
Blacks Solicitors LLP
in Leeds is led by
Ann Robinson
. Financial resolution following relationship dissolution and related children cases form the majority of the team's workload. It deals exclusively with privately funded clients. Matters often involve cross-border elements, and such complex factors as taxation and property asset division, as well as sensitive cases of abusive family circumstances. The team offers a holistic approach to its clients, referring its matters across the wider firm; it aims for amicable solutions, but represents its clients in court where this is not possible.
Testimonials
'I worked with Paul Lancaster, who was excellent; very knowledgeable and very good in the court room. He was always available and very personable.'
'Ann Robinson was very understanding of my situation, but also very direct when explaining things and negotiating on my behalf.'
'Blacks is very focused on your personal situation. They aim to provide the best possible service regardless of your background or problem. The advice is of high quality and any complex legal issues are considered with precision and accuracy. The team is also effective in its communication in that information on the different steps in the procedure is provided and consequences of any choices is clearly explained and mutually agreed.'
'Ann Robinson has been remarkable in understanding the difficult position in which I found myself with cases in a number of jurisdictions. She established a way out of this in the most efficient and professional manner using all the resources we had at our disposable. Her empathy and listening skills also distinguish her from others.'
'Blacks Solicitors LLP is a firm who cares about each case it takes on, they review thoroughly whilst taking onboard their clients' view. What really makes Blacks unique is their attention-to-detail and their ability to always find a way forward when it seems impossible.
'They are a compassionate team of individuals who put the client first, ensuring that they are supported and that their case is handled with the client's goal in mind. Blacks Solicitors LLP took on my case and now I am moving forward feeling both confident and positive of some sort of an agreed outcome.'
'The family law team are amazing and cannot thank them enough for helping me. When is comes to fees Blacks are both competitive and realistic, they understand that clients are from different financial backgrounds, so provide a range of supportive options to help while keeping costs to a minimum, there is no pressure applied to made payments and they always ensure both constructive and understanding discussions happen well in advance.'
'Josie Kirk was really understanding and supportive of my case. What really stood out for me was that Josie understood what I was trying to achieve. The real determination and hard work by Josie and the senior partner team was, I felt, above and beyond. Finally – a law firm that made me feel I was being listened to. I would recommend Blacks to all my friends and family without hesitation.'
The team at Blacks Solicitors LLP is 'able to connect the legal position with the realities of business life.' Larger regional clients approach the group in connection with sales, corporate restructurings and shareholder agreements; it is particularly well-versed in the healthcare and technology sectors. Nigel Hoyle also has expertise in acting for owner-managed businesses. He leads the practice together with Phil Parkinson who focuses on commercial law and data protection. Saby Sambhi often advises holiday park clients. Lewis Goodwin is another key member of the group.
Practice head(s):
Nigel Hoyle; Phil Parkinson
Other key lawyers:
Testimonials
'Excellent knowledgeable service and support.'
'Blacks were responsive, balanced but passionate about my position helping me through a very complex legal position to get best outcome.'
'Blacks go the extra mile to meet clients needs, big or small.'
'The team's strengths are a combination of the knowledge of everyone working in the team together with their personalities and approach to the work. They show a genuine interest in the matter to hand and are able to connect the legal position with the realities of business life. Pragmatic solutions are sought, rather than black and white legal arguments.'
'A special mention to Alex Hall who went above and beyond in her assistance to get our deal over the line. In what ended up being very difficult protracted negotiations, Alex made herself available to us throughout and worked evenings and I am sure some weekends to assist us. She is a very valuable asset to the business and we cannot speak highly enough of her calm and friendly outgoing nature.'
'Phil Parkinson: very impressed with the attentiveness and efficiency in my dealings.'
'The team are very practical and down to earth – clients appreciate this and their honesty and approachability They always help find the solution you want and work well with other professionals. They are very knowledgeable and highly recommended.'
'Nigel Hoyle has an extremely amiable personality that puts you at ease immediately. Add to that a genuine care for your personal situation and business, and a relentless desire to deliver on your behalf.'
Key clients
The shareholders of HKA Holdings Limited
The shareholders of Red Embedded Holdings Limited
The shareholder of Magna Colours Holdings Limited
Production Park
Leonidas Capital Limited
Tovey Little Dental Centre Ltd/The Shareholders
Northern Energy
Harrogate Spring Water
Southern Wind Group t/a Fazenda
Catalyst IT Solutions
Fullers Foods
Great Rail Journeys
Brilliant Stages
HKA Financial Services
ProAktive
Perega (aka Thomasons Group)
David Wood Baking
Great Rail Journeys
The Dalesman Group
Big Change
Backstage Academy (Training)
David and Slavka Peatfield
Work highlights
Advised the shareholder of Magna Colours Holdings Limited on the sale of the company to Avient Corporation.
Advised the shareholders of Red Embedded Holdings Limited in relation to the implementation of, and sale of the company to, an employee ownership trust.
Acted for Production Park Limited in securing a £12m loan from the Cultural Recovery Fund, implemented by the Secretary of State for the Department for Digital, Culture, Media and Sport and The Arts Council.
Noted for its expertise in the holiday and home park sector, Blacks Solicitors LLP's capability in residential development projects has been bolstered by the arrival of Andrew Pedley, who joined the firm from Eaton Smith Solicitors in May 2021, where he previously led the commercial property team. Matthew Hutchinson provides a 'quality service and is proactive in seeking to conclude transactions' on behalf of lenders, landowners, property investment companies and residential developers. Nick Dyson leads the practice, as well as the firm's specialist holiday and home parks team.
Other key lawyers:
Testimonials
'Every member of the team works well together, and all have the same ethos and values, which means that which ever member is working on a matter for us, the same level of competence and efficiency can always be expected. There are no weak links.'
'Matthew Hutchinson provides a high quality service and is proactive in seeking to conclude transactions.'
'Blacks LLP are caravan sector experts and have steadily grown their expertise in the sector. They invest in educating themselves in the evolving world of holiday and home park sites.'
'Matt Hutchinson from the commercial property team is approachable, available and good to deal with. He's particularly good at brokering acceptable compromise between what might be standard bank requirements and what the client wants so as to keep a deal moving.'
'Good depth and variety of expertise across the areas we need.'
'Nick Dyson has spearheaded the practice in getting to grips with the caravan sector. This doesn't happen overnight and comes through a passion to learn and a willingness to listen.'
'A responsive and professional team.'
Key clients
Great Rail Journeys Limited
Dusk Retail Limited
Avison Young (UK) Limited
Ashfield Park Homes Limited
Serenity Parks Limited
Work highlights
Advised Great Rail Journeys Limited on the lease of new headquarters in a new development in York.
Advising Ashfield Park Homes Limited, a long-standing family operator of a residential mobile home park, in relation to the sale of its business.
Acting for Avison Young (UK) Limited in taking a lease of a 4,000 square foot office at 1 City Square, Leeds.
Blacks Solicitors LLP
's planning team '
punches above its weight in terms of experience and knowledge, but still retains a good "local" understanding with its base in Leeds
'. Practice leader
James Cook
specialises in town and country planning, highways and compulsory purchase matters, and advises on regeneration and development projects across the residential, mixed-use and retail sectors. Praised for going '
the extra mile
' for her clients, senior associate
Katy McPhie
is another key contact in the team.
Other key lawyers:
Testimonials
'The team punches above its weight in terms of experience and knowledge, but still retains a good "local" understanding with its base in Leeds.'
'Katy McPhie was a pleasure to deal with on the other side of a transaction. She was open to discussions around my client's viewpoint and made negotiations a friendly collaborative process.'
'Always prepared to go above and beyond, doing their best for clients in a pragmatic, commercially-savvy and realistic way.'
'James Cook is an extremely knowledgeable, thorough and articulate planning solicitor. He is very approachable, conscientious and dependable, and is always prepared to go 'above-and-beyond' to ensure that complex legal points are explained and communicated.'
'Good knowledge of the sector, very responsive and always available.'
'James Cook is ferociously smart and extremely passionate about planning law; I am yet to meet a solicitor that provides the level of detail and information pertinent to your case. James is very acute to every opportunity that exists to secure the very best outcome for the client.'
'Katy McPhie was very professional throughout and I really got the sense that she had my best interests at heart, no matter how small the issue, I'd definitely say she went the extra mile.'
'Both James Cook and Katy McPhie are very responsive to any queries and are great to work with.'
Key clients
Stepnell Developments Limited
The Grammar School At Leeds
YPP group of companies
Wakefield Metropolitan District Council
The Wyedean Weaving Company Limited
Scarborough Group International
Wilton Developments Limited
Hargreaves (GB) Limited
Fluorsid British Fluorspar Limited
Work highlights
Advised Stepnell Developments Limited regarding land promotion and obtaining planning permission for the development of approximately 50 hectares of land for a sustainable urban extension of up 1,100 dwellings, a primary school, new local centre and associated infrastructure, as well as negotiating section 106 agreement securing obligations, equating to c.£11m.
Advised Wilton Developments Limited on obtaining planning permission for 3.5 million square feet of industrial and warehousing development on approximately 74 hectares of land in South Yorkshire, while also negotiating section 106 agreement (securing obligations equating to c.£1.5m).
Advised Scarborough Group International on planning matters relating to a £25.4m loan to a subsidiary by OakNorth Bank, in connection with a new nine floor 133,118 sq ft office building at Thorpe Park, Leeds.
Blacks Solicitors LLP
's property litigation offering was bolstered by the arrival of practice leader
Luke Maidens
from
DAC Beachcroft LLP
in May 2021. Noted for his expertise in contentious issues relating to telecoms infrastructure, Maidens advises clients across a range of disputes, including landlord and tenant conflicts, vacant possessions matters, lease renewals and dilapidations claims.
Aimee Hutchinson
is another key contact in the team, who acts for clients in the holiday and home parks sector.
Other key lawyers:
Testimonials
'I find the team exceptionally personable and pleasant to work with. I am also impressed by their attention to detail and their ability to read and organise a large amount of material in document-heavy cases, in an efficient and effective manner.'
'Luke Maidens is a well-qualified telecoms solicitor. His experience allows him to tap into the mindset of the tenant to allow him to best represent the landlord. Luke connects on a personal level with his clients, enabling him to gain their trust and protect their interests. Luke is always available to discuss legal matters, providing us with excellent advice.'
'Collaborative nature enabling concise, transparent and pragmatic advice to be given to clients.'
'Luke Maidens is very hands on and meticulous in his detailing, which provides the confidence that any resulting agreement is the best possible outcome in any given circumstance.'
'Aimee Hutchinson has a calm and engaging self-assurance, befitting her role as partner, whilst also being extremely personable, no doubt with excellent client management skills. She can be robust and assertive where necessary, but is also realistic in her approach and does not lose sight of the wood for the trees. Chloe Grainger is an excellent associate for many of the same reasons. She works very well with Aimee, is extremely well-organised, but also very articulate and a very good technical lawyer.'
'Personable, reliable and trustworthy, which gives me confidence to recommend their services to my own clients.'
'Luke Maidens is an experienced litigator, who has been at the forefront of innovative property litigation.'
'The team, led by Luke Maidens, is extremely approachable and respond quickly to any query. They always appear able to make the time for you.'
Key clients
Astella Holdings Limited
West One Loan Limited
The Wyedean Weaving Company Limited
Upwood Holiday Park
White Park Homes
Ashdown Park Homes
Barnsley Premier Leisure Limited
Ehrle (Holdings) Limited
Harrogate Spring Water Limited
Shuttleworth (UK) Limited
Stockport District Borough Council
Stonebridge Homes Limited
St Pauls Street Investments
The Technology Forge Limited
Westchurch Homes Limited
Work highlights
Acting for the landlord of Danes Court Limited in respect of court proceedings issued by Cornerstone Telecommunications infrastructure Limited against our client in the Upper Tribunal (Lands Chamber) to facilitate rights of access and survey under the Electronic Communications Code.
Acting for Leeds University Union in relation to the management of its property portfolio.
Advising a residential mobile home park owner and advising in relation to several aspects of the Mobile Homes Act 2013 and applications lodged by the residents of the mobile park home.
Blacks Solicitors LLP
 acts for both employers and employees on the full gamut of issues, including specialist offerings in claims against the Police and Ministry of Defence, and advising GP surgeries and dentists. It is also regularly instructed by educational institutions.
Paul Kelly
 and
Tom Moyes
 jointly lead the team, that clients praise for having a
'personal touch'
.
David Ward
,
Chris Allen
and
Euan Lawrence
are also recommended.
Other key lawyers:
David Ward; Chris Allen; Euan Lawrence
Testimonials
'A very good claimant and small business employment team. Good profile and punching well above their weight.'
'Tom Moyes and David Ward are the two stand out individuals for me. David is tenacious when on the other side but very personable to work in collaboration with Tom is highly responsive and commercial to deal with. I am always confident he will do a good job.'
'The team at Blacks Solicitors LLP were excellent. They supported us at every stage in our claim and provided us with exceptional value for money in what was a fairly complex and potentially high profile claim.'
'Paul Kelly is excellent. He clearly knows his stuff and has a lot of experience. I particularly appreciated his very commercial and sensible approach. The advice he gave was very clear and he dealt with my matter promptly and efficiently. Very impressive!'
'Euan Lawrence was brilliant to deal with. He displayed an appropriate amount of empathy, honesty and integrity. He was able to advise and educate on matters arising to my case without making me feel uncomfortable or silly.'
'The personal touch is what makes Blacks unique.'
'Treated as an individual and not as a statistic. Billing is very clear and when I ask, I am given an estimate beforehand. Clear communication within the organisation is evident.'
'The team at Blacks are very professional and knowledgeable whilst also being approachable and they have an ability to explain things clearly and simply when needed. The service is always very prompt and you can always get hold of someone to help you when required.'
Key clients
Really Useful Products Limited
EMS-FP&S Truck & Trailer Parts
Augean PLC
BigChange Limited
Southern Wind Limited T/A Fazenda
Nick Rhodes
leads the team at
Blacks Solicitors LLP
. The practice advises individuals, who are often in complex family positions or vulnerable in some regard, on personal wealth matters including wills, powers of attorney, the administration of their estates and their inheritance tax matters. The team prides itself on structuring its clients' affairs such that they can be confident that they are tax planning-efficient.
Annie Beaumont
 is a key team member.
Other key lawyers:
Testimonials
'As a practice, the welcoming approach, no-nonsense attitude, succinct and prompt responses and seemingly knowledgeable advice, paired with a rapid and accurate understanding of client needs, is impressive and comforting. A willingness to challenge and an ability to propose options ahead are unusual amongst similar practices.'
'Annie Beaumont combined a clear competence in her approach – which swiftly built a confidence in myself – with an exceptional empathy with and understanding of the complex and sensitive issues that had to be resolved. Annie Beaumont recognised my unusual position in the case and remained totally professional and inclusive which enabled me to manage the expectations of the others involved. 
'My work has mainly been with Nick Rhodes. He thinks about clients needs and discusses aspects where assistance is required outside his scope of knowledge eg personal tax. Will have initial conversation to brain storm and then liaise with his client to see whether they want to take forwards'
'Excellent department. Quick to respond to queries. Very personable.'
'Good quality service. The individuals are easy to get hold of and respond very swiftly. The work is of a high quality.'
'Great private client team that have gone over and above to assist my clients throughout the pandemic. It has been a difficult time with clients losing loved ones and Nick has shown empathy and professionalism when dealing with my clients.'
'I have worked with various team members and they have all been organised, dealt with matters quickly and efficiently, and provided an excellent all-round service.'
'The individuals that I have dealt with in this practice all show the same degree of dedication to the cause. I am confident that when I need their assistance I will get a positive response the same day.'
The '
forward-thinking and proactive
' team at
Blacks Solicitors LLP
acts for claimants as well as defendants in a variety of commercial disputes. It is well versed in representing owner-managed businesses and individuals, be it in litigation, arbitration, mediation or settlements. Practice leader
Luke Patel
is often involved in company and contractual disputes, professional negligence claims, defamation issues and privacy matters.
Darren Morgan
 '
is highly creative and focused on commercial solutions for his client
', and associate
Andrew Morgan
is another name to note for contractual disputes.
Testimonials
'Blacks' commercial litigation team combines excellent litigation skills with a highly personal service. The team continues to grow, allowing it to provide a range of teams for different clients' needs.'
'Luke Patel is a dynamic, forceful and highly effective litigator who always goes the extra mile for his clients.'
'Darren Morgan is a first-class litigator who is highly creative and focused on commercial solutions for his client.'
'My experience of the Commercial Dispute Resolution department at Blacks Solicitors is that the team is forward-thinking and proactive.'
'A modern firm that embraces technology to provide a smooth and well branded product.'
'They have multiple departments for every type of job, all easy to deal with and clear fixed costs.'
'Andrew Morgan (Solicitor) is very able, responsive and eager to help.'
'Darren Morgan is a seasoned litigator with a calm, measured and authoritative manner. He displays a cool head under pressure.'
Key clients
Prime TV UK Limited
Durest Beds Limited
David Sandham Trading
Work highlights
Advising an individual in relation to a complex property dispute where the terms of an agreement regarding ownership is disputed.
Advising an individual regarding a contract and subsequent disputed oral variation of that contract, in which the claimant is seeking over £370k.
Defending K E Lunness Aggregates Limited in a claim for loss of production of over £75k after it damaged a power cable which caused the claimant to lose power to their factory.
Blacks Solicitors LLP >
Firm Profile
Blacks Solicitors is a 27 partner law firm with over 180 employees. The firm provides a wide range of legal services to commercial and private clients in Yorkshire and across the UK, and continues to go from strength to strength.
Operating from its head office at City Point in Leeds, Blacks Solicitors believes in delivering a first class service to all of its clients, whilst providing expert advice at realistic rates.
To achieve this Blacks takes the time to get to know and understand its clients, building long-term relationships to deliver the best results possible.
Blacks regularly provides advice to owner-managed businesses and high-net-worth individuals on: corporate and commercial law; intellectual property; GDPR; banking law; employment law;  commercial property; leasehold enfranchisement; planning law; residential property/conveyancing; commercial and civil dispute resolution/litigation; trusts, wills and estates; and family law.
In addition Blacks also acts for clients across a range of niche sectors including: healthcare; education; leisure and hospitality (including holiday and home parks and hotels); and sport.
Awards and recognition
Blacks won Law Firm of the Year: Medium and Managing Partner of the Year at the Yorkshire Legal Awards 2018.
Main Contacts
| Department | Name | Email | Telephone |
| --- | --- | --- | --- |
| Managing Partner | Chris Allen | | |
| Commercial Property | Nick Dyson | | |
| Residential Property | Ian Errington | | |
| Leasehold Enfranchisement | Anushka Nicholas | | |
| Planning & Highways | James Cook | | |
| Corporate & Commercial | Nigel Hoyle | | |
| Banking Law | Richard Morton | | |
| Commercial/Civil Dispute Resolution | Luke Patel | | |
| Professional Negligence | Luke Patel | | |
| Insolvency | Luke Patel | | |
| Property Disputes | Luke Maidens | | |
| Employment Law | Paul Kelly | | |
| Family Law | Ann Robinson | | |
| Family Law | Paul Lancaster | | |
| Trust, Wills & Estates | Nick Rhodes | | |
| Sports Law | Chris Allen | | |
Staff Figures
Number of UK Partners : 27