Charles Russell Speechlys LLP > Geneva, Switzerland > Firm Profile
Charles Russell Speechlys LLP
Offices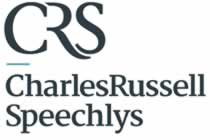 Charles Russell Speechlys LLP
14 RUE DU RHONE
1204 GENEVA
Switzerland
Charles Russell Speechlys LLP > The Legal 500
Rankings
Charles Russell Speechlys AG
 acts for high-net-worth and ultra-high-net-worth individuals as well as any related intermediaries, such as financial institutions and fiduciaries, and has '
a diverse service offering for clients and families with UK, European or more international connections
'. Led by the '
excellent
'
Mark Summers
 and '
brilliant
'
Michael Wells-Greco
, the unit advises on wealth structuring, protection, governance, succession as well as family law in an international context and assists with tax planning and regularisation for a number of jurisdictions, including Switzerland, the UK and various off-shore financial centres. A further key service is advice related to complex assets, such as commercial real estate and yachts.
Grégoire Uldry
 '
is doing an increasing amount of work in the Middle East
'.
Dharshi Wijetunga
 and
Bruno Ledrappier
 are further key contacts.
Practice head(s):
Testimonials
'The team is extremely responsive, commercially-minded and has a diverse service offering for clients and families with UK, European or more international connections.'
'Michael Wells-Greco is technically brilliant as well as being extremely discreet. Mark Summers has broad tax knowledge when advising private families with family members resident or assets located in high tax jurisdictions such as the US and the UK. Supported by the Swiss specialists within the team his advice is precise and definitive.'
'The biggest testament that I can offer is that I continue to work with them a lot. They have a lot of very good people – both advising on Swiss law and on English law. They are particularly strong on complicated and cross-border work.'
'Grégoire Uldry is a very solid private client partner, with a lot of experience in advising ultra-high-net-worth clients on their planning. He is doing an increasing amount of work in the Middle East.'
'Mark Summers is highly experienced with an excellent eye for the essentials.'
'In-depth knowledge of various legal systems, enabling keeping multi-country requirements in one country and with one partner.'
'The individuals I work with are always readily available to assist us. I particularly like their practical approach to any issues we raise. The steps involved are clearly explained and documented in a language that most clients can understand. In addition, they are very transparent and fair with their fees, delegating where appropriate and giving time indications along the way – this is key to any relationship.'
Under the leadership of
Bruno Ledrappier
 in Geneva,
Charles Russell Speechlys AG
's commercial disputes resolution group was recently bolstered following the recruitment of white-collar crime and banking litigation expert
Pierre Bydzovsky
 from
Borel & Barbey
, and English-qualified barrister
Robert Avis
 from
XXIV Old Buildings
. The practice is singled out for its strength in disputes arising from corporate transactions or contracts and has seen an uptick in work relating to foundations, sports law and private wealth issues.
Practice head(s):
Other key lawyers:
Testimonials
'Pierre Bydzovsky has strong experience in litigation, both civil and criminal. He has a good understanding of the issues at stake, proposes relevant ideas and provides quality work.'
'Pierre Bydzovsky is a dynamic person. He is dedicated and manages to make himself available in case of emergency.'
'Great expertise in cross country litigation, Pierre Bydzovsky is incredibly efficient, displays a great level of legal expertise and expresses ideas and legal opinions with extreme simplicity and clarity.'
'Pierre Bydzovsky is fast, smart and provides both expertise and business acumen. He is also a great negotiator and a very respected lawyer. He responds and operates extremely quickly and always puts his clients first to react quickly and accurately.'
Key clients
Kempinski Hotels SA
Swiss Basketball Federation (Swiss Basketball)
ELCA Informatique SA
Work highlights
Advised a maritime transport company on the extraterritorial effects of international sanctions against Cuba.
Represented the Swiss Basketball Federation in proceedings concerning the refusal of a licence for lack of sufficient economic and organisational capacity.
Representing a listed Italian company before the Swiss Court after its products have been suspected of allegedly endemic failures by an institutional French client.
Charles Russell Speechlys LLP >
Firm Profile
Our Offices in Switzerland:
Our offices in Switzerland's business hubs: Geneva and Zurich, combine local experience with international reach.
We advise companies and resident individuals with domestic investments and business interests alongside our international legal services. Our multi-disciplinary team specialises in advising wealthy families, family businesses, and family offices. Our particular strength is that we offer integrated services and assist in the international structuring and protection of their wealth. We assist corporate groups, asset managers, commodities traders, sport federations, and not-for-profit organisations on corporate and commercial matters and with cross-border issues. When disputes arise, we leverage our litigation, arbitration, and investigations capabilities to identify the best path forward.
We undertake some of Switzerland's highest value transactions and cases and our partners are consistently ranked as leading lawyers in their respective fields in directories such as Chambers High Net Worth and Legal 500.
Our two offices are permanently staffed by lawyers with both local and international experience who are actively involved in the wider Swiss business community and who can advise on Swiss, English, New Zealand, and BVI legal matters. We work in French, German, English, Italian, and Turkish.
Geneva Office:
We provide a unique offering for domestic and foreign clients of integrated national and international legal advice in one of the world's premier centres for private wealth management.
In addition to Swiss law, English law, UK and international tax advice, our legal team has broad experience in multi-jurisdictional matters. We will approach both common law and civil law issues from a practical perspective. Our particular strength is that we are able to offer individuals, family offices, private banks, fiduciaries, and financial institutions an integrated private client and commercial service to assist in the international structuring and protection of their wealth. When disputes arise, we leverage our litigation, arbitration, and investigations capabilities to identify the best path forward. We also offer corporate transactional advice as well as legal counsel on commercial, regulatory, trade, shipping, and insurance matters.
Zurich Office:
From our Zurich office, we advise individuals, family offices, fiduciaries, and financial institutions using Switzerland as a wealth management centre.
Our lawyers practise Swiss, English, New Zealand, and BVI law as well as being experts in Swiss and UK taxation in a cross-border context. A particular strength is that we are able to offer wealthy individuals and family offices an integrated private client and commercial service to assist in the international structuring and protection of their wealth.
Swiss private banking institutions benefit from our insight into the structuring, legal, and tax aspects of the products and services they offer into the UK and wider EU market as well as the regulatory controls governing the establishment, structure, and conduct of day-to-day business activities.
Our Zurich office created Swiss City Parents, a network to support, champion, and advance the careers of parents working in the professional services field in Switzerland.
Private Wealth: As preferred advisers to private investors, families, and the wealth management industry, we aim to build a close relationship with each of our clients who come to us for clear commercial and practical advice.
We have established expertise advising on:
Swiss, UK and cross-border tax matters
Tax disclosures, investigations and cross-border tax reporting (e.g. Common Reporting Standard (CRS) and the Foreign Account Tax Compliance Act (FATCA) and compliance regimes (e.g. the EU Fourth Anti-Money Laundering Directive)
International wills, tax and estate planning, including transnational structuring where family members or assets are located in multiple jurisdictions
Cross-border succession matters
Inheritance disputes
Good governance in relation to family wealth
Art
Philanthropy
Immigration matters
Family law matters
Corporate & Commercial: Our work encompasses Swiss and cross-border mergers, acquisitions, and divestments as well as restructuring of solvent and insolvent companies. We can advise on Swiss and English law corporate and commercial matters from our Swiss offices. Other areas on which we advise include:

All legal aspects related to Swiss financial regulatory matters such as licensing proceedings before the Swiss Financial Markets Supervisory Authority (FINMA) as well as on finance transactions
Asset management matters and investment law, such as setting up, licensing and distribution of Swiss and foreign collective investment schemes, fund management companies
Corporate governance, shareholder arrangements and commercial contracts
General corporate and private capital related transactions with a specific focus on private acquisitions and disposals, corporate reorganisations (often cross-jurisdictional and relating to private wealth holding structures), joint ventures and fundraisings
Employment contracts as well as employee and senior manager incentive arrangements
Contentious issues relating to commercial and contractual disputes and between shareholders/investors and/or directors
BVI (British Virgin Islands)
We are able to offer in-house BVI advice through our team of BVI qualified partners and associates and our network of local contacts in the BVI. Our work typically involves general corporate structuring and trust related advice, economic substance and preparing and issuing BVI legal opinions.
Litigation & Dispute Resolution: Our Litigation & Dispute Resolution team works with both corporate and private clients, advising and representing those involved in a wide range of private wealth, commercial, sports, and regulatory issues.
In the corporate area, we can assist with commercial disputes arising out of asset management, asset tracing, recognition of foreign decisions and arbitration awards, corporate contracts or transactions including acquisitions, investments and re-organisations, shareholder arrangements, directors' duties, and insolvencies. We have expertise in art and cultural property, tax, and trust disputes, particularly in circumstances involving the interaction of common law and civil jurisdictions.
We advise and represent:
Swiss and foreign clients before Swiss courts in internal and international arbitration.
Swiss and foreign clients before the Swiss and English courts, through our team of Swiss and English qualified lawyers.
On pre-litigation or settlement negotiations, preferring ADR (Alternative Dispute Resolution Services) to keep disputes out of formal proceedings wherever possible.
Tax:
Swiss Tax
Our Corporate Tax team can work to help create tax frameworks which stand the test of time, adaptable to changes within our client's business or outside it. From large scale projects to bespoke advice on discreet matters, our team has the expertise to support clients.
We can advise on the tax implications of company transactions such as the acquisition or disposal of businesses, reorganisations, and the use of innovative structure to hold assets.
We can also advise on tax disputes with tax authorities, VAT matters, and the taxation of real estate.
Our team can advise on changes in tax legislation and reforms that may impact the sectors that clients are active in. Bringing together experts in our UK, Luxembourg, and Swiss offices we can also advise on international tax matters, working closely with other trusted advisers.
UK Tax
Our market leading UK team advises global wealthy families, their businesses, and the institutions that service them, all from within Switzerland.
Our location in Switzerland means that we are the first port of call for many Swiss based asset managers, financial institutions, and trustees, who may have UK connected clients or face UK tax issues. We regularly advise clients on the tax implications of moving to and from the UK, or the acquisition of property in the UK whether that be through a structure or in personal name. We also advise on the remittance basis of taxation for non-domiciliaries. UK tax disclosures for private clients can also be handled by our team in Switzerland.
Sports: With most international federations and major sport institutions based in Switzerland, the sports team – combining Swiss and international legal expertise available locally – is in an ideal position to provide specialist sports law advice.
Our international sports team works with and are go-to advisers for governing bodies, major sports clubs, elite athletes, international federations, brands, and agencies.
Our skills cover areas such as:
governance in sport
contract negotiations, in particular of sponsorship agreements, athletes' employment contracts, buy-out & release clauses, agents' contracts, and intellectual property rights
dispute resolution, including arbitration
wealth and estate planning for athletes
establishment of foreign players in Switzerland or abroad, in particular in common law countries, France, and the United Arab Emirates.
Our previous work includes advising sports federations and clubs on governance and contracts, negotiating sponsorship agreements, and international transfers of players.
Immigration – Swiss and UK: Our Corporate Immigration Team provides advice and assistance to companies looking to recruit personnel to work in Switzerland or the UK or transfer personnel across borders.
We also conduct internal immigration audits to ensure compliance of companies with Swiss and UK immigration rules and provide training to HR teams on immigration compliance and best practice.
Strict rules and complex procedures apply to people seeking to relocate to Switzerland and the United Kingdom, especially since Brexit. Individuals wishing to relocate to Switzerland or the UK face an ever-changing maze of rules and procedures and must meet specific criteria to obtain the right of residence for them and their family.
Our private client immigration team is on hand to advise on the relevant criteria and can assist with all steps of the process to give clients' applications the best possible chance of success. From advising on the requirements for visitors, obtaining the right of residence and an indefinite stay in either Switzerland or the UK, we can also advise on the requirements for Swiss and British Citizenship.

Family and Children: Our team of specialised lawyers advises in all areas of family law, adult and child protection, as well as in succession planning and proceedings.
We can assist with legal representation and advice in relation to all complex legal issues concerning marriage, matrimonial property regimes, registered partnerships, pre and post marital agreements, cohabitation agreements, and divorce.
We can advise on child law and child protection matters, including contact arrangements and in cases of relocation abroad. Our expertise also includes the law of parentage and cases involving surrogacy arrangements, medically assisted reproduction, and adoption.
We have significant experience in international cases, from foreign marriages to abductions and adoptions of children abroad.
We are committed to achieving the best result by finding pragmatic solutions where possible. We handle cases in English, French, Italian, Turkish, and Greek.
Other offices: Cheltenham, Doha, Dubai, Guilford, Hong Kong, London, Luxembourg, Manama, Paris.
Main Contacts
| Department | Name | Email | Telephone |
| --- | --- | --- | --- |
| Business Development and Marketing | Danielle Robinson | danielle.robinson@crsblaw.com | |
| Family | Michael Wells Greco | | |
| Corporate | Olivier Cavadini | | |
| Dispute Resolution | Bruno Ledrappier | | |
| Dispute Resolution | Pierre Bydzovsky | | |
| Private Client | Grégoire Uldry | | |
| Private Client | Mark Summers | | |
| Private Client | Dharshi Wijetunga | | |
| Private Client | Alice Martin | | |
| Dispute Resolution | Benoit Pasquier | | |
| Commercial | Simon Hofstetter | | |
Staff Figures
Partners : 10 Counsels : 2 Associates : 10 Trainees : 3 Consultants (Tax Experts) : 2 Members of staff : 8
Press Releases
18th January 2022
Charles Russell Speechlys is delighted to welcome a new Family team in Hong Kong, including the hire of Lisa Wong as Partner, as it continues to strengthen its offering in the region.
Legal Briefings
Class dismissed: the future of group litigation in the UAE

Once the preserve and a staple of US litigation, in recent years class action claims have gained traction in the English courts across a wide variety of sectors. Recent disputes have involved securities and shareholder litigation against financial institutions like RBS and Lloyds/HBOS, claims against large companies such as Tesco, actions arising out of breaches …