Knowledge Pioneers Law Firm > Jeddah, Saudi Arabia > Firm Profile
Knowledge Pioneers Law Firm
Offices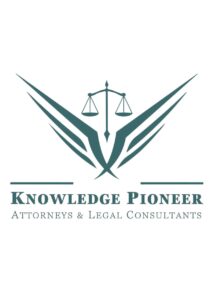 Knowledge Pioneers Law Firm
Level: 11, Lilian Tower 1
As Salamah, Prince Sultan Rd.
Jeddah 22234
Saudi Arabia
Knowledge Pioneers Law Firm >
Firm Profile
Knowledge Pioneers Law firm is a leading multi-practice firm providing integrated legal services throughout Saudi Arabia from its head office in Jeddah. We are exceptionally positioned with full-service capability to advise and guide both regional and international clients in a large spectrum of practice areas and industry sectors. Our firm interminably works with a vision to be the most trusted legal advisors through the client's legal journey.
CORE PRACTICE AREAS
FOREIGN INVESTMENT AND BUSINESS INCORPORATION
Advising and guiding large, medium foreign company including start-ups in structuring foreign investment and establishing their business entity in a legally compliant and cost-effective manner. We advise the solutions, preparing documentation, and undertaking negotiations in an efficient manner in joint ventures or partnering with local investors without deviating the investor's interest and ideology.
CORPORATE GOVERNANCE
Our consultants provide practical and advanced wide perception solutions to board management and committees, senior management, in-house legal and compliance departments in advising on laying out system of rules, practices, appropriate decision-making processes, compliance and controls and we ensure that the interests of the stakeholders and their relationship with the customers, employees and investors are balanced and the objectives are established in a compliance manner with the social, regulatory and market environment.
COMMERCIAL MATTERS
We advise on multi-contractors' projects, including a variety of industry sectors which deal with commercial transaction and projects, in focus our consultants handle matters covering financial services, manufacturing, infrastructure, public sector, technology, media, food and drink. We conduct analysis of terms and conditions in any type of commercial arrangements, and provide recommendations to client, even our consultants step in negotiate with counterparty in circumstances where our client requires us to reach a successful closing of the business arrangement.
CAPITAL MARKETS
Our Capital Markets consultants possess excellent creativity and advanced expertise have handled complex transactions and guided issuers, underwriters, investors, and other market participants in a wide range of transaction in conventional and Islamic-compliant capital market transactions. We also advise companies, boards and board committees, investors, and investment banks on regulatory matters and corporate governance issues arising out of securities and other instruments transactional arrangement. Our corporate clients range from leading financial institutions, consumer retail, private equity, IT and telecommunication, and real estate firms, among others.
M&A
We assist and constructively execute merger and acquisition process in efficient manner for both acquiring entities and selling entities. For entities selling their stakes including assets, our expert team provide counsel and help in strategizing the sale process and smooth transition within the legal framework. For corporations acquiring or merging with a business or buying out a running business, our experts assist with conducting legal due diligence, we engage with counterparts in negotiating the key transactional documents in protecting your interests including securing financial releasing phases.
FINTECH
Exclusively devoted to financial technology sector (fintech) capable of dealing with the extraordinary legal, business pattern and regulatory concerns. Our consultants possess deep understanding of financial technology and with extensive experience have guided and assisted clients in the Fintech and e-commerce arenas PSP, equity-based crowdfunding, credit scoring, peer-to-peer, etc., and in getting approvals from regulatory bodies and incorporating fintech entities. We assist clients in various sectors of the FinTech industry, including regulated financial service providers partnering with fintech entities. We assist fintech start-ups in getting sandbox approval procedures from SAMA and fintech lab approval procedures from Capital Market Authority.
CONSTRUCTION & INFRASTRUCTURE
We have a wealth of experience in construction and infrastructure sector advising on a comprehensive range of contracts, projects and representing in disputes. We analyze from the inception stage of the project in exploring the hidden legal risks and guide them in selecting the safest type of execution method for the project and in negotiating the contracts with project owners, sub-contractors, and suppliers. We handle construction and infrastructure disputes involving project owner and main contactor or the sub-contracts or even consultants, including class action disputes in defective engineering, breach or negligence of obligations, breach of confidentiality and competition, negligence of consultants, and among others.
INTELLECTUAL PROPERTY
Our trademark specialist conduct search on trademark name availability, clearance searches, and process the application for registration with Saudi Authority for Intellectual Property (SAIP). We draft, review and amend trademark license agreement and handle registration of same with SAIP including Trademark assignment registration. Our copyright team advises copyright owners and authors in various aspects in the protection of their works and setting up a local commercial distributor, drafting and legalization of the license/distributor agreements of their works with local distributor.
EMPLOYMENT AND LABOUR
Our attorneys provide practical solutions and in-depth advice in employment and labour matters that allows you to make assessments confidently and we make sure that your specific prerequisite is well informed. Both employer and employee approach us regularly seeking advice and guidance, on a wide spectrum of labour matters. Our clients range from start-up businesses to large corporations from variety of sectors such as construction & engineering, oil & gas, manufacturing, software and IT, retail chains, banking and finance, insurance, healthcare, and real estate. We assist entities in preparing such work regulations with rules and all related provisions including the provisions related to rights, violations, and disciplinary actions without contradicting with the provisions of labour law. We are also specialized in drafting work policy regulations and corporate disciplines for business of all sizes.
BANKRUPTCY
Our bankruptcy attorneys provide high quality representation argue for both creditors and debtors before the bankruptcy commission proceedings including settlements through out-of-court arrangements.
For enquiries:
Email: office@ksapioneers.com
Phone: +966 12 606 4141
Staff Figures
Lawyers : 7 Legal Counsels : 5 Secretary : 1 Paralegal : 2
Languages
Arabic English Urdu/Hindi
Memberships
Saudi Bar Association Saudi Fintech
Diversity
At Knowledge Pioneers Law Firm, we sincerely adhere to diversity and inclusion, which is an essential and fundamental element and we have maintained this approach with each and every individual, client, employee and team member of our management.
We neuter this culture within our associates, partners and whoever is connected with our firm and taking this culture as a responsibility to treat others with dignity and respect at all times. Our human relation team makes decision on an employee purely on the capabilities and qualifications but not on account of race, colour, religious creed, national origin, ancestry, gender, age, and disability. Diversity and inclusion are an important factor by having outstanding people together in an inclusive environment has benefited our firm's productivity, the diverse team share wide arrays of experiences and skills which led other co-workers to learn and work well jointly, this has uplifted the productivity through the exchange of ideas and skills and practicing in an environment with respect and honour.
We support deprived individuals and families facing hardships including all sects in civil and tort litigation, we are proud that we are one of the few firms in Saudi Arabia providing pro-bono service.
Interviews
Badr Alarishi, Managing Partner
Badr Alarishi, the Managing Partner of Knowledge Pioneers Law Firm (KPLF), emphasizes on how KPLF has adapted to the transforming legal market and has turned into a leading firm in its practice areas particularly in fintech sector including corporate and commercial matters, litigation and alternative dispute resolution.
What do you see as the main points that differentiate Knowledge Pioneers Law Firm from your competitors?
We are different from other Saudi law firms in various aspects, I underline a few vital points that set KPLF apart as follows:
Each KPLF's attorney and consultant possesses exceptional knowledge and experience in relevant sector and they understand and identify client's requirements promptly, provide timely advise and briefing on legal issues with tailored solutions.
Apart from traditional practice areas, my firm for the past few years has specialized in the fintech and IP sector has positioned itself as a pioneer advisory firm in Saudi Arabia.
We make sure to maintain feasible engagement terms with clients who can expect a clear, transparent, and competitive fee arrangement terms.
KPLF has been providing pro-bono services and this one factor sets us apart from others. We have also assisted many deprived individuals and families facing hardship in civil legal disputes.
Which practices do you see growing in the next 12 months? What are the drivers behind that?
Many people foresee construction and infra structure sectors practice as a front runner, however I have to highlight Saudi Arabia is witnessing a peak rise in digital transformation especially in fintech sector (Financial technology) and artificial intelligence (AI). I believe these areas would grow in next 12 months. The reason is that within a short span of time, I have advised scores of both regional and international entities including start-ups in incorporation of fintech companies and enterprising innovation companies seeking advice in data protection, AI concepts and ideas.
What's the main change you've made in the firm that will benefit clients?
KPFL has developed an organization and a workflow practice in line with international law firm standards where clients can expect a seamless service. For each practice area, we have a department headed by partner/senior consultant, who would be the point of contact for the client. The client will be handled efficiently by the direct head from start to accomplishment of the work. Any task entrusted to our firm is administered by a dedicated team to watch performance of assigned team member and scheduling reminders on delivery. For this purpose, we have a robust and comprehensive legal management technology in place.
Is technology changing the way you interact with your clients, and the services you can provide them?
Yes, we are much more connected with our clients as a step ahead through technology. For instance, virtual technologies that were exercised as a tool of communication in very rare cases before the pandemic has now become a part and parcel of everyday interaction with clients. Even judicial proceedings in Saudi Arabia which initially started the practice of online hearings had substantially benefited courts, lawyers, and litigants who are witnessing early judgments in fast-track. Our firm uses robust secured software application for legal matter and case management wherein the matter entrusted to our lawyer/consultant receives alters and reminders on with entrusted matter duties. The Manager of the firm can track the status of each client's matter and performance of each member through the application. This has helped our firm to identify any delay, improvise the workflow and boost the performance of team. Our IT expert periodically conduct necessary security checks to protect any data breach and leak thriving to make all efforts in safeguarding client's data from such incidents.
Can you give us a practical example of how you have helped a client to add value to their business?
Recently I assisted a fintech start-up entity which faced difficulties in convincing and getting a Venture Capital (VC) on board for investment. I got involved into negotiation on behalf of the start-up with VC and advised a clear roadmap for structing investment arrangements, the regulatory compliance requirements, and a safe exit plan for the VC during crisis or risks and I was able to successfully build the confident an convince the VC in closing the deal and invest adding a great value for the start-up. Besides this I have provided a mentoring program for the same start-up how to sail through the fintech business in the initial stages and keep it in legal and market compliance requirements.
Are clients looking for stability and strategic direction from their law firms – where do you see the firm in three years' time?
Of course, I believe persistently delivering efficient legal solutions, maintaining professional ethics and being a central resource of providing periodical insights and guidance for compliance with applicable laws and regulations will allow a client to judge the stability and strategic direction of a firm. At KPLF we have continued to keep up this momentum and developed a great trust with our clients beyond client-attorney relationship. In the next three years, I'm confident that KPLF will have an even wider practice area as a full-service law firm with a large footprint in KSA as pioneers again.