LHBM Counsel > Jakarta, Indonesia > Firm Profile
LHBM Counsel
Offices
LHBM Counsel
Ciputra World 2, Tokopedia Tower
7th Floor, Jl. Prof. DR. Satrio No.Kav 11
Daerah Khusus Ibukota, Jakarta 12930
Indonesia
LHBM Counsel >
Firm Profile
LHBM Counsel combines the strength of experienced lawyers and in-houses. Our partners have worked in prestigious law firms and multinational companies. We commit to be industry-savvy in order to provide precise legal solution tailored to the client's need. We understand you.
We obtained several recognitions, such as Rising Star Lawyers 2019 & 2021, Firms to Watch, and Employer of Choice by Asian Legal Business (Thomson Reuters), Notable Firm by Asialaw Profile Rankings, Recognized Midsize Indonesian Corporate Firms 2020 & 2021 by hukumonline.com, and among the top 100 lawyers in Indonesia by Asia Business Law Journal (2020, 2021, and 2022).
Staff Figures
Senior Associate : 1 Associate : 5 Junior Associate : 1 Trainee/Paralegal : 2
Languages
English Bahasa Indonesia
Memberships
PERADI (Indonesian Advocates Association) HKHPM (Indonesian Capital Market Legal Consultant)
Notable Cases
The acquisition of PT Pyridam Farma Tbk (IDX: PYFA) valued at 100BIDR
The acquisition of PT Wahana Interfood Nusantara Tbk (IDX: COCO) valued at around 100BIDR
Issuance of Medium Term Note by PT Wahana Interfood Nusantara Tbk (IDX: COCO) valued at 200BIDR
Advising Kimberly-Clark on several corporate restructuring initiatives
Advising Wabtec Corporation in Indonesia in dealing with long term maintenance contract
Interviews
Heru Muzaki, Partner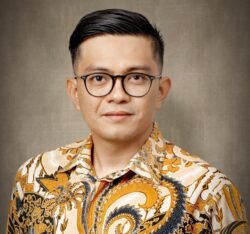 Back then, clients need law firms to tell them what the law is as a basis of taking decision. Now, the expectation of client towards law firms has changed. The significance of general/in-house counsel's role has been emerging. They no longer expecting law firms to tell them what the law is, instead they want added value by focusing on the solution that fits each of their unique circumstance. Heru Muzaki is addressing how LHBM Counsel can cope and adapt with this changing paradigm.
What do you see as the main points that differentiate LHBM Counsel from your competitors?
Two words, being industry-savvy and develop commercial sense. LHBM Counsel is combining the sharpness of seasoned lawyers and commercial-minded of experienced general/in-house counsels. Having lived in these two roles, we aim to provide practical solutions and options to clients.
In assisting client, we do not want to stop on knowing the client's business on the surface, but deeper to understand their business model, decision-making processes, risk appetite and factors, future opportunities, and even until technical jargons. This is necessary for us to be able to provide practical legal solution tailored to their needs. We aim to be their business partner instead of merely an advisor.
Which practices do you see growing in the next 12 months? What are the drivers behind that?
We see that healthcare, capital market, and M&A practices will grow for the next upcoming year along with the efforts of recovering economy after COVID-19 pandemic.
On healthcare (including pharmaceuticals), the pandemic has increased people's awareness on the importance of science and health, while hospital bed ratio is still low. Hence, it is reasonable that this sector will grow. On capital market and M&A, we see that considering digital start-up era has almost seeing its sunset – with the fall of several – people will also start to invest more on these sectors as they are considered as one of the safest methods.
What's the main change you've made in the firm that will benefit clients?
We change the way they work. We adapt to win.
The pandemic has forced us to leverage technology to the fullest. From online meetings to using any tools that can boost productivity and increase performance. Such that our people can focus on the things that matters. These changes have the most significant impact to our client. The client gets same level of service at reasonable pricing. This is because we can reduce our cost and save hours of billable with technology.
Is technology changing the way you interact with your clients, and the services you can provide them?
Yes, as explained above the technology has not only changed the way we work, but also the client. Leveraging digital tools has been proven to benefit the client with same level of service, even better.
Can you give us a practical example of how you have helped a client to add value to their business?
We once assisted a client, one of the biggest diesel-locomotive manufacturers, in negotiating an amendment to a long-term maintenance contract worth millions of dollars. The story begins with a regulation mandating the use of certain level of biodiesel, while the original contract does not cover this possibility. The use of biodiesel may affect significantly to the maintenance of locomotive as there might be risk of corrosion on some vital parts. One may assume and wish that this is a straightforward and simple amendment, but it is not.
We begin with studying the technical report done in another country on the impact of biodiesel, e.g. how they can cause corrosion, reduced lifetime, accompanying factors, etc. In this sense, we picked up several technical jargons that we need to understand before we build an argument to justify the need for amendment. We are in constant communication with the client's technical experts and need to speak in their language. We also connect with our client's commercial people to understand the rationale of deal and pricing structure. Long story short, with the support of our counterpart as well, we get the job done. Since then, the client does not see us the same way. They did not see us as their lawyers, they see us as partner. Someone who understands them and speak their language. Someone who can catch their risk appetite and opportunities. We blend with them.
Are clients looking for stability and strategic direction from their law firms – where do you see the firm in three years' time?
Client nowadays does not wish us to tell them what the law is or 'rubber stamp' to justify their corporate actions. They need practical solution to their unique circumstances, as creative as possible. They need partner than another lawyers. We have this in our spirit. As such, we see that we will grow significantly for the next 3 years. We will be bigger, more industry-savvy, and cost effective.