Firm Profile > KPMG in Czech Republic > PRAGUE, Czech Republic
KPMG in Czech Republic
Offices
KPMG in Czech Republic
Pobrezni 648 / 1a
PRAGUE
Czech Republic
KPMG in Czech Republic >
Firm Profile
KPMG Legal Czech Republic, founded in 2010, is a fully-fledged law firm proudly representing the KPMG brand. We specialise in M&A and corporate law, transactions, regulations, labour law, litigation, tax law and law and technology. We focus on providing forward-thinking and technology-led approaches for clients, in addition to more traditional legal services offerings. The worldwide network of KPMG Legal offices is represented in 81 jurisdictions with more than 2,750 legal professionals worldwide. Our offices cooperate closely with one another as well as with other KPMG professionals and gladly share our know-how for the benefit of our clients.
Multidisciplinary solutions: Team of KPMG Legal Czech Republic benefits from close cooperation with the Audit, Tax and Advisory departments of KPMG Czech Republic who belong to the top among consultancy services. This way we add value by providing our clients with a multidisciplinary solutions, especially when a legal matter in hand requires involving experts from other fields.
Strength of international network: As part of KPMG's global network of independent member firms, we provide a wide range of compliance services and strategic corporate governance support to our clients wherever in the world they operate. We utilise a collaborative, cross-border approach to delivering services, providing a variety of support solutions. We can easily assemble an international team to address international projects. Thanks to our mindset of innovation and the power of KPMG's relationships with leading technology providers we help clients to modernize, simplify and digitize legal function.
Strong corporate team: The members of our team have participated at both national and international corporate restructuring, including the reorganisation of large financial and business groups.
Knowledge of the financial market: We know the environment of renowned Czech and international banks, insurance and investment companies. We have an extensive experience in dealing with Czech National Bank and other government bodies.
Staff Figures
Number of lawyers : 30
Languages
English Czech German Slovak Italian
Diversity
Our employees are our key assets. We care about them, help them in their development, and aim to create an inspiring work environment for them. One of our most important values that we uphold is respect. We respect our mutual differences. We let others know that they are important to us, and welcome and embrace diversity. We see every one of our employees as a unique personality that has joined us to grow with us both professionally and personally. We aim to accommodate our employee's special needs and to balance their personal and work life. We support them in their different career phases and enable their rapid professional and personal development and career advancement. We are signatories our the European Diversity Charter.
Within our pro-bono activities we cooperate with numerous non-profit organisations. Several of our educational activities are aimed towards pupils and students, as we try to enrich their competences regardless of their personal social background.
We publish more detailed information about our diversity approach in our sustainability report, which is among the highest-rated non-financial reports in the Czech Republic.
Interviews
Martin Hrdlík, Partner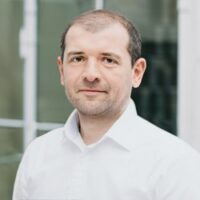 Martin Hrdlík, who leads the legal firm, explains how his team is approaching clients' changing needs.
What do you see as the main points that differentiate KPMG Legal from your competitors?
Our clients want complete and comprehensive solutions. It is therefore a big advantage that our team benefits from close cooperation with the audit, tax and advisory departments of KPMG Czech Republic and other KPMG member firms. Our team is thus able to combine its broad legal expertise with the outstanding business expertise of the international network and in this way add value to the business of our clients and provide a wider perspective. In addition to our multidisciplinary and global approach we also possess a deep expertise in industry, with a special focus on the finance and industrial firm sectors.
Which practices do you see growing in the next 12 months? What are the drivers behind that?
I am confident that the next year is going to be really intensive and our colleagues will be busy finding solutions in areas such as labour law or tax disputes. I also want to highlight our increasing activity focused on family businesses where we build on our strong relationships with private individuals and our ability to act as a trusted advisor in various matters. We are prepared to offer our advice in a more proactive way, with an evidence-based and strategic approach. The reason for this is to be able to act as true partners for the business and help our client to become more resilient.
What's the main change you've made in the firm that will benefit clients?
We are investing in our people and in technologies and the results prove that we are going in the right direction. With our talented colleagues we have helped our clients to set corporate processes in order to achieve the maximum possible effectiveness and flexibility, in close accordance with changing regulations and technological development.
Is technology changing the way you interact with your clients, and the services you can provide them?
We focus on providing forward-thinking and technology-led approaches and client services, in addition to more traditional legal service offerings. This has been important over the last challenging months, during which we nonetheless developed impressive business opportunities and managed to find high quality solutions for our clients.
The role of legal teams is changing quickly. The businesses they support are going digital. The regulatory environment is getting more complex, and the digitalization of legal functions continues at a fast pace and we embrace these changes.
Can you give us a practical example of how you have helped a client to add value to their business?
There is always a great deal of satisfaction when achieving a victory for a client. Even more rewarding is when our work has an impact over the whole market and changes the way things are traditionally done and rights some long-term wrongs. We helped a client with claims for interest from withheld VAT deductions compensating for the lengthy withholding of tax overpayments. This has been a complex subject matter in the Czech jurisdiction due to the nonconformity of Czech legislation with the European directives. The Supreme Administrative Court in a landmark case represented by our legal attorneys confirmed the clients right to the interest from withheld VAT deductions in the amount claimed by the client. This is a landmark case with an impact on the whole market.
Are clients looking for stability and strategic direction from their law firms – where do you see the firm in three years' time?
We have set out an ambitious plan for our growth while sustaining the highest quality of services.
What will define us in three years' time is our innovative and bold approach and our ability to challenge the legal services market and move the things forward.
Top Tier Firm Rankings
Firm Rankings