AL ROBAYE LAW FIRM > Dammam, Saudi Arabia > Firm Profile
AL ROBAYE LAW FIRM
Offices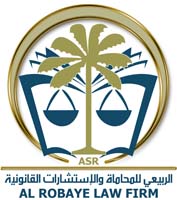 AL ROBAYE LAW FIRM
Al Imam Ali Bin Talib Street
P.O Box: 6496
Dammam 62544
Saudi Arabia
AL ROBAYE LAW FIRM >
Firm Profile
Background: Al-ROBAYE law firm is the most established and progressive law firm in Saudi Arabia which has been serving clients since 2015 with a team of experienced Saudi, Middle Eastern and international lawyers and legal consultants. The firm's strength lies in its team of experienced lawyers who treasure the value of diligence and knowledge as well as creativity and innovation in addressing their clients' needs. Moreover, our associates and attorneys hold a PhD in law and the managing director Dr Ali AlRobayee has been practicing law in the US for three years.
ASRLAWGROUP  is the most reputable and progressive law firm in Saudi Arabia in terms of the wide database of prestigious clients. At present we have eight lawyers who specialize in different branches of law in KSA. The firm has been involved for decades in some of the most significant transactions taking place in the region. AL-ROBAYE law firm represents both domestic and international organizations from a broad spectrum of industries. We maintain close and privileged relationships with ministries, governmental agencies, chambers of commerce and other public institutions as well as with the embassies, foreign investment and trade commissions.
Offices and branches: The Eastern Province-based firm (Dammam & Khobar) is one of the most growing legal enterprises, we are officially one of the registered law firms on the public prosecutor list of recommended firms in the area of criminal law and criminology. Our experience, as well as our dynamic and high standard of service, has attracted the attention of several multi-national clients.
The firm's history and tradition has spurred on its ambition to remain the premier firm in the Saudi market, as well as one of the top tier firms in the region. In addition, our south and western region-based in Abha (Assir) office provides a wide range of legal services to multinational companies operating in the south and western province. Through the dedication and commitment of its lawyers and staff and by developing expertise in a broad spectrum of legal fields, the firm strives to provide personalized and effective top-quality service for its clients. Each client receives the personal attention of a specific partner who, as the designated client manager, is responsible for ensuring that all work for the client is handled in a professional and timely manner by experts in the particular field within the firm.
Additional information
Goals achieved: The firm is multidisciplinary and a "full-service" law firm that offers a broad range of legal services to its clients. The firm's client base includes leading international, US and European and Asian corporations, financial institutions with an interest in cross border operations. A significant portion of the firm's clientele is represented by non-Saudi corporations and institutions requiring advice on a full range of legal issues related to their operations or international transactions within the Saudi jurisdiction.
Our vision: We actively look for ways to team with clients from different countries. By exposing clients to multiple layers worldwide, we form a network of connections between our clients and the firm that serves everyone for the empowerment by building bridges between cultures.
Our values
Respect – You recognize and value the contribution of others
Accountable – You take personal responsibility for the success of the college
Inclusive – You take account of the different needs and aspirations of others
Entrepreneurial – You are proactive and you engage with innovation
Challenge – You are confident to give your opinion and open to receive the views of others
Empowering – You take initiative and support others to take initiative within agreed boundaries
Aspirational – You are relentless in pursuit of excellence
Safe – You are alert of risks and proactive in the security of others
Main Contacts
| Department | Name | Email | Telephone |
| --- | --- | --- | --- |
| Corporate law & Foreign Investments - Dispute Settlement, Arbitration & Mediation - Taxes and VAT. | Dr. Saad Bin Shaya AlQahtani | info@asrlawgroup.com | +966 558310999 |
| Environmental Law practices -Litigation & Consultation - Employments & Labor disputes | Dr. Ali AlRobayee | ali@asrlawgroup.com | +966 558310999 |
| Employments & Labor disputes. -- Litigation & Consultation -- Family Law | Atty. Abdulillah AlQahatni | info@asrlawgroup.com | +966 561099959 |
| Corporate law & Foreign Investments - Dispute Settlement, Arbitration & Mediation - Taxes and VAT -- Criminal Law | Atty. Talal AlZuwaidi | talal@asrlawgroup.com | +966 558310999 |
| Employments & Labor disputes. -- Litigation & Consultation -- Family Law | Mr. Abdullah Assiri | info@asrlawgroup.com | +966 561099959 |
| Employments & Labor disputes. -- Litigation & Consultation -- Family Law | Mr. Khaled ALFaify | info@asrlawgroup.com | +966 561099959 |
Staff Figures
Senior Partner : $ 450.00/hour For Of Counsels : US$ 450.00/hour For Partners : US$ 350.00/hour For Senior Associates : US$ 250.00/hour For Associates : US$ 200.00/hour
Languages
English (fluent) Arabic
Memberships
Saudi Bar Association Ministry of Justice