Laurence Khupe Attorneys Inc. Kelobang Godisang Attorneys > Gaborone, Botswana > Firm Profile
Laurence Khupe Attorneys Inc. Kelobang Godisang Attorneys
Offices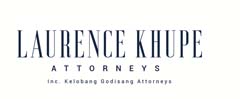 Laurence Khupe Attorneys Inc. Kelobang Godisang Attorneys
Plot 2583
Chuma Drive, Extension 9
Gaborone, P.O Box 4888
Botswana
Laurence Khupe Attorneys Inc. Kelobang Godisang Attorneys >
Firm Profile
Who We Are
Laurence Khupe Attorneys (Inc Kelobang Godisang Attorneys) is a result of the merger of two corporate law firms of Laurence Khupe Consulting and Kelobang Godisang Attorneys. The merger created one of the leading corporate law practices in Botswana. We are a boutique firm specialising in providing high quality legal services in the field of corporate law. We pride ourselves in bringing efficient solutions, risk management and practical value adding propositions to the work that we do.
Our lawyers are highly skilled and have extensive knowledge in their various areas of practice. The partners have a cumulative experience of more than 50 years in the field of corporate law. They have advised on some of the notable transactions in the local market and internationally. In addition to our local and international experience, the firm has developed relationships and partnered with renowned international and regional law firms with offices in the world's major financial centres.
What We Do
We provide services in various areas of the law. However, to ensure that we remain market leaders we are selective of the instructions we take so that we maximise the value add to our clients' businesses and requirements. This has enabled us to focus on each client as if they are our only client. We specialise in the following areas:
 Power and energy
Mining and resources
Capital markets
Banking and finance
Taxation
Mergers and acquisitions and private equity
Real estate and conveyancing
Government and regulatory relation
Labour relations and incentives
Telecommunications and E-commerce
Compliance and corporate services
Dispute resolution and commercial litigation
Our partners
Laurence Khupe is the managing partner and has over 24 years' experience in the practice of corporate law and is a former partner in one of the country's leading corporate law firms where he was overseeing the property department among others. Over the years, he has been involved in a wide range of leading corporate transactions in Botswana. These ranged from listing of companies on the Botswana Stock Exchange to large scale acquisition of mining interests in multi-jurisdiction transactions and development of large-scale retail, commercial and residential properties. He has represented clients ranging from local corporates and parastatals to multinational entities and numerous international and regional law firms. Laurence has enjoyed briefs on large mergers and acquisitions, major lending transactions and transaction structuring. He was an integral part of Botswana's only privatisation which involved the selling of the Government stake in Botswana Telecoms including its listing on the Botswana Stock Exchange. Laurence is a well-regarded attorney and enjoys accolades from ranking bodies such as Chambers Global and IFLR 1000.
Wandipa Kelobang has over 15 years' experience practicing law. She has worked for the World Bank in Washington DC, USA and the African Development Bank in Tunis, Tunisia and Abidjan, Cote D'Ivoire. Wandipa is a specialist in capital markets and derivatives having worked on some notable transactions at the height of the 2008 financial crisis. She has advised on the issuance of bonds with a cumulative value in excess of USD10 bn denominated in over ten currencies. Wandipa has advised in several project finance transactions across various sectors and has concluded projects in Afghanistan, Botswana, India, Bangladesh, the Philippines and Pakistan. Wandipa has contributed chapters to some leading legal guides and is ranked by Chambers Global.
Seilaneng Godisang has over 15 years' experience practising law. She is a former associate in a large firm where she worked in the dispute resolution department and later in the commercial department. She advised on transactions across various sectors including listing of note programmes on the Botswana Stock Exchange and major mergers and acquisition transactions. She has also worked as an inhouse counsel for financial institutions where she advised on some of the substantial lending and securitisation transactions as well as working on lending documentation across various jurisdictions. Seilaneng has advised clients ranging from parastatals, corporates and international clients. She has contributed chapters for some leading legal guides.
Lesego Gabasiane has over 15 years' experience practicing law. She has worked at the Deeds Registry Office of Botswana as a Senior Assistant Registrar of Deeds. She is a former Senior Associate in a large law firm where she worked in the Real Estate and Property Division as the leading Attorney. She has worked on the registration of large scale security and lending documents. Lesego has advised clients ranging from large property developers and major commercial banks in Botswana.
Experience
Our lawyers are leaders in their respective fields. Below are some of the transactions they are or have advised on:
Power and energy
Advisor to BPC in respect of its Solar Energy Project including assisting in the drafting of the PPA
Part of a multi sectoral team appointed by BPC to advise on Morupule B Power Station Remedial Works
Advisor to BPC in its North West Grid Transmission Power Project worth BWP4.5bn
Represented BPC in a transaction for financing the construction of Morupule B power station
Advised BPC in respect of Morupule B Units 5 and 6 Projects with Marubeni
Advised BPC in its proposed divestment from Morupule B units 1-4 Power Projects
Acting for BPC in the preparation of a PPA in respect of various solar projects
Represented the World Bank in the funding of the USD60m Power System Development Project in Afghanistan
Mining and resources
Acting for Lucara Botswana (Pty) Limited and Boteti Mining (Pty) Limited in respect of the proposed underground mining at Karowe Mine
Acting for the Government of Botswana in negotiations for a shareholders' agreement and other governance documents with regards to its shareholding in Botswana Ash (Pty) Ltd
Acted for a Botswana parastatal to carry out extensive due diligence reviews of various mining houses
Acted for Lucara on its negotiations with various suppliers
Acting for Lucara in relation to a self-build power project
Advised Botswana Railways Organisation in the procurement of soda mineral powder hopper car wagons valued in excess of USD3m
Advised Botswana Railways Organisation in negotiating a haulage agreement with committed volumes of 5 million litres per annum of petroleum goods with a major petroleum products distributor
Acted for Morupule Coal Mine Limited with regards to various matters
Represented Botswana Railways Organisation on the acquisition of 290 specialised salt wagons from Transnet
Capital markets
Acting for the African Development Bank in the establishment of its BWP5 billion Botswana Debt Issuance Facility and listing it on the Botswana Stock Exchange
Acted for First National Bank Botswana on their BWP300m Medium Term Bond Supplement
Advised Botswana Development Corporation in relation to the issue of a
BWP1bn Medium Term Note Programme
Advised Barclays Bank of Botswana in relation to its BWP2bn Medium Term Note Programme
Represented the African Development Bank in setting up a EUR2bn Commercial Paper Programme and its granting of the Short-Term Euro Paper (STEP) label
Represented the World Bank and African Development Bank for issuance of notes under their respective Global Debt Issuance Facilities listed on the Luxemburg Stock Exchange. Transactions under the facilities were dominated in among other currencies USD, GBP, AUD, NZD, JPY, MXN, UGX, GHS, TRY, NGN, BRL, RUB and KES
Advised Lucara Diamond Corporation in its listing on the Botswana Stock Exchange
Acted for Galana Gold in its listing on the Botswana Stock Exchange
Banking and finance
Acting for Letshego Holdings Limited in its various inter company agreements
Advised First National Bank Botswana on a BWP400m bridging finance granted to Botswana Development Corporation
Advised FNBB in respect of a loan facility to Debswana Diamond Company
Acted as legal advisor in a team that advised the World Bank on migrating from monthly to daily mark to market for the valuation of its derivative transactions due to the volatility of the financial markets
Represented the African Development Bank in the negotiations of two lines of credit with Japan International Cooperation Agency for the financing of private sector projects to the total value of JPY40,170bn
Acted for Lucara Diamond Corporation financing by Bank of Nova Scotia valued at BWP550m
Advised Botswana Development Corporation to negotiate a line of credit with the African Development Bank  for an aggregate amount of over BWP 800m
Taxation
Acting for Botswana Unified Revenue Services in various tax computation matters
Mergers and acquisitions and private equity
Acting for a Botswana Stock Exchange listed company in its various M&A transactions
Representing Botswana Insurance Company in respect of a proposed acquisition of Legal Guard
Acted as legal advisor for the Staff Retirement Plan of the World Bank on its investment in various private equity and mutual funds
Acting for Orange County Resorts and Hotels (Pty) Limited in the acquisition of business and assets in Botswana
Acting for a foreign investor in the acquisition of a business and assets in Botswana valued over BWP30m
Legal advisor to various clients on cross border trade issues
Advised a beverage manufacturing company in a Sale and Buy-Back Agreement of a commodity with a supplier
Real estate and construction law
 Part of a legal team that acted for Botswana Development Corporation in relation to the construction of the BWP400m Fairscape Precinct office park
Advisor to the developers of the multi-million Pula Kgale Lake City Multi-Purpose Development
Advisor to Roman Catholic Church in the drafting of Agreements leading to the cession of rights to Time Projects (Botswana)(Pty) Limited and registration of such rights
Acting for many corporate and banking clients in complex and other property transactions and conveyancing instructions
Providing conveyancing services to most of the major commercial banks in Botswana
Advisor to Setlhoa Multi Use property development
Government and regulatory relations
Advised Non-Bank Financial Institutions Regulatory Authority in drafting prudential rules for capital adequacy requirements for asset managers, securities brokers and custodians as well as protection of client assets for investment managers
Acted as local counsel in a team operationalizing the Botswana's Special Economic Zones and was in charge of drafting the applicable legislations
Engaged by Non-Bank Financial Institutions Regulatory Authority to draft the Finance and Leasing Regulations under the Non-Bank Financial Institutions Regulatory Authority Act
Acted for the Government of Botswana in litigation with the Norilsk Nickel Group where the Government is being sued for payment of USD247m
Labour relations and incentives 
Representing Grindrod Petrologistics on several of its labour matters
Representing Botswana Power Corporation on various employment and labour matters
Representing Lucara Botswana (Pty) Limited on all its labour matters
Represented Botswana Unified Revenue Service in respect of the first industrial action by its employees including successful litigation against the relevant Union leading to the conclusion of the strike action
Compliance and corporate services
Providing governance and secretarial services to:
Letshego Holdings Limited
Morupule Coal Mine
Pula Medical Aid Fund
Languages
English
Client Testimonials
CLIENT: MR. GILBERT OFETOTSE HEAD – LEGAL AND COMPANY SECRETARY – BOTSWANA DEVELOPMENT CORPORATION LIMITED
COMPANY/FIRM: LAURENCE KHUPE ATTORNEYS (INCORPORATING KELOBANG GODISANG ATTORNEYS)
TESTIMONIAL: We have engaged the firm on several of our transactions. The team is dedicated, highly experienced with deep knowledge in corporate and commercial legal matters. They are absolutely reliable, give timeous, valuable legal advice, and have international experience to tap on.
We work with Wandipa Kelobang and she is always available, addresses our concerns efficiently, effectively and with a friendly attitude.
---
CLIENT: MR. JONATHAN NHOVO – COMMERCIAL MANAGER – MORUPULE COAL MINE LIMITED
COMPANY/FIRM: LAURENCE KHUPE ATTORNEYS (INCORPORATING KELOBANG GODISANG ATTORNEYS)
TESTIMONIAL: We have engaged the firm to provide us with compliance and corporate services and also serve as the statutory company secretaries. The partner in charge of the account is Ms. Wandipa Kelobang who we have found to be courteous, always available and addresses issues maturely even under pressure. The firm has shown great dedication, have diverse experience in this area as well as in corporate legal matters. In rendering the services, we have found them to be dependable, give timeous reports and practical legal advice. Their expertise has been invaluable to us especially in corporate governance matters.
---
CLIENT: MR. ARJUN IYER – CHIEF OPERATING OFFICER – ALPHA DIRECT INSURANCE (PROPRIETRY) LIMITED
COMPANY/FIRM: LAURENCE KHUPE ATTORNEYS (INC. KELOBANG GODISANG ATTORNEYS)
TESTIMONIAL: Working with Laurence Khupe Attorneys has been an absolute pleasure, and majority of our company's work has been directly with Seilaneng Godisang. An incredibly brilliant attorney, she has guided us through many complex legal questions and has been able to keep pace with our rapidly growing organisation's legal and contracting needs. She has a keen understanding of corporate law, provides insightful and timely advice and is always available for a consultation whenever we need to reach her. Unquestionably one of the sharpest lawyers I have ever worked with, and I would recommend her in a heartbeat as one of the continent's brightest.
---
CLIENT: MR. SAMSON RUWISI – MANAGING DIRECTOR – SEED CO BOTSWANA (PROPRIETARY) LIMITED
COMPANY/FIRM: LAURENCE KHUPE ATTORNEYS (INC. KELOBANG GODISANG ATTORNEYS)
TESTIMONIAL: We have been working with Laurence Khupe Attorneys since 2018. We have done conveyancing, contract drafting, litigation, listing and contract negotiations during the time we have worked together. In executing their duties, we have found Laurence Khupe Attorneys to be very much a multi-disciplined law firm in the areas of commercial and corporate law. I confidently endorse Laurence Khupe Attorneys as very competent and look forward to the listing of Laurence Khupe Attorneys on your prestigious and highly recognized platform – The Legal 500 Europe, Middle East & Africa for the 2021 edition.
---
CLIENT: Minerals Development Company Botswana (Pty) Limited
COMPANY/FIRM: Laurence Khupe Attorneys – Botswana
TESTIMONIAL: I have worked with Mr Khupe for many years on different corporate matters concerning our company and my experience with his legal services has been nothing but a pure joy. I find Mr Khupe not only highly capable, experienced, knowledgeable corporate lawyer but also a highly ethical and trustworthy lawyer. No matter how tight the deadlines were, how challenging the matter were, Mr Khupe has always delivered his services on time and provided our company with pragmatic legal solutions. I would not hesitate to contact him regarding corporate matters in the future.
---
CLIENT: Lucara Botswana (Proprietary) Limited
COMPANY/FIRM: Laurence Khupe Attorneys – Botswana
TESTIMONIAL: The above attorneys have done work for Lucara since the inception of the mine in 2012. They have done exceptional work for us and have never let us down. They are a strategic partner which the company values. They have provided us with great support through out the years.
They have participated in all our major projects being the renewal of our mining licence for an additional 20 years. The company played a pivotal roll in this approval. They have also participated in securing a power line for our underground project and have assisted in securing the line for Lucara.
Laurence Khupe Attorneys are a key strategic partner to Lucara.
---
CLIENT: Letshego Holdings Limited
COMPANY/FIRM: Laurence Khupe Attorneys – Botswana
TESTIMONIAL: As a Pan African financial Services Institution we have been able to achieve the strategic outcomes of the organisation. Through the legal firms strategic partnerships across the African continent and across the globe, we are able to attain efficient legal guidance on all matters that we are faced with. The rapport and guidance is outstanding at all times, prompt, timely and open for calls and quick updates for any matters. The service of this law firm is unmatched.
Diversity
Laurence Khupe Attorneys Inc. Kelobang Godisang Attorneys is a firm founded on diversity, equity and inclusion. We see diversity as an incorporation of a multiplicity of voices and perspectives. We recognise the value of differences brought about by diversity and we believe that diversity should be treated with equity and inclusion.
Our commitment to diversity, equity and inclusion is reflected by the staff the firm has retained. We have employed a large female staff complement at all levels including partnership level. Furthermore, the firm has staff consisting of different nationalities and ethnicities. At Laurence Khupe Attorneys, all employees are supported regardless of their gender, sexual orientation, religion, ethnicity, age, disability status, citizenship, or any other aspect which makes them unique. The firm supports employees in building the skills and capacity necessary to work in an inclusive manner.
In addition to cementing an inclusive and diverse staff complement, we extend the same values and mission to our clientele. The firm has its community support programmes and also partners with its clients in their community support programmes. The testimonies provided by our clients are proof that our firm is dedicated to all its clients and their community support programmes.
Our firm has placed the appropriate systems in place to prevent all forms of discrimination, whether direct or indirect. Any complaints arising from discrimination are dealt with urgency, delicately and confidentially and with the seriousness they warrant.
The firm continues to learn and evolve with the times to reflect an ever-changing society with its ever-changing needs. As a law firm, we are dedicated to maintaining the highest standards of professionalism and ethical behaviour, transparency and honesty in our relationships with our staff, our clients and the community at large.