Firm Profile > ÖZEL Attorney Consultancy > Ankara, Turkey
ÖZEL Attorney Consultancy
Offices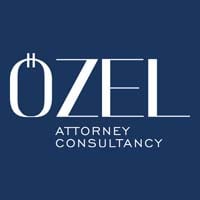 ÖZEL Attorney Consultancy
Kazim Özalp Mahallesi, Hafta Sokak, No:19/5
G.O.P. Çankaya
ANKARA
Turkey
ÖZEL Attorney Consultancy >
Firm Profile
ÖZEL Attorney Consultany
ÖZEL Attorney Consultancy founded by Atty. Osman Ertürk ÖZEL, LL.M. and Atty. Yiğit Göktürk ÖZEL in 2016, provides you with attorney services in Ankara, Istanbul and anywhere you may need utilizing its network of solution partners, and by the benefit of its team with high capability or representation, acts with a fast, transparent, and solution focused understanding.
ÖZEL whose purpose is to reassure national and international organizations, companies and individuals values their clients' expectations above all.
ÖZEL adopts the rule of law, confidentiality, professionalism and quality as its main principles and has the ability to be available at any time of the day for your urgent issues in addition to being a firm that can follow up all legal processes through any communication means.
ÖZEL informs its clients in a pre-determined frequency and manner in any issue which is the subject of counselling and follow-up thanks to a principled working system. In addition to this service, ÖZEL ensures that its clients follow up their own legal processes via a legal automation system on 'www.ozel.law' web site offered to its clients.
Due to its internal task distribution, ÖZEL provides efficient services in the fields of national and international commerce, corporate, merger and acquisition, defense, intellectual property, real estate, construction, arbitration, administration, tenders, obligations, labour, criminal, associations and contract laws.
ÖZEL, working with personnel composed of civil society volunteers, has extensive knowledge on human rights in general and especially on immigrants and refugees, and is also knowledgeable on the legal regulations and procedures on these areas.
ÖZEL benefits from, besides its employed personnel, a young and dynamic cadre it established, composed of academicians from nearly all fields, working in schools of law, constituting an Academic Consultancy Committee, in order to render its attorney services more qualified and efficient.
ÖZEL Attorney Consultancy will be deeply honored to offer all the above mentioned services to you.
Staff Figures
Firm Lawyers : 10+
Languages
Turkish English (fluent) German
Memberships
Union of Turkish Bar Associations
Other
:
Testimonial
CLIENT: Berkay Akyapı / Project Manager
COMPANY/FIRM: ASELSAN A.Ş.
TESTIMONIAL: ASELSAN is the biggest firm in defence industry in Turkey and in the region. ÖZEL Attorney Consultancy provided an excellent legal service to us in really important projects of our firm. Particularly, in the field of legislation consultancy we benefited from Mr. Osman Ertürk ÖZEL with pleasure. ÖZEL team is a really hardworking and solution oriented.
---
CLIENT: Ali Erhume Mussa / Founder of the Firm
COMPANY/FIRM: Silicon Energy Service Ltd.
TESTIMONIAL: More than a recommendation it is my pleasure to work with ÖZEL Attorney Consultancy and not only with their deep knowledge and skills with their characters we are very happy to consider them as part of our family and partner in our business journey in number of countries.
---
CLIENT: Salmanullah Mohammed / Company Official
COMPANY/FIRM: Universal Mermer Maden Üretim San. Tic. Ltd. Şti.
TESTIMONIAL: ÖZEL Attorney Consultancy supports our firm in legal issues. They have solved several complicated commercial cases. ÖZEL is always very well organised and detail oriented, never misses a scheduled meeting and they always takes the calls (7/24 – day and night). What I especially like about ÖZEL is they always remain calm in crisis situations and give the best legal advices followed by very close management until any problem/situation is solved.
---
CLIENT: Öznur Öztürk Torun / Chairperson of Board of Directors
COMPANY/FIRM: Bağımsız Analiz YMM A.Ş.
TESTIMONIAL: I had the opportunity to work with Mr. ÖZEL for a long time. I have always been impressed by how hardworking, attentive, detail oriented and conscientious he is. I would highly recommend Mr. ÖZEL and ÖZEL Attorney Consultancy for anyone, any of my clients who is looking for a quality and reliable law service.
---
CLIENT: Gözde Dizdar / Chairperson of Board of Directors
COMPANY/FIRM: GD Danışmanlık Araştırma Eğitim ve Tercümanlık Hizmetleri Ltd. Şti.
TESTIMONIAL: Mr. Osman Ertürk ÖZEL is not only lawyer of my company Governance and Development (GD Global) but also he is a key part of our business and we owe a debt of gratitude to him for his services. Mr. ÖZEL is a very thorough and competent professional who always had my company's best interests in mind. I am always informed by him in every steps of business deals and always feel the confidence of knowing that me, myself and my company is in very good hands.
Interviews
Osman Ertürk Özel, Founding and Managing Partner
Founding and Managing Partner Osman Ertürk ÖZEL, explains how the ÖZEL is adapting to its growth strategy and clients' changing needs
What do you see as the main points that differentiate ÖZEL Attorney Consultancy from your competitors?
There are two main matters differentiating us from other firms. The first one is in fact what is promised and undertook by all the firms; quality services.
The concept of quality should be discussed. As a matter of fact, this concept carrying different meanings for everyone, for us, primarily means establishing a close communications based on trust with the clients.
We do not believe that the profession of attorneyship cannot be maintained in situation where the trust is no longer present. Thus, we place effort to provide whatever we had promised and committed in the first place and more for the services we provide to and in the dialogues we have with our clients.
In regards to financial burdens, we do not place any responsibilities on our clients that are not previously indicated, we undertake some, however rarely, unplanned financial requirements that incur.
Regarding the processes followed in the name of the client and all kinds of documents prepared for them, we provide simultaneous notifications and receive confirmations. So we provide in full and enthusiastically the matters many firms commit and even carry the legal responsibility of, and acquire the chance to work with our clients continuously.
For the second difference, the "Academic Consultancy Committee" prevails that we established, as we are a firm in the effort of providing the best services in nearly every law field. As a firm we position our lawyers as the legal practitioners of the processes we follow, and build the legal basis of every case we follow on the meetings we hold with our academicians expert in their fields and the notes of knowledge we acquire from them. Thus, the related legal processes can be resolved via petitions written in the best way, the best representation and follow up.
Which practices do you see growing in the next 12 months? What are the drivers behind that?
Turkey is at a very important point based on the region it resides. Even though it is damaged for a long time, it has an established legal system and it contains the quality that cannot be overlooked by neither West or East.
In addition, Turkish economy is against a crisis that is felt significantly for a period closing to two years. Covid-19 period deepened this crisis more and caused for the measures taken to become inefficient.
Turkish currency, loosing significant value against foreign currencies, shall render Turkey a significantly cheap market within the short term, so there shall be transfers of many valuable movable and immovable assets, and mergers and takeovers of many companies. No doubt, this situation shall emphasize the importance of law of contracts, real estate law, and merger and acquisition law.
As ÖZEL Attorney Consultancy, we are prepared for this period differently than other firms. We have market analyses performed via the firms we are solution partners with for accurate direction of the foreign investors and personally provide the investment contacts. We believe that these differences, when combined with a good service of law, shall achieve good results.
What's the main change you've made in the firm that will benefit clients?
As a firm, we know that we shall have a more sustainable relation with the domestic and foreign companies we provide services with, if they trust in us and the legal processed conducted for them. Thus, we try to ensure that the management personnel of the firms we render services to have sufficient legal knowledge regarding their fields of work.
Accordingly, we publish weekly and monthly bulletins and also share notes of knowledge on specific matters and hold trainings, and contribute in nurturing the knowledgeable managers that is one of the fundamental trivets of the preventive consultancy services. In this way, the legal processed the firms we work with should follow decrease in time.
Is technology changing the way you interact with your clients, and the services you can provide them?
The technology is developing daily, however as a firm, we are born into developed technology. Therefore, I can say that we utilized technology in the best way from the very beginning.
In benefit of the contemporary technology, today not only by mobile phones or e-mails, also by video conferences we can realize more efficient, faster and lower cost meetings with our clients.
The technology provides us the chance to maintain all kinds of date in the best and safe way. In addition, in benefit of the automation system we utilize as a firm, a separate electronic directory can be created for every work followed by us, and we can keep all the data regarding these works in these directories. Also, through the link established over our website www.ozel.law, our clients may access all the information regarding their legal processes.
We try to use technology to increase the quality of the work we perform. As you may know, the internet is a very valuable source but it also has the quality to deceive its user easily. It is not very easy to reach the accurate information in this mess.
In the profession of law, the petitions written are still the most important defense and claim tools. In order to increase our quality of petitions, it is mandatory to base every claim and defense on a legal foundation. At this point, even though we draw from legislation and case laws, it is also important to utilize the books. However books are resources that demand time regarding the research.
Therefore, we established an electronic library that gathers hundreds of law books under computer software and works significantly fast and that is open only for the use of our personnel. In benefit of the ÖZEL Library, it is possible to access the most detailed doctrine opinions within seconds even from a mobile device. In this regard we can create better legal texts, and provide better legal services.
Can you give us a practical example of how you have helped a client to add value to their business?
Profession of attorneyship in Turkey, contrary to what is present in the West, is performed under a very restrictive legislation. We, as a firm, do not adopt this style. We rendered our firm to be able to provide
services also in especially investment and business development fields. We assess the legal processes we follow not only through the eyes of a lawyer but also consider all its reflections in the business life.
We support our client especially in network establishment and provision that is the number one priority of the business world, and also conduct lobbying activities. In this way, we provide for our clients a chance to perform trade with each other and also be notified more quickly regarding the commercial opportunities outside.
To give an example, there are cases where we provide for one of our clients performing production in Turkey in a specific area at a leader position to invest in a country where it is hard to be bold for investment under normal conditions, and to reach serious sales numbers over another one of our clients that is in trade with that country. It is again us that prepare contracts for all the agreements in this regard and follow personally the legal processes in both countries, and establish a legal foundation for the commercial dialogues of both parties.
Are clients looking for stability and strategic direction from their law firms – where do you see the firm in three years' time?
This is what we always say and believe; the attorneyship is based on the relationship of power of attorney. This means that we try to finalize a legal matter as an attorney in the name of another person. Thus, the process we follow is a process entrusted to us.
The clients want to trust the law firm they work with in this regard. This trust, no doubt, is established within time but time is not enough by itself. The way you utilize that time is important. Within this time period, if you become a firm that fulfills everything you commit and provide foreseeable services, stability becomes another quality for you. The reason people cannot or hardly change the firm they receive attorneyship services from is these matters of trust and stability. If there is stability and trust, they never give up working with you; if this trust and stability environment is not established this business dialogue can be terminated within couple of hours.
We, as a firm, believe in sustainable friendships and partnerships in business life. This belief is what makes us larger and valuable.
We are a firm that grows daily and that reaches upper segments with its finalized work volume and client portfolio. Indicating that "who goes slower arrives faster", but working very hard, we try to progress for a specific goal and within a schedule.
In our goals for first 5 years, there was the one to open our Istanbul office, and we had realized it. Now we have the goal to open another office in England or Netherlands within the next 3 years. Both countries are very important locations for European trade and banking systems. Besides this goal, we aim to increase the international firms we work with without giving growth a chance to decrease our service quality.
Top Tier Firm Rankings
Firm Rankings