Firm Profile > KPMG in Russia and the CIS > Moscow, Russia
KPMG in Russia and the CIS
Offices
KPMG in Russia and the CIS
NABEREZHNAYA TOWER COMPLEX, BLOCK C
10 PRESNENSKAYA NABEREZHNAYA
123317 MOSCOW
Russia
KPMG in Russia and the CIS > The Legal 500
Rankings
Praised for its 'comprehensive approach to tax work', the team at KPMG in Russia and the CIS has long-established strength in tax audits and is building up its tax dispute resolution expertise. The practice stands out for its recent successful track record in the customs law arena, where it represents large domestic companies, such as Iveco Russia, in disputes with the customs authorities. Mikhail Orlov heads the wider tax group; Andrey Ermolaev sits at the helm of the tax dispute resolution practice; and Victoria Turgeneva leads the tax oil and gas group.
Practice head(s):
Mikhail Orlov; Andrey Ermolaev; Victoria Turgeneva
Other key lawyers:
Vitaliya Muryleva-Kazak; Anton Stepanov
Testimonials
'The team stands out for its comprehensive approach to tax work (including tax litigation.) and its fast response times.'
Key clients
KCA Deutag Drilling LLC
Iveco Russia LLC
Sadovoe Koltso JSK
Volkswagen – LLC "Volkswagen Group Rus"
Radius Group Subsidiary
Decathlon Subsidiary
Practice head(s):
Irina Narysheva; Olga Yasko
Testimonials
'KPMG's corporate practice is one of the strongest in Russia. It is distinguished by a personalised approach to clients, the ability to understand the client's needs and meet them exactly. The corporate practice is well versed in English and Russian law.'
Key clients
PJSC Oil Company Rosneft
Moscow Credit Bank
JSC Engineering Company AEM-Technologii
Etalon Group
Novorossyisk Commercial Sea Port
Atomstroycomplex
PJSC Lukoil
Cherkizovo Group
JSC Gazpromneft-Aero
JSC Interrao
Oteko
PJSC Transneft
JSC Zarubezhneft
Hitachi Hi-Tech
Avelar Solar Technology
Trust Bank
Vneshtorgbank
Hitachi High-Tech
KPMG in Russia and the CIS >
Firm Profile
The firm
KPMG Law in Russia and the CIS is part of our global network of professional firms with a history that now spans three centuries ("KPMG" stands for "Klynveld Peat Marwick Goerdeler", with Marwick Mitchell & Co. being founded in 1897), operating in 154 countries and having some 200,000 people in our member firms around the world.
 The KPMG legal team in Russia was established in our Tax&Legal practice more than 25 years ago and currently includes over 50 lawyers and attorneys working at our offices in Moscow and Saint Petersburg, all with both rich domestic and international legal experience. Our team includes PhDs in law and lawyers qualified and admitted into practice in the United States and England. Over the past 3 years the growth of our practice has exceeded 100% both in terms of income and headcount.
Areas of practice
We have direct access to KPMG's global legal network. This network covers more than 70 jurisdictions and provides multi-jurisdictional legal solutions to our international clients as they conduct their cross-border operations.
 We are a fully-fledged legal practice with areas of key expertise in corporate and commercial law, M&A transactions (both domestic and cross-border), and complex reorganisations and post-acquisition integration. In these spheres our knowledge and experience extends beyond normal legal expertise and encompasses finance, tax, business valuation and other areas of expertise, as we work on highly complex projects in multi-functional teams that employ the knowledge of professionals working in our other business streams. This experience gives us an advantage in delivering comprehensive legal and business oversight for our clients when working on their large projects.
 Our key practices involving high-end expertise also include real estate, antitrust and compliance, public-private partnerships, and intellectual property law (in the latter we have unique and specialised knowledge regarding the setting up of IP management systems in large industrial companies).
 Our expertise areas also cover the resolution of tax disputes and dealing with commercial, employment, immigration, currency and banking regulations. Our practical experience and deep internal unity with our other business units help us to provide our clients with complex value-added solutions for their legal matters.
 Our KPMG lawyers have specific industry expertise, as they are all members of 16 cross-functional industrial groups set up at the global level.
Main Contacts
| Department | Name | Email | Telephone |
| --- | --- | --- | --- |
| Mergers and Acquisitions, Capital Markets | Irina Narysheva | | |
| Mergers and Acquisitions, Capital Markets | Olga Yasko | | |
| Mergers and Acquisitions, Capital Markets | Ekaterina Tsybikova | | |
| Corporate and Commercial law | Alexey Abramov | | |
| Banking and Finance | Olga Yasko | | |
| Banking and Finance | Ekaterina Tsybikova | | |
| Energy law | Irina Narysheva | | |
| Energy law | Alexey Bunkov | | |
| Dispute Resolution | Andrey Ermolaev | | |
| Dispute Resolution | Alexey Abramov | | |
| Antimonopoly regulations and compliance | Egor Svechnikov | | |
| Intellectual property & licensing | Anton Chernykh | | |
| Labour and Migration law | Tatiana Balanda | | |
| Private Client Services | Irina Narysheva | | |
| Restructuring Businesses and Assets | Irina Narysheva | | |
| Restructuring Businesses and Assets | Olga Yasko | | |
Staff Figures
Number of lawyers in Russia : 52 Number of lawyers in CIS : 98 KPMG GLS : 1,650 lawyers in 75 countries
Languages
Russian English French German Spanish
Memberships
KPMG International Cooperative KPMG Global Legal Services (KPMG GLS)
Other
Other offices : Moscow Other offices : Saint Petersburg
Interviews
Irina Narysheva, Head of KPMG Law in Russia and the CIS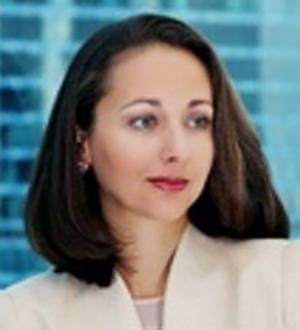 The managing partner of KPMG Law in Russia and the CIS explains the legal practice's strategy in delivering multifunctional professional services and the key market differentiators that allow KPMG to remain successful in what is a highly-competitive law market
What do you see as the main points that differentiate KPMG Law from your competitors?
My 16 years of professional experience as a lawyer in KPMG (after a number of years in another international law firm) have taught me that our clients treasure the breadth of view our lawyers bring to their businesses and our ability to identify the key commercial, financial and tax issues and then find the right legal solutions for their highly complex projects. They greatly value the way we involve relevant expertise from our colleagues as necessary. In this way we are more than just lawyers working on legal documentation, we are trusted business advisors to our clients.
Our market differentiators are the quick access we provide to cross-functional and industry-focused teams; the vast experience we bring from working on complex projects with our colleagues (such as, for example, business restructurings, post-M&A integrations, etc), and the global reach of our legal practices (which now cover over 75 countries, exceeding the global networks of most ILFs). KPMG globally is now specifically focusing on the development of our international legal services as a separate service line.
What's the main change you've made in the firm that will benefit clients?
In the last few months we have deliberately invested in practices such as bankruptcy and debt recovery (driven by clear market trends showing growth in the number of cases involving standard insolvency procedures and the recovery of losses from executives and UBOs of big companies). We have also enhanced our real estate practice and increased our expertise in public-private partnerships (the latter is in response to a state policy focusing on the attraction of private investment to infrastructure projects). We have additionally recruited a Director (Anton Chernykh) with specific expertise from a large energy company regarding the management of intellectual property. This is a new, highly important area, given the rapid development of technologies and the growing demand for proper legal protection of IP in large companies.
Is technology changing the way you interact with your clients, and the services you can provide them?
There are a lot of initiatives and practical solutions emerging from the KPMG Global Legal Services team with respect to technologies for legal services, and we are constantly assessing and testing them. For example, there's a very interesting tool allowing us to standardise and speed up due diligence processes, making it more effective from both a cost and time prospective.
Can you give us a practical example of how you have helped a client to add value to their business?
I can give a very practical recent example of how we, as lawyers, helped one of our clients to save over RUB 2 billion (round EUR 28 million). Our client's counterparty suggested that our client perform a pre-transaction business restructuring. This sounded right from a legal prospective and our client agreed. However, having looked closer at the suggested restructuring steps, and having subsequently talked to tax experts (though there was no request from the client to do so and that expertise was outside of the scope of our engagement), we identified a high risk that the transaction would be requalified from a tax perspective, leading to a charge of additional VAT of nearly EUR 30 million.
Additionally, we also identified a high degree of uncertainty and the potential for post-close conflict with respect to calculation methods used in closing the accounts, as set out in the transaction documentation. This was also a risk of that our client would lose value from the transaction.
The client therefore asked us to take a broader look at the whole transaction structure and present an effective approach from a legal, tax and financial perspective. We did this, and a transaction valued at over EUR 500 million was signed after 2 months of intense negotiations. I would very much doubt that a standard M&A lawyer could have identified the sophisticated tax & financial issues involved without having recourse to the relevant specialists in the negotiations. As such, our multifunctional team (working as sell-side lawyers) and applied knowledge from working cross-functionally saved our client from a massive series of unexpected costs.
Are clients looking for stability and strategic direction from their law firms – where do you see the firm in three year's time?
From a financial prospective, we offer our clients stable terms and conditions as part of our framework contracts. These contain in many cases fixed hourly rates in local currency, and quite often work on a "capped" fees arrangement. However, most importantly, we are always working to develop our expertise, addressing not only current demands, but also upcoming market demands, in order to offer our clients the complete solutions they need to keep their businesses stable in this rapidly changing world.
We aim, therefore, not just to keep our current clients delighted with our services, but to enlarge our client portfolio over the coming years, hiring in key market expertise and becoming a large law firm with a headcount approaching 80-90 lawyers, known in the market for our leading expertise in complex business projects.
Top Tier Firm Rankings
Firm Rankings