Firm Profile > Alhababi Law Firm > Doha, Qatar
Alhababi Law Firm
Offices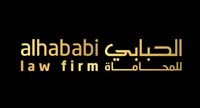 Alhababi Law Firm
WEST BAY, PALM TOWER B, 28TH FLOOR
OFFICE 3, DOHA
Qatar
Alhababi Law Firm >
Firm Profile
Alhababi Law firm was founded by Khalid Alhababi, who used to be among the first Qatari legal counselors to join the legal department of Ras Gas, which later merged with Qatar Gas. After extensive experience at Ras Gas, Khalid Alhababi established this law firm with the vision of creating a Qatari law firm applying international standards both in the quality of legal services and client care. The firm's mission is to distinguish its services with quality, professional communication, and value!
With this determination for excellence, Alhababi is privileged to have top lawyers and staff who have vast experience and excellent qualifications. The team at Alhababi Law Firm speak Arabic, English, French, and Italian! Alhababi cooperates with a unique network of of-counsels and international law firms.
What are we best at?
Corporate transactions: Our lawyers provide clients with sophisticated legal services that meet the needs of SMEs and large corporations. Our services cover the broad spectrum of corporate transactions including forming companies, corporate restructuring, corporate governance, distributorships, sales agencies and dealerships, purchase orders, supply contracts, local and international sales of goods, intellectual property registration and licensing agreements, government contracting, and other forms of business transactions.
Litigation and trail practice: Our lawyers have extensive court and trail practice in the Qatari courts and have tried cases include litigation issues of contractual and commercial disputes. Alhababi handles litigation and trail practice matters including civil appeals, commercial and business litigation, commercial landlord/tenant disputes, contract disputes, employment law claims, partnership and corporate dissolutions, real estate litigation, and other commercial and civil law disputes.
Arbitration: Our lawyers provide services in all aspects of arbitration including drafting arbitration clauses, the type, and seat of arbitration, the formation of the tribunal, arbitral procedure, and most importantly enforcement of arbitration awards in Qatar. International arbitration is usually conducted under the auspices of major arbitral institutions such as the International Chamber of Commerce (ICC), the International Center for Dispute Resolution (ICDR), and the London Court of International Arbitration (LCIA).
Construction: Alhababi provides high-quality legal services to construction professionals for all stages of the construction process: corporate formation, certification, bids, contract negotiation, impact and delay claim analysis, and dispute resolution including arbitration. Construction disputes vary from disputes over cost and duration of the project, the quality of the work, and responsibility for injuries or damages suffered during the project. We provide our legal services to project owners, architects, engineers, general contractors, subcontractors, construction managers, material suppliers, banks, and insurance companies.
Finance: Our lawyers have experience in the main practice areas of finance including banking, project finance, capital markets, and dispute resolution. Our finance practice covers the representation of financial organizations in lending transactions to borrowers, fiduciary activities, payment systems, risk management, and litigation. The firm provides legal consultation on finance for corporations, governmental organizations, and banks.
Insurance: Our firm provides quality representation and personal service for both insurers and policyholders. Insurance counseling covers a wide array of issues ranging from assessments of coverage for losses, formulating a favorable policy language, and representation in coverage disputes. However, our insurance law services are limited to Insurance Law (Takaful).
Import and export: Our multilingual lawyers specialize in international commerce and customs and offer a unique set of skills to support companies involved in import and export. We support our international commerce clients in their dealings with the relevant government organizations; most importantly Qatar General Authority of Customs, as well as Qatar General Organization for Standards and Metrology. Alhababi support clients mainly with import/export audits, compliance procedure, trade analysis, penalty mitigation, and litigation.
Hospitality: Alhababi specialized lawyers in hospitality law support clients in the hotel, resort, restaurant, and travel industries. Our lawyers provide advice to owners, operators, developers, services providers, lenders, and investors. Our hospitality practice covers development, acquisition, and disposition, branding and, licensing, joint venture and partnership agreements, and dispute resolutions.
Real estate: Our real estate practice involves the representation of buyers and sellers in the acquisition and disposition of various kinds of real estate including office buildings, retail centers, hotels, industrial properties, and residential properties. We serve our clients as well in the negotiation and preparation of development and construction agreements. The real estate practice covers the negotiation and development of lease contracts as well. Litigation in the real estate involves the representation of real estate owners, buyers, developers, and lenders in contract disputes.
Staff Figures
Dispute Resolution : 7
Languages
English French Arabic Italian Turkish Greek Romanian Spanish
Diversity
Alhababi lawyers and staff are committed to an inclusive and diverse workplace and delivering exceptional value to our clients through the application of international best practices in legal services.
We remain loyal to recruiting, training, developing, retaining, and promoting talented attorneys and staff from diverse background, to satisfy the need of a multicultural and diverse business market.
Our firm strives to create an environment of teamwork and partnerships, developing programs to support diversity, ensure equal rights to advancement.
For us diversity extends from visible differences to one of the strongest core values of our firm. More so it is a sense of belonging to a community, the first step into achieving one's full potential.
The result of creating and developing a diverse team in a healthy environment based on respect and acceptance, is the unity and enthusiasm for serving our clients. We strongly believe that our inclusive work environment is crucial to both client goals, as well as the staff personal satisfaction.
Press Releases
30th July 2021
It is well known that the legislations main objective is to regulate the relations between different parties and to ascertain obligations and rights that fall on and to different parties.
30th July 2021
The Qatari legislator mentioned the term "rejection" in article (374-Repeated-subarticle (1)) from the civil and commercial procedure law -2019 amendments, while the legislator mentioned the word explicitly, a definition of the word "rejection" was not illustrated, referring to various dictionaries, the word rejection means the act of not accepting, believing or considering something.
30th July 2021
Introduction:
The phrase Public-Private Partnership goes back to the 1970s, some scholars even argue that the phenomenon of PPP goes much further back into history. However, PPP constructs a huge and an essential commercial activity in today's world economies, a reality that legislators must establish regulatory provisions for; consequently, the Qatari legislator addressed the matter of PPP in Law number (12) of the year 2020 organising the partnership between public and private sector, an overview of PPPs and the aforementioned law will be introduced in this article.
30th July 2021
In order to maintain the contractual relations stability, what happens usually is that both parties of a contract agree on setting a penalty clause that applies in the case if one contracting party breached the agreement or didn't commit to its contractual obligations, the reasons Behind setting and drafting such clause is for the contractors to guarantee that the opposite party will commit to its obligations, as this commitment is not always guaranteed, laws and regulations allowed the parties of a contract to agree on the compensation amount one party deserves in the case of a contractual breach, jurisprudence and courts call this amount the penalty clause or the contractual compensation. In this article, the legal nature of the penalty clause will be briefly discussed in addition to the clarification of the judge's ability to interfere in modifying the penalty clause and its drawbacks on any contract's parties. Arabic laws adopted the idea of the penalty clause in its provisions, influenced by western laws in general and by French law in particular, the Qatari Civil Code did not define the penal clause, but merely mentioned its provisions, as the Qatari legislator stipulated in Article (265) of the Civil Code that : "If the subject of the obligation is not a sum of money, the contracting parties may estimate in advance the value of compensation in the contract or in a subsequent agreement ."
30th July 2021
Introduction:
The Economy of Qatar is considered one of the most powerful and competitive economies in the Middle East and specifically in the gulf region; therefore, robust commercial legislations and rulings are classified as an essential contributor in sustaining the country's economic growth. On the 6th of August 2015, Commercial Companies Law (CCL, hereinafter) Number 11 took effect, the CCL organizes the formation, administration and dissolution of business affairs. However, this article shall only focus on the LLC manager's liabilities considering that the LLC is the most common form of company in the state of Qatar. In addition to the importance of the updated provisions governing the liability of managers.
30th July 2021
Introduction:
The fast-growing economy of Qatar is among the best in the region in addition to the country's rapid infrastructure development, Qatar has imposed new provisions to its labour law consolidated legislations, such reforms were essential to maintain the pace of growth and to assist the country into reaching to the Qatar 2030 vision " transform Qatar into an advanced society capable of achieving sustainable development", the government of Qatar explicitly states that it is committed to reforming Qatar's labour laws and practices, a statement that has been strengthened with a variety of actions that will lead eventually to a system that is best fit for purpose for both employees and employers. This article will shed the light on various reforms regarding labour regulations that took effect in the past years in the state of Qatar.
30th July 2021
Introduction:
More people are relying on arbitration each day, as it is being advertised as the better alternative for litigation, wether we agree with this notion or not, the fact that the number of arbitral proceedings is increasing is proven and known in the legal-commercial field.
30th July 2021
Introduction:
We have all encountered COVID-19 various implications; lock downs, social distancing, virtual meetings and economic-financial related drawbacks, such measurements and implications were the starting point of what is called the new normal , a normal were we are forced to take certain measures and procedures to keep ourselves safe, the word safe is an umbrella word that contain many aspects within, in this article, the writer will focus on the implications of the pandemic on commercial agreements and the new normal measurements highlighting the need for a more detailed clauses to be added and drafted in today's world agreements and contracts in the scope of Qatari legislations.
30th July 2021
To execute any certain construction project, three parties are required: the employer, the contractor, and the engineer. The employer's relation with the contractor is based on the contracting agreement, whereas the employer's relationship with the engineer is based on another separate contract, following his appointment under the contract, the engineer shall offer the essential services in planning, design, and implementation on behalf of the employer in order to optimize the contractor's work in the practical implementation of the contracted project.
30th July 2021
Introduction:
According to the American Bar Association arbitration "is a private process where disputing parties agree that one or several individuals can make a decision about the dispute after receiving evidence and hearing arguments." A simple definition that is easy to understand by people not immersed in the commercial-legal field. In Qatar, Arbitration has grown significantly in recent years, both among domestic and foreign parties, the number of arbitration procedures held in Qatar is increasing, with many of them being international in the sense that at least one party is headquartered outside of Qatar.
12th July 2021
Our international alumni network includes more than 2000 graduates in more than 80 countries. These professionals can be found at the highest levels of government, legal practice, and business.
Top Tier Firm Rankings
Firm Rankings