Firm Profile > KOBILIRIS & ASSOCIATES > Athens, Greece
KOBILIRIS & ASSOCIATES
Offices

KOBILIRIS & ASSOCIATES
21, VOUKOURESTIOU STR.
106 71 ATHENS
Greece
KOBILIRIS & ASSOCIATES >
Firm Profile
Kobiliris & Associates is one of the leading boutique law firms in Greece. Our Firm has an in-depth knowledge of the Greek real estate property market and a unique expertise successfully representing clients across the full cycle of a real estate transaction, including due diligence, structuring, negotiation, execution and closure. Our experienced legal team also covers a wide range of additional legal areas ranging from corporate and civil law to education, technology and white collar crimes.
We maintain a relentless focus on our clients' needs and represent a wide variety of developers, private equity funds and local and international investors. We have a leading expertise in investment immigration and represent clients from Asia, Middle East, Turkey, Europe and U.S.A.
We support our clients to capitalise on new opportunities across both established and emerging sectors by providing high quality tailor made solutions and strategic advisory services. We work with our clients to understand their objectives, bring solutions and proactively prevent future risks. We are committed to delivering efficient and cost-efficient legal services focusing on clear and transparent communication, immediate responsiveness and attention to detail.
Staff Figures
Number of lawyers : 8
Languages
Greek English Chinese Arabic Turkish German français
Diversity
Kobiliris and Associates, values diversity and is committed to taking the steps necessary to recruit, retain and promote minorities and in general, the less privileged within the firm.
Our key goal and priority is to recruit lawyers who have demonstrated solid academic credentials and they are coming from low-income families and socially disadvantaged backgrounds.
We strongly believe that diversity is not a barrier or a roadblock to successful business, in fact we view diverse teams as valuable source of business innovation, success and ultimately, client prosperity.
Diversity is an integral part of who we are and especially what we will be in the future. We identify diversity as a critical success factor for our business.
Our firm believes that a diverse group of lawyers and staff members is key to meeting our client needs, around the world, providing them will value-add, innovative and timely ideas and solutions.
International Capabilities
KOBILIRIS AND ASSOCIATES have a global presence representing clients from Asia, Middle East, Turkey, Europe and U.S.A. Our strategic partner is New Deal Real Estate and Construction Group with which we have exclusive cooperation and we support them on legal issues. New Deal Group owns Remax New Deal which is one of the biggest Real Estate Companies in Greece, as well as the most successful office within the Remax network in Greece. Also, Remax New Deal ranks 8th in growth and 27th in turnover among 2500 offices in the entire European network of Remax. Remax (headquartered in Denver, USA) is the largest Real Estate network in the world with a strong global presence in over 110 countries.
KOBILIRIS AND ASSOCIATES, along with REMAX NEW DEAL, benefit from the global network of Remax, have established exclusive cooperations and represent foreign developers, private equity funds and international investors.
More specifically, in Greece we represent:
Real Estate Investment Companies and Investment Immigration Offices as well as individual investors from China.
Real Estate, Investment and Construction Companies and individual investors from U.S.A., Israel, U.A.E., Lebanon and Egypt (Cairo and Alexandria)
KOBILIRIS AND ASSOCIATES has also exclusive cooperation with K&P Legal Law Firm (https://kplegal.com.tr) which is based in Izmir and Istanbul in Turkey. KOBILIRIS AND ASSOCIATES and K&P Legal Law Firm engage in cross-border transactions between Greece and Turkey and represent big Turkish and Greek companies. At the same time, we offer our services to individual investors in Greece and Turkey.
Exposure in China:
KOBILIRIS AND ASSOCIATES has already three associates in China based in Beijing, Shanghai and Shenzhen, committed to support our firm's expansion, as we are ultimately looking to establish full operations in China by opening our first office in Shanghai soon.
Interviews
Christos Kobiliris, Managing Partner, Ph.D. cand.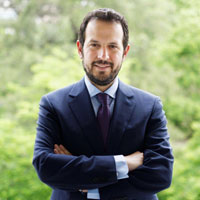 Christos Kobiliris, Managing Partner, introduces the firm's vision and strategy and explains the firm's commitment to Technology as a critical tool for meeting clients needs in the future.
What do you see as the main points that differentiate KOBILIRIS AND ASSOCIATES from your competitors?
Having a big experience in our core expertise sector which is Real Estate & Construction and Investment Immigration Law, we support our clients to capitalize on new opportunities across both established and emerging sectors by providing high quality &tailor-made solutions and strategic advisory services.
Which practices do you see growing in the next 12 months? What are the drivers behind that?
Traditionally, the challenging area for Greek law firms is the difficulty to follow up with the latest technological trends. Consequently, this leads to a huge gap between traditional law companies and tech-savvy clients. KOBILIRIS AND ASSOCIATES are rapidly evolving in a continuous effort to adjust to the new reality and demands. One of the goals of KOBILIRIS AND ASSOCIATES is to utilize advanced technologies, -including Machine Learning and Natural Language processing- and introduce the use of a Legal Chatbot. The Legal Chatbot is a software with the ability to assist the clients, in the form of a natural text-based communication. From scheduling appointments, to simple answers to the most common legal questions one can have, this service would be available 24/7, providing excellent client service to our clients, all this from the comfort of their home. In the current market conditions, with COVID-19 tormenting our society, it's KOBILIRIS AND ASSOCIATES responsibility to keep our clients safe, by reducing the unnecessary contact, while still providing full service. Modern problems require modern solutions, and our office will be a pioneer in this change.
What's the main change you've made in the firm that will benefit clients?
In this new era, leading companies should have real expertise in their sector and they have to apply in-depth scientific approaches to all matters they are dealing with. Unfortunately, in Greece in the Real Estate and Construction sector there is a common belief in the legal community that someone does not necessarily have to be an expert in order to be involved and to deal with all the relevant issues. I strongly disagree with this point of view and therefore, I have established a boutique law firm which has in-depth knowledge of the Greek real estate property market and a unique expertise successfully representing clients across the full cycle of a real estate transaction, including due diligence, structuring, negotiation, execution and closure.
Is technology changing the way you interact with your clients, and the services you can provide them?
Technology plays a crucial role in almost every aspect of modern life – Law firms client service couldn't be an exemption. Legal Chatbot is one example of how modern technologies can improve client experience. It's our responsibility to ensure a smooth experience for everyone. In KOBILIRIS and Associates we have fully understood the importance of adjusting to the new demands, we are resilient and dedicated to our ultimate goal: Provide top-level customer service.
Can you give us a practical example of how you have helped a client to add value to their business?
Kobiliris and Associates represents a wide variety of foreign developers, private equity funds and international investors. Apart from legal advice, we also support our international clients with markets insights and useful tips that they can use to achieve their goals and enhance their investments returns. We are able to provide such additional services, by leveraging on our big professional network across the entire spectrum of the markets we cover which has also allowed us to develop internal capabilities to supplement our core offering. This is key in our effort to maximize value for our clients and also, it is a competitive advantage that differentiates us from our peers. Client feedback received so far, indicates that clients value those additional services and consider them critical for ROI maximization.
Are clients looking for stability and strategic direction from their law firms – where do you see the firm in three years' time?
Stability is one of our firm's core values. We already have three associates operating in China (Beijing, Shanghai and Shenzhen) as we are looking to expand our firm and to establish one office in China, in order to be close to our clients and to provide them excellent service.
Legal Developments
28th April 2020
Greece provides the best investment immigration opportunity through the ''Golden Visa'' law. 
Permanent Residence Permit granted with a 250.000€ real estate investment.
The Greek Golden Visa program is one of the most renowned investment immigration programs in the world and competes with the US EB-5 program in the global golden visa rally. According to Greek Ministry of Migration & Asylum sources, till 01.02.2020, 6.692 investors and their families (19.836 people in total) have benefited from the Greek Residence Permit program.
Top Tier Firm Rankings
Firm Rankings