Eyad Reda Law Firm > Riyad, Saudi Arabia > Firm Profile
Eyad Reda Law Firm
Offices
Eyad Reda Law Firm
7230, Al Ulaya
Unit no 12, Riyadh 12212-3460
Saudi Arabia
Eyad Reda Law Firm >
Firm Profile
About us: Eyad Reda Law Firm LLP ("ERLF"), a well-established law firm with a seamless combination of Saudi law and Sector specialist expertise across different practice areas, transactional oriented, strong dedicated and knowable team and support officers with a strong corporate, commercial, regulatory and litigation experience what makes our firm the choice of most repeatable entities operating in Saudi Arabia.
We directly interact with our clients of both private and government entities on daily basis to provide the best service to our clients, including the Saudi Ministry of Justice (MOJ), Saudi Arabian General Investment Authority (SAGIA), Saudi Arabian Monetary Agency (SAMA), the Capital Markets Authority (CMA), the Ministry of Commerce and Investment (MCI), Public Investment Fund (PIF), Ministry of Labor (MOL) Ministry of Finance (MOF) and Judicial entities, and many other regulatory entities in Saudi Arabia.
What sets ERLF apart from other law firms in Saudi Arabia is that we serve the full spectrum of our clients' legal needs across different practice areas with full understanding of their businesses. Our experienced lawyers are dedicated and committed.
We are very committed to the ambitious plans for Saudi Arabia envisioned by Vision 2030 and the National Transformation Plan. Quality and value are among our core values and we strive to embed a them in our mindset.
We maintain an unrelenting focus on Saudi Vision 2030, Integrated with our firm experience rollout of quality and value excellence that empowers firm to identify unique services and remarkable performance.
"We maintain an unrelenting focus on Saudi Vision 2030. legal Aspects"
Corporate: Our corporate team brings to each client a corporate experience and is well placed to advise on a broad range of local, regional and cross-border transactions. Our experienced team managed to handle major M&A and restructuring transactions during the last few years.
Our team has worked on deals ranging from local joint ventures, franchising and distribution agreements, through to complex restructuring projects involving multiple jurisdictions, major restructuring and bankruptcy. Our lawyers have deep knowledge and understanding of the various regulatory authorities and are culturally attuned to, our lawyers also have a full comprehension and intimate understanding of the requirements which can impact corporate operations and business demands.
Compliance: We consider compliance as a very important element of any business, it gives business sustainability and minimize risk. Our team manage to advise many Saudi and International entities on important matters related to their compliance including regulatory requirements and legal reforms by MOJ, CMA, MOCI, SAGIA, MOF and MOL.
Establishments, structuring and company secretarial: Our team has considerable experience in helping clients successfully navigate the complex regulatory framework, associated with corporate and operating structures, and which can vary greatly from business to business and across jurisdictions within the region including regulatory requirements and legal reforms by MOJ, CMA, MOCI, SAGIA, MOF and MOL.
Regulatory, privatization and PPP: We recognize that specialist transport, employment, real estate, hospitality, healthcare, telecommunication, entertainment, hospitality, construction, education and privatization expertise must be backed by legal and regulatory reform capability and strong legislative drafting skills. Regulatory and PPP is an area where our lawyers have extensive experience having worked with our clients on many significant tasks and Projects. Our lawyers successfully acted on several legal and regulatory reform projects in Saudi Arabia.
Dispute resolution and litigation: Our litigation and dispute resolution team on the ground is among the strongest and most highly regarded dispute resolution practices in Saudi Arabia. Our combined practice of ADR, litigation, arbitration and investigations means that we can service our clients, needs before all relevant authorities, and provide different solutions before and during the conflicts.
ERLF's litigation, arbitration and investigations team handles all aspects of commercial dispute resolution across a wide range of industry sectors (including construction, healthcare, hospitality, finance, telecommunication, and retail), from pre-litigation advisory work to court cases. Our substantial experience assists us in resolving disputes at the earliest possible stage where appropriate. Equally, we pursue claims or defenses robustly through contentious proceedings if an early resolution is not viable or attractive.
We understand the commercial pressures placed on those who are responsible for handling a dispute within an organization and respond quickly but not at the expense of using the right strategy and techniques for resolution of an individual case. Our duty of care, knowledge and dedication give our clients much higher success chances in their disputes.
Restructuring and bankruptcy: We provide advice on all aspects of restructuring and insolvency, as well as critical employment and corporate issues because of restructuring or insolvency. We also conduct detailed legal due diligence reports when required.
Corporate finance and capital markets: Our corporate finance lawyers are skilled in corporate finance and capital markets transactions, including initial public offerings, secondary offerings and rights issues, convertible and exchangeable bond issues, and private placements of equity and debt.
Main Contacts
| Department | Name | Email | Telephone |
| --- | --- | --- | --- |
| Managing Partner, Head of Corporate and Restructuring | Eyad Reda | eyad.reda@erlf.com | +966114847171 |
| Practice Director | Zainab Al Talib | info@erlf.com | +966114847171 |
| Head of Regulatory and PPP | Mohammad Alzahrani | info@erlf.com | +966114847171 |
| Head of Finance and Litigation | Abdulrahman Aldaej | info@erlf.com | +966114847171 |
Lawyer Profiles
| Photo | Name | Position | Profile |
| --- | --- | --- | --- |
| | Ms Munirah Al-Marshad | Senior Legal Consultant, Commercial, Corporate Litigation, Regulatory, Constructions | View Profile |
| | Mr Abdulrahman Aldaej | Legal Director, Corporate, Commercial, Restructuring, Capital Markets, Banking, Arbitration | View Profile |
| | Ms Aljohara Aloudan | Legal Consultant  | View Profile |
| | Mr Dari Alrakhis | Senior Legal Consultant, Regulatory, Commercial | View Profile |
| | Mr Mohammad Alzahrani | Legal Director, Regulatory, Litigation, Compliance | View Profile |
| | Mr Abdulrahman Bawarith | Legal Consultant | View Profile |
| | Ms Reham Nasrallah | Legal Consultant  | View Profile |
| | Dr Eyad Reda | Managing Partner, Restructuring, PPP, International Agreements, and Commercial Litigation. | View Profile |
Staff Figures
Fee Earners : 25 Business Support : 13
Languages
English Arabic Spanish French
Memberships
A well-established international network of foreign associates Saudi Bar Association Saudi British Business Council
Interviews
Eyad Reda, Managing Partner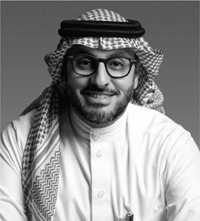 Eyad Reda explains how the firm is adapting to clients' changing needs
What do you see as the main points that differentiate [Eyad Reda Law Firm ("ERLF")] from your competitors?
ERLF team bring to their client most valuable and relevant advice combined with best local knowledge and international best standards. Our practice is fully integrated into national and international businesses and is well placed to advise on a broad range of local, regional, and cross-border transactions. The multi-lingual, different experience background as well as firm's major mandate in Saudi market position us in legal field experts in most relevant practice areas.
Which practices do you see growing in the next 12 months? What are the drivers behind that?
Restructuring, M&A, PPP/Privatization, and technology. We believe that these areas are focal legal focus areas in the next 12 months. There are signs and indications of post COVID-19 will change the legal industry in Saudi Arabia, private sector leaders are restructuring, government investment advisors are thinking M&A and privatization, young tech SMEs are booming what used to be normal business practice before COVID-19 is an out of date way of post COVID-19. Legal thinking and needs are also changing in line with these changes.
What's the main change you've made in the firm that will benefit clients?
Our role is to understand our client's goals as thoroughly as possible and to deliver the best legal services to their businesses, taking in consideration best practice and business related matters. We started to engage with in-house counsels to assure they play a proactive role and to maintain effectiveness and budget. We frequently keep informed our clients about sector related legal updates and trends.
Is technology changing the way you interact with your clients, and the services you can provide them?
Certainly yes. Document sharing, E-signatures, artificial intelligence, communication, and social media business platforms. With a heavy focus on technology and artificial intelligence by the Ministry of Justice and other government entities, client advancement, this gives our firm no option other than implementing E-discovery tools, contract review tools, and locating relevant clauses in many of our day to day work. Dealing with legal documents is becoming more technical but faster and economically better. We do believe it is no longer luxury, it will be soon be a basic demand.
Can you give us a practical example of how you have helped a client to add value to their business?
One of our clients has more than 22,000 employees, 16 subsidiaries, and more than 10 law firms in their panel, total disconnection between different legal activities in different subsidiaries and considerable gap/alignment between law firms. In a holding board level discussion, we have proposed a detailed plan 6 months plan to reorganize their legal activities, combine their teams, propose B2B between their subsidiaries, centralize their legal documentation, centralize legal conflict and decision making. After 6 months of doing the exercise with them, the client has managed to cut their legal cost with more than 35%, increase efficiency and instruct better quality legal work to their external counsels, the board is proud of quality of their in-house legal and less risk and more trust was achieved.
Are clients looking for stability and strategic direction from their law firms – where do you see the firm in three years' time?
Clients are involving law firms more in strategic and proactive elements, the traditional way of legal help and support is becoming an out of date thing, clients are working smarter, and becoming more sophisticated and accordingly they expect their lawyers not only to be engaged in solving problems but also helping them navigating businesses and future goals. We have been engaged with some of our clients in strategic discussions to evaluate the legal side of their plans. Law firms needs to adapt and become pragmatic, more aware of in-depth practical knowledge rather than law textbooks. Law firms cannot ignore the fast change in businesses and slow creation of laws.