Firm Profile > LC Lawyers LLP > Quarry Bay , Hong Kong
LC Lawyers LLP
Offices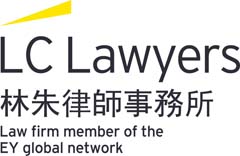 LC Lawyers LLP
Suite 3106, 31/F One Taikoo Place
979 King's Road
Hong Kong
LC Lawyers LLP > The Legal 500
Rankings
LC Lawyers LLP is noted for its capabilities in large-scale infrastructure projects, and is especially active in the public utilities, transport, and energy sectors. Lynia Lau is the key practitioner. Senior associate Ting Su has left the firm.
LC Lawyers LLP >
Firm Profile
LC Lawyers LLP
LC Lawyers LLP is an independent law firm.  It is a Hong Kong law firm member of the global EY network, in collaboration with other law firm members.
Our lawyers provide comprehensive legal services for:
mergers and acquisitions, takeovers, privatizations, international corporate restructuring, private equity and venture capital investments as well as management of their portfolio companies
listings and public offerings, corporate finance (equity and debt), pre-IPO investments, post-IPO securities offerings including private placements of shares and convertible instruments, post-listing compliance, corporate governance, and employee share incentive schemes
regulatory and legal compliance, dispute resolution, regulatory enforcement and investigations
risk management and governance
cybersecurity and data privacy
energy, infrastructure and projects
commercial contracts
construction
public procurement
Corporate/M&A: We represent multinational, PRC and Hong Kong corporations, financial institutions, listed issuers, private equity and venture capital funds, governmental authorities and official bodies, as well as private clients on mergers and acquisitions and corporate finance transactions.
Dispute Resolution: We act for corporations and individuals in governance, regulatory and internal investigations, corporate compliance counselling, disputes relating to directors' and officers' liability, shareholders' remedies, investments and joint ventures, insolvency, asset-tracing claims, recovery actions and insurance litigation.
Energy, Infrastructure and Projects: We also advise a number of state-owned enterprises in development, acquisitions, government regulations, sales & purchases, finances and operations of infrastructure projects including liquefied natural gas, oil & gas, power stations, refinery, terminal and other public utilities.
EY LAW
EY Law network consists of over 3,500 professionals providing legal services in more than 80+ jurisdictions globally to offer clients cross-border and integrated legal services with a sector-focused multidisciplinary approach.
With the wide coverage, EY Law is equipped to provide tailored solutions for clients to overcome the complex cross-border regulatory environment and advise on Belt-and-Road Initiatives. EY Law, together with EY's services lines, provides extensive multidisciplinary services on cross-border investments (including Belt and Road Initiatives) in areas such as project assessment, governmental relations, project financing, project life cycle management, documentation, legal compliance, transactional management and corporate social responsibility.
Staff Figures
Partners : 6 Lawyers : 16 In global EY Law network : 3,500+
Languages
English Mandarin Cantonese
Memberships
EY Law network EY Global Network (previously Ernst & Young)
Client Testimonial
CLIENT: Philip NG – Head of Legal and Compliance, Legal and Compliance Department
COMPANY/FIRM: CMB International Capital Corporation Limited
TESTIMONIAL: Rossana Chu of LC Lawyers is undoubtedly a seasoned and experienced legal practitioner with plenty of skills to offer. From mega M&A and corporate finance deals to ad hoc specific advice in relation to some SFC's rules, she has consistently demonstrated in-depth knowledge of the letter of the law whilst the commercial practicality and usefulness of the advice is never compromised. Her understanding of Chinese institutions, culture and complexity involved is unrivalled, including deals and transactions with cross border elements. Her responsiveness to questions has been impressive even during unsociable hours. Overall, you will get what you wanted at a very reasonable price and in a timely manner.
---
CLIENT: Horace CHU – Director
COMPANY/FIRM: Ample Capital Limited
TESTIMONIAL: LC Lawyers has been acted as Ample Capital Limited's lawyer on a Hong Kong IPO engagement. I am very impressed by the professionalism of Rossana and her team. Her team has excellent IPO and listing rule knowledge, which made them capable on advising various complex legal issues during the IPO process. I will recommend Rossana and her team to others without any hesitation.
---
CLIENT: Ricky LAI – Company Secretary
COMPANY/FIRM: HKC (Holdings) Limited
TESTIMONIAL: As a Hong Kong listed company engaged in property development and investment as well as renewable energy business in China, we are constantly facing different compliance and legal challenges from both jurisdictions. Rossana Chu and her firm has constantly provided valuable advices and resources in helping us to deal with these challenges and to resolve them in a more than satisfactory manner. They are true professionals and valuable partners to us.
---
CLIENT: Lewis LAI – Director
COMPANY/FIRM: Red Sun Capital Limited
TESTIMONIAL: LC Lawyers has been advising us on an IPO engagement, the team is led by the highly experienced Rossana Chu. I am very impressed with the professionalism of Rossana and her team. They have been attentive and excellent throughout the course of the engagement. Their IPO legal advice is practical and to the point. The engagement team has good IPO knowledge with strong business acumen. We would recommend Rossana and her team to others without any hesitation.
---
CLIENT: LU Tao – Investment Director
COMPANY/FIRM: Hanergy Mobile Energy Holding Co., Ltd.
TESTIMONIAL: Rossana Chu, Managing Partner of LC Lawyers LLP and her team have been legal advisers worthy of our trust. They are able to deal with complex transactions in an ever-changing environment. Their practical insights and professional legal advice help Hanergy in making informed decisions. We cannot think of our work without her help in the complex process of listing and delisting, and also working with regularities.
---
CLIENT:  Daphne TSE – Chief Financial Officer and Company Secretary
COMPANY/FIRM:  Greenheart Group
TESTIMONIAL:  I have worked with Rossana and her team for many years.  Her team was very responsive and quick to provide solutions.  Rossana provides us with wise counsel and good guidance.  I am extremely pleased with the level of professionalism and expertise Rossana and her team has brought to our company over the years.   Rossana is well versed with the Hong Kong Listing Rules and Takeover Codes. Her experience and knowledge gives us a sense of confidence that a true professional is always standing shoulder to shoulder with us to safeguard our company's interest anytime if needed.
---
CLIENT: Steve LEE – Financial Controller and Company Secretary
COMPANY/FIRM: IMS Group Holdings Limited
TESTIMONIAL: Rossana and her team have provided continuous support to our company and helped us resolve every technical issue that we encountered in our day-to-day operation. They are responsive and the advices they provided are all-rounded and insightful. The services they delivered always meet our needs and may even go above and beyond our expectations.
---
CLIENT: Joyce H.T. Li – Assistant Financial Controller
COMPANY/FIRM: Chun Wo Property Development Limited (Subsidiary of Chun Wo Development Holdings Limited)
TESTIMONIAL: LC Lawyers LLP achieved remarkable results. Not only was the team professionally strong, but also had the ability to stand in customer's perspective and consider issues, and it effectively helped us solve many key issues. This kind of selflessness and feelings can't be felt at other partners. The Managing Partner of LC Lawyers LLP, Rossana Chu, is an experienced lawyer and a successful leader. We have maintained long-term cooperation with her and her team. Her help for us is all-round. She gave us guidance in strategic height in addition to professional one.
---
CLIENT: Keres Pang – Company Secretarial Manager
COMPANY/FIRM: Asia Allied Infrastructure Holdings Limited (Stock Code: 00711)
TESTIMONIAL: LC Lawyers LLP has become the legal adviser worthy of our company. We are very satisfied with their performance. Rossana and her staff stayed in close contact with us and are highly professional, thoughtful, and very experienced and knowledgeable professional service and client advocate. We are thankful that we selected LC Lawyers LLP to represent us and would highly recommend them.
---
CLIENT: Bill Zhou (General Counsel) and Alice Song (Legal Counsel)
COMPANY/FIRM: Fullshare Holdings Limited
TESTIMONIAL: LC Lawyers LLP has achieved spectacular results in a short period of time. The firm is led by Managing Partner, Ms. Rossana Chu, a very experienced lawyer and to whom we have long cooperation relationship with. We are grateful to have worked with a team of competent professionals who have extensive knowledge in corporate finance and capital markets, who not only provide high standard legal services responsively, but are also communicative and understanding to what clients really need.
---
CLIENT: Kelly Tai, Company Secretary
COMPANY/FIRM: Li Ning Company Limited
TESTIMONIAL: We have known Ms. Rossana Chu, the Managing Partner of LC Lawyers LLP, for many years and she and her team are always the legal counsel we think of when we need legal advices. Both Rossana and her professional team are practically experienced in the capital markets and corporate finance fields. With their efficient high-quality work and attentiveness to clients, it is always reassuring to work with Rossana and her team.
Top Tier Firm Rankings
Firm Rankings