Balfour+Manson LLP > Edinburgh, Scotland > Firm Profile
Balfour+Manson LLP
Offices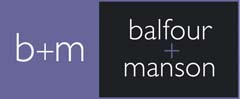 Balfour+Manson LLP
56-66 FREDERICK STREET
EDINBURGH
EH2 1LS
Scotland
Balfour+Manson LLP > The Legal 500
Rankings
'One of the best known and respected teams for pursuing medical negligence claims in Scotland', Balfour+Manson LLP represents an exceptionally diverse client roster in medical negligence cases against an assortment of hospitals, primary care providers, dentists, ophthalmologists, optometrists and other health professionals. Presiding over the group is 'one of, if not the most, highly regarded clinical negligence solicitors of her generation' in Ann Logan, who frequently handles claims involving neonatal care and birth injury. In addition, firm chairman Elaine Motion and David McIntosh are regularly instructed in misdiagnosis or delayed diagnosis matters. Another name to note is senior associate Michaela Guthrie, who often provides assistance to Logan in complex cerebral palsy and birth injury claims, applying a'level of care and consideration to her cases that many others could learn from'. 
Testimonials
'Outstanding in every respect. I have not had to pursue a claim for medical negligence before, and the team were extremely supportive throughout and minimised the stress for me.'
'Extremely knowledgeable and experienced. They kept me informed throughout. Elaine Motion was the standout partner. I shall always be grateful for how she guided the process to a successful conclusion.'
'The team are very professional and have a very personal approach. The people in the team are very knowledgeable and excellent in getting back in a timely manner.' 
'One of the best known and respected teams for pursuing medical negligence claims in Scotland. They are a pleasure to work with. Diligent case preparation and sensible, pragmatic analysis of a case means that they fight their client's case hard but without any of the drama that comes from some other teams.' 
'Ann Logan is an exceptional solicitor – she is thorough and careful in her preparation, has vast experience which means her advice is always astute and tactically and strategically sound, and has a lovely way with clients who are invariably anxious and/or distressed by the whole process.' 
'Julie Clark-Spence, who is based in the Aberdeen office, is very experienced and has a very good way of handling clients.'
'Ann Logan is one of, if not the most, highly regarded clinical negligence solicitors of her generation. I cannot speak highly enough of her intellect and her abilities. Michaela Guthrie has a level of care and consideration to her cases that many others could learn from. She is excellent.'
Work highlights
Acting for a group of women cancer patients who were under-dosed during chemotherapy by Tayside NHS, a case in which no consent was sought and the under-dosing was contrary to normal practice.
Instructed by an individual in an action against a health board related to the delayed diagnosis of cauda equina syndrome.
Renowned for its track record in '
handling complex and sensitive cases
', the '
excellent litigation team
' at
Balfour+Manson LLP
 possesses wide-ranging capabilities in personal injury cases, most notably in high-end cases involving catastrophic road accidents, fatalities, workplace accidents and industrial disease claims.
David McIntosh
 – who is '
able to manage complex, high-value claims extremely well
' – routinely pursues claims for severely injured clients with traumatic brain injuries and others who have suffered injury from workplace stress. Elsewhere in the team, 
David Short
 specialises in aviation accidents that occur both in Scotland and abroad.
Practice head(s):
David Short; David McIntosh
Testimonials
'They have an excellent litigation team. They collaborate and keep up to date with current developments.'
'David McIntosh is one of the most dedicated solicitors I have encountered. He really is remarkable. He is able to manage complex, high-value claims extremely well.'
'The litigation department is a strong, compact team that consistently punches above its weight.'
'Good preparation and understanding of the issues.'
'Experience of handling complex and sensitive cases. Thorough investigation of claims. Excellent client care.'
'Very good with people, and good with case management.'
Work highlights
Representing tea pickers in Kenya in injury claims against an Aberdeen-based company.
Under the leadership of trained arbitrator and mediator Shona Smith, 'a calm and reassuring presence in any case', Balfour+Manson LLP places an emphasis on divorce work, cohabitation actions and complex financial provision cases. Additionally, the group receives a steady flow of instructions concerning separation, dissolution of civil partnership, pre- and post-nuptial agreements, child residence and contact arrangements, adoptions, and children's hearing work. Much like Smith, Lynne Mulcahy has a stellar record advocating in both the Sheriff Court and the Court of Session. Elsewhere, Kirsten Knight and Jamie Foulis represent clients in a range of contentious and non-contentious matters.
Testimonials
'Shona Smith has near-incomparable knowledge and experience in complex family cases. In her Edinburgh team, Jamie Foulis is exceptional. A calm head in difficult cases. In Aberdeen, Lynne Mulcahy brings over 25 years of experience.'
'Key strengths are the breadth and depth of knowledge within the team, and the varying personalities which work well with different clients.'
'The supportive approach providing guidance through the legal process and the answering of questions promptly was much appreciated.'
'Lynne Mulcahy was always professional, friendly and very responsive to my queries. I could not have wished for more support and guidance, and I valued her honest description of potential options for ways of dealing with matters at each stage of the process.'
'Balfour + Manson is a well-established firm with a long tradition of excellence in family law. They act directly and as Edinburgh agents for smaller firms in other parts of the country.'
'Shona Smith manages an exceptional team with a real depth of experience and application. Shona herself is a calm and reassuring presence in any case, with good judgment and excellent client relationships. I have regularly relied on the efficiency and technical expertise of Iain Thomson.' 
'The firm is highly regarded in the area of family law. The team is efficient and diligent. '
'Jamie Foulis' attention to detail is second to none. He pursues lines of enquiry with a steadfast and methodical approach.'
At Balfour+Manson LLP, David Flint and Elaine Motion are the key contacts for professional negligence work. The group has notable expertise in claims against solicitors, accountants, architects and surveyors.
Practice head(s):
David Flint; Elaine Motion
Led by Alan Gilifillan, who previously worked in-house at the OSCR, Balfour+Manson LLP offers 'relevant and pragmatic assistance to charities wanting to stay on the right path', particularly faith-based organisations, but also healthcare, environmental and local community charities. In addition to its contentious expertise, it handles constitutional work, governance issues, public sector policy and reorganisations. Commercial property expert Hugh Angus and employment law specialist Robert A Holland are other practitioners of note.
Testimonials
'They were very quickly able to understand our organisation's unique structure and situation, and respond well to the work requests.'
'Alan Gilfillan is very understanding, very capable and very quick to respond.'
'The charities practice provides relevant and pragmatic assistance to charities wanting to stay on the right path, without 'creating' issues.'
'I work with Alan Gilfillan who is an approachable and knowledgeable partner in the world of smaller charities.'
'Balfour+Manson take time to build good working relationships with partners- to understand the individual, their role and the organisation itself. Advice is pitched at a level that is understandable – and takes into account the knowledge of the person receiving advice.'
'Balfour + Manson offers expertise and personal attention at a manageable cost.'
'Alan Gilfillan has a good practical approach, and his time at OSCR has provided him with good insight.'
'It was a great pleasure to work with Balfour+Manson. Their point of contact was always available to us, and accurate in the advice and contractual services provided.'
Balfour+Manson LLP provides clients with an 'end-to-end delivery that few others can replicate'. Praised for its 'wonderful combination of technical competency and approachability', the team is spearheaded by Shona Brown, who mainly handles matters pertaining to the drafting of wills, succession planning issues, asset protection work, tax mitigation, and the creation and management of trusts, especially personal injury trusts. Karen Phillips routinely undertakes incapacity and executry administration work, while senior associate Margaret Ross focuses on tax-related issues. Graeme Thomson made partner in January 2021.
Other key lawyers:
Testimonials
'I've never come across a team with so much up-to-date knowledge. They are on top of their game in expertise in their specialist areas.'
'Shona Brown is efficient, thorough, and pays meticulous attention to detail. We have endured some very troubling times recently and she has handled this with nothing but the utmost professionalism. I value her knowledge more than anything as it is second to none.'
'Balfour + Manson always go above and beyond for their clients.'
'Karen Philips shows understanding and compassion and always explains everything in the simplest way possible.'
'Delivers an outstanding service to their PI clients from litigation through to managing the ongoing trustee duties, an end-to-end delivery that few others can replicate.'
'Wonderful combination of technical competency and approachability. Places clients at ease.'
' Balfour + Manson are a forward-thinking business with experts leading the management team, meaning a real understanding of the business pressures and opportunities within law.'
'Karen Phillips is motivated, progressive and extremely good in meetings with Clients. She offers legal information to clients in understandable terms and has established good relationships.'
Balfour+Manson LLP
 is rated for its strength in the contentious space, representing individuals, SMEs and charities in disputes and judicial reviews arising from regulatory decisions, which have recently including a number of Covid-19-related matters. Chairwoman and litigator
Elaine Motion
 heads up the team.
Testimonials
'The team is an expert in this area of litigation. They are front-runners when it comes to the use of new methods of litigation funding such as crowd funding and have unrivalled experience when it comes to high-profile challenges against government. '
'Elaine Motion instils confidence in clients like no solicitor I have ever met. The clients know they can turn to her for assistance at any stage and, even in the fastest-paced litigation, she is entirely calm. Sindi Mules is simply the best when it comes to fast-moving and complicated public law litigation. She is always on top of what needs to happen and she makes sure it is done on time and done properly.'
'Sindi Mules is always available, and provides excellent and pragmatic advice. '
'Everything about the ethos and culture in B+M is exceptional and resonates with a person-centred and respectful approach to delivery of excellent legal services.'
'Elaine Motion and Sindi Mules are simply brilliant.'
'The team stands out because, unlike some others, they give thought to the arguments before instructing counsel, and they take time to prepare papers properly. They are also very efficient, and always on top of the procedure.'
'Highly experienced in this field. Indeed streets ahead in cutting edge public law challenges. B&M brings clear and incisive knowledge to a case and does not simply leave everything to counsel to resolve. They are also able to turn around complex and paper intensive work very quickly and accurately which is a key feature of public law litigation.'
'Sindi Mules is intellectually very strong but with strong practical sense as well. Brings her own own creativity to a case and thinks outside of the box. Elaine Motion is also really strong intellectually and has a first rate knowledge of the Scottish public affairs and parliamentary scene.'
Key clients
KLR & RCR International Ltd & Others
For Women Scotland Ltd
Vtesse Harlow Ltd
Commissioner for Children and Young People Scotland
Niall Finucane
Shelter Scotland
Compassion in World Farming International (CIWF)
Rape Crisis Scotland
Paul Hutton
Work highlights
Acted for the owners of six cafes and the owner of a holiday let to challenge the Scottish Government's decision of 8 December 2020 to continue the Level 3 restrictions for the City of Edinburgh rather than to move it to Level 2 restrictions.
Acting for an individual in an action seeking to determine whether the Scottish Parliament has the legislative competence to legislate for the holding of an independence referendum without requiring the consent of the United Kingdom Government or further amendment of the Scotland Act 1998 by the UK Parliament.
Acting for Women Scotland Ltd in judicial review proceedings seeking to determine whether the definition of "woman" contained in the Gender Representation on Public Boards (Scotland) Act 2018 is outwith the legislative competence of the Scottish Parliament on the basis that expanding the definition of "woman" in terms of the Equality Act 2010 is incompatible with the ECHR, EU law and CEDAW.
Balfour+Manson LLP's strength lies in representing trade union and third sector clients alongside employees in various contentious matters, including disputes over contractual arrangements and employment tribunal claims. Clients also receive assistance with a broad range of day-to-day employment law and HR issues. Solicitor advocate and member of the firm's senior management team Robert Holland heads the practice.
Other key lawyers:
Sarah Shiels; Andrew Wallace
Testimonials
'The team is approachable, responsive and collaborative. They provide first-class advice and are always a pleasure to work with.'
'The quality at the firm is evident at every level. The leadership of the firm is extremely impressive and that quality is reflected across the board. The standard of client service and legal advice is consistently outstanding.'
'Excellent expertise, very responsive and took the time to understand specific questions relating to the sector. Also showed understanding of financial constraints and worked to offer a suitable package of support.'
'We have worked with Robert Holland and Andrew Wallace who have both been incredibly supportive, knowledgeable and have a wonderfully approachable manner. Cannot rate them highly enough.'
'Balfour and Manson is an exceptional law practice who through their personal touch make every client feel like a priority. Their integrity, attention to detail and genuine interest in our complex organisation gives me full confidence and unfailing trust in their legal advice.'
'Excellent knowledge and understanding of all employment matters, always available to help and with a friendly service. They have helped to overhaul our complete employee policies and procedures.'
'Robert Holland and Andrew Wallace are a unique team- thoughtful, insightful and creative in their advice. Their humour and down to earth approach makes them a pleasure to work with. Every dealing I have had with them I have had complete trust in their advice and come away 100% satisfied and confident in their input. Not only that but I enjoy working with them and they instil an interest in employment law which is infectious'
'Sarah Shiels developed a strong understanding of my predicament and was uniquely capable of defending me against great power imbalances over a five-year period.'
Key clients
Educational Institute For Scotland
British Airline Pilots Association
Independent Workers Union for Great Britain
Scottish Cricketers Association
Faculty of Advocates
International Union against Tuberculosis and Lung Disease
Scottish Veterans Limited
Community Leisure UK Limited
B+M Works
Shepherds, Surveyors
Work highlights
Representing the Independent Workers Union for Great Britain (IWGB) in Scotland. In recent work, the team led the litigation to persuade the employment tribunal that foster carers were employees rather than being self-employed.
Acted for a principal teacher dismissed for allegedly not having the correct teaching qualifications.
Advised British Airline Pilots Association (BALPA) on the implications for its members employed by Bristow Helicopters in Shetland in relation to a service provision change under TUPE.
Balfour+Manson LLP >
Firm Profile
As one of Scotland's longest established legal practices, Balfour+Manson LLP is a highly regarded firm of solicitors with offices in Edinburgh and Aberdeen. With a focus on the individual, it delivers services in the areas of litigation, commercial, charities, private client and property work.
The firm: the firm has a distinguished track record since its inception in 1888 combining the best of traditional values with a modern, forward-thinking attitude. Clients range from individuals, families and charities to local government bodies and businesses. The Senior Management Team consists of 2 partners: Robert Holland, Alan Gilfillan, Finance Director: Ken Dinneen and HR Director: Margaret Peet. The team work closely with Elaine Motion, who remains as Executive Chairman of the firm.
Types of work undertaken
Litigation:
The firm's litigation team is at the core of the business and is among the largest in Scotland. The team was named 'Litigation Team of the Year' at the 2019 Law Awards of Scotland and 2020 Scottish Legal Awards. Work ranges from routine Sheriff Court actions, to complex and high value cases in the Court of Session, the UK Supreme Court and cases before specialised tribunals and bodies. The firm has three solicitor advocates: Robert Holland, Elaine Motion and Fiona Muirs.
As well as experience handling over 20 air crashes worldwide the team is renowned for expertise in personal injury and medical negligence claims, with particular experience of cerebral palsy and birth cases. The team handle many complex cases, including the law changing Supreme Court case, Montgomery v Lanarkshire Health Board [2015] UKSC 11. David Short and David McIntosh are accredited specialists in personal injury law. Ann Logan is accredited in medical negligence law by the Law Society of Scotland and the Association of Personal Injury Lawyers (APIL). David Short was the first APIL accredited occupational diseases specialist and asbestos disease specialist in Scotland.
The team has extensive experience in administrative, public and human rights law and carry out many judicial reviews as well as professional disciplinary and regulation work. Elaine Motion, Fiona Muirs and Jamie Foulis are accredited by the Law Society of Scotland as specialists in Regulation of Professional Conduct Law. Elaine Motion represented the Christian Institute and six other petitioners who successfully challenged the Scottish Government in relation to the Named Person Scheme as well as securing the European Supreme court ruling confirming that the UK can revoke the Brexit process without the say-so of other EU states. The team also offers significant experience across the commercial and civil litigation field including contractual and property disputes, professional negligence claims, employment law, real estate and debt recovery.
The hugely experienced family team provide advice in all areas of family law. Shona Smith, Kirsten Knight, Iain Thomson and Jamie Foulis are accredited as specialists in family law by the Law Society of Scotland. The team offers services including traditional negotiation, litigation, mediation, collaborative practice and arbitration.
With a strong focus on contentious employment matters, including claimant and respondent work the employment team advises on TUPE matters and employment cases with personal injury aspects. The team specialises in executive departures and settlement agreements. The employment team were instructed by the Independent Workers Union of Great Britain (IWGB), and represented two foster carers in the EAT v Glasgow City Council, in a claim and judgment that could change the face of foster care in Scotland and the UK.
Private client:
The private client team advises on all areas of succession planning including the preparation of wills, inheritance tax mitigation and incapacity planning. The team is highly experienced in executry and trust administration including cross border matters and are particularly noted for the advice they give to those who are in receipt of personal injury awards. The firm has a unique client welfare team that specialises in providing a range of services and advice to elderly, disabled or vulnerable clients. Five members of the private client team are accredited Trust and Estate Practitioners by STEP. The department also has a residential property team advising on the purchase and sale of properties.
Commercial:
The commercial team offers advice on most areas of commercial practice with notable experience in all commercial property matters, whether leasing, buying, property investment or lending. For those starting in business, companies are incorporated and company secretarial services are provided. Partnership agreements are prepared and interpreted. Services are offered in relation to professional appointments and licensing.
Charities:
The charities and not-for-profit team is one of Scotland's leading teams providing services to this sector, including the setting up and operation of a charity, contracts, property and employment law.
International:
Sole Scottish member of the PARLEX Group of European Lawyers. The firm also has long established contacts with US attorneys in the litigation field.
Lawyer Profiles
| Photo | Name | Position | Profile |
| --- | --- | --- | --- |
| | Hugh Angus | Partner in commercial property, head of commercial department. Acting for a wide… | View Profile |
| | Shona Brown | Partner and Head of Private Client Department. Shona specialises in will drafting,… | View Profile |
| | Gordon Deane | Partner specialising in commercial litigation Gordon undertakes a wide range of work… | View Profile |
| | David RG Flint | Partner specialising in professional negligence alongside commercial litigation, corporate recovery, liquidation, receivership,… | View Profile |
| | Jamie Foulis | Partner in Family Law team. Accredited specialist in Family Law and Regulation… | View Profile |
| | Alan Gilfillan | Responsible for advising charity clients in relation to regulatory and contractual matters.… | View Profile |
| | Michaela Guthrie | Michaela is a Senior Associate and has specialised in medical negligence and… | View Profile |
| | Robert A Holland | Partner and Head of Employment team for both contentious and commercial sides… | View Profile |
| | Ann Logan | Partner with over 28 years' experience of personal injury litigation, specialising in… | View Profile |
| | David S McIntosh | A partner in the litigation department, specialising in pursuing personal injury and… | View Profile |
| | Elaine J Motion | Partner, Chairman and formerly head of litigation department. Wealth of experience in… | View Profile |
| | Fiona K Muirs | Partner specialising in professional discipline and regulation (including advising on and appearing… | View Profile |
| | Sindi Mules | Partner in Litigation Department. Has considerable experience in Public and Administrative Law… | View Profile |
| | Karen Phillips | Partner specialising in private client work including advice in relation to wills,… | View Profile |
| | Kenneth S Robertson | Partner specialising in private client work, including wills, executries and powers of… | View Profile |
| | Ms Sarah Shiels | Partner in Employment Department. Sarah provides advice and representation to employees and… | View Profile |
| | David Short | Partner and head of litigation. Extensive practice acting on behalf of individuals,… | View Profile |
| | Shona H Smith | Partner in litigation department and Head of family law. Accredited by the… | View Profile |
| | Graeme Thomson | Partner dealing with a large variety of private client work including giving… | View Profile |
| | Stephanie Zak | Partner in commercial department of Balfour+Manson LLP with experience in various aspects… | View Profile |
Staff Figures
Number of UK partners : 22 Number of other UK fee-earners : 41
Languages
English Russian Croatian