Balfour+Manson LLP > Edinburgh, Scotland > Firm Profile
Balfour+Manson LLP
Offices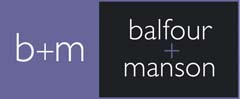 Balfour+Manson LLP
56-66 FREDERICK STREET
EDINBURGH
EH2 1LS
Scotland
Balfour+Manson LLP > The Legal 500
Rankings
Balfour+Manson LLP
remains '
one of the premiere medical negligence pursuer firms in Scotland
', fielding a team of practitioners who are '
at the peak of their powers in terms of experience and qualification
'. The group is singled out for its expertise in handling complex matters regarding liability and causation in cases against hospitals, primary care providers, dentists, ophthalmologists' other health professionals. The practice is fronted by Edinburgh duo
Ann Logan
 and
Elaine Motion
, and receives regular instructions on birth injury claims.
David McIntosh
has a track record in high-value medical negligence claims relating to cerebral palsy, while
Julie Clark-Spence
 in Aberdeen is highlighted for her practice against GP's and hospitals. Also in the team is senior associate
Michaela Guthrie
who represents clients in injuries sustained during childbirth.
Other key lawyers:
Testimonials
'The team are very helpful. You get a very personalised service. Everyone is very professional. The calibre of staff is just phenomenal from the receptionist to the lawyers. Everyone is always happy to help. No question is too small.'
'Ann Logan is just amazing. She is very professional and empathetic. She takes time to listen. Always on hand to talk to and you can ask her anything.'
'Ann Logan is just so nice. Her personality really shines through.'
'Michaela Guthrie is very professional.'
'Balfour & Manson are one of the premiere medical negligence: pursuer firms in Scotland. They are certainly one of the top firms in this area and I would recommend them to any client.'
'Ann Logan is a hugely experienced and able lawyer. She's a very well known figure in medical negligence litigation in Scotland.'
'Michaela Guthrie is functioning very comfortably at partner level. She seems, as far as I can tell, to handle cases that would be handled by partners at other firms and does so with skill and sensitivity. I have no doubt that she'll be a partner one day, probably soon.'
'This is a very expert team lead by a partner with a wealth of experience. They are all very hard working, great at communicating with clients and excellent lawyers. I think without exception, this is a very sympathetic team who are very client friendly.'
Key clients
A group of women affected by the under-dosing of chemotherapy
SD for LD v Grampian Health Board
Work highlights
Acting for a significant amount of women who were significantly under-dosed with chemotherapy. In April 2019, after a whistle blower reported the practice, over 100 women, or their relatives (where deceased) were advised by the Trust of the underdoing. In addition, some people received letters when they had not been under-dosed.
'Exceptionally well-organised and hugely committed
',
Balfour+Manson LLP
continues to act in highly complex personal injury cases, including catastrophic road accidents and fatal accidents. Based in Edinburgh, the practice also has a growing workload handling stress-related work claims, particularly for teachers.
David Short
 is considered the go-to for aviation accidents in Scotland and abroad, whilst
David McIntosh
 has over three decades of experience in civil litigation matters. He routinely handles workplace injury claims for members of the teacher's union. Also in the team is
Julie Clark-Spence
in Aberdeen, who focuses on offshore accidents and other international claims.
Practice head(s):
David Short; David McIntosh
Other key lawyers:
Testimonials
'Expertise, dedication, modernity and a determination to help pursuers through traumatic times by providing excellent legal services.'
'David McIntosh – diligent, dedicated and vastly experienced. Able to work under pressure. Has the respect of his peers, counsel and the bench. A truly exceptional practitioner.'
'Small team but punching above its weight. Strong client communication skills.'
'David McIntosh: extremely well-organised, very approachable and excellent client communication skills.'
'They are a very experienced and able team of litigators with an excellent reputation in the profession who always deliver first class results for their clients. They are regarded as among the best in their field.'
'David McIntosh is a star individual. He us a very experienced and well regarded PI expert solicitor who has excellent people skills. He is excellent with clients and when dealing with opponents and always prepares cases to the highest standard.'
'The team is headed up by David Short who is head of litigation. David is a very experienced and effective litigator but also approachable and good to work with.'
'David Short is a fantastic lawyer and great with clients. He is approachable, proactive and well respected in his field. He is not phased by difficult opponents and simply focuses on getting the best result for his client. Exceptionally well organised and hugely committed to client care.'
Work highlights
Instructed by Hugh James, Solicitors to represent a number of their clients who are tea pickers in Kenya. The defenders are an Aberdeen based company and the contracts of employment are directly between the Aberdeen company and the individual tea pickers in Kenya. They have all sustained musculo skeletal injuries. The test cases are being run in All Scotland Personal Injury Court against the Aberdeen company.
Balfour+Manson LLP
remains one of the
'strongest groups of talented family lawyers
' and is led by experienced arbitrator
Shona Smith
who is noted for her handling of complex financial separations. The group is regularly instructed on the dissolution of civil partnerships, pre-and post-nuptial agreements and child residency issues. Other core areas of focus are cohabitation actions and adoptions.
Lynne Mulcahy
has a track record appearing before the Sheriff Court and Court of Session, whilst
Jamie Foulis
's practice covers both contentious and non-contentious work.
Kirsten Knight
 and associate
Iain Thomson
are also recommended.
Other key lawyers:
Testimonials
'Shona Smith has been outstanding in her advice and has taken me step by step through the process, dealing with each matter at a time.'
'Shona Smith is an exceptionally calm person, which has helped alleviate a lot of the stress that I have felt.'
'Shona Smith ensures a rare balance between excellent legal knowledge; knowledge of the case and understanding of the court system and alternate options available, as well as understanding of her client and their family circumstances.'
'Shona Smith listens to clients in order to understand them and their circumstances; therefore giving the best advice from her excellent knowledge of court-based and mediation options to suit her client.'
'Lynne Mulcahy is amazing and can't speak highly enough of her. She is empathetic and really fights your corner.'
'Lynne Mulcahy is definitely not a solicitor who I would want to be up against in court. At the same time, she is highly professional and doesn't waste time with being petty or demeaning. she gently advises and guides and gives advice in a kind and personable way, and is highly knowledgeable of the law and the system.'
'Lynne Mulcahy is eloquent, and is wise in seeing into the pertinent issues of the case and doesn't leave out the small relevant details.'
'The professionalism of the team is so clear and apparent, even from the very first consultation. You get the feeling at every stage that the clients views are paramount and with the obvious experience of the family law team, you feel that you are in the best possible hands which is massively reassuring.'
Balfour+Manson LLP
acts for faith-based organisations, and charitable organisations operating across the healthcare, education and sports sectors.
Alan Gilifillan
leads the group from Edinburgh and has expertise advising on both contentious and non-contentious work spanning commercial property matters to regulatory inquiries.
Hugh Angus
 specialises in social housing, grants and public sector property projects.
Testimonials
'Excellent client relationship and knowledge of the charity sector'
'Alan Gilfillan (Partner) provides a speedy and accurate service using understandable language!'
'The firm does not have the largest not for profit practice in Edinburgh but they offer a combination of knowledge, good client service and value for money. Importantly, they do not try to create issues where none exist.'
'I find Alan Gilfillan to be approachable, pragmatic and knowledgeable'
'Thoroughly knowledgeable about the subject, quick to reply, giving reasoned advice with pros and cons.'
Balfour+Manson LLP
is '
professional and well-informed
' and is overseen by
Shona Brown
 in Edinburgh. The practice specialises in the formation, management, and taxation of all types of trusts, including charitable trusts, as well as covering personal tax planning.
Karen Phillips
 is noted for her '
first class client care
' and handles incapacity-related work and executry administration, while
Graeme Thomson
is the contact for disputes. Also in the core team is senior associate and chartered tax advisor
Margaret Ross
, and
Martin Lavery
, who recently joined from
Morton Fraser
.
Other key lawyers:
Testimonials
'Karen Phillips is great with clients, breaks down everything in simple English; communication is good and costs are reasonable.'
'Karen Phillips is the primary point of contact. Nothing is ever a problem. She takes all in her stride . First-class client care . Good legal mind but very approachable.'
'The care and empathy shown to clients by Karen Phillips and Shona Brown is clear to see. Dealing with clients and family groups in often difficult long-term situations, the team at Balfour and Manson are diligent and their experience in dealing with Personal Injury Trusts is unrivalled.'
'Karen Phillips is more than a trusted adviser to her clients and their families, she is part of their lives and provides reassurance and peace of mind whilst not being afraid to have the difficult conversations when required.'
'Shona Brown works tirelessly for her clients and it is clear their best interests lie at the heart of everything she does. She is dependable and a trusted adviser providing clear advice in simple terms.'
'Very professional practice, well informed and give clear explanations on complex matters.'
'They are very reasonably priced given the exceptional service they offer. They routinely go above and beyond for clients and we have absolutely no hesitation in recommending the firm to any of our clients.'
Balfour+Manson LLP
has a proven track record of acting in the contentious space, representing various individuals and corporations in relation to high-profile public authority decisions. Headed by seasoned litigator
Elaine J Motion
, the team has a track record of successfully acting in disputes and high-profile judicial reviews which
Sindi Mules
 is the main contact for; and remains highly rated by peers.
Testimonials
'Balfour and Manson are responsive, professional and go above and beyond to assist in all matters. their professionalism and competence is second to none in this area.'
'Sindi Mules is in my view the most skilled solicitor in this area. Her professionalism, knowledge, efficiency and approach are consistently outstanding. I would not consider instructing another agent in this area. Sindis communication skills make working with her very straightforward and I know I can always rely upon her to get any task done expeditiously and competently.'
'Elaine Motion is the stand out partner for cutting edge public law and constitutional law work. She is always two steps ahead of both counsel and her opponent solicitors in any litigation. She has also created a fantastic team of solicitors who have been trained to her almost impossibly high standards. Among the standouts are her fellow litigation partner Sindi Mules, as well as the relatively recently qualified assistant Lauren Smith and Findlay Glynn.'
'Elaine Motion is a star individual in this area. Her tenacity is appreciated by clients in difficult cases.'
'BM has, undoubtedly, the strongest and most experienced petitioner practice in Scotland. They are involved in every high profile judicial review that takes place and have been responsible for big changes in the law and for cases such as the Article 50 (Wightman) case and the prorogation of parliament (Cherry) case. They are – without doubt – the best in the business when it comes to this area of the law.'
'Elaine Motion and Sindi Mules are simply at the top of the game. They are pretty much unrivalled in their ability and their experience. They give realistic and pragmatic advice in a way that clients understand and appreciate. Whilst still quite junior in the team, Lauren Smith is excellent. She is bright, enthusiastic, dedicated and un-phased by having to bring big challenges against the Government which is what this area of the law depends upon.'
'This practice is a stand out leader in Scotland for parliamentary and public affairs. I have personally worked with Elaine Motion for a long time – most recently on a successful Judicial review against the Scottish Government for the milk industry association. Her grasp of the law, the likely response of particular members of the judiciary, the politics and the media are execptional. They are extremely well organised and ran the technical and court sides of the work to a high standard.'
Key clients
The School and Nursery Milk Alliance Limited
Fair Play for Women Ltd
The Billy Graham Evangelistic Association
The Ramblers' Association
Commissioner for Children and Young People Scotland
Canon Thomas White
For Women Scotland Ltd
Martin Keatings
Niall Finucane
Shelter Scotland
Work highlights
Acted for The School and Nursery Milk Alliance Ltd in a successful challenge to the Milk and Healthy Snack Scheme (Scotland) Regulations 2021 introduced by the Scottish Government.
Act for Fair Play for Women Ltd in a judicial review of the guidance issued by the National Records of Scotland to accompany the "sex question" in the 2022 Scottish Census.
Acted for Canon Thomas White in the successful challenge to the Scottish Government's restrictions on place of worship in Scotland.
Balfour+Manson LLP
stands out for its contentious capabilities, which are routinely called upon by employees and trade unions, but the team is also known for its expertise advising faith-based organisations and charities on various employment law and HR matters. The team is led by
Robert Holland
in Edinburgh and offers clients a fixed-fee HR outsourcing package called B+M Works.
Practice head(s):
Other key lawyers:
Testimonials
'The team's strengths include vast and varied experience of all aspects of employment law and tenacity.'
'Balfour and Manson are a very professional organisation with a personal touch. The really understood my needs when dealing with them.'
'Balfour & Manson as a whole, have defended my interests over a very long period of time. They have always be totally accessible to me and quick to respond to my enquiries.'
'The team are highly trained and have an ethos that places client care at the core of their work. Combine that with very experienced and capable lawyers and that is a winning combination for their clients.'
'You can depend upon Robert Holland and his team to tenaciously fight for your case "all the way" towards achieving a good outcome.'
'Robert Holland gave me support and treated me with kindness and compassion throughout my very difficult journey 'fighting' my ex-employers who had discriminated against me and bullied me for years. He was successful in achieving the outcome I was looking for and in our opinion was fully deserved.'
'Sarah Shiels is a fierce and determined advocate for her clients. Sarah has honed her skills and abilities as an employment lawyer by representing clients successfully at both employment tribunals throughout Scotland and at employment appeal tribunal level.'
'I have worked with Sarah Shiels a partner in the employment team and she is excellent – the firm is well known and respected trade union firm with a loyal following.'
Key clients
Educational Institute for Scotland (EIS)
Faculty of Advocates
BALPA
IWGB
Scottish Veterans Residence
Esportif International
Free Church of Scotland
David Narro Associates
IACS Consulting
Ogenus Offshore Limited
Work highlights
Continuing to act for the Independent Workers' Union of Great Britain (IWGB), which has recently included employment tribunal proceedings pertaining to the employment status of foster carers as employees rather than self-employed.
Advised on a number of high-profile departures in both professional Rugby and Football.
Continuing to advise Scottish Veterans Limited on data protection issues and HR matters pertaining to the client's various residential homes and has been defending litigation raised by tenants in their supported accommodation.
Balfour+Manson LLP >
Firm Profile
As one of Scotland's longest established legal practices, Balfour+Manson LLP is a highly regarded firm of solicitors with offices in Edinburgh and Aberdeen. With a focus on the individual, it delivers services in the areas of litigation, commercial, charities, private client and property work.
The firm: the firm has a distinguished track record since its inception in 1888 combining the best of traditional values with a modern, forward-thinking attitude. Clients range from individuals, families and charities to local government bodies and businesses. The Senior Management Team consists of 2 partners: Robert Holland, Alan Gilfillan, Finance Director: Ken Dinneen and HR Director: Margaret Peet. The team work closely with Elaine Motion, who remains as Executive Chairman of the firm.
Types of work undertaken
Litigation: The firm's litigation team is at the core of the business and is among the largest in Scotland. The team was named 'Litigation Team of the Year' at the 2019 Law Awards of Scotland and 2020 Scottish Legal Awards. Work ranges from routine Sheriff Court actions, to complex and high value cases in the Court of Session, the UK Supreme Court and cases before specialised tribunals and bodies. The firm has three solicitor advocates: Robert Holland, Elaine Motion and Fiona Muirs.
As well as experience handling over 20 air crashes worldwide the team is renowned for expertise in personal injury and medical negligence claims, with particular experience of cerebral palsy and birth cases. The team handle many complex cases, including the law changing Supreme Court case, Montgomery v Lanarkshire Health Board [2015] UKSC 11. David Short and David McIntosh are accredited specialists in personal injury law. Ann Logan is accredited in medical negligence law by the Law Society of Scotland and the Association of Personal Injury Lawyers (APIL). David Short was the first APIL accredited occupational diseases specialist and asbestos disease specialist in Scotland.
The team has extensive experience in administrative, public and human rights law and carry out many judicial reviews as well as professional disciplinary and regulation work. Elaine Motion, Fiona Muirs and Jamie Foulis are accredited by the Law Society of Scotland as specialists in Regulation of Professional Conduct Law. Elaine Motion represented the Christian Institute and six other petitioners who successfully challenged the Scottish Government in relation to the Named Person Scheme as well as securing the European Supreme court ruling confirming that the UK can revoke the Brexit process without the say-so of other EU states. The team also offers significant experience across the commercial and civil litigation field including contractual and property disputes, professional negligence claims, employment law, real estate and debt recovery.
The hugely experienced family team provide advice in all areas of family law. Shona Smith, Kirsten Knight, Iain Thomson and Jamie Foulis are accredited as specialists in family law by the Law Society of Scotland. The team offers services including traditional negotiation, litigation, mediation, collaborative practice and arbitration.
With a strong focus on contentious employment matters, including claimant and respondent work the employment team advises on TUPE matters and employment cases with personal injury aspects. The team specialises in executive departures and settlement agreements. The employment team were instructed by the Independent Workers Union of Great Britain (IWGB), and represented two foster carers in the EAT v Glasgow City Council, in a claim and judgment that could change the face of foster care in Scotland and the UK.
Private client: The private client team advises on all areas of succession planning including the preparation of wills, inheritance tax mitigation and incapacity planning. The team is highly experienced in executry and trust administration including cross border matters and are particularly noted for the advice they give to those who are in receipt of personal injury awards. The firm has a unique client welfare team that specialises in providing a range of services and advice to elderly, disabled or vulnerable clients. Five members of the private client team are accredited Trust and Estate Practitioners by STEP. The department also has a residential property team advising on the purchase and sale of properties.
Commercial: The commercial team offers advice on most areas of commercial practice with notable experience in all commercial property matters, whether leasing, buying, property investment or lending. For those starting in business, companies are incorporated and company secretarial services are provided. Partnership agreements are prepared and interpreted. Services are offered in relation to professional appointments and licensing.
Charities: The charities and not-for-profit team is one of Scotland's leading teams providing services to this sector, including the setting up and operation of a charity, contracts, property and employment law.
International: Sole Scottish member of the PARLEX Group of European Lawyers. The firm also has long established contacts with US attorneys in the litigation field.
Staff Figures
Number of UK partners : 22 Number of other UK fee-earners : 41
Languages
English Russian Croatian