Mr William Kirtley > Aceris Law > Geneva, Switzerland > Lawyer Profile
Aceris Law
Offices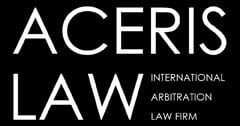 Aceris Law
RUE DU RHONE 14
1204 GENEVE
Switzerland
Mr William Kirtley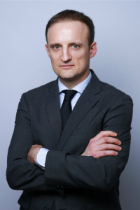 Work Department
International Arbitration
Position
Partner at Aceris Law LLC
The international arbitration lawyer William Kirtley, principal of Aceris Law LLC, is a Franco-American Harvard, Columbia and Sorbonne-trained lawyer with nearly two decades of experience specialising in international commercial arbitration, investor-State arbitration and international construction arbitration. He is a member of the New York Bar, the Washington Bar and an Avocat au Barreau de Paris (en omission). He has served as arbitration counsel or arbitrator in disputes on all continents, under the UNCITRAL, ICC, ICSID, SCC, LCIA, JAMS, ICDR, CICA, CIArb, PCA, SIAC, DIAC, AFA and other arbitration rules.
Previously a Partner at a well-regarded Paris arbitration boutique, he was a member of the international arbitration practice groups of Shearman & Sterling and Salans (now Dentons) in Paris, after serving as an American Peace Corps Volunteer for two years in the Ivory Coast and working at the United Nations International Criminal Tribunal for Rwanda.
He has served as lead counsel in dozens of international commercial, construction and investment arbitrations and has authored numerous academic articles concerning international arbitration in leading journals. He is a member of the International Arbitration Institute, regularly speaks on international dispute resolution topics, has taught at the Universities of Paris X and Paris II – Assas-Panthéon for many years, is a co-founder of the IAA Network and has served as an expert for the World Bank on ADR legislation.
Career
Partner at the arbitration boutique Aceris Law, focusing on commercial, investment and construction arbitrations, as well as public international law disputes. Has served as lead counsel for both Claimants and Respondents in ICC, LCIA, ICSID, SCC, UNCITRAL, SIAC, ICDR, JAMS, SCC and other ad hoc arbitrations, for both private clients and State entities, under public international law, English law, Swiss law, French law, Turkish law, United Arab Emirates law, Moldovan law, Singapore law, Malaysian law, Mexican law, Mauritanian law, various American laws (including the laws of California, Texas and Washington), Canadian law, Saudi Arabian law, Liberian law, Spanish law, Brazilian law, Angolan law, OHADA law, German law, Hong Kong law, Albanian law, Bulgarian law, Filipino law, Japanese law, Russian law and Romanian law, amongst others. He has also served as arbitrator in disputes under the ICC and DIAC rules of arbitration. Mr. Kirtley spends half of his time in Geneva and a quarter of his time in Paris and London, respectively.
DK AARPI – Partner
Partner at the international arbitration boutique law firm DK AARPI with a former partner from Shearman & Sterling. Served as international arbitration counsel in multiple ICC, ICSID, UNCITRAL and SIAC disputes involving the construction, internet advertising, the financial and steel industries. Also served as international arbitrator, as an expert for the World Bank Group with respect to arbitration-related civil procedure reform, while providing arbitration legal advice to a variety of other lawyers and clients in relation to ICSID, PCA, SIAC, DIAC, ad hoc and other international disputes.
Lazareff Le Bars – Of Counsel
International Arbitration Of Counsel at Lazareff Le Bars, a law firm founded by the well-known French arbitrator Serge Lazareff. Served as co-lead international arbitration lawyer in a variety of disputes, such as the first reported investment treaty arbitration against Belarus and an UNCITRAL dispute with a United Nations agency. International arbitration lawyer in ICC, ICSID, CCJA and UNCITRAL international arbitrations in multilingual (primarily English, French, Spanish and Russian) disputes involving the energy, construction, consulting, pharmaceutical, aerospace and defence, banking and finance, shipping and transport, telecommunications, agricultural and steel industries. Served clients ranging from individual investors to major multinational corporations in disputes under a variety of common law and civil law legal regimes, including English law, French law, Moroccan law, Italian law, Swiss law, Equatorial Guinean law, German law, Malian law, Romanian law, Burkina Faso law, Byelorussian law, Belgian law, Swiss law, Illinois law, and private and public international law.
Dentons (formerly Salans) – Senior Associate
International arbitration lawyer at law firm ranked, at the time, as the European Law Firm of the Year and the French Law Firm of the Year, and which was consistently one of the top-ranked international arbitration practice groups in Russia and the CIS. Notable cases included Rumeli Telekom A.S. and Telsim Mobil Telekomunikasyon Hizmetleri A.S. v. Republic of Kazakhstan, ICSID Case No. ARB/05/16, Joseph Charles Lemire v. Ukraine, ICSID Case No. ARB/06/18 and The Rompetrol Group N.V. v. Romania, ICSID Case No. ARB/06/3. Counsel in ICSID and UNCITRAL investment treaty arbitrations, ICC, AFA, CICA and other commercial, construction and investment arbitrations. Representative work included claim against Poland involving the expropriation of intellectual property rights, ad hoc arbitration concerning an airplane lease agreement with an Angolan company, ICC arbitration against an African State concerning a customs agency, an ICC arbitration regarding the construction of a sulfuric acid plant in Turkey and an ICC arbitration concerning the breach of a shareholders' agreement involving the automotive logistics industry. Served as counsel in disputes involving Kazakh law, Turkish law, Ukrainian law, Maltese law, English law, Iranian law, Polish law, Romanian law, French law, various U.S. laws, and private and public international law.
Shearman & Sterling – Associate
Arbitration lawyer at Shearman & Sterling's Global Dispute Resolution Practice in Paris, classified by Chambers Global as "world-renowned" and the winner of the "Best International Arbitration Practice" in France for many years. Served as arbitration lawyer at the outset of the long-running Hulley Enterprises Ltd. (Cyprus) v. Russian Federation UNCITRAL arbitration, as well as UNCITRAL arbitrations involving the energy industry, ICC construction disputes, an ad hoc dispute concerning a Chinese search engine, an ICC dispute concerning a joint venture for the development of gas turbines, an LCIA shipping dispute, a mining dispute concerning New Caledonia, a pre-arbitral referee proceeding, and various other international disputes involving French law, English law, Algerian law, Russian law, Chinese law, Canadian law and Australian law.
United Nations International Criminal Tribunal for Rwanda – Legal Consultant
Legal Consultant for Prosecutor's Office. Based in unit prosecuting military commanders allegedly responsible for Rwandan genocide (Military I Unit), focusing on the prosecution of the successful case against Colonel Bagosora and two other senior Rwandan army officers.
United Nations Department of Political Affairs – U.N. Consultant
Drafted the Repertoire of the Practice of the Security Council, mandated by the General Assembly in 1952, which contains a constitutional and procedural guide to the proceedings of the Security Council.
American Peace Corps Côte d'Ivoire – UEM PCV
Worked in the rural Prefecture of M'bahiakro in the Ivory Coast for 27 months on behalf of the American Peace Corps, a U.S. State Department program. Implemented engineering projects in partnership with the U.S. Embassy, the French Embassy, UNAIDS and regional and municipal governments concerning urban renewal, waste management, infrastructure and irrigation systems, working in partnership with Ivorian public entities.
RECENT INTERNATIONAL ARBITRATION LEGAL EXPERIENCE
Lead counsel in successful ICC arbitration under English law on behalf of Canadian Claimant against Saudi Respondent manufacturer (amount in dispute USD 150 million)
Lead counsel in successful LCIA arbitration under Saudi law for Saudi Claimant against large South Korean construction company
Lead counsel in successful ICDR arbitration defending Canadian Respondent against American IT company (settled on favourable terms)
Lead counsel for Respondent in successful ICC construction dispute with South Korean General Contractor (all claims dismissed)
Lead counsel for Austrian company in two ICC arbitrations under Swiss law concerning construction projects in West Africa
Lead counsel in UNCITRAL arbitration administered by the PCA representing Eastern European State in road construction dispute
Lead counsel for Filipino Respondent in successful JAMS arbitration brought by American IT company regarding distribution agreement
Lead counsel in investment treaty arbitration on behalf of Russian investor against Northern European State
Lead counsel in investment treaty arbitration on behalf of Claimant Turkish investor against East Asian State
Lead counsel for Eastern European Respondent State in successful UNCITRAL arbitration in the electricity industry
Lead counsel in investment treaty arbitration against Belarus brought by Ukrainian foreign investor in the steel industry
Co-lead counsel in ICC arbitration on behalf of Turkish client against Chinese State-owned pipe manufacturer
Lead counsel in ad hoc international arbitration under OHADA law in the coffee and cocoa industry
Lead counsel in investment treaty arbitration against Swaziland brought by foreign investor in mining industry
Sole Arbitrator in ICC arbitration involving Asian and Middle Eastern Parties
Co-lead counsel in successful SIAC arbitration against large internet advertising company
Sole Arbitrator in four DIAC disputes involving a real estate project in Dubai
Lead counsel to former British protectorate in public international law dispute
Co-counsel in an ICC dispute with related court measures on behalf of a Spanish company against two European businesses concerning an alternative investment fund
Counsel in ICC arbitration concerning the breach of a sales and purchase agreement between a Russian company and a Belgian agricultural equipment manufacturer
Litigation concerning the enforcement of an arbitral award in the United States on behalf of a French company
Co-counsel for arbitration-related interim measures sought on behalf of a Spanish company before French courts
Counsel with respect to an international arbitration against an Iraqi State entity
Counsel for Respondents in successful ICC arbitration concerning the construction and development of a large shopping center in Romania by a joint venture composed of a Northern Irish company and a Lebanese company
Mediation followed by ICC proceedings involving the ownership and licensing terms of patents to chemical compounds between an American company and a French company
Counsel in French litigation concerning the annulment of an arbitration award rendered in North Africa
Counsel for Claimant in ICC proceedings concerning alleged breach of agency agreement between a Northern Irish company and a Swiss engineering company
Counsel for French contractor in Romanian Court of International Commercial Arbitration dispute concerning the construction of a luxury residential housing project in Romania by a major French contractor
Counsel for a Dutch company in successful ICSID proceedings brought against Romania concerning the oil-refining sector
ICC arbitration against African State on behalf of Claimant concerning the modernization of its customs agency
Counsel for Danish client in ICC arbitration concerning the logistics industry
Counsel in successful UNCITRAL investment treaty arbitration between Poland and a French company in the pharmaceutical industry
Counsel in successful ICSID proceedings on behalf of foreign investor against Tunisia concerning the acquisition of shares in Tunisia's banking sector
Counsel in dispute concerning the sale and purchase of gas turbines being sold by a European company to India
AFA arbitration concerning a dispute over a financial services agreement
Dispute between European contractor and a Rwandese company concerning a construction project under Rwandese law
Counsel for successful American Claimant in ICSID arbitration brought against Ukraine concerning the media industry and the acquisition of broadcast licenses
Counsel for Respondent in ICC construction arbitration concerning a turnkey contract for the development of a sulfuric acid plant in Turkey
ICC proceedings on behalf of Claimant involving a dispute over a joint-venture to develop an advanced gas turbine between French, Swedish and British equipment manufacturers
ICC ADR proceedings between a French company and an African State involving a joint-venture in the telecommunications industry
Counsel in dispute between Swiss company and a United Nations agency concerning the provision of consulting services
ICC construction arbitration on behalf of European sub-contractor concerning the construction of oil pipeline
ICC proceedings on behalf of a French company concerning breach of contract by West African company
Counsel for international organisation intervening as amicus curiae in ICJ dispute concerning the extradition of a former African dictator from Senegal to Belgium
Counsel for Iranian oil and gas equipment distributor in an ICC arbitration against an American equipment manufacturer concerning a sales and purchase agreement
Co-counsel in investment treaty arbitration on behalf of Gibraltar-based Claimant against Russia involving the oil and gas sector
Counsel for Claimant in successful ICSID proceedings between Kazakhstan and Turkish investors involving the expropriation of a telecommunications company
UNCITRAL shipping dispute between an Algerian oil and gas producer and an American liquid natural gas regasification terminal
Counsel for successful Australian and Canadian Respondents in ICC dispute with Russian mining company involving a nickel mining concession in New Caledonia
Languages
English
French
Arabic (basic)
Spanish
Bambara (West African language)
Baoulé (West African language)
Memberships
BAR ADMISSIONS
Attorney, New York
Attorney, Washington, D.C.
Avocat (Omis),Barreau de Paris
MEMBERSHIPS
List of Arbitrators of USCIB (ICC National Committee for the United States)
ICC France (ICC National Committee for France)
Expatriate Subcommittee of USCIB (ICC National Committee for the United States)
ICDR Young & International Arbitration Group
List of Arbitrators (DIAC)
Swiss Arbitration Association (ASA)
International Bar Association
AFIA (Australian Forum for International Arbitration)
Advisor to Young ICCA
Editor of Vindobona Journal of International Commercial Law
Education
Columbia University School of Law, J.D. (2002)
Dorsey & Whitney Prize
Stone Scholar
Tony Patiño Fellowship for Outstanding Character
The Sorbonne (Paris I – Panthéon-Sorbonne), Maîtrise en Droit (2004)
French J.D.-equivalent awarded with honours
Harvard University, B.A. (1997)
Degree awarded with high honors (magna cum laude)
Dean's list all semesters
Magna cum laude thesis on the history of empiricism in pharmacology
TEACHING
University of Paris X (Nanterre School of Law), Lecturer on Anglo-American Business Law
University of Paris II (Panthéon-Assas), Lecturer on International Arbitration
Webinars on issues such as the use of international arbitration to resolve intellectual property disputes for Oxford-based entity
Top Tier Firm Rankings
Firm Rankings