Firm Profile > Al Rowaad Advocates & Legal Consultants > Dubai, United Arab Emirates
Al Rowaad Advocates & Legal Consultants
Offices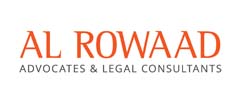 Al Rowaad Advocates & Legal Consultants
THE H HOTEL OFFICE TOWER 29TH FLOOR
ONE SHEIKH ZAYED ROAD, PO BOX 40073
DUBAI
United Arab Emirates
Al Rowaad Advocates & Legal Consultants >
Firm Profile
The firm: Al Rowaad Advocates & Legal Consultants is a full-service law firm committed to delivering sound judgement to its clients on their most difficult and important matters. Established in 2003, the firm was first known as Advocates Without Frontiers before it expanded and was recently renamed Al Rowaad Advocates & Legal Consultants, the company's licence owner, with a head office in Dubai and a branch office in Abu Dhabi.
Al Rowaad Advocates & Legal Consultants is duly licensed to perform legal services and advocacy in the UAE, reaching out to local and UAEbased international clients. Among Al Rowaad's strong practice areas are family law, corporate and commercial, banking, maritime & transport, labour, litigation and arbitration and real estate.
The firm recognises the importance of staff training so that clients can count on expertise in the various and complex aspects of the law, and receive the highest level of personalised service. Al Rowaad Advocates & Legal Consultants is a multilingual firm offering services in Arabic, English, French, Russian, Hindi, Urdu, Iranian and Tagalog.
Areas of practice: Al Rowaad Advocates and Legal Consultancy is an astute, diverse firm of lawyers working for businesses and private clients, nationally and internationally. The firm is highly regarded, often recommended by other lawyers and is known for combining creative solutions with commercial pragmatism and a friendly, sensitive approach. The firm is also renowned for its integrity and experience in dealing with complex and varied matters.
Family law is one of the core areas of practice of the firm. It advises on divorce, child custody, alimony and spousal maintenance. Aside from the family law and practice, Al Rowaad is also regarded as an expert in clinical negligence, corporate and commercial work, criminal litigation, dispute resolution, employment, real estate and regulatory.
Main Contacts
| Department | Name | Email | Telephone |
| --- | --- | --- | --- |
| Civil | Hisham El Samra | | |
| Civil | Mohamad Elhaies | | |
| Commercial | Hassan Elhais | | |
| Commercial | Awatif Shoqi | | |
| Criminal | Hassan Elhais | | |
| Criminal | Awatif Shoqi | | |
| Family | Hassan Elhais | | |
| Family | Awatif Shoqi | | |
| Real estate | Hisham El Samra | | |
| Real estate | Mohamad Elhaies | | |
| Intellectual property | Hisham El Samra | | |
| Intellectual property | Mohamad Elhaies | | |
| Labour and employment | Hisham El Samra | | |
| Labour and employment | Mohamad Elhaies | | |
| Banking and finance | Hisham El Samra | | |
| Banking and finance | Mohamad Elhaies | | |
| Litigation | Hassan Elhais | | |
| Litigation | Awatif Shoqi | | |
| Arbitration | Hassan Elhais | | |
| Arbitration | Awatif Shoqi | | |
| Settlement | Hisham El Samra | | |
| Settlement | | | |
| Maritime and transport | Hisham El Samra | | |
| Maritime and transport | Mohamad Elhaies | | |
| Debt collection | Hisham El Samra | | |
| Debt collection | Mohamad Elhaies | | |
| Corporate | Hisham El Samra | | |
| Corporate | Mohamad Elhaies | | |
| Dispute resolution | Hassan Elhais | | |
| Dispute resolution | Hisham El Samra | | |
Staff Figures
Number of lawyers : 18
Languages
Arabic English French Hindi Iranian Russian Tagalog Urdu
Memberships
TAGLaw
Other
Other offices : Abu Dhabi Other offices :
Press Releases
Hassan Elhais has been recognised as a Thought Leader in Private Client – Asia Pacific for United Arab Emirates in the first Lexology Awards.
Legal Developments
Since a very long time, FIDIC (The International Federation of Consulting Engineers) is commonly used a standard for international construction and engineering contracts and is very frequently used in UAE. It mainly governs the construction works within the country and in GCC. 
Legal Consultants in Dubai have shed some light on the recent update or regulation passed by the UAE Cabinet which will be implemented on 03 February 2019 allowing residents to obtain long term visa. 
In spite of being illicit for the greater part of a century, inappropriate behaviour or sexual harassment remains today the unavoidable type of violence against women, regularly incorporating different categories of brutality in its ambit.
You can run, but you cannot hide, on this note the government of United Arab Emirates and South African government signed an extradition treaty and mutual legal collaboration in criminal matters in late 2018. The treaty will enable the countries to help each other in criminal investigation and prosecution of crimes through mutual collaboration and extradition of accused hiding in either of the country post committing a crime or who is wanted in requesting country.
Amid the construction contract, things may turn out badly. Contractual relationship may come to an end; the trust may vanish and, in the troublesome financial atmosphere, organizations or people can be declared bankrupt. Thus, the clause allowing either or both the parties to rescind a construction contract should be considered prior to signing the agreement. 
With a persistent variation in the property prices, the buyers are climbing the bandwagon to earn profits on investment. The developers are equally or slightly more beneficial from such a trend. 
It is a formal demand sent by one nation to another through diplomatic routes, for the latter to surrender the person who has committed the offence in the requesting country to their authorities. 
The pith of criminal law depends on two elements Actus Reus and Mens Rea derived from the legal maxim "actus non facit reum nisi mens sit rea" which means no act is punishable without a guilty mind. 
Ordinarily, the arrestees are kept in detainment for a certain period or until the public prosecutor finishes the investigation. However, in other cases, the arrestee can be released on bail, which is a temporary release offered to the arrestee awaiting the trial along with certain guarantee either passport and a certain amount of money. 
Financial consultants, bankers and investors usually fail to understand the true concept behind investment in cryptocurrency, and yet we cannot blame them for unsolicited information available through varied platforms. Thus, Corporate Lawyers of Dubai will walk you through the whole path of cryptocurrency from its emergence until now.
3 POINTS TO REMEMBER IF YOUR SPOUSE ABDUCTS YOUR CHILD TO UAE
Family Lawyers of Dubai have seen a tremendous increase in cases of Parent-Child Abduction from one country to another in an estranged marriage. Through this article, I will highlight three important points to be considered by either spouse, if the other half has abducted the child from another country to the UAEwithout proper authorization and consent. Children are always caught up in these despicable events. Nevertheless, such situations can be prevented by taking calculative legal steps within the UAE.
The expansion of multinational companies is always either through incorporating a subsidiary or associating with a local distributor or a commercial agent in any jurisdiction. UAE is a standout amid the most preferable alternative where international companies can either sign an agreement for distribution or enters into an arrangement with the commercial agent for subsequent augmentation. 
UAE has seen a considerable increase in the business opportunities and foreign investors in last decade. Accordingly, the lawmakers have amended the laws in order to have an effective dispute resolution mechanism. Such strong and stable institutions can accommodate both foreign and domestic investors in accordance with their requirements.
UAE legislative framework 
empowers
 courts to enforce judgments issued by foreign courts under specific conditions. 
The complexity and challenges faced by the mixed-use community (joint owners) have witnessed tremendous growth as compared to single-use projects. The answer for how to create a successful and well-maintained mixed-use community lies in how the sharing is handled.
George Bernard Shaw has righteously quoted we have not lost faith, we have just transferred it in the medical profession. Thus, an exceptional venerable position has been given to doctors, but, it is natural that greater the reverence comes with great responsibility. Over time, we have witnessed a pace of globalisation and commercialisation in all spheres of life including the medical profession. New technologies and medicine have assisted us in improving the healthy lifestyle.
The Department of Economic Development (DED) of Dubai has recently instituted Business Protection Department (BPD) solely for reconciling commercial disputes between businesses and will act as a local commercial dispute-resolution authority.
Think about this situation - You are a majority shareholder of an organization which is confronting financial issues. The company applied for a bank loan. 
The vast majority of residents in the UAE float through their day to day lives without really thinking about their spending standards to control our ways of managing their budget.
UAE Federal National Council recently issued a Federal Law number 8 of 2018 governing financial leasing (the Law) within the country. The Law prohibits any company from undertaking activities of financial leasing without a relevant license from the Central Bank of UAE. 
Significant growth in the international trade and commerce has appended eminence to clauses of dispute resolution in the private international law. In a globalized world, everything is believed to be moving at a speed of knot. New innovative techniques have enormously affected the manner in which business is conducted. 
Isn't it too complex and too expensive to proceed with arbitration? What all costs can we recover in this arbitration apart from the claim? Can we claim attorney's fees or legal costs from this arbitration? There are few but very frequently asked questions from the Lawyers in UAE, and the answers to these questions can be spotted in this article.
One of the most appealing advantages of turning to arbitration is the tribunal's authority to award legal costs and expenses. These would ordinarily incorporate the arbitrator's fees and any other costs incurred in any arbitration institution. It is a recent practice in UAE among commercial parties to empower the tribunal to award legal costs either within the Terms of Reference or drafting a special provision for the same. However, under certain circumstances, the ability of the tribunal to grant legal costs is a challenging task. Consequently, the Arbitration Lawyers of Dubai have simplified it through this article for all the commercial parties in arbitration or desiring to file for arbitration. The concerned article will emphasize the most prominent arbitration institute of Dubai that is Dubai International Arbitration Centre (DIAC). The article is divided into several categories to comprehend the status of each case easily.
Insider trading is exploitation of confidential information which is based on the sale and purchase of financial instruments of a corporate entity referred to as insider. The information pertaining to financial instruments can influence the public at large if disclosed. An act will be called insider trading if such information is provided to a third party who benefits from his investment activities post receiving such information. It is a term used commonly in the securities market and usually relates to illegal conduct.
Dubai has experienced major ups and downs in the real estate sector, and the disputes arose tested the veracity and legal standing of these laws from time to time.
Almost after a decade of rigorous implementation, the real estate laws of Dubai, as elucidated by Property lawyers in Dubai are now much more robust. The concerned article is a pathway to understanding the various aspects of dispute resolution in real estate matters in Dubai.
Ramadan is the ninth month in the Hijri Calendar. It is viewed as the holiest month of the year and annually observing the month of Ramadan is considered as one most important pillar of Islam. Best Lawyers of Dubai, before this holy month of Ramadan, would like to express a few changes during this month in UAE and activities which should be prevented during this month.
Theft involves obtaining someone else's property with the intention of depriving the other person permanently from such movable property without their consent. Stealing money, accepting stolen goods or property or obtaining goods by masquerade. Legal Consultants of Dubai often suggest clients consider important points highlighted in this article in the case of theft. Federal Law Number 3 of 1987 regarding the UAE Penal Code exclusively provides punishment for theft committed within the country. Generally, theft is perpetrated on movable property having a monetary value belonging to another. Whereas, the Federal Law Number 5 of 1985 on Commercial Transactions defines property as something that can be taken under custody. Larceny, shoplifting, burglary and embezzlement of funds are some common crimes falling under the criteria of theft.
It is usually impossible to know when would you have prevented the accident, but it is possible to know what can be prevented after the accident especially in UAE. Most drivers in UAE have found themselves in unfortunate major or minor 
road accidents in UAE
 at some point in time. Legal Consultants in Dubai will give five important tips to consider post the road accident.
I feel awful and outrageous to discuss such cruelty and threat which women regularly face in our society, known as "rape". Any content written on such topic cannot justify the agony and torment faced by them. 
A verbal contract is valued as much as the paper it is written on. While discussing and preparing for an important case, I found myself thinking the legalities of verbal contracts and the misconception towards their unenforceability.
Mergers and Acquisitions (M&A) can be as critical as it seems exciting for any entity's growth and development. If successful, it can assist both the companies to gain a significant share in the market and earn profits. If not successful, it can lead to a different story altogether. 
NOT JUST A CRIMINAL ACT WILL MAKE YOU A CRIMINAL So, the plan is that "A will enter the apartment wearing women's abaya with a key provided by C, B will wait outside in the car, and once we complete the act, we will keep the money at D's place." The plan is simple, and everyone is aware of their role in the act.
Foreign expatriates residing or visiting UAE must always be aware of the rules and regulations of the country in order to avoid detention. 
UAE Legislators on 9 December 2018 issued a Decision of Council of Ministers Number 57 of 2018 (the
Decision
) regarding the recent amendments in Federal Law Number 11 of 1992 concerning the UAE Civil Procedure Code (the
Civil Law
). 
UAE Federal Law Number 6 of 1973 concerning entry and residence of foreign national as thereafter amended by Federal Law No. 13 of 1996 regarding the Immigration Law (Immigration law) along with several ministerial decisions governs the rules and regulations pertaining to the issuance of visas in the country. 
The principal source of law of inheritance in UAE is Shariah and on the basis of which several Federal Laws have been promulgated.
"The freedom of movement and residence will be granted within limits of laws" quotes from Article 29 of the UAE constitution offers freedom and simultaneously curtail it on the basis of law. It implies that everyone enjoys the freedom to travel inside and outside the country unless specifically objected by law through a travel ban. 
Just as threatening the title of this article may seem, the consequences of a returned cheque or a bounced cheque can be similar in UAE. Unlike other countries, UAE imposes strict criminal charges against those who offer cheques with insufficient balance.
UAE is a pool of legislation which governs every aspect of citizens' life residing in the country, ensuring peace and harmony. With the presence of numerous laws, individuals, particularly foreign nationals, must keep up with every law in order to be eligible to stay in the country. 
Accessibility to global trade, tax-free income, innumerable business opportunities and free trade environment is an optimal location for any business venture and UAE is one such example of such a business environment. However, even in such favourable region, industrialist practices dishonest behaviour in order to gain undue profits. Dubai Legal Consultants will hereby provide you with a brief overview of the most common offence in the UAE that is Breach of Trust.
Criminal Order is a new procedural system established by the amendment to the UAE Criminal Procedure Law, which envisages efficient and seamless transition of workflow with the goal to lessen the judicial workload.
The new amendment to the UAE Criminal Procedure Law provides for an amicable settlement opportunity to the parties in a criminal case, namely the victim and the accused under the aegis of the prosecution. 
The Law No. 17 of 2018 provides for an alternative to imprisonment in certain offences and subject to certain restrictions, which we have amplified in the following part herein. The alternative to imprisonment comes as a handy, electronic, portable and wearable device, which is intended to restrict and monitor the convicts or the accused pending trial instead of giving them a jail term or police custody during the investigation. 
As part of the requirement of the Financial Action Task Force (FATF), a Federal Decree No. 20 of 2018 on anti-money laundering and countering the financing of terrorism was issued on 23 September 2018. 
This article assesses the feasibilities and outline of the process of extradition in the UAE. The article also reviews how extradition succeeds through judicial collaboration internationally.
In this case the losing party will file an annulment case. However, it may be possible to argue that the parties have accepted the tribunal's jurisdiction, or have waived any right to object, or have lost that right by not objecting at the first opportunity.
A Dubai developer has been ordered to pay three men Dh84m after they failed to deliver villas the men had purchased from a housing project near Dubai Land.
In this case the losing party will file an annulment case. However, it may be possible to argue that the parties have accepted the tribunal's jurisdiction, or have waived any right to object, or have lost that right by not objecting at the first opportunity.
The UAE has rapidly emerged as a leading financial centre, attracting large global investors and businesses. As international developers and contractors continue to invest in construction projects, there has been an increasing trend in the use of arbitration in Dubai. The arbitration process is the preferred method to resolve disputes by commercial companies. As the certified language of arbitration proceedings is in English, a specialist tribunal can be appointed as opposed to the more broad UAE courts, and arbitration is generally more cost-effective and less time-consuming. This has led businesses and investors in the UAE to ensure that arbitration clauses or agreements are inserted into their contracts. Furthermore, the downturn in economic conditions in the real estate market over the past few years has led to an increase in disputes in general, and parties are more likely to issue court proceedings than to try to recover their losses through other ventures.
An arbitrator can be appointed directly by name (this is not the common method used), through the court or through the arbitration centre. If you agree for the court or arbitration centre to appoint an arbitrator you need to make an application. The arbitration provisions of the Civil Procedure Code contain mandatory provisions concerning the appointment of an arbitrator. There must be an odd number of arbitrators, although there is no limit set on the number of arbitrators.
Parties wanting to enforce an award under the New York Convention must satisfy the requirements of the UAE Civil Code. In practice, enforcing arbitration awards can be a lengthy and unpredictable process. It is common for the UAE courts to require the foreign award to satisfy the rules and procedures of the UAE, and they may refuse to enforce it if there is a violation of local laws. One potential difficulty arises in convincing the UAE court that it did not have jurisdiction to hear the dispute in the first place (irrespective of the arbitration agreement between the parties). The UAE courts normally have a fairly broad jurisdiction over disputes including, for example, claims connected to money or assets within the UAE and claims arising out of contracts executed or to be performed in the UAE, as well as claims over foreigners who are resident in the UAE. Therefore, it is difficult to prove that the UAE court did not have jurisdiction over the order.
In the UAE, the risk management activities inherent in running a corporate or investment banking business remain of crucial importance, not least because of the strong local characteristic of "name lending", by which is meant lending or providing other banking facilities to family or other private businesses, primarily on the strength of the "name" or "names" of the proprietors standing behind the business, rather than on the strength of the asset quality and underlying credit of the particular business. Of course, in practice, there is commercial overlap between the proprietors and the companies which they own, but the credit analyses can break down where poor banking practices and procedures result in poorly constructed legal documentation and gaps in guarantee and security support documents.
The economic boom in UAE has resulted in huge developments and a considerable increase in trade. This in turn has led to a rise in transactions which require a fast debt recovery mechanism. According to common practice in the UAE, the most secure and quickest method is the post-dated -  and in some cases undated – cheque. This is often requested by creditors (financial institutions) and sellers, mostly in real estate transactions and trade. The rationale is mostly economic to individuals who are issuing the cheque, and how does personal guarantee play a role? In this Article, we attempt to analyze and overview UAE laws on Personal guarantee.
After having explained the procedures of transferring cases to the criminal courts, in this part we will describe the procedures following the transfer and the rules to be followed before the criminal judge in the hearings.
It has been noticed that many of our colleagues based abroad are contacting us here in the UAE for their clients who were unfortunately arrested at one of the Airports in the UAE for some criminal charges. Their query usually relates to what the expected procedures are. 
Al Rowaad Advocates is also pleased to announce it is now even easier to access our team of legal experts in Abu Dhabi and Dubai at any time. We understand that legal emergencies can happen at any moment, so we have created two round-the-clock services through which you can reach us. 
A Russian woman, wanted for fraud in her country, will not be extradited after Dubai Courts rejected the request.
The concept of debts can be traced from the time of the barter system, where people use to exchange goods and services. What if either party fails to deliver the promised goods in exchange of goods and thus, the need for claiming the debt arose.
Theft involves obtaining someone else's property with the intention of depriving the other person permanently from such movable property without their consent. Stealing money, accepting stolen goods or property or obtaining goods by masquerade.
UAE nightlife may seem attractive on the outside yet dangerous on the inside. Similar to the whole world, UAE is also agonizing which the social peril called consumption of illegal drugs.
Moral etiquettes, if crossed leads to trouble regardless of the platform. Then don't be startled when people face trial due to what they wrote on social media especially in UAE where moral turpitude is frowned upon. With almost 70% of UAE population being socially active online, regulations restricting online nuisance is a necessity.
Out of danger, are they really? The article by Criminal Lawyers in Dubai will discuss the "
not so much
" liability of arbitrators in UAE in accordance with the recent amendment in the laws pertaining to arbitration.
Every individual is the master of the contract he signs, and it is of the highest importance that every contract he signs should be construed in accordance with the intention of commercial parties. It is presumed that this statement of Chief Justice Erie does not expressly states or confirms with the law. Nevertheless, the freedom to contract in the recent era has been the fetish of our law.
The year 2018 was indeed a
Year of Zayed
along with that it was the year of perpetual growth in UAE significant laws such as Bankruptcy Law, VAT Law and the New Foreign Direct Investment Law.
As apparent from Dubai infrastructure, innumerable properties are developed to accommodate multiple proprietors within the same building owing personally occupied unit and a common area owned jointly.
Someone's negligence is someone's loss, but that loss often leads to the right of seeking compensation. On off chance, if you have ever been injured due to someone's negligent act which can be through a road accident, medical negligence or workplace injury, you have the opportunity to file a case for personal injury to seek adequate amount of compensation.
Whether it is for employment, buying/selling or leasing a property, construction of a building or applying for financial assistance from a bank, having a legal contract in such situations are inevitable.
The law governing the electronic evidence is Electronic Transactions and Commerce Law Number 2 of 2002 herein mentioned as the Electronic Transactions Law.
Criminal Lawyers of Abu Dhabi have scrutinized the definition of Defamation as an illegal act committed by spreading false information about an individual which may tarnish his reputation before friends and family and if against any business it may cause serious financial loss as well.
Consumer protection has recently gained much consideration in one of the principal territories. The protection granted to shield buyers against corrupt practices of sellers in all phases of distribution of products.
Family Lawyers of Dubai receives numerous inquiries concerning the validity of any nuptial agreement signed by the spouses under the Personal Status Law (Federal Law 28 of 2005). Consequently, this article will annotate various aspects of pre/post-nuptial agreement.
A fundamental requirement of being a witness is to be impartial as a person with the conflict of interest with either of the parties is not recommended to appear as a witness.
UAE has continually been an area of safety and protection, regardless of any misleading information. The government never fails to implement laws and regulations safeguarding the interest of society at large.
UAE law considers domestic violence a serious felony and the damage incurred by the other person can have serious consequences on their daily life or routine.
Legal jurisprudence around the world confirms the fact that compensation is payable in the act of negligence and breach of duty of care.
What All You Should Know About Bankruptcy Law Of UAE?
UAE government promulgated Federal Decree-Law number 20 of 2018 concerning Anti-Money Laundering and Combatting of Financing Terrorism, hereinafter mentioned as Anti-Money Laundering Law.
Extradition requests are made in accordance with international conventions, bilateral treaties or special agreements entered by two countries to extradite the alleged criminal.
Compos Mentis is one amongst the other significant elements in establishing criminal accountability.
No wonder, the concerned subject has been discussed by Lawyers in Dubai on numerous occasions.
Trademark infringement is the unapproved utilization of a trademark or administration mark (or a significantly comparative imprint) on related merchandise and ventures.
UAE government has issued some significant amendments in UAE Family law, especially towards divorce and custody cases by virtue of Federal Law Number 8 of 2019 amending Federal Law number 28 of 2005 concerning the Personal Status Law in UAE (the
new Law
).
If there were no bad people, there would be no good lawyers, and a good lawyer always comes with certain fees.
On the off chance that you have recently been terminated from your employment with or without reasons and you might ponder whether your employer was within his rights to terminate you.
The Cabinet of UAE has lately sanctioned a federal law to explicitly govern the cases of bankrupt individuals within the country. The law has been issued to safeguard the business interest of UAE residents, enhancing conditions of insolvent individuals and to ensure healthy competition among businesses.
The potential risk involved with giving you approval on legal assessment which gives you as an investor chance to decide to go with this deal or to go to another one.
The list of business activities is mainly for companies dealing in the business of manufacturing products, offering services or in the agricultural sector. Upon the promulgation of this list by UAE Cabinet, every Department of Economic Development (DED) in the relevant Emirate have been empowered with explicit discretion to ascertain the percentage of foreign ownership in particular business activity.
The potential risk involved with giving you approval on legal assessment which gives you as an investor chance to decide to go with this deal or to go to another one.
A manager of a company is considered as its face bearing an extensive range of responsibilities despite the commitments and obligations mentioned in the Companies Law of UAE. Yet, the law does not highlight personal obligations of loyalty and constancy.
According to Article 68 of the Law, an debtor will request if he has defaulted in making payments from more than 60 days from date of outstanding debt due to severe financial conditions.
Originated in a small city Wuhan of China, Coronavirus has now caused serious perturbation globally.
UAE legislators have recently issued Federal Law Number 53 of 2019 regarding Electronic monitoring of prisoners in the country (the Law).
Divorce is indeed a very delicate matter, and if children are involved, it should be dealt with the utmost care and conscious. Family Lawyers of Dubai herein wishes to address this reoccurring issue of custody of the child or children, should the mother re-marries following UAE Shariah Law.
Buying property, investing in a company or concluding a partnership a memorandum of understanding (
MOU
) is a document that is usually taken for granted and a lot of information entailed in those pages are generally disregarded. Yet, being the most important document signed between the parties prior to any concrete contractual document. :
Another common question we received regularly. Actually, the best time to appoint a family lawyer in Dubai is not after you file your case, or not even before you file your family case but it's actually much better to do it before you marry.
The civil procedures law gives the lawyer the right in any litigation in Dubai or in any other emirate in the UAE to file at least two objections against any of the court judgments. The first objection should be to the appeal court and the second one could be to the Supreme Court.
A few manage to attract you and subsequently, millions of mobile applications are available to offer insurance policies, compare insurance prices and provide you with tailor-made insurance products.
Where there is a right, there is a remedy but when can you receive this remedy as the tough question here.
However, the law lacked in providing an explicit guideline or procedure to initiate such claims before the relevant authorities in UAE.
The chances of a cheque not being cleared by the bank due to either insufficient funds or false signature are critically high. Most countries consider cheque bounce as a criminal act.
The aftermath of coronavirus outbreak is devastating and its impact on businesses and global economy is now easily discerned as catastrophic.
Dishonored cheques are considered as a crime in UAE under Federal Law number 3 of 1987 on UAE Penal Code. Have you been in a situation where you issued a cheque, however, later paid the cheque amount in cash to the beneficiary but, the beneficiary failed to return the cheque or refuses to return the cheque. Shockingly, he deposits the cheque in the bank, receive a dishonored statement and files a case against you. Criminal Lawyers of Dubai consider it as a fake case registered against you.
MOHRE has issued this Resolution in line with the UAE Labor Law and to safeguard the interest of employers and employees during this pandemic.
In this pandemic situation, preserving good health of residents is indeed, yet not only the primary concern of the government of UAE as they are still issuing circulars with an intention to ease the situation of most of residents or foreign expatriates in UAE by allowing some relaxation in rental contracts.
Although the timings in Ramadan period has been reduced and the government has removed some restrictions over travel, it is yet not safe to travel freely and it is always recommended to move out of the house only when it is necessary to prevent any further spread of the virus.
The month of Ramadan is considered as the most holy month as per the Hijri Calendar as Muslims around the world are obliged to undergo fasting according to the timetable.
Top Tier Firm Rankings
Firm Rankings