Firm Profile > Prountzos & Prountzos LLC > Nicosia, Cyprus
Prountzos & Prountzos LLC
Offices
Prountzos & Prountzos LLC
36, Agias Elenis Street, Galaxias Building, Block B
6th floor, Office 602
1061 Nicosia
Cyprus
Prountzos & Prountzos LLC >
Firm Profile
Prountzos & Prountzos LLC was founded in 2010 by Charalambos G. Prountzos and operated in Cyprus and abroad through a network of carefully selected associates. Since 2017 the firm offers legal services to clients as a member of the EY Law network, functioning as an independent law firm, and regulated by the Cyprus Bar Association as a Lawyer's Limited Company registered under number HE261075 and Registry number 222. Prountzos & Prountzos LLC is an integral part of EY in Cyprus in terms of operations and market offering, and an EY member firm. Our clients may benefit from the full spectrum of EY services, with multidisciplinary professionals working alongside our lawyers as integrated teams. Moreover, as part of the EY Law network, we are in a position to source expertise, know – how and to offer cross border reach in more than 85 countries globally.
We have a market-leading reputation in several practice areas, received many awards and have been consistently ranked in several rankings. The firm is ranked in the EMEA Legal 500 for Commercial, Corporate & M&A, Real Estate & Construction Law, EU and Competition Law and Dispute Resolution categories. We regularly advise many leading global, private and listed organizations as well as public law entities in Cyprus.
We provide services particularly in the areas of Legal Managed Services, Legal Function Consulting, Transaction Law, Commercial, Corporate and M&A, Reorganisations and Restructurings, Corporate and Project Finance, Incorporation and Establishment of Corporate Structures, Private Client Service, Commercial Contracts, Funds and Fund Management (AIF, RAIF, UCITS and AIFM), Banking, Regulated Financial Services and Capital Markets, Regulatory compliance, Digital and GDPR/Data Protection Law, Intellectual Property, Litigation & Alternative Dispute Resolution, EU and Competition, Real Estate and Construction Law, Insolvency and Winding up, Employment, Energy & Environment, Intellectual Property and Education.
We are widely considered as one of the most rapidly growing firms in Cyprus and continue to consistently expand our practice to be in the most suitable position to provide a holistic and client-centric service to our broad range of clientele, and thus aim to provide the highest possible level of quality legal services.
The headquarters of the firm are located in the heart of the commercial center of Nicosia and the representative office in Limassol in a state of the art technological and business environment.  As part of the EY Law network we strongly focus on innovative methodologies which are used for our purposes and remain within the top of the league in terms of digital advancements. This innovation mindset is extended to our clients through our unique service offering and service delivery models. Legal function consulting is a service to assist GCO to optimize their legal function, also introducing technology solutions like the EY Legal Operations Platform. Moreover, through our Legal Managed Services capabilities we are in a position to perform process – based and advisory work in high volumes as an end to end complete service. Such services include Entity Compliance and Governance (ECG) services, Contract Lifecycle Management Services and IBOR transition projects.
The underlying vision of the firm is to operate as a highly specialized, contemporary commercial, corporate and financial services law firm. As part of our vision, we are driving research and innovation bringing together people from the academic research, the business community, policy makers and industry associations. As a result, our firm has been awarded a contract with the Cyprus Research & Innovation Promotion Agency following a successful proposal in a competitive process under Horizon 2020 for the Hospitality Sector.
We are committed to high standards of professionalism. We are client-focussed and people-oriented. Our clients benefit from the added value of our personal attention and our people benefit from our ongoing support for their professional development. For this reason, many well known HNWI and private clients entrust us with the provision of services which affect their personal interests and wealth.
The firm is divided into three Units, namely, Corporate & Digital, Dispute Resolution and Legal Consulting. This distinction mainly reflects the nature of work with Departments dealing with distinct fields of law. This approach ensures a multidisciplinary mindset for our lawyers and a holistic service to clients.
Staff Figures
Lawyers : 17
Languages
English Greek French Spanish Italian Turkish German Russian Ukrainian
Memberships
Cyprus Bar Association
Diversity/Community
At EY we value and respect individual difference. Today, we think broadly about differences; they include background, education, gender, ethnicity, nationality, generation, age, working and thinking styles, religious background, sexual orientation, ability and technical skills. We focus strongly on inclusiveness in each level throughout the firm as a fundamental part of our business strategy. Inclusiveness is about leveraging these differences to achieve better business results. Particularly, given that the future of our business depends heavily on our ability to provide solid and innovative solutions for our clients, we can only do so by acknowledging and sharing the most diverse range of thoughts, experiences and skills of our people.
Our multicultural and multidisciplinary working environment creates the right platform to harness different perspectives and expertise which are greatly valued and properly rewarded. As such, we are able to create the highest-performing teams and build trust and confidence in the solutions we deliver to our clients. We are fully committed to consistently developing our diverse talent and ensure people of all abilities are included.
As a significant global organization, EY has the potential to bring about considerable positive change through our capabilities, our people and our influence. EY Ripples is EY's new global corporate responsibility (CR) program that provides our people the opportunity to positively impact the lives of millions of individuals by using their skills, knowledge and experience.
EY Ripples focuses on two key areas: Supporting the next generation to develop the mindset and transferable skills they need most to find and sustain meaningful work in a transformative age and working with impact entrepreneurs helping scale small and growing businesses that are driving progress to tackle inequality and empower people to change their lives.
Women make up more than half the population of the world, yet have long been overlooked as a vital talent resource that contributes to economic growth and prosperity. Despite evidence that companies with women directors have better business outcomes, women remain under-represented on boards of directors and in the C-suite. Women. Fast forward is EY's global platform supporting our interactions and discussions with clients, policy makers, key decision makers and other thought leaders on women's economic empowerment and gender equity. By working with organizations – from schools to governments, from start-ups to international corporations – we provide women the tools to access and seize opportunities in the rapidly changing world.
EY Cyprus regularly undertakes various corporate responsibility initiatives. Our two biggest programs are:
Women Fit 4 Business – An intensive 8-month program targeting young, unemployed, female university graduates, under the age of 35. It aims to help provide them with the necessary hard and soft skills to enter or re-enter the labour market and/or start their own business.
Cyprus Seeds – A non-for-profit initiative to support the commercialization of innovative academic research in Cypriot universities and research institutions by providing grants, one-to-one mentoring combined with entrepreneurial training and networking outside Cyprus, in order to help research projects mature to a stage that can attract venture capital and funding from private investors.
Interviews
Charalambos Prountzos, Partner, Law Practice Leader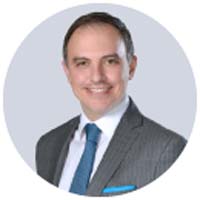 Partner Charalambos Prountzos explains how the firm is adapting to clients' changing needs
What do you see as the main points that differentiate EY LAW Prountzos & Prountzos LLC from your competitors?
I believe that what our clients see in us is a highly specialized, contemporary commercial, corporate and financial law boutique. Our policy has always been to have a high ratio of partners to support staff. This allows us to offer each and every client the services of a partner in relation to every issue he may be facing, either on a day to day basis or in a supervisory role. Prountzos & Prountzos LLC is an integral part of EY in Cyprus in terms of operations and market offering and an EY member firm. Through EY's network, we offer integrated solutions and support to our clients from a legal, tax, advisory and digital perspective.
Which practices do you see growing in the next 12 months? What are the drivers behind that?
We live in a transformative age, and there are today several forces driving change both globally and in Cyprus. I would identify four sectors where I expect our practice to grow over the coming months:
Funds, Regulated Financial Services; through the incorporation into local law of the provisions of the AIFM Directive and the recent introduction of a new AIF Law, Cyprus is being transformed into a modern funds jurisdiction, attractive to investment managers throughout Europe. Cyprus differentiates itself and provides a competitive alternative to other popular funds jurisdictions on the basis of its common law background, sophisticated legal and regulatory framework and relatively low cost for the formation and maintenance of a funds structure.
Digital and GDPR/Data privacy; the adoption of the GDPR has drastically changed the game for organisations through new requirements and more stringent data protection. At the same time, the digital revolution, along with great opportunities, is creating new challenges for our clients. At Prountzos & Prountzos LLC, we offer a unique value proposition since our integrated Global data privacy and legal team has deep knowledge of GDPR / privacy assessments and implementations, advanced cybersecurity and data protection skills, sound understanding of different sectors, and the ability to translate deep technical issues in business and compliance terms.
Real Estate and Construction; the growing demand for commercial and residential space throughout Cyprus has given rise to substantial activity in the property market.
Shipping; important developments are reshaping the shipping industry both globally and in Cyprus. Key developments, including the challenges to globalization and world trade, and the shift of global economic activity towards the Asia Pacific region will undoubtedly disrupt the shipping industry and could impact Cyprus' role within the industry. However the Cyprus flag is a top-quality sovereign flag that has withstood the test of time, and we trust it will continue to do so. EY has always stood at the forefront of the shipping industry, both globally and in Cyprus and is ideally placed to help our clients navigate these challenges.
What's the main change you've made in the firm that will benefit clients?
Technology; at EY we strongly believe that technology and the pursuit of innovation is what enables us to make a difference. We seek not only to keep up-to-date with the digital era but to be always one step ahead. This allows us to and to utilize the digital advancements both in our day-to-day operations as well as with our deliverables to our clients who benefit from our efficient practices.
Is technology changing the way you interact with your clients, and the services you can provide them?
Yes, particularly through our Legal Managed Services offering following our strategic acquisition of EY Riverview Law. We constantly work on developing and being at the top of the game in terms of technological developments and being in a position to effectively support our clients with their interaction in the constantly developing technological framework. We believe it is a crucial area which we need to utilize to the greatest possible degree in order to be able to support our clients and facilitate their business needs in an efficient and proactive manner.
Can you give us a practical example of how you have helped a client to add value to their business?
You realise that there are client confidentiality issues involved, but I could mention a few examples:
Particularly given our focus on natural resources and energy law we provided full legal support on the EuroAsia Interconnector which is the official EU project developer of the 2,000MW electricity interconnector between Israel, Cyprus, Crete – Attica, Greece and Europe. EuroAsia Interconnector is a leading European Project of Common Interest (PCI) labelled as an EU "electricity highway" connecting the national electricity grids of Israel, Cyprus and Crete-Attica, Greece through a 1,518km subsea HVDC cable. This is an emblematic project, with strategic importance for Europe and Cyprus in particular, given that it is the only EU country not yet connected to the European power grid. Our substantial experience and expertise in energy matters have added value to this high-profile.
Over the past several months, we have provided specialized services to a number of our clients with regards to their data privacy and compliance of their organisation with the regulatory framework. We offered them a unique value proposition since our integrated Global data privacy and legal team has deep knowledge of GDPR / privacy assessments and implementations, advanced cybersecurity and data protection skills, sound understanding of the retail sector and the ability to translate deep technical issues in business and compliance terms consisting of:
Integrated offering by EY Advisory and EY Digital Law services to translate privacy and legal requirements into a risk-based and customized approach for the client.
Excellent business, technical skills and experience in data privacy and GDPR assessment and implementation activities, as well as cyber security and digital law in general, supported by proven global methodologies and tools that will effectively and efficiently address your specific needs.
A highly knowledgeable and technically skilled team from EY Cyprus, consisting of experienced and certified under the IAPP advisors and lawyers and the Central and South East Europe Data Protection and Privacy contact person.
Are clients looking for stability and strategic direction from their law firms – where do you see the firm in three years' time?
Particularly during such uncertain times, what clients are looking for is trusted, highly-experienced, expert professionals to strategically guide them through the ever-changing, complex, legal and regulatory EU and local legal frameworks. We have no doubt that our team is uniquely placed to provide this and therefore feel confident about where our form will stand three years from now. We aim to maintain our consistent growth and evolution as reliable consultants and the go-to firm for start-ups up to bet-the-company matters on behalf of multinational corporate clients, in commercial, corporate, financial and digital law.
Top Tier Firm Rankings
Firm Rankings