Menwer & Associates > Kuwait City, Kuwait > Firm Profile
Menwer & Associates
Offices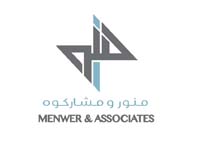 Menwer & Associates
16 & 17 FLOOR, 25 FEBRUARY TOWER
KHALID IBN AL WALEED STREET, SHARQ
PO BOX 1152, DASMAN, KUWAIT CITY
Kuwait
Menwer & Associates >
Firm Profile
The firm: Menwer & Associates is one of Kuwait's fastest growing law firms, which provide full-service law firms offering business-focused advice to a prestigious and growing public and private sector client base. Including domestic and international companies as well as government bodies and agencies from Kuwait and across the Gulf region. The firm has a highly experienced and talented bank of multi-jurisdictional lawyers and consultants, many of whom are fluent in both English and Arabic. Menwer & Associates provides a comprehensive range of legal services on all aspects of the law from civil and criminal to business and corporate law with specific expertise in many key areas.
Background: Menwer & Associates is a Kuwaiti based full service private law firm. The firm was established in 2001 by Dr Mohammad Menwer Al-Mutairi, a former Judge and prosecutor. Menwer & Associates has grown rapidly and now has over 50 employees including 23 legally qualified staff.
The firm is Located in the heart of Kuwait City. Menwer & Associates comprises a team of skilled multi- lingual lawyers and legal consultants whose experiences cover a comprehensive range of legal services offered to both the local and international community.
Over the years, our lawyers and consultants have a breadth of experience in dealing with both corporate and commercial companies within the Gulf region. The firm represents a wide range of clients, both in the public and private sectors including government bodies and other institutions, Kuwaiti shareholding companies, major limited companies, banks, financial institutions, diplomatic missions, and other local and international organizations.
Why us: Menwer and associates management and the team have a ton of experience and exposure to matters related to commercial and corporate matters, besides having a great performance history in complex and high profile transactions. In addition, the firm had represented a long string of prestigious clients.
The firm has been named as a leading law firm in Kuwait in most popular international legal platforms such as The Legal 500, and IFLR1000.
Menwer and associates is certificated by ISO 9001 (2008) Quality Management Systems. Which demonstrate its ability to consistently provide product that meets customer and applicable statutory and regulatory requirements, and aims to enhance customer satisfaction through the effective application of the system, including processes for continual improvement of the system and the assurance of conformity to customer and applicable statutory and regulatory requirements.
Our lawyers are experienced litigators and arbitrators having extensive trial and appellate experience and regularly represent their clients before the Kuwaiti courts and other administrative bodies along with local and international arbitration commissions. Furthermore, our team has full dedication to our clients. Over and above, our attorneys have a way to find creative legal solutions using the full understanding of the law and the legal system.
Main Contacts
| Department | Name | Email | Telephone |
| --- | --- | --- | --- |
| Litigation and dispute resolution | Mohammad Menwer | | |
| Corporate and commercial | Mohammad Menwer | | |
| Banking and finance | Mohammad Menwer | | |
| Oil & Gas | Mohammad Menwer | | |
| Banking and finance | Badr Menwer | | |
| Debt restructuring, insolvency and business recovery | Badr Menwer | | |
| Projects and energy | Mohammad Hazaa | | |
| Litigation and dispute resolution | Mohammad Hazaa | | |
| Insurance | Abdel Aziz AlErada | | |
| Litigation and dispute resolution | Abdel Aziz AlErada | | |
| Litigation and dispute resolution | Mohammed AbdelAlemm | | |
| Construction | Mohammed AbdelAlemm | | |
| Banking and finance | Mohammed AbdelAlemmAbdel Aleem | | |
| Aviation | Mohammad G H Mohammad | | |
| Corporate and commercial | Khaled Najm | | |
| merger & acquisition | Khaled Najm | | |
| Real estate | Khaled Najm | | |
| Litigation and dispute resolution | Tamer El-Safty | | |
| Construction | Tamer El-Safty | | |
| merger & acquisition | Tamer El-Safty | | |
| Intellectual property | Tamer El-Safty | | |
| Litigation and dispute resolution | Haitham Al-Husseini | | |
| Intellectual property | Haitham Al-Husseini | | |
| Litigation and dispute resolution | Mohammed Solaiman | | |
| Real estate | Mohammed Solaiman | | |
| Employment | Mohammed Solaiman | | |
| Corporate and commercial | Ahmad Fathy | | |
| merger & acquisition | Ahmad Fathy | | |
| Litigation and dispute resolution | Hossam fahmy | | |
| Real estate | Hossam fahmy | | |
| Employment | Hossam fahmy | | |
| Litigation and dispute resolution | Ahmad AbdelRahman | | |
| Corporate and commercial | Ahmad AbdelRahman | | |
Staff Figures
Number of lawyers : 13
Languages
Arabic English French Hindi Persian/Farsi Urdu