Firm Profile > Aydas Liman Kurman > Ankara, Turkey
Aydas Liman Kurman
Offices

Aydas Liman Kurman
BESA KULE K5 A/18 1480
SK NO 2 ÇUKURAMBAR
ANKARA
Turkey
Aydas Liman Kurman >
Firm Profile
The firm: Aydas Liman Kurman is a leading Turkish law firm, providing quality legal services to local and international companies, governmental agencies and financial institutions. The firm is dedicated to meeting its clients' needs in the realm of global business.
Aydas Liman Kurman belongs to an international alliance of law firms, which enables the firm to provide better solutions to cross-border multinational transactions and manage cross-border litigation, which is increasing with the globalisation of the world markets..
Aydas Liman Kurman has a diverse clientele from different industries. These sectors incluse chemicals, construction and infrastructure, consumer goods, defence industry, energy and mining, hospitality and leisure, flexible packaging, industrials, real estate, sports, telecommunications, media and entertainment, transport and logistics. .
Areas of practice
Capital markets law: Aydas Liman Kurman advises its clients, comprising mainly major listed companies, financial institutions and investment banks, on all capital markets-related issues, including but not limited to IPOs, secondary public offerings, securities transactions.
Corporate law/mergers and acquisitions: the firm's corporate practice involves company formation; company law; shareholders' and directors' liabilities; as well as other relevant legal issues related to company law. A significant part of expertise is on direct foreign investments. Aydas Liman Kurman advises on joint ventures, and other alliances mostly between global players and local companies.
Commercial law: Aydas Liman Kurman provides legal advice on all types of commercial agreements including sales, distribution, agency, etc. The firm understands the needs of the sector and strives for perfection on their commercial practice. The clientele of the firm include local and global chemical companies, industry companies, major hotels and global construction companies doing business in Turkey.
Competition law: Aydas Liman Kurman's competition law practice includes advising on mergers and acquisitons on different sectors and dealing with the legal notifications to the Competition Authority with respect to such transactions. The firm also assists its clients on investigations made by the Competition Authority with respect to relevant competition law issues.
Energy law: Turkey, being a strategic hub in its region, attracts a lot of players in the energy sector. Energy law practice, therefore, comprises an important part of Aydas Liman Kurman's practice. Since Turkey is trying to diversify its energy resources, the field is quite dynamic and challenging, and thus the firm guides its clients with a solid and prompt approach.
Intellectual property law: Aydas Liman Kurman advises its clients on various topics of intellectual property such as patents and trade marks, copyrights, designs etc.
Labour and employment law: Aydas Liman Kurman's labour law practice includes advising clients on employment issues, drafting employment agreements, etc. The firm provides guidance to its clients in their relationship with worker unions.
Litigation and arbitration: the firm assists its clients on commercial disputes, including contractual disputes and construction disputes. The firm assists its clients on recognition and enforcement of foreign court decisions in accordance with the Hague Convention and arbitral awards in accordance with the New York Convention.
Real estate law: the firm provides legal assistance to funds and investor, property management companies, contractors and hotels. Its practice includes planning, acquisition, development, etc.
Sports law: Aydas Liman Kurman's clients include major sports clubs in the Turkish professional leagues, sports associations and global broadcasting companies. The practice includes sponsorship agreements, merchandising issues, representing clients before the CAS and BAT, etc.
Main Contacts
| Department | Name | Email | Telephone |
| --- | --- | --- | --- |
| Corporate | | | |
| Mergers and acquisitions | | | |
| Commercial | | | |
| Competition | | | |
| Energy | | | |
| Intellectual property | | | |
| Labour | | | |
| Litigation and arbitration | | | |
| Real estate | | | |
| Sports | | | |
| Telecommunications | | | |
Staff Figures
Number of lawyers : 7
Languages
English German Spanish Turkish
Memberships
International Bar Association Legal Skills - International Business Lawyers (EEIG)
Interviews
Altan Liman, Partner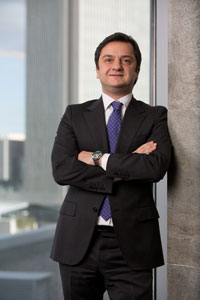 Partner Altan Liman explains how Aydas Liman Kurman responds to clients' changing needs.
What do you see as the main points that differentiate Aydas Liman Kurman from your competitors?
Aydas Liman Kurman was founded in 2007 by the three name partners, who had extensive experience in different law firms in various areas of practice. Throughout the years, Aydas Liman Kurman has consistently developed its practice and earned a high reputation in Turkey, being among the top law firms. Our aim has always been creating and maintaining long term relationships with our clients and understanding the needs of their specific sectors. We focus on creating innovative and tailored solutions to our client's requirements.
We care and focus on the core values of law practice such as; integrity, transparency and acting in the best interest of our clients while providing legal services. Our M&A and Corporate Law practice as well as IT &Telecommunications, Intellectual Property and Competition Law practices are strongly recommended by our clients. We also have a talented and highly skilled litigation team.
We strongly believe in and uphold the rule of law and proper administration of justice in our jurisdiction and not allow our independence and impartiality, as legal counsels, to be compromised under any circumstances.
Which practices do you see growing in the next 12 months? What are the drivers behind that?
Our M&A and corporate practice is growing consistently and we have assisted both the buyer and the seller sides in numerous recent transactions. Following last year's financial circumstances, local companies have become more attractive for the foreign investors. We envisage a steady growth in our M&A practice. Our clientele is mostly interested in opportunities in telecommunications, IT, chemicals and packaging sectors.
Our competition and other regulated market practices have grown significantly in the last 12 months period. One of the main reasons for the growth in competition law practice is our vast expertise in regulated markets and in governmental investigations. In today's world, especially the IT and Telecommunication companies are being constantly subject to governmental investigations including but not limited to Competition Law. The regulatory bodies in the regulated markets are very sensitive to any infringement and continuously demand information or written explanation for various reasons from companies and their managements, in which we provide legal consultancy services or representation before these authorities.
Our start-up practice, which is mainly related to our extensive IT and telecommunications knowledge, is growing very rapidly. The governmental incentives to technology companies and special technology zones have doubled the number of start-ups in the last 8 months requiring legal consultancy services in a very wide variety of law practice including company law, contracts law, employment, establishment of SPV's, shareholders agreements, and M&A's.
What's the main change you've made in the firm that will benefit clients?
We regularly provide legal memoranda and newsletters specifically designed for each of our clients for their relevant sectors. We believe that such legal memoranda, specifically addressed for the clients' own requirements, attract the clients more.
We have recently implemented new legal software in our firm, in order to keep track of all work done including corporate, consultancy, litigation and debt collection files. Accordingly, we aim to keep up with the new technologies available in the legal area.
Is technology changing the way you interact with your clients, and the services you can provide them?
Our clientele include several local and global technology, telecommunications companies as well as start-ups. Therefore, in the rapidly evolving today's world, we feel obliged to use the latest technologies available for law firms.
We use specifically designed software in our firm in order to provide legal services at a certain level of quality. This software enables us to be more diligent and transparent in providing our services to the clients.
However, we strongly believe that technology is at the end a tool; and legal profession is mainly a matter of trust relation between attorney and the client. Therefore, we invest more in our people and implement a quality management system at our firm, which urges our members to act on a set of standard principles and procedures.
Can you give us a practical example of how you have helped a client to add value to their business?
While our clients focus on their core business and main field of activity, we provide legal services in a wide range of sectors and number of clients which provide us continuous and new information from different sectors that enable us to see things from different perspectives. This sector knowledge enables us to bring a different perspective and vision to our clients, which may lead them to different solutions in their decisions.
For example, we follow governmental incentives on a frequent basis and inform our clients accordingly. We have helped several of our clients in establishing R&D centers, for which the government provides certain incentives including but not limited to tax, social security and other benefits. We have also helped another client to be reimbursed for their legal due diligence costs they have incurred due to acquisition of a Spanish company.
Are clients looking for stability and strategic direction from their law firms – where do you see the firm in three years' time?
Our answer to this question would be simply "yes". While, our local clients look for stability, our international clients, working in a completely different legal environment seek both stability and strategic direction from us. They usually approach us to discuss and confirm their strategy with regards to corporate, compliance and employment matters and governmental institutions.
Moreover, as stated above, we provide them with the latest developments with regards to their fields of activities, through our newsletters published biweekly, covering the main developments related to their practices and the legal aspects in this respect.
Our firm, established in 2007, has earned its reputation by being client and result oriented approach. Taking into account our performance in the last decade, we strongly believe that in 3 years' time, our firm will continue expanding its practice while strictly following its core values and principles of doing business.
Top Tier Firm Rankings
Firm Rankings