Firm Profile > Monard Law > Brussels, Belgium
Monard Law
Offices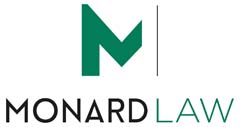 Monard Law
TERVURENLAAN 270
1150 BRUSSELS
Belgium
Monard Law > The Legal 500
Rankings
Monard Law
 is noted for its '
well established expertise in the aviation field
', and is very well versed in aircraft financing and leasing mandates. Recent work for the team included acting for the shareholders of a Belgian airline following its bankruptcy and subsequent liquidation. Practice head
Birgitta Van Itterbeek
 is '
proactive
' and '
very dynamic
'.
Testimonials
'Well established expertise in the aviation field'.
'Birgitta Van Itterbeek is proactive and very dynamic'.
Key clients
Brussels Airlines
TUI Airlines Belgium
Equatorial Congo Airlines
AVOLON
ELF
Air Antwerp
Investec
Citibank
GEFA
The fraud and white-collar crime team at Monard Law benefits from broad expertise across transactional and advisory matters, and litigation. The group fields individuals across several offices, with practice head Christiaan Barbier, who handles tax fraud, misuse of corporate goods, corruption allegations and money laundering issues, and Frédéric Lettany based in Brussels. In Ghent, social criminal law specialist Tom Messiaen has experience in slave trade allegations, illegal contractor issues and industrial accidents, while criminal law expert Pieter Helsen is based in the Hasselt office and is a key name for fraud and money laundering work.
Monard Law
's corporate and commercial practice group is frequently instructed by domestic and international companies investing in or divesting companies in Belgium, with particular experience in the life sciences, IT, aviation and energy sectors. The group also handles a range of commercial and corporate governance advice. '
Very experienced
' corporate and securities specialist 
Katrien Vorlat
, who is based in Brussels, heads the team alongside
Natalie Ulburghs
, who splits her time between the Hasselt and Brussels offices, and Hasselt-based experts 
Nicole Segers
 and
Kristof Zadora
. Another practitioner to note is '
business driven and communicative M&A lawyer
'
Pieter Van den Broeck
, who is based in Antwerp.
Practice head(s):
Nicole Segers; Katrien Vorlat; Natalie Ulburghs; Kristof Zadora
Testimonials
'They are flexible and have a great approach to helping start-ups as well.'
'The team is very 'to the point', gives practical advice and is easy to reach.'
'Pieter van den Broeck provides excellent client service, is very proactive and manages cases and clients very efficiently, in a very friendly way. His legal knowledge is also impressive of course.'
'Natalie Ulburghs is another very experienced and accurate M&A lawyer.'
'Natalie Ulburghs, Nicole Segers and Kris van der Beeks are exceptionally responsive and spot on with their legal advice.'
'Kristof Zadora is an expert in his field (international business contracts, IT and data protection) and always shows he understands our business needs and strives for solutions.'
'Pieter Van den Broeck is particularly valuable and offers great technical expertise combined with a very client-focused approach. His availability is particularly appreciated.'
'They offer sophisticated and focused services and have a pragmatic approach.'
Key clients
Abus
Alstom SA
Carrefour SA
Cegeka
Danone SA
Dawn Capital
Dekra AG
Down to Earth
ERT
Eumedica
Fluvius
Group Heylen
Inno NV
Merit Capital
Mitel
Nuhma
Philip Morris
Primagaz
Rexel SA
RSK
ScioTeq (part of TransDigm group)
SHV Energy
Tradeshift
Verisure
Monard Law
 handles a broad cross-section of contentious and non-contentious environmental law matters for public authorities, companies, contractors, employers' associations and unions, among other clients. One of the firm's major areas of strength is in the environmental permitting sphere, where the team provides an end-to-end user service at all stages of the process, including where legal proceedings arise. In addition to acting for clients in their capacity as applicants of permits, the group also assists clients with initiating proceedings to oppose permits that have been granted to third parties. It is equally strong advising on procedures relating to urban planning and building permits, as well as socio-economic permits. Elsewhere, the team is also adept in areas such as soil pollution, environmental taxes, environmental liability, waste management and sustainable energy projects. 
Koen Geelen
 and 
Wouter Moonen
 lead the advice to the Flemish government on all of its expropriation cases, which includes assisting the client with administrative and civil court proceedings. 
France Vlassembrouck
 is representing NEO (a company established by the Brussels-Capital Region and the city of Brussels) at the Council of State in multiple proceedings brought by various local inhabitants and several non-profit associations over the decision of the Brussels-Capital Region to approve a new regional zoning plan for the Heysel area. Senior associates 
Bernard Vanheusden
 and
Sarah Jacobs
 are also recommended.
Practice head(s):
Koen Geelen; France Vlassembrouck; Wouter Moonen
Other key lawyers:
Key clients
WeAreOne.WORLD
Democo
(DMI Vastgoed) Ciril
Vanhout (Besix)
The city of Mechelen
The City of Hasselt
RSK Group
Dyls Construct
(NPG Energy) Enovos
The city of Hamont-Achel
The city of Tongeren
Brussels Expo
Limburg.net
Virix
The Flemish region
SCC Design
The province of Limburg
Dethier
The city of Antwerp
Willemen Infra
Living Tomorrow
Bude
Circuit Zolder (Terlamen vzw)
The city of Gent
POM Limburg
Arenberg
Atenor
Kumpen Red
UCLL
Neo project Brussels
Monard Law
's cross-departmental energy sector group handles a range of contentious and non-contentious domestic energy matters.
Natalie Ulburghs
 (who splits her time between the firm's Hasselt and Brussels offices) and Hasselt-based
Koen Geelen
 jointly lead the practice and focus on transactional and regulatory issues respectively. Public law specialist
Bernard Vanheusden
, who is also based in Hasselt, has particular experience advising on district heating, renewable energy and climate change mandates.
Practice head(s):
Natalie Ulburghs; Koen Geelen
Key clients
Bionerga
Fluvius
Fluvius Limburg
Primagaz Belgium
Provinciale Brabantse Energiemaatschappij
Belgian Eco Energy
Monard Law
 has experience spanning insolvency and restructuring-related matters, and is frequently instructed by debtor and creditor clients. Antwerp-based practice head 
Youri Steverlynck
 and of counsel
Inge De Haes
 are regularly appointed as bankruptcy trustees by the Commercial Court in Antwerp. The team also benefits from its ability to leverage the firm's full-service Belgian expertise across transactional work and litigation.
Key clients
Intenzo Real Estate
Union Bank of India
Eurostar Diamond Traders
VCR Van Cauwenbergh
Equatorial Congo Airlines
Primagaz
Saifor Benelux
Gammyco
The private equity team at
Monard Law
 has '
excellent market knowledge
' of the venture capital space and attracts praise for providing '
hands-on and top-quality advice for SME clients
'. The team is spread across three offices and is jointly led by Brussels-based
Katrien Vorlat
, who is frequently instructed by venture capital investors;
Natalie Ulburghs
 and
Nicole Segers
 in the Hasselt office, and Antwerp-based 
Pieter Van den Broeck
, who regularly advises private equity funds. Hasselt-based 
Maxime Monard
 is another name to note, particularly for companies seeking investments by venture capital funds.
Practice head(s):
Pieter Van den Broeck; Nicole Segers; Katrien Vorlat; Natalie Ulburghs
Testimonials
'They share communication efficiently within the company to find the right partner with the right knowledge to help you. They go even beyond their in house network.'
'Excellent market knowledge. Availability of partners Youri Steverlynck and Pieter Van Den Broek is exceptional.'
'Very much on top of things, they are deal makers (not breakers) and are very well prepared compared to other law firms.'
'Our experience with Monard Law proved they have an efficient team and they work at reasonable fees. Exercise pro activity and simplicity in their approach.'
'They work over the weekend and are available for a phone call whenever you need them. Customers really comes first.'
'Pieter van den Broeck is very pleasant to deal with, makes the deal.'
'Pieter Van den Broeck offers pragmatic, high quality on SME tariffs.'
Key clients
Chili Publish
Daltix
Dawn Capital
Dobco Medical Systems NV
Down 2 Earth
LRM
Sweagle
Viata
Monard Law
's practice is led by 
Birgitta Van Itterbeek
, whose aircraft (including corporate jet) finance expertise generates a significant amount of referral work from international law firms. Illustrative of her strengths in this space, her clients include TUI Airlines Belgium and Brussels Airlines, as well as financial institutions and leasing companies. Her expertise in regulatory matters includes UCITS, MiFID and derivatives. Elsewhere, 
Stefaan Van Dyck
 is a specialist in real estate finance. The firm also has an excellent reputation in the project finance and acquisition finance arenas, and has a niche strength in creative art lending. Itterbeek led the advice to the Belgian subsidiaries of Dorel Industries on a $175m financing from Sagard. Capital markets transactions are another driver of activity. 
Jeroen Raskin
 is a name to note. 
Bram Delmotte
 joined 
Ashurst LLP
.
Other key lawyers:
Key clients
TUI Airlines Belgium
Dorel Industry Inc.
Brussels Airlines
BNP Paribas Fortis
Tomorrowland
KBC Bank
AVOLON
Equatorial Congo Airlines
Belfius Bank
PMV
WH SelfInvest
ELFC
Citibank
Merit Capital
GEFA
Commaxx International
The '
professional
' team at
Monard Law
 is well known for handling disputes brought by clients from the luxury goods and automotive sectors. Key contacts in the group are the '
very reactive
'
Daan De Jaeger
; corporate expert
Nicole Segers
; '
good communicator
'
Erik Monard
; 
Natalie Ulburghs
, who has expertise in commercial, corporate and financial law matters;
Kristof Zadora
, who is very experienced in IT law; and
Jeroen Raskin
, who handles instructions involving financial matters.
Practice head(s):
Daan De Jaeger; Nicole Segers; Jeroen Raskin; Erik Monard; Natalie Ulburghs; Kristof Zadora
Testimonials
'Erik Monard : Founder, highly experienced professional, able to look from outside the box, entrepreneur, adding an extra dimension to a legal dispute or case, easy to work with'.
'Kristof Zadora : experienced lawyer, young and angry, dedicated to the case and to his customer, never letting go, easy to communicate and work with'.
Key clients
Rolex
D'leteren
Copaco
Suzuki Belgium
Hyundai Belux
Monard Law's 'hands-on and pragmatic approach is a great asset'. The team provides 'prompt and to the point advice' on a range of employment matters, and has notable strength in handling cases with a transnational flavour. Bert Theeuwes ('strong analytical skills and an eye for detail'), Peter Dufaux ('outstanding') and the 'direct' Tom Messiaen are the names to note.
Practice head(s):
Bert Theeuwes; Peter Dufaux; Tom Messiaen
Testimonials
'Bert Theeuwes is very knowledgeable and solutions-oriented'.
Monard Law
's information and communication technology team has particular experience advising Belgian companies on IT contract negotiations, litigation and data protection compliance. Hasselt-based commercial partner
Kristof Zadora
 has particular cloud computing, big data, healthcare and automotive sector expertise, and heads up the team, which includes Ghent-based associate partner
Stephane Criel
, who has notable IT and IP experience. 
Ben Hermans
 moved to
Artes
.
Testimonials
'Monard Law has in-house specialists in various matters and can therefore handle cases involving several branches of law perfectly and with the necessary expertise.'
'IT and Telecoms practice of Monard Law has been set up with small but highly professional teams. When necessary they temporarily add specialists to the team, but they always are in charge of the project.'
'Communication lines are very short and direct. Compared to other firms we see a lot of bureaucracy, no clear system of invoicing. Also they add staff to their teams without the necessary skills and experience.'
'They have a very personal approach and all the necessary knowledge to support an international Healthcare IT company such as ours.'
'The employees at Monard Law are very professional.  This applies both to the content of their files and to the follow-up of these files. The fee calculation is also very transparent.'
'Kristof Zadora is an experienced lawyer, young and dedicated to the case and to his customer. He is easy to communicate and work with, works autonomously and acts is a very pragmatic way.'
'They are always to the point, have great knowledge, are good communicators and fun to work with.'
Key clients
Chili Publish NV
Userfull NV
AZ Jan Palfijn
Locatus BV
ACA IT-SOLUTIONS
Maecenas Group
BergHOFF Worldwide
The Safe Group
COPACO
NORRIQ
SMC
Weblications BVBA
Daltix NV
Bechtle (Direct NV)
U (niversity) Hasselt
Fluvius
BCT Software
Bednet VZW
CDK
Tomorrowlab NV
Joyn
At Monard Law, the team continues to assist Rolex and Rolex Benelux with ongoing copyright and trade mark litigation. Daan De Jaeger leads the group, in which senior associate Willem De Vos is a name to note.
Other key lawyers:
Key clients
Rolex Benelux
Rolex
Suzuki Belgium
Christian Dior
Volkswagen
Audi
Grandeco NV
Luc Linders leads the 'very professional' real estate team at Monard Law. The group is noted for its strength in advising contractor clients on contentious real estate matters, and counts PPP infrastructure projects as a core area of expertise. Development projects have also featured in the department's recent workload. Key contacts include the 'responsive' Stefaan Van Dyck and Benoit Samyn.
Other key lawyers:
Key clients
Democo
Besix
AG Real Estate
Immobel
KBC Bank
Belfius Bank
Tax Tier 4
Monard Law
's tax advisory work to corporate clients covers M&A, demergers, reorganisations, the development of stock option plans and tax rulings. 
Frédéric Lettany
 is an expert in tax issues associated with alternative financing methods, such as crowdfunding and starter funds. The firm also has strong credentials advising private clients; its estate planning team has expertise in inheritance tax issues, succession issues relating to family businesses and acquisitions of foreign real estate. Tax litigation and tax audits form another cornerstone of the firm's work for corporates and individual clients. 
Hilde Van den Keybus
 is the overall head of the practice. 
Christiaan Barbier
 and counsel 
Reinhold Tournicourt
 are also names to note.
Other key lawyers:
Key clients
Hydroko
Indoor Collection
Monard Law >
Firm Profile
The firm: Founded 25 years ago, Monard Law is a leading independent Belgian business law firm, with extensive international business. Monard Law now numbers about 79 lawyers, including 20 partners and eight associate-partners and as such is one of the largest firms in Belgium.
Monard Law is a 'multi niche' firm offering very specialised services in various branches of law. The firm stands for high-quality advice on an international level combined with direct and fast service from four strategic locations in Belgium, whereby the lawyers of different locations act as one team. Monard Law has appointed the first non-lawyer CEO of a leading Belgian business law firm, Karen Braeckmans.
Areas of practice: Monard Law is synonymous with efficient, top-notch, internationally competitive legal services, at local rates.
Providing high-quality legal services requires continuous checking of theory against practice. In order to serve clients efficiently and with in-depth knowledge of the matter at hand, the firm is divided in to several departments according to the various areas of law. Most of the firm's lawyers are experienced litigators. Several of the lawyers are also acknowledged mediators in commercial affairs.
Through diversity and field-focused practice groups, the firm aims to provide the best legal services in all of the different practice areas (banking, finance and capital markets; commercial; corporate; dispute resolution, arbitration, mediation; environment, administrative; fraud, white-collar crime; insolvency; IP, TMT; labour, employment; liability, insurance; medical law; mergers and acquisitions, private equity; PPP; private estates; real estate, contruction; tax and tax litigation; transport law). The practice groups will co-operate to make sure all aspects of the case at hand are treated by experts in their respective practice areas, thus providing clients with concrete and practical solutions covering the entire span of the legal system.
Monard Law believes that each problem and each client deserves hands-on involvement of (at least) one partner of the firm.
The firm handles local and international matters for Belgian as well as foreign clients.
Monard Law is well represented through a network of international law firms with a similar profile. This makes the firm the ideal partner to assist and represent you abroad
Main Contacts
| Department | Name | Email | Telephone |
| --- | --- | --- | --- |
| Banking, finance and capital markets | Birgitta Van Itterbeek | | |
| Banking, finance and capital markets | Bram Delmotte | | |
| Commercial | Nicole Segers | | |
| Commercial | Daan De Jaeger | | |
| Corporate | Natalie Ulburghs | | |
| Corporate | Katrien Vorlat | | |
| Dispute resolution, arbitration, mediation | Erik Monard | | |
| Dispute resolution, arbitration, mediation | Geert Hayen | | |
| Environment, administrative | Koen Geelen | | |
| Environment, administrative | France Vlassembrouck | | |
| Fraud, white-collar crime | Christiaan Barbier | | |
| Fraud, white-collar crime | Pieter Helsen | | |
| Insolvency | Inge De Haes | | |
| IP, TMT (technology, media, telecom) | Daan De Jaeger | | |
| IP, TMT (technology, media, telecom) | Ben Hermans | | |
| Labour, employment | Tom Messiaen | | |
| Labour, employment | Peter Dufaux | | |
| Liability, insurance | Koen Geelen | | |
| Liability, insurance | Birgitta Van Itterbeek | | |
| Mergers and acquisitions, private equity | Natalie Ulburghs | | |
| Mergers and acquisitions, private equity | Katrien Vorlat | | |
| PPP | Benoit Samyn | | |
| PPP | Stefaan Van Dijck | | |
| PPP | France Vlassembrouck | | |
| Private estates | Geert Hayen | | |
| Private estates | Hilde Van den Keybus | | |
| Real estate, construction | Luc Linders | | |
| Real estate, construction | Gregory Grouwels | | |
| Tax and tax litigation | Christiaan Barbier | | |
| Tax and tax litigation | Frederic Lettany | | |
| Transport | Birgitta Van Itterbeek | | |
| Tax and tax litigation | Pieter Van Den Berghe | | |
Staff Figures
Number of lawyers : 96
Languages
Dutch English French German
Other
Other offices : Antwerp Other offices : Ghent Other offices : Hasselt Other offices : Lommel
Top Tier Firm Rankings
Firm Rankings