Firm Profile > GOLAW > Kiev, Ukraine
GOLAW
Offices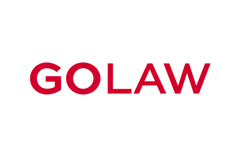 GOLAW
19B INSTYTUTSKA STREET
SUITE 29
01021 KIEV
Ukraine
GOLAW > The Legal 500
Rankings
GOLAW >
Firm Profile
The firm: GOLAW is one of the leading Ukrainian full-service law firms. The firm was founded in 2003 and currently has offices in Kyiv (Ukraine) and Berlin (Germany). The lawyers of the firm are widely recognised for their skills and extensive expertise. GOLAW's team focuses on efficiently resolving issues facing the clients, communicating effectively on their behalf, assisting them in navigating the nuances of Ukrainian law, and avoiding costly legal traps.
The client portfolio of the firm includes large and medium-sized, national and foreign companies, banks and financial institutions, as well as private investors doing business in Ukraine or entering local markets.
GOLAW provides sophisticated legal advice and reliable legal assistance in all major sectors, including agribusiness, retail and FMCG, healthcare and pharmaceuticals, financial services, energy and natural resources, transportation and infrastructure, internet technology, and real estate.
Areas of practice: GOLAW developed a top-tier tax practice which includes issues concerning tax functioning in Ukraine, strategic advice on tax planning, tax and fiscal controls, as well as professional contacts with the tax authorities at all levels.
The firm represents its clients in dispute resolution and litigation in general, economic and administrative courts of all levels, along with support for international commercial disputes. The deep expertise in white-collar defence and investigations allows GOLAW attorneys to successfully represent clients in criminal legal proceedings, advising them on the wider commercial, regulatory and image implications when there are allegations of fraud or corruption.
GOLAW professionals advise clients across the broad spectrum of corporate work including M&A, joint ventures and corporate restructuring, as well as general commercial, antitrust and corporate governance issues. The effective combination of transactional skills combined with unique expertise including antitrust, employment, environmental, intellectual property and taxation, enables the firm to handle the issues that can arise from any single corporate transaction.
In banking and finance, the firm successfully represents clients regardless of whether it is a trade, export, finance deal, M&A, or any other financial project; it also provides advice on civil, banking and currency laws. The firm is a leader in representing financial services institutions in contentious insolvency and regulatory matters.
The firm's team of lawyers utilises unrivalled local knowledge of the demands of operating in increasingly international and volatile markets, with a deep understanding of the issues impacting the energy and natural resources sectors. Clients of the firm are involved in commodities, power, oil and gas, nuclear, mining, metals and minerals, renewable and clean-technology energy industries.
GOLAW covers the full range of labour and employment matters, including: whistleblower litigation, labour-management relations, benefits, collective agreements, and employment of foreign citizens.
Main Contacts
| Department | Name | Email | Telephone |
| --- | --- | --- | --- |
| Tax | Valentyn Gvozdiy | | |
| Tax | Iryna Kalnytska | | |
| Litigation and dispute resolution | Kateryna Manoylenko | | |
| Compliance, corporate governance and risk management | Valentyn Gvozdiy | | |
| Compliance, corporate governance and risk management | Iryna Kalnytska | | |
| Corporate and M&A | Sergiy Oberkovych | | |
| Corporate and M&A | Max Lebedev | | |
| Banking and finance | Sergiy Oberkovych | | |
| Banking and finance | Valentyn Gvozdiy | | |
| Energy and resources | Sergiy Oberkovych | | |
| Energy and resources | Max Lebedev | | |
| Energy and resources | Taras Lytovchenko | | |
| Labour and employment | Kateryna Manoylenko | | |
| Labour and employment | Kateryna Tsvetkova | | |
| Restructuring and insolvency | Valentyn Gvozdiy | | |
| Restructuring and insolvency | Kateryna Manoylenko | | |
| White-collar crime | Angelika Sitsko | | |
| White-collar crime | Igor Glushko | | |
| Government relations | Valentyn Gvozdiy | | |
| Government relations | Sergiy Oberkovych | | |
Staff Figures
Number of lawyers : 49
Languages
English German Russian Ukrainian
Memberships
International Bar Association (IBA) European Business Association (EBA) International Fiscal Association (IFA) American Chamber of Commerce (ACC) Global Criminal Law Counsel (GCLC) German Federal Bar Association International Compliance Association (ICA) Ukrainian National Bar Association (UNBA) Ukrainian American Bar Association (UABA) Deutsch-Ukrainische Industrie- und Handelskammer
Other
Other offices : Berlin Other offices : Odesa
Diversity/Community
Diversity:
In the age of globalisation, it is highly important not just to understand the social changes happening around us right now, but to accept their meaning, integrating the core ideas into our own lives. In GOLAW we believe that providing a policy of diversity and inclusion in our firm we bring social value both to our internal community and to the lives of those people we are working with every day.
GOLAW is an equal opportunity employer. We hire people regardless their age, gender, sexual orientation, race, ethnical and cultural background or religion. We do believe that providing a policy of diversity and inclusion we created a flexible environment where all employees can feel themselves as a part of the whole community. We created an environment of mutual respect, where people are valued for their professional knowledge rather not their social status or nationality.
We know that diversity unites, and we believe that we all can make a change in our lives understanding this simple but essential idea.
CSR
Business and society are interconnected, and nowadays the mutual impact of both institutions cannot be underestimated. In GOLAW we know that to become a reliable and successful firm it's not enough to make financial profit. Today businesses should act in compliance with laws, ethical requirements, international standards and social needs.
GOLAW implements several projects each year to support the wellbeing of the local communities in different ways.
In 2019 the firm published a children's book named 'Who is a Lawyer?" devoted to the popularisation of the profession of lawyers on the one hand, and aimed to educate the youngest citizens of our country on the other. In simple words and through the funny stories this book tells children why this is so important to live in a country where the rule of law is an integral part of a modern democratic society, where human rights are always on the first place. Moreover, the book gives children an insight into how Ukrainian government works, what is law in general, what kind of rights children have, and what is the difference among attorneys, judges, prosecutors and other legal professions.
In GOLAW we do believe that today people in various countries are experiencing quite fundamental and, sometimes, psychologically exhausting changes of political regimes and movements, which influence people's lives, and Ukraine is no exception. Thus, we hope that our book is a great investment into the future of the next generations who will live a more peaceful life in a peaceful world.
Some of the money raised from the book sales will be donated to charity.
In the past years the GOLAW team planted trees in front of the Taras Shevchenko National University of Kyiv. The first faculty of law in Ukraine was opened at this university in 1834 and today, in 2018, there are more than 160 universities in Ukraine where people can study law. Thus, our goal was not only to enhance environmental awareness in society, but also to show that over the years young trees can give us a shadow of tall trees as well as one new idea can bring us to social progress.
Beside that, our firm has sponsored IV Italia Festival Barocco in Kyiv to promote musical culture.
Thus, CSR is one of the core ideas of GOLAW and we always put our responsibility to society in the first place.
Pro bono
GOLAW is proud to provide pro bono services to those who need it. We are committed to provide the highest quality legal assistance to all our clients regardless their financial capabilities. Justice in modern society is more than necessity: modern society just cannot exist without justice, and in GOLAW we do our best to understand the needs of the local communities we can help with.
Client Testimonials
CLIENT: Ruben Oganyan, Head of credit risk department

COMPANY/FIRM: ProCredit Bank

TESTIMONIAL: We highly appreciate professional legal assistance from GOLAW on supporting our bank as a lender in Ukraine. The firm is an ideal option for clients seeking advice on complex multi-jurisdictional transactions including syndicated lending and project finance transactions. They are extremely business-focused and solution-driven. It's easy to work with the team as they listen to clients' needs. The personal touch they have is beyond other firms.
---
CLIENT: Neil Rutherford, Project Development Director

COMPANY/FIRM: Khmelnytsky Bio Power Plant (KBPP)

TESTIMONIAL: Since engaging GOLAW as our legal advisors, we have received an exceptionally high level and quality of legal services relating to the full range of issues associated with the development of a large biomass power plant. These services initially comprised full analysis and advice on all aspects of the business and legal issues regarding the establishment of the project. Then during the subsequent development of the project, GOLAW's continuing advice and support was critical to its success. The services provided were of the very highest quality and always delivered quickly and efficiently. GOLAW always provided positive solutions to potential problems.
---
CLIENT: Bulent Temel, Country General Director 

COMPANY/FIRM: Fiba Retail Ukraine 

TESTIMONIAL: We have been using services of GOLAW for our various legal needs already for more than 7 years. With the leadership of Valentin Gvozdiy and Sergiy Oberkovych, GOLAW houses a very powerful and proficient lawyer team working in various fields, who are ready to grasp your needs and provide solutions. We as Fiba Retail, with the two worldwide brands that we are representing in Ukraine (Marks & Spencer and GAP), have enough evidence to say that working with GOLAW has been working out for us in all legal components of support we have received, and I can comfortably say that we are a satisfied customer.
---
CLIENT: Artem Zubok, Finance Director 

COMPANY/FIRM: Red Bull Ukraine 

TESTIMONIAL: We have been working with GOLAW for a long time and can certainly affirm its reputation of reliable and responsible partner in any legal and tax issues. The firm's personnel is highly professional and client-oriented. All the requests are addressed in a smart and professional way with quick and to-the-point feedbacks. The in-depth knowledge and vast experience of GOLAW professionals meets the highest level of expectation of our company. The firm is also flexible in fees and tariffs.
---
CLIENT: Galina Kocendová, Recovery Department

COMPANY/FIRM: Export Gurantee and Insurance Corporation (EGAP)

TESTIMONIAL: EGAP as a credit insurance corporation insuring credits connected with exports of goods and services from the Czech Republic against political and commercial risks has been co-operating with GOLAW for many years. Starting from the year of 2015 we have been co-operating very intensely. We really appreciate their progressive approach to solving complex legal issues of claims recovery in Ukraine. We have profited from GOLAW's attorneys ability to select and follow a winning strategy and from their business oriented approach. As a result of this approach our insured bank foreclosed upon an asset that has been nearly lost due to unlawful action of the debtor and is close to substantial recovery.
Press Releases
GOLAW has been recommended by international legal guide IFLR1000 (International Financial Law Review) in the following practice areas: Banking and finance, Merges and Acquisitions (M&A), Project development, Restructuring and insolvency.
GOLAW Managing Partner, attorney at law, Valentyn Gvozdiy elected as the Head of the Supervisory Board at Ukrhydroenergo PJSC.
GOLAW Law Firm has successfully defended the interests of a judge of Kyiv Economic Court in the High Council of Justice.
According to the results of the annual research "Ukrainian Law firms in 2019", GOLAW has been recognised in the several legal practices and economic sectors as one of the leading Ukrainian law firms.
State of implementation of the new electricity market and readiness of the Regulator and market participants for the new regime of state support for renewable energy projects - these were the main topics discussed by the TOP market experts during the interview at the "Hardtalk: Renewables in Details" event on March 28 in Kyiv.
The organizers of the event -A7 CONFERENCES and GOLAW. 
GOLAW has successfully represented the interests one of the largest agricultural companies in Ukraine
GOLAW has successfully represented the interests of one of the largest companies of the agrarian sector in Ukraine in a dispute with the tax authority over recognition as unlawful and cancellation of the tax notice decisions for more than 16 million hryvnas.
GOLAW has been ranked No. 7 Law Firm in Ukraine according to the 50 Leading Law Firms annual rating published on 4 December 2018 by Legal Practice periodical.
«The core value of GOLAW is our Clients. I am grateful to each of them for awarding us their trust and challenging projects, for allowing our team to continuously demonstrate the power of legal excellence during all these years.»
Valentyn Gvozdiy,
Managing Partner
GOLAW has been recommended by international legal guide IFLR1000 (International Financial Law Review) in the next practices:
-Banking and finance;
-Merges and Acquisitions (M&A). 
On November 26 in Prague, a large-scale business Forum "Ukraine we want you to know", gathered about 100 representatives of large and medium-sized Czech business and government institutions. The main topic of the event was a discussion of the investment attractiveness of Ukraine and the positive changes that are currently taking place in the country and promoting the attraction of foreign business. The event was organized by the Chamber of Commerce and Industry of the Czech Republic in cooperation with the Embassy of Ukraine in the Czech Republic, with the support of GOLAW law firm.
GOLAW Partners have been highly recognised by international legal research program Who Іs Who Legal (WWL) in the field of Corporate Tax. Among them – Managing Partner Valentyn Gvozdiy (Corporate Tax: Controversy), Senior Partner Sergiy Oberkovych (Corporate Tax: Advisory) and Partner Iryna Kalnytska (Corporate Tax: Advisory).
GOLAW, an international law firm with offices in Ukraine and Germany, announces Kateryna Manoylenko, Iryna Kalnytska and Igor Glushko as new partners at the firm.
GOLAW, an international law firm with offices in Ukraine and Germany, announces Kateryna Manoylenko, Iryna Kalnytska and Igor Glushko as new partners at the firm.
GOLAW has successfully defended the interests of Ukrsotsbank, one of the largest banks in Ukraine, in a credit dispute over the obligations under a surety agreement.
According to the annual research "Ukrainian Law firms in 2018", GOLAW has been recognised in 13 practices, while lawyers of the firm have been named as the notable practitioners in several fields of law. Among them - Managing Partner Valentyn Gvozdiy (Tax and Transfer Pricing, Litigation), Senior Partner Sergiy Oberkovych (Energy & Natural Resources), Partner Angelika Moisieieva and Counsel Igor Glushko (Criminal Law / White-Collar Crime). 
GOLAW lawyers have been recognised as the leading professionals in several practices and included in the Ninth Edition of The Best Lawyers in Ukraine 2019. 
On May 16, GOLAW became a finalist of the Legal Award 2018 in three nominations (the best law firm in the field of taxation, business defence and criminal law) and received a prestigious award "The Law firm of the year in Business defence».
We are pleased to announce that GOLAW has successfully defended the interests of one of the largest Ukrainian alcoholic beverage manufacturers Galicia Distillery in a tax dispute regarding the recognition of the tax notification-decisions amounting to about $500 thousand as illegal and its subsequent abolition.
GOLAW announces the appointment of its employees to the new key positions: Max Lebedev became a Partner at the Firm, and Iryna Kalnytska, Kateryna Manoylenko, Anatoli Grabovy, and Igor Glushko became Counsels to the Firm. 
"The GOLAW clients are our greatest value. The GOLAW team consists of real professionals, and we are confident that the new personnel changes are our investment in the future of the Firm and a guarantee of the further provision of highest quality services."
- Valentyn Gvozdiy, Managing Partner at GOLAW
According to the annual research program "50 leading law firms of Ukraine" in 2019, GOLAW has been recognized among the
TOP-10 market leaders
and ranked No. 7.
Legal Developments
One of the biggest fear for a creditor in providing financing is a possible default with zero perspectives to recover damages. On the international arena until recently Ukraine has been known as a high-risk country that precludes foreign investment flows. However, the situation has changed substantially over the past few years.  
For many international companies, it is a common practice to allow the use of their trademarks (TM) to all group companies on a free of charge basis. Some parent companies do not even have a right to charge the royalty payments from their subsidiaries, as this contradicts the company's policy. In the case of subsidiaries located in the territory of Ukraine, such a situation suits everyone, at first glance, because royalties do not have to be paid at all. 
Perhaps the hottest topic in the energy sector at the end of 2018 and early this year is the discussion of changes to the approaches of providing state support for electric power producers from renewable sources. The main idea of the change is that, starting from 2020, new players of the RES market will be subject to a new incentive system - "auctions" instead of the "green" tariff. 
A power purchase agreement or PPA is one of the core documents needed for the purchase of electricity produced by a power plant.
Strong oversight of corporate security and risk-taking is surely one of the most critical component of companies' management process. We are no longer talking about whether or not boards should implement corporate governance and compliance policies: in the current climate we are grappling with the issue of all-round companies' protection, which raises a much more meaningful set of questions.
Officials of the company according to the new Law on LLC shall bear joint and several and in some cases – subsidiary liability to the company.
Following the strategy of the Government to improve the doing business climate in Ukraine, Parliament adopted the Law of Ukraine "On Amendments to Certain Legislative Acts of Ukraine Concerning Elimination of Barriers for Foreign Investments Attraction" dated May 23, 2017 (hereinafter – "the Law"), which came into force on September 27, 2017.  The Law with such an expressive name should have definitely removed the barriers for employment of foreigners, but what have we actually received? Putting the cart before the horse, the Law really significantly changed the procedure of obtaining work permits (hereinafter – "the Permit") facilitating it essentially from the one hand, but introducing some questionable conditions from the other.
The Verkhovna Rada registered a draft law on the Code of Bankruptcy Procedure (No. 8060). Among other things, it is noted that such a document will increase the efficiency of bankruptcy procedures, the level of protection of the rights of creditors, improve the procedures for selling debtor property at the auction, increase the level of execution of contracts and court decisions. However, does the text of the document correspond to the stated purpose? 
Over the last few months before January 2018, when the latest changes to the power purchase agreements (PPAs) between State Enterprise "Energorynok" and producers of energy from alternative sources were adopted, more than ten agreements were signed with upgraded conditions set earlier in 2017. In the mentioned agreements, the changes to the PPAs were applied and helped bring Ukraine's PPAs closer to international standards. Nevertheless, the revised PPAs still have a lot of issues that need to be clarified and further elaborated to make them perfectly bankable, and to make them properly executable.
A mortgage has always been one of the most common and safe ways to secure an obligation. The popularity of a mortgage is explained by the fact that creditors believe the risks of losing real estate are minimal and therefore it can always be foreclosed. At the same time, unscrupulous borrowers and mortgagors are coming up with more sophisticated ways to avoid liability for failure to return funds which are not always managed by legislation and case law. In this article we will look at 5 difficulties that banks often face when applying for a mortgage, and explain how to avoid them.
More than one year ago Ukrainian business has been granted a wide variety of flexible instruments for corporate governance, established by the Law of Ukraine "On limited and additional liability companies" (hereinafter referred to as "the Law").
The degree of tension, inherent to labor disputes, rises when terminating the employment contract with the chief executing officer, commercial or financial director, as well as another employee making management decisions. Let's consider the most popular grounds for the executive officer termination of employment according to the norms of the Labor Code of Ukraine.
Top Tier Firm Rankings
Firm Rankings