Mahasti Razavi > August Debouzy > Paris, France > Lawyer Profile
August Debouzy
Offices
August Debouzy
6-8, AVENUE DE MESSINE
75008 PARIS
France
Mahasti Razavi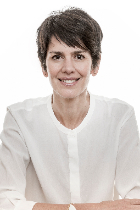 Work Department
Technologie Media Propriété intellectuelle
Position
Associé gérant
Career
Mahasti Razavi, avocat associé d'August Debouzy, membre des Barreaux de Paris et de New York, intervient sur des questions liées aux technologies de l'information et dans la mise en œuvre de partenariats stratégiques pour des entreprises françaises et étrangères. Elle dirige une équipe comprenant plus de 25 avocats, dont 6 associés. Parmi ses récents projets, Mahasti Razavi est intervenue sur la mise en œuvre et la négociation de projets majeurs de transformation digitale de groupes internationaux aux côtés des directions juridiques, digitales, informatiques et financières. Après avoir enseigné plusieurs années à l'Institut d'études politique de Paris (IEP) et à l'École de Formation du Barreau de Paris (EFB), Mahasti anime de nombreuses conférences auprès des entreprises sur des thèmes tels que l'intelligence artificielle, la blockchain, la contractualisation des grands projets digitaux, le traitement du risque contentieux en découlant et les mutations des métiers du droit. Parmi ses récents écrits on notera « La France ou le nouveau paradis de la Blockchain », « Un droit des robots pour bientôt », « Cloud computing : vers de nouveaux horizons dans le monde des nuages ». Mahasti est également intervenue lors de la dernière Cité de la Réussite sur le sujet de l'intelligence artificielle. Elle a été nommée Associé-Gérant d'August Debouzy le 1er janvier 2018.
Languages
Français, anglais, persan
Memberships
Admission au barreau de Paris en 1994 et de New York en 1996
Education
– LLM en droit international, New York University School of law, 1995
– DEA en droit Anglo-Américain des Affaires, Université de Paris I-Panthéon Sorbonne, 1993
– DEA en droit des affaires et droit économique Université Paris II-Panthéon Sorbonne, 1992
Lawyer Rankings
France > Industry focus > Industry focus: Luxury goods
August Debouzy has a strong presence in the retail sector and fields a cross-disciplinary team to advise a top-notch client roster on intellectual property, IT, corporate, real estate and employment law, among other matters. The six-partner team includes managing partner Mahasti Razavi and counsel Véronique Dahan, who continues to lead the advice to clients such as jewellery company Repossi and Valentino regarding the protection of their brands and designs. In other highlights, Razavi teamed up with Florence Chafiol and distribution expert Alexandra Berg-Moussa – who was recently promoted to partner – to advise a high-profile luxury brand on the negotiation of a complex global partnership with an online fashion platform, as well as its compliance with GDPR obligations. Associates Noémie Tashjian and Laure Arnon-Duquesnoy are also key names to note within the practice.
France > Intellectual property > Intellectual property: copyright
The 'technically excellent and very responsive' intellectual property team at August Debouzy is noted for its 'outstanding industry knowledge and huge strength in depth'. Clients highly recommend 'superb litigator' and counsel Véronique Dahan for her 'excellent client management skills' and 'outstanding commercial lawyer' Mahasti Razavi, who 'has a good sense of what clients need'. The team was recently strengthened by the arrival of Basile Ader and counsel Amélie Tripet from Cabinet d'Avocats Ader Jolibois; the pair recently acted for a wide range of clients on contentious copyright infringement and parasitism claims as well as the negotiation of licensing agreements. In recent highlights, the Academy of Motion Picture Arts and Sciences instructed the group to handle its claim against L'Oscar Café, which allegedly reproduces the "Oscar" logo and statuette without authorisation. Other key clients include Marlau Editions, Première Media and Edition Pierre Chareau.
France > Industry focus > Industry focus: IT, telecoms and the internet
Within: Leading individuals: IT
-
Set apart by its 'can-do attitude and ability to think outside of the box and be innovative', August Debouzy has 'all the US and Anglo-Saxon expertise that is required for even the most sophisticated international clients'. The technology and IT team 'stands out as particularly effective and competent' through its 'first-rate client support and engagement'. Clients such as Veolia and Costco recently appointed the firm to advise on GDPR compliance, while Philip Morris instructed Florence Chafiol's team to remove a number of illicit websites selling tobacco products in France. 'Thoroughly excellent' practice co-head Mahasti Razavi has 'great intellect' and 'the rare ability to address complex issues with practical and effective solutions'; she continues to assist Microsoft with all of its IT needs in France, including litigation, transactional and advisory matters. Counsel Nicolas Quoy recently joined the firm from an in-house position at Hewlett Packard, and Anne-Sophie Lampe was promoted to counsel.
France > EU, competition and distribution
The practitioners at August Debouzy are 'very international and highly regarded by their peers'. The 'very responsive, smart and business-oriented' team is jointly headed by Mahasti Razavi, Florence Chafiol and Alexandra Berg-Moussa, who was recently promoted to partner. The group continues to advise Costco on the launch of its activities in France, and senior associate Barbara Nouri is part of the team assisting a number of luxury brands with their distribution and commercial agreements, including contracts pertaining to selective distribution networks. Counsel Renaud Christol is also a name to note.
Paris > Secteurs et industries > Technologies de l'information, informatique, internet et télécoms
Within: Les grands avocats du marché: IT
-
L'équipe d'August Debouzy se démarque par 'son volontarisme et sa capacité à penser en dehors des sentiers battus'. Le cabinet abrite 'l'ensemble des expertises nécessaires, y compris des compétences anglo-saxonnes, pour satisfaire les clients internationaux les plus sophistiqués'. Les avocats sont 'particulièrement efficaces et compétents' et fournissent 'un superbe engagement et des prestations de première qualité'. Les clients, dont Veolia et Costco, ont récemment fait appel à l'expertise du cabinet pour traiter leurs questions de conformité au règlement RGPD. Florence Chafiol a été sollicitée par Philip Morris pour l'assister dans le retrait de plusieurs sites internet illicites proposant du tabac à la vente en France. 'L'excellente' Mahasti Razavi, qui codirige la pratique, s'illustre par 'un grand intellect' et une 'rare aptitude à répondre à des questions complexes par des solutions pratiques et efficaces'. Elle assiste Microsoft pour la gestion de ses problématiques juridiques dans le domaine des nouvelles technologies en France, en conseil comme en contentieux. L'équipe compte également dans ses rangs les counsels: Nicolas Quoy qui a rejoint le cabinet en provenance de Hewlett Packard, et Anne-Sophie Lampe qui a été récemment promue à ce titre.
Paris > Droit européen, concurrence et distribution
L'équipe d'August Debouzy est constituée de 'membres ayant un profil très international et qui sont respectés de leurs confrères'. 'Très réactive, perspicace et pragmatique', l'équipe est codirigée par Mahasti Razavi, Florence Chafiol et Alexandra Berg-Moussa qui a été promue associée. Le cabinet accompagne Costco dans le cadre du lancement de ses opérations en France. L'équipe, au sein de laquelle intervient aussi la collaboratrice senior Barbara Nouri, conseille de nombreuses marques de luxe dans leurs problématiques de distribution et d'accords commerciaux, notamment pour leurs questions de réseaux de distribution collective. Renaud Christol (counsel) est également un membre important dans le dispositif de la pratique.
Paris > Propriété intellectuelle > Droits d'auteur
L'équipe de droit de la propriété intellectuelle d'August Debouzy est 'techniquement excellente et très réactive'. Elle se démarque par 'sa remarquable connaissance de la matière et sa profondeur d'expertise'. Sont recommandées: Véronique Dahan (counsel), une 'superbe avocate de contentieux' qui 'prend excellemment soin de ses clients'; et Mahasti Razavi, une 'remarquable avocate en matière de droit commercial' qui 'a un sens inné pour comprendre les attentes de ses clients'. La pratique peut aussi compter sur les expertises des deux nouvelles recrues Basile Ader et Amélie Tripet (counsel) en provenance de feu le cabinet Ader Jolibois. Ensemble, ils ont récemment géré plusieurs procédures sur les fondements du parasitisme et de la violation des droits d'auteur. Ils ont aussi conseillé leurs clients dans la négociation d'accords de licence. Le cabinet a récemment représenté l'Academy of Motion Picture Arts and Sciences dans un litige avec L'Oscar Café consécutivement à la reproduction du logo et de la statuette des Oscar sans autorisation de son client. Marlau Editions, Première Media et Edition Pierre Chareau sont clients.
Paris > Secteurs et industries > Luxe
August Debouzy déploie un large ensemble d'expertises, couvrant notamment le droit de la propriété intellectuelle et des nouvelles technologies, l'immobilier et le droit social, au service d'une clientèle haute de gamme. Six associés sont particulièrement impliqués dans la pratique, notamment Mahasti Razavi, qui est à la tête du cabinet, et Véronique Dahan (counsel) qui ensemble conseillent notamment Valentino et le joaillier italien Repossi pour la protection de leurs marques et modèles. Mahasti Razavi a également agi de concert avec Florence Chafiol et la spécialiste du droit de la distribution Alexandra Berg-Moussa – qui a récemment été faite associée – pour accompagner une grande marque de luxe dans la négociation d'un partenariat mondial avec une plateforme en ligne, ainsi que sur la gestion de problématiques de conformité, notamment de données personnelles et de GRPD. Les collaboratrices Noémie Tashjian et Laure Arnon-Duquesnoy sont également recommandées.
Lawyer Rankings
Top Tier Firm Rankings
Firm Rankings