Prof Dr Stefan Hertwig > CBH Rechtsanwälte > Cologne, Germany > Lawyer Profile
CBH Rechtsanwälte
Offices
CBH Rechtsanwälte
Habsburgerring 24
50674 COLOGNE
Germany
Prof Dr Stefan Hertwig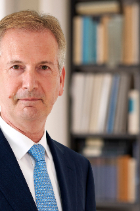 Work Department
Public Sector & Public Procurement
Position
Attorney at Law | Partner
Bar-Certified Specialist for Public Procurement Law
and Administrative Law
Career
Prof. Dr. Stefan Hertwig ist auf das Gebiet des öffentlichen Wirtschaftsrechts spezialisiert, mit besonderen Schwerpunkten im Vergaberecht und im europäischen Beihilferecht. Laut Fachmagazin JUVE gehört er zu den "führenden Namen im Vergaberecht". Von Bundesminister Dr. Ramsauer wurde er im Jahre 2013 in die Reformkommission Großprojekte berufen.
Die unter seiner Leitung stehende Praxisgruppeberät die öffentliche Hand und öffentliche Unternehmen im Rahmen von Umstrukturierungen, bei Privatisierungen und in komplexen Vergabeverfahren zur Erteilung von Aufträgen oder Konzessionen. Darüber hinaus ist Prof. Dr. Hertwig forensisch tätig und vertritt z.B. öffentliche Auftraggeber und Bieter in Nachprüfungsverfahren oder verteidigt Zuwendungsempfänger gegen Rückforderungen.
Prof. Dr. Stefan Hertwig ist Fachanwalt sowohl für Vergaberecht, Verwaltungsrecht als auch für Bau-und Architektenrecht und Honorarprofessor der Heinrich-Heine-Universität Düsseldorf. Prof. Dr. Stefan Hertwig studierte von 1976 bis 1980 Rechtswissenschaften in München, Genf und Paris. Nach Promotion und Stationen im Bundesfinanzministerium und als Richter am Landgericht wurde er 1989 in Köln als Rechtsanwalt zugelassen. Er spricht Deutsch, Englisch und Französisch.
Prof. Dr. Stefan Hertwig istVorsitzender des Vorprüfungsausschusses der Rechtsanwaltskammer Köln für die Verleihung der Fachanwaltsbezeichnung "Vergaberecht".
Lawyer Rankings
Das Team von CBH Rechtsanwälte wird vom Dreigespann Stefan Hertwig in Berlin und den Kölner Partnern Andreas Haupt und Jan Deuster  geleitet. Zum Mandantenportfolio gehören Bundesämter, Stadtwerke, Forschungsinstitute, Rüstungsunternehmen sowie Bau- und Immobilienunternehmen, die die Praxis umfassend bei nationalen und europaweiten Ausschreibungen, im Rahmen von Bieterstrategien bei der Angebotserstellung sowie in Nachprüfungsverfahren unterstützt. Auch zum Thema Public Private Partnership und zur Beteiligung von öffentlichen Unternehmen an Vergabeverfahren kann das Team auf Expertise und Erfahrung zurückgreifen, während die Tätigkeit der Praxis im ÖPNV-Bereich weiter ausgebaut wurde; hier ist insbesondere Deuster aktiv.
The team at CBH Rechtsanwälte is jointly led by Stefan Hertwig in Berlin and Cologne partners Andreas Haupt and Jan Deuster. The client portfolio includes federal offices, municipal utilities, research institutes, armaments companies as well as construction and real estate companies, which the practice advises comprehensively on national and Europe-wide tenders, in the context of bidder strategies on the preparation of offers as well as in review procedures. The team can also draw on expertise and experience in public-private partnerships as well as in the participation of public companies in procurement procedures, while the practice, particularly Deuster, has also been increasingly active in the public transport sector.
Lawyer Rankings
Top Tier Firm Rankings
Firm Rankings