Deloitte Legal ehf. > Kopavogur, Iceland > Firm Profile
Deloitte Legal ehf.
Offices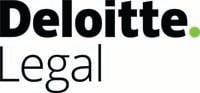 Deloitte Legal ehf.
SMARATORG 3
201 KOPAVOGUR
Iceland
Deloitte Legal ehf. > The Legal 500
Rankings
Deloitte Legal ehf.
acts for a roster of clients on a broad range of mandates, including M&A transactions, corporate structuring issues, listing processes and joint venture matters. The team is well placed to leverage the firm's global network, as well as its tax, audit and financial advisory services. Managing partner
Haraldur Ingi Birgisson
 leads the practice group alongside
Guðbjörg Þorsteinsdóttir
, while
Hallmundur Albertsson
recently joined from
Vik Law Firm
, following the departure of 
Bjarni Þór Bjarnason
in mid-2021 to
ADVEL Attorneys at Law
.
Practice head(s):
Haraldur Ingi Birgisson; Guðbjörg Þorsteinsdóttir
Key clients
Solid Clouds
SalesCloud Partners LLC
Nordic Visitor
Marine Collagen
Nadsaq Iceland
Klakki
NH Fjarfesting
Hey Iceland
ÍSAM
Myrkur Games
Eykt
Airport Associates
Steypustodin
Colas Ísland
ÍSAM / ÓJ&K
Hofdi Icelandic Adventures
Work highlights
Advising Solid Clouds on its First North listing process, with the client being the first gaming company in Iceland to be listed.
Advising on the merger and restructuring of ISAM and OJ&K's wholesale operation into a new joint venture for wholesale and distribution operations.
Deloitte Legal ehf. >
Firm Profile
The firm: Deloitte member firms have a long standing reputation for helping clients to address complex, cross-border issues. Skilled and experienced Deloitte Legal* lawyers work together with other Deloitte professionals in tax, consulting and financial advisory to guide their clients through projects in a co-ordinated way around the world. Deloitte Legal, present in over 80 countries, is able to provide holistic guidance around strategic business decisions as well as offer support services that can increase efficiency and reduce the cost of some routine legal activities.
Deloitte ehf. Iceland is part of the Deloitte Legal network. The practice became a member of the network in 1994 and is originally based on the operation of four firmly established auditing firms, the oldest being founded in 1952. Since its foundation, the firm's emphasis has been on providing clients with expert advice in the fields of tax and corporate law, and in recent years it has gradually built eminence in other legal services.
Originally the practice was led by Arni Hardason, who is currently general counsel of leading Icelandic pharmaceutical company, Alvogen. In 2005, the practice was led by David Gudmundsson, a partner at the Icelandic law firm OPUS Legal Services, and Pall Johannesson, former deputy head of tax at Kaupthing Bank. In 2007, the practice merged with the law firm Taxis Attorneys which added to the team the knowledge and expertise of Vala Valtysdottir, a former head of the VAT office at the Icelandic Directorate of Internal Revenue with over 25 years of experience in corporate and tax law, and senior partner Gardar Valdimarsson, Supreme Court attorney and former director of internal revenue in Iceland. From 2017 the practice has been led by Bjarni Thor Bjarnason.
The interplay between the firm's services offerings and of other Deloitte advisors enables it to provide clients with comprehensive solutions, setting the practice apart from other firms in Iceland. Its membership in the Deloitte Legal Network also provides the practice with access to extensive resources and has increased the knowledge and capability of its employees. Its membership also places obligations on the firm to fulfill numerous quality requirements and adhere to disciplined procedures, for the benefit of its clients.
Areas of practice
Commercial law solutions: companies are facing an increasing number of business challenges globally including more rigorous regulations and enforcement by local authorities in the countries where they operate. As experienced advisers with a practical focus Deloitte Legal* can help clients meet these challenges and develop commercial solutions. The firm offers a broad base of commercial business law services in multiple jurisdictions. Its experience and global reach allow it to provide businesses facing complex legal regulations and challenges with personalised, tailor-made services.
Corporate and mergers and acquisitions services: Deloitte Legal* provides a full range of corporate law services from complex advisory services related to major business life events (including advising in restructuring and mergers and acquisitions processes) through to general secretarial services.
Employment and pension solutions: turbulent economic times require companies to be agile and flexible in their staffing to remain competitive. Complex polices, frequent legislative changes and global operations make managing employee relations and compliance with employment law challenging for businesses. Deloitte Legal* provides businesses with the advice they need to make informed decisions and comply with a multitude of regulatory and procedural requirements.
Legal management consulting (LMC): this is a new approach and a new discipline, developed for lawyers by lawyers in co-operation with other relevant experts. With this collection of models, frameworks, and systems, Deloitte Legal* helps in-house lawyers run their departments more efficiently and meet the needs of their business more comprehensively.
Banking, finance and capital markets: Deloitte Legal's partners and managers are renowned for their expertise in the area of banking and international finance law, as well as regulatory regime. They have acted for lenders or borrowers on a number of complicated financing transactions. Their experience is mainly in project finance, asset finance, structured finance, restructuring work, etc.
Real estate: Deloitte Legal has developed a practice which is able to respond to all kinds of legal matters in the real estate area. Deloitte's experts focus on investment perspectives regarding acquisition development and construction. Deloitte's lawyers provide advice and assistance in transactions with regards to real estate property, financing of projects and establishing mortgages.
Consumer protections: Deloitte Legal is able to propose up-to-date solutions complying with dynamic consumer protection legislation. Deloitte's lawyers have valuable experience in applying all requirements and mandatory procedures under the Bulgarian Consumer Protection Act, including requirements for labelling, marking, presentation of products, mandatory packaging requirements, etc.
*Deloitte Legal means the legal practices of Deloitte Touche Tohmatsu Limited member firm affiliates that provide legal services. For legal and regulatory reasons, not all member firms provide legal services.
Main Contacts
| Department | Name | Email | Telephone |
| --- | --- | --- | --- |
| Commercial | Haraldur I. Birgisson | | |
| Commercial | Hallmundur Albertsson | | |
| Corporate/M&A | Gudbjorg Thorsteinsdottir | | |
| Corporate/M&A | Thordis Bjarnadottir | | |
| Tax controversy | Gudbjorg Thorsteinsdottir | | |
| Tax controversy | Petur Steinn Gudmundsson | | |
| Restructuring and insolvency | Gudbjorg Thorsteinsdottir | | |
| Employment and pensions | Petur Steinn Gudmundsson | | |
| Employment and pensions | Arnor Egill Hallsson | | |
| Banking, finance and capital markets | Gudbjorg Thorsteinsdottir | | |
| Projects and energy | Haraldur Ingi Birgisson | | |
| Telecommunications | Hallmundur Albertsson | | |
Staff Figures
Number of lawyers : 2,000+ at this office : 11
Languages
English Icelandic
Memberships
Deloitte Legal worldwide network
Other
Other offices : Akureyri
Diversity
At Deloitte, we understand that our diversity is a key driver of our effectiveness in the market. That's why, in FY2018, we re-committed to progressing our already strong culture of inclusion and increasing gender representation at all levels across Deloitte.
Our deeply embedded, ongoing initiatives to promote diversity and inclusion at Deloitte have proven effective.
Deloitte member firms have adopted progressively advanced talent initiatives—including workplace flexibility, and family leave and return-to-work policies—that attract women, parents and employees of all generations.
Many Deloitte member firms offer their people opportunities through global business resource groups (BRGs) to connect and build networks with others who share affinity indicators such as gender, race, religion and sexual orientation. Some member firms have also established councils that bridge gaps between single-identity workplace groups.
Deloitte leaders in Australia, Canada, UK, US and other countries have been recognized externally for inclusion efforts and/or serve on boards of organizations that promote inclusion.
Globally, Deloitte creates a safe work environment for all people through its strong policies against misconduct, inappropriate behavior or sexual harassment.
These are some of the significant reasons why Deloitte is recognized as a desirable workplace by organizations that include
Great Place to Work, LinkedIn, National Association of Female Executives (US), The Times (UK), Glassdoor.
While we are proud of the accolades we have earned and the policies and programs we have implemented, we understand that we must change as the market and world around us change. To lead in the areas of inclusion and diversity, we must achieve more. That is why we are focusing many of our current efforts on gender representation and why we will continue to seek and hire qualified women, provide ample developmental and promotional and leadership opportunities, and remain committed to fair pay for all.
Interviews
Haraldur I. Birgisson, Managing Partner
Haraldur I. Birgisson, managing partner at Deloitte Legal in Iceland discusses the firm's focus and future ambition.
What do you see as the main points that differentiate Deloitte Legal from your competitors?
There are three factors which differentiate Deloitte Legal in the market. First is the Deloitte Legal global network which extends to over 80 countries and entails over 2.000 lawyers and attorneys, who collaborate across countries in serving our clients. Second is our wide-ranging experience in tax, which is interconnected with all legal aspects of business and investment decisions both locally and globally. Lastly it is our collaboration with other Deloitte businesses, which include financial advisory, consulting, risk advisory and audit. Our local Deloitte Legal capabilities coupled global multidisciplinary service allows us to offer clients of all sizes a single point of contact with wide-ranging and in-depth advisory experience and pragmatic solutions which suits their market and strategy.
Which practices do you see growing in the next 12 months? What are the drivers behind that?
We will continue to grow in international tax and M&A legal related services. We are also building up new capabilities within EEA, competition and TMT, which suit well given the market dynamics in Iceland and supplement our current offerings within legal M&A. An emphasis on technology law furthermore fits well with increased capabilities within Deloitte's Consulting tech offerings where subject matter experts are amongst others supporting companies in their digital transformation journey. Those journeys have a wide-range of touch points with various legislative aspects. Another driver behind this approach is the current positive economic outlook which has expedited various investments locally and across borders.
What's the main change you've made in the firm that will benefit clients?
Broadening our service offerings into EEA, competition and TMT is a significant change which will benefit our clients, both in stand-alone competition related challenges in a small market such as Iceland and coupled with legal M&A services, whereas competition aspects are always interconnected. The other notable change is our emphasis on technology, which Deloitte Legal Globally has invested substantially in recent years. We are looking into implementing a few of these solutions which we believe will benefit our clients in the long-run.
Is technology changing the way you interact with your clients, and the services you can provide them?
We definitely see an increased focus from clients on LegalTech solutions, where the objective is to optimize processes, mitigate risk factors and increase efficiency. One tech solution which we are looking into implementing is an artificial intelligence tool which aims to change the way lawyers do legal research. That would definitely provide us with value-adding insights to share with clients and leverage in client cases. We have also created a free fully automated tax and legal newsletter where a robot gathers intel from around 40 public pages on proposed bills, committee motions, new law and court rulings and shares with clients and all those who have signed up. In this age of massive information flow, sometimes easy solutions are the best.
Can you give us a practical example of how you have helped a client to add value to their business?
I want to mention two examples. One being a resent listing of our client at the First North Growth Market here in Iceland where we supported them with a wide range of services leading up to the IPO, being the first gaming company in Iceland to go public with a quadruple oversubscription of shares. Second would be a client of ours in the high-tech manufacturing sector, which for a number of years we have supported with corporate structuring and various other elements in order to align the group up for sale, which recently took place.
Are clients looking for stability and strategic direction from their law firms – where do you see the firm in three years' time?
Definitely, law firms are expected to bring stability and direction to the table, as well as solutions, where they utilize their expertise and insights on the legislative framework along with their clients' circumstances and ambitions. Business and law are interconnected as neither essentially thrives without the other. Sound, long-term business decisions are not made in a legal vacuum and lawyers wouldn't have much to do if there were no entrepreneurs and executives to make those decisions. Deloitte Legal reflects this interplay and we will slowly but steady continue to grow within the fields of corporate law.
Legal Briefings
Corporate governance in Mexico: overview and trends 2021

Adapting Mexican corporate governance policy related to new market realities would need corporate law reform with the backing of enforcement. Nevertheless, certain local instruments – which lack binding force and which may, at best, fit in the category of 'soft law' – attempt to direct corporate practices through a voluntary approach. This is the case …