Coblence Avocats > Paris, France > Firm Profile
Coblence Avocats
Offices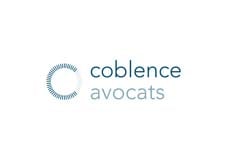 Coblence Avocats
62 AVENUE MARCEAU
75017 PARIS
France
Coblence Avocats > The Legal 500
Rankings
Coblence Avocats
Practice head(s):
Catherine Davico-Hoarau; Chantal Giraud-van Gaver; Laurent Guardelli; Myrtille Lapuelle; Martine Riou
Key clients
Ardian Growth
Sparring Capital
George V Hotel
Work highlights
Assisted Pechel and BPI France with the employment law aspects linked to the acquisitions of a majority stake in Louis Tellier Group.
Assisting George V Hotel before the Court of Appeal in litigation to prevent unions from communicating through the employees' personal or professional email accounts without a company agreement allowing it.
Practice head(s):
Alexandre Brugière; Ludovic Dorès; Marion Fabre
Testimonials
'Very innovative and responsive.'
Key clients
BIOGROUPE and its founders
BITSTACK
TOOL4STAFFING
NEOBRAIN
Management of DIABELOOP
TOMO
MANSIO
Work highlights
Advised Biogroupe and its founders in the context of on its capital raising.
Advised Neobrain and it founder in the context of its capital raising.
Advised the management of high-growth diabetes company Diabeloop on its Series C financing round.
Practice head(s):
Alexandre Brugière; Ludovic Dorès; Marion Fabre
Testimonials
'A very strong sense of availability from the team. A business vision in the negotiation which makes it possible not to remain on dogmatic postures and to carry out a deal to its term.'
Key clients
GROUPE HABITAT EN REGION
Founding shareholders of EVA GROUP
BIGGIE HOLDING
Founding shareholders of HOLDING NEW AIRE GROUP
Founders of PAB PROB
AVRIL PA
Shareholders of BELILAB
HUMAN4HELP
LTH HOLDING
Founders of NEXTIIM
Shareholders of ICA CONSULTING (GROUPE CAMAS)
CTS COMPUTER & TELECOMMUNICATIONS SYSTEMS
ZUCCHETTI
KP HOLDING
Shareholders of TRIPNITY
MESSIS FINANCE
NICOCO
CAUTIONEO
FERRI INTERMEDIATION
Work highlights
Advised the shareholders of the New Aire Holding Group on the sale of their shares to the SIBLU Group.
Advised Avril PA on the sale of the capital and voting rights held by Avril PA in the companies Abera and PORCGROS.
Advised the shareholders of Belilab on the sale of its capital to BIOPATH Laboratories group.
Coblence Avocats >
Firm Profile
The firm: Coblence avocats is a law firm dedicated to business law created in 1984.
The firm's founding concept, which has become its leitmotiv, is to assist its clientele of companies, entrepreneurs and D&O to tackle the legal challenges of their markets over the long term.
With about 45 lawyers today, Coblence avocats decided to pursue sustained and managed growth to perpetuate its customised partnership approach with its clients by offering a complete and consistent range of know-how and experience.
Built and managed on entrepreneurial principles, the firm offers a pragmatic, tailored and innovative approach and strives to provide added value in all matters.
In order to deliver the best legal solution, lawyers works on a daily basis with other departments and with a network of professional partners.
All these factors have led many clients to engage the firm in complex, sensitive and high-stakes cases.
Areas of practice:
Employment: Coblence avocats provides both advisory and litigation services to French and international companies on all aspects of individual and collective employment and labour law issues. The firm has also developed special know-how in assisting executives, employees and officers, particularly with the implementation of management packages working alongside the corporate department.
Corporate: Coblence avocats advises a varied clientele: – companies, shareholders, entrepreneurs, investment funds and family offices – on a wide range of transactions (mergers, reorganisations, joint ventures and sales) including cross-border transactions. Its expertise is also highly recommended in corporate governance issues and distressed M&A.
Tax: Coblence avocats provides legal solutions on various issues related to wealth management, profit-sharing and management packages to companies, managers and individuals as well as investment funds, family offices, etc. Its expertise includes an advanced expertise in tax litigation matters.
IP-IT and communication: Coblence avocats has developed significant, recognised advisory and litigation experience in the areas of intellectual property and information technology and provides advice to a varied clientele: SSII, ad agency, retailers from diversified sectors (health, event, fooding, medtech).
Real estate and construction: Coblence avocats has an extensive knowledge of real estate law (leases, construction, urban planning, and sales) for both advisory and litigation services. Its assists all real estate professionals (institutional, social landlords, private and public project owners, developers, construction companies, etc) including in the context of legal and administrative litigation.
Restructuring: Coblence avocats possesses a strong and diverse practice in the field of prevention and handling of company difficulties, be it in the matter of advice in restructuring or litigation during insolvency proceedings. The restructuring/insolvency team enjoys multidisciplinary skills.
Business litigation: Coblence avocats relies on a leading recognized practice in the field of business litigation and assists clients at all stages of legal disputes, from pre-trial advice to defence before the French and European courts, up to the implementation of court decisions.
Staff Figures
Associates : 32 Partners : 13
Languages
French English German Spanisch Italian
Memberships
Adlaw International AVOSIAL IACF (Institut des Avocats Conseils Fiscaux) INTA - International Trademark Association International Trademark Association (INTA)