Event information
Start Date: Wed 18 Mar 2020
Timings: 1.00pm - 7.30pm
The Legal 500 GC Summit arrives in Santiago for the first time to gather the best GC and in-house counsel in the Chile. Our goal is to offer outstanding content and develop the most prominent event concerning the areas of disputes, commercial arbitration, corporate criminal responsibility and possible changes and future tax risks in Chile.
During the past decades, Chile has undergone profound changes within its political climate and therefore regulatory framework. However, recent citizen demonstrations have opened the door to new economic reform which may impact the work of the GC's and in-house legal counsel across all sectors of the nation.
Challenges in areas such as corporate criminal compliance, corporate criminal responsibility, the criminalisation of disproportionate administrations and the future of legal modifications, are only a sample of the topics that legal experts will be discussing during the summit.
This is a great opportunity to establish direct contact with more than 90 GC's and legal counsels from Chile, whilst setting the standard for the future of arbitration.
Speakers include
Sebastián Doren
Senior associate, Baker McKenzie SpA.
---
Alex Fischer
Head of tax practice, Baraona Fischer & Cia
---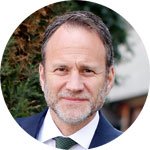 Claudio Magliona
Magliona Abogados
Claudio Magliona has an extensive practice in technology law, intellectual and industrial property, including licensing and software development agreements, data protection and computer crimes. Mr. Magliona also handles government relations and policy matters. Claudio is a college graduate of Law and Social Sciences from Universidad de Chile and LLM in Law, Science & Technology from Stanford Law School. Claudio Magliona is a Professor at Universidad de Chile Law School and former Director of the LLM in Law, Technologies, Telecommunications and Intellectual Property (2012-2016).