Doing Business in...
Sweden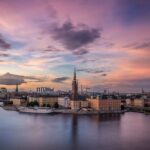 1. 5 REASONS TO DO BUSINESS IN SWEDEN Below we have listed five main advantages of doing business in Sweden: 1. Sweden is an impressive supplier of innovative solutions and products in a broad range of business areas particularly in the tech sector. Sweden is being regarded as an incubator for high-tech start-ups. The Swedish …
Contributed by Hammarskiöld
Read More...
Legal Market Overview
The Swedish legal market continues to witness some significant developments following the establishment of two new firms in 2019: Westerberg & Partners and Cirio Advokatbyrå AB, and the high-profile merger between Hamilton Advokatbyrå and Norwegian market leaders Advokatfirmaet Schjødt in early 2020, which was the first merger between Norwegian and Swedish firms. Elsewhere on the Stockholm scene, key domestic names including Mannheimer Swartling, Advokatfirman Vinge, Setterwalls, Advokatfirman Cederquist KB, Advokatfirman Delphi and Gernandt & Danielsson Advokatbyrå jostle for space alongside a high volume of global firms including Baker McKenzie, DLA Piper, Bird & Bird, Linklaters, and Finland's Roschier and Hannes Snellman.
Public procurement work has been a key growth area for the jurisdiction, which has seen an increase in market competition buoyed by the slight downturn in the construction sector; newly established boutique Ulfsdotter Law is a key name to note in this space. In the boutique arena, further stand-out names include Norelid Advokatbyrå for insurance, competition boutique BOKWALL RISLUND and Fröberg & Lundholm Advokatbyrå, which focuses on environmental mandates. .
The start-up scene continues its solid international reputation, with M&A activity and listings on the Nasdaq First North growth market remaining strong; data protection and data privacy expertise has also become an integral part of any full-service offering in a post-GDPR market. In the fintech sector, all eyes are currently focused on premier fintech unicorn Klarna's next move as it decides whether or not to go down the Spotify route of a large-scale IPO. The wider banking market has also seen notable trends and changes, with the conservative nature of lending by Swedish banks opening up opportunities for alternative providers from the US and Asia.