Doing Business in...Malta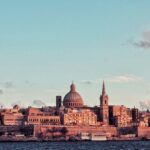 A Mediterranean archipelago, the Maltese islands are located at the crossroads between Europe and North Africa. Long popular for beach holidays, the islands also offer prehistoric temples, fossil-studded cliffs and a history of extraordinary grandeur.
Contributed by Chetcuti Cauchi Advocates
Read More...
Firms in the Spotlight...

Chetcuti Cauchi Advocates

Chetcuti Cauchi Advocates is one of the top-ranked firms throughout The Legal 500 Malta.  With offices in Malta's legal and financial capital city, Valletta, as well as in Cyprus, London, Zurich and Hong Kong, the firm is recognised as key player offering legal, tax and corporate services.
View Profile...
Legal Market Overview
Over the last 12 months, Malta's legal market has continued its exponential growth across a full range of legal disciplines. The archipelago remains an attractive option for individuals or businesses looking to relocate or set up new branches thanks to competitive personal and corporate tax schemes; as a result, the Maltese economy is in good health to complement a stable social and political environment.
The 'Blockchain Island' houses a constantly evolving fintech market which is experiencing a continued flow of new investments and regulation – thanks, in part, to a surge in security token offerings and a burgeoning number of service providers to match the demand for cryptocurrency exchanges. All this, naturally, means an increased judicial workload and the timely addition of fintech as a new practice area for the 2020 EMEA edition.
This year also sees the introduction of the private client ranking, borne out of Malta's reputation as both a secure and viable location for the management of personal assets. The country is also home to e-gaming and gambling industries which continue to thrive, along with a flourishing shipping sector to uphold the Republic's standing as the premier European flagging jurisdiction.
The likes of Ganado Advocates, Fenech & Fenech Advocates, Camilleri Preziosi and Mamo TCV Advocates are key names in the Maltese market. The legal system combines elements of civil and common law, owing to various English legal influences.