Doing Business in...
Indonesia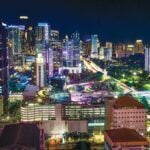 Recently, the Indonesian government has issued Law Number 11 of 2020 on Job Creation (commonly known as "Omnibus Law"). The issuance of the Omnibus Law is one of the Indonesian government efforts to attract more Foreign Direct Investment and making it easier to do business in Indonesia. Omnibus Law comprises 15 chapters and 186 articles, …
Contributed by Siregar & Djojonegoro
Read More...
Legal Market Overview
2019 saw the re-election of Joko Widodo, also known as 'Jokowi', as President of Indonesia. Jokowi has been president since 2014 and under his leadership Indonesia has made major strides in terms of developing the country's infrastructure and making it more investor-friendly. However, despite his seemingly popular image, his re-election sparked a number of protests in the capital of Jakarta.
In terms of industry, Indonesia has been historically associated with its natural resources sector, but its burgeoning middle class has significantly accelerated the growth of sectors such as technology, retail and leisure. There are four unicorn technology companies in Indonesia: ride-hailing app Gojek, ticket-booking services company Traveloka, and e-commerce companies Bukalapak and Tokopedia.
One of the major challenges facing Indonesia is that Jakarta is the fastest sinking city in the world and if no action is taken it could be submerged by 2050. The most radical solution to this dilemma is to relocate the capital to an as yet unknown location. Indonesia's location along the equator line also means the country is prone to earthquakes and tsunamis.
As for the legal market, foreign firms are not allowed to operate offices in the country so many global law firms operate in association with a local firm in Jakarta. These include Ginting & Reksodiputro in association with Allen & Overy, Hiswara Bunjamin & Tandjung in association with Herbert Smith Freehills, Hadiputranto, Hadinoto & Partners, a member firm of Baker McKenzie, Witara Cakra Advocates (WCA) in association with White & Case and Hanafiah Ponggawa & Partners, which is associated with Dentons. Strong independent firms regularly instructed as local counsel on cross-border deals include ABNR Counsellors at Law, Assegaf Hamzah & Partners, Makarim & Taira S., Makes & Partners and Soemadipradja & Taher.