Doing Business in...
Greece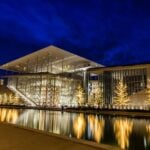 Greece is located in southeastern Europe, at the tip of the Balkan Peninsula, bordering with Turkey, Bulgaria, North Macedonia and Albania. Greece covers an area of 130,000km2 and has a population of 11 million. The country has a mild Mediterranean climate with temperatures ranging from 5C0-20C0 during the winter and from 25C0-35C0 during the summer. …
Contributed by Andersen Legal - Pistiolis - Triantafyllos & Associates Law Firm
Read More...
Legal Market Overview
After a decade of economic decline, the outlook for the Greece is looking brighter with the economy projected to grow 2.3% in 2020. The economy is still far-removed from its pre-crisis levels though lawyers are optimistic, noting an upturn in international investment in the M&A and energy fields. Several policies by the recently elected centre-right party, New Democracy, are also welcomed and include proposed tax cuts and increased spending following years of austerity. Greece is also currently home to one of the largest urban developments in Europe, the €8bn Hellinikon Project.
Cross-border mandates are common as Greece enjoys close trading ties with Italy and Cyprus and continues to be a large investor in neighbouring Balkan countries including Albania and Romania. Elsewhere, Greece's nearly 30-year dispute with the newly named North Macedonia recently came to an end via the Prespa Agreement, with lawyers noting that it has significantly bolstered trade and investment between the two countries.
Norton Rose Fulbright and Watson Farley & Williams – Greek Branch are the most active international firms in Greece with other household names largely based in the Port of Piraeus in order to focus on the shipping sector. Domestic firms generally dominate the market outside of shipping and some, including Rokas Law Firm and Drakopoulos, have branched out beyond Greece to establish offices in the wider Balkan region.
Some of Greece's largest firms including Karatzas & Partners, Dryllerakis & Associates and Bernitsas Law operate solely from Athens, while Kyriakides Georgopoulos Law Firm also has an office in Thessaloniki. Dedicated teams and boutique firms are a rarity outside of the IP and white-collar crime practice areas.