Doing Business in...Denmark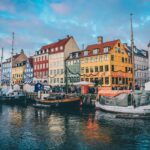 The Danish Business Environment Denmark's attractive flexible hiring rules, personal freedom and absence of corruption make Denmark one of the world's best places to do business for both Danish and foreign companies. Denmark is a modern market economy and takes the lead with a high-tech agricultural sector and world leading companies within e.g. the pharmaceutical, …
Contributed by Lund Elmer Sandager
Read More...
Firms in the Spotlight...

Lundsgaard & Partnere
Lundsgaard & Partnere is a litigation boutique specialising in litigation and arbitration. The firm is one of the market leaders in Denmark within litigation, professional indemnity and insurance, providing advisory services to national and international clients. Lundsgaard & Partnere has a large portfolio of professional liability cases, representing board members, directors, lawyers, accountants, technical advisors …
View Profile...
Firms in the Spotlight...

Lundgrens

Lundgrens is a leading firm in Denmark with a strong client base comprising domestic and international clients, including institutional investors, banks, financial institutions, private equity funds and investors, listed and non-listed companies, public bodies, multinational corporates and insurance companies. The firm has around 80 lawyers (including 25 partners). In addition to Denmark the firm covers …
View Profile...
Legal Market Overview
Denmark is largely considered a safe choice for foreign investment due to its stable political and economic climate; GDP grew by 1.2% in 2018 and steady growth is predicted for the coming years. Nevertheless, the country's relatively small size means it operates as an open economy and is susceptible to macro-economic conditions.
Pharmaceuticals is a domineering sector in the Danish market with Greater Copenhagen making up part of the region dubbed 'The Medicon Valley'. Other key sectors include the maritime, renewable energy and agricultural industries. Similarly, Denmark, and particularly Copenhagen, is an attractive location for start-ups and SMEs with tech companies including Tradeshift and Zendesk being notable success stories. International companies with Danish origins are also active in the region; Carlsberg, Lego and Pandora are key examples.
The country's legal market also remains highly competitive. The four firms which traditionally dominate are Bech-Bruun, Kromann Reumert, Gorrissen Federspiel and Plesner. However, this dynamic is no longer as clear-cut with Accura Advokatpartnerselskab, Bruun & Hjejle, Kammeradvokaten / Poul Schmith, Horten and Lundgrens all strengthening their presence in the region. DLA Piper Denmark has also bolstered its Copenhagen office through its merger with Delacour. Copenhagen remains the primary legal centre, although Aarhus is a popular second choice.